Pro Stock Motorcycle racer Chip Ellis and his Junior Pippin-owned PiranaZ Buell were one of the two quickest combinations all weekend at the 9th annual Summit Racing Equipment NHRA Nationals. And when numbers one and three qualifiers Hector Arana Jr. and Jerry Savoie both went out in the first round, the black and pink Buell's road to the Norwalk winners circle seemed that much easier. "At that point, I did start thinking we might win this thing," said tuner David Bost. "It was ours to lose," agreed Pippin.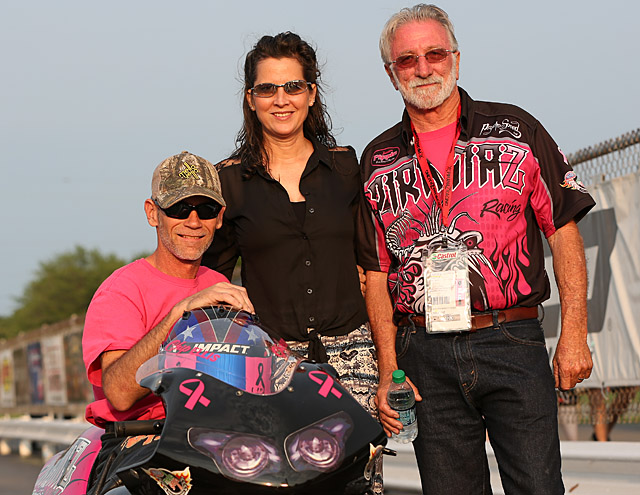 Ellis beat Joey DeSantis in round 1 and Jimmy Underdahl in 2—both on Suzukis. Then he ran up against three-time champ Angelle Sampey in the semis.   Sampey was struggling qualifying her Buell at Norwalk, doubting her ability to make her return to racing a successful one. But Ellis reminded her that she's second to none. "I said 'Angelle, you've won more races and almost more championships than anyone out here,'" recalled Ellis.   He might have wished he'd boosted Sampey's confidence AFTER the semis. After she cut a light on him, Ellis drove around Sampey but failed to take the stripe. "I caught her, I passed her, I looked over at her, and missed the shift button. I wasn't thinking. I was on the rev limiter for 3/10ths of a second, and that's twice what she beat me by. But that's the way it goes, that's racing.   "I told Junior 'I can't guarantee you I won't ever cut a bad light again, but I can guarantee you I won't be looking over at anybody else while going down the track again."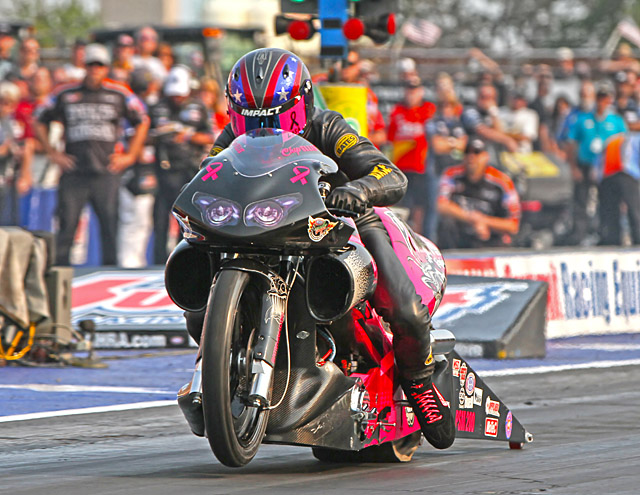 "I'm extremely pleased with everything though," said Bost. "We're gettin' better and we're gonna get better. I'm really proud of everything and everybody."   "We didn't set the damn track record but we didn't miss it by much," noted Pippin. "We started off good and got a little better. We're gonna keep that motor in and go back racing this weekend in Chicago and pick up where we left off."   "We'll go back out there in Q1 in Chicago with what we ran E3 with at Norwalk and see what we've got," said Bost.   They know they'll have to deal with Hector Arana Jr. again at Route 66 Raceway in Joliet, just south of Chicago. Round after round, the Pippin and Arana S&S powered Buells were the class of the field in Norwalk. "We have the utmost respect for the Aranas," said Pippin. "They work hard on their equipment to make power."   And power is something Pippin and his engine guys Lon Moyer and Brad Moore know something about. With Bost's tuning prowess and Ellis' riding ability, Chicago might just be the place the team collects its first Wally. "That would be great," said Bost. "I'm really happy for Junior and Lisa (Junior's wife) and I know we're gonna get one of those gold statues soon."   Junior Pippin, Chip Ellis and the team would like to thank PiranaZ http://www.piranaz.net , George and Connie Smith and S&S Cycle http://www.sscycle.com/ , Lon Moyer, Brad Moore, Junior Pippin Trucking and Paul Bost Trucking.