The 2012 International Hot Rod Association (IHRA) World Champion, Jay Turner, is looking to secure his fourth IHRA Championship at the Summit World Finals featuring Nitro Jam on October 9 – 10. Turner has a 67 point lead over Tracy Kile with only one race remaining for the Nitro Harley class this season at Memphis International Raceway.
Jay Turner is no stranger to pressure situations. The Julian, N.C. reside has raced Nitro Harley's for two decades and brought home IHRA championships in 1999, 2000 and 2012. In addition to his impressive stats with the IHRA, Turner has two AHDRA National Championships, two AMRA National Championships and was voted the IHRA Pro Driver of the Year in 2000. A championship win in Memphis would place Turner among the elite in a class that some call the competitors, the most insane on the planet.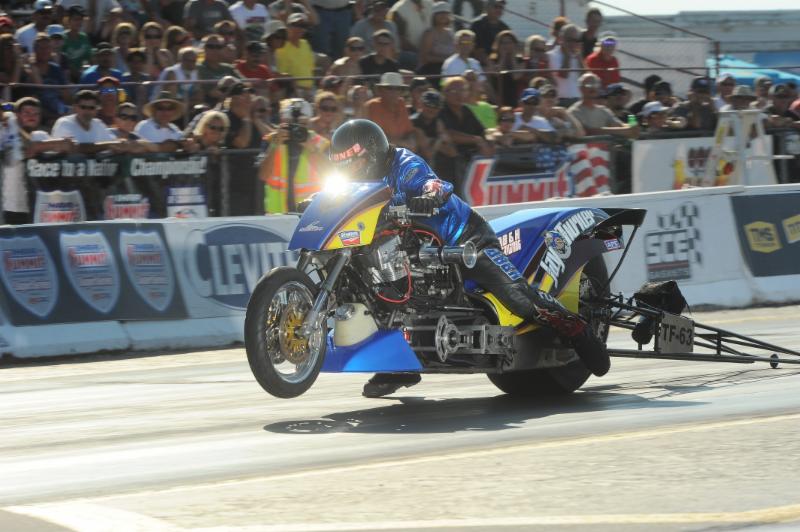 "I thrive on being able to do something that most people could never do," stated Jay Turner. "I love the adrenaline. When you are at about the 1,000 foot mark and the front tire is two feet off the ground at nearly 200 miles-per-hour and everyone is cheering, that is what it is all about."
Emerging in the 1960s, Nitro Harley drag racing got its start after racers began custom modifying their Harleys to handle speeds close to 200 miles-per-hour. The IHRA added the 2,000 horsepower, nitro powered motorcycle class known as Nitro Harley back to the schedule in 2011. The class covers the quarter-mile in a little over six seconds on two-wheels. Turner joins more than a dozen competitors throughout the year to battle for the Nitro Harley IHRA World Championship title.
The Nitro Harley class will not participate at the San Antonio Nationals Fueled by Sunoco which means the last race of the year will determine bragging rights. The remaining two Nitro Jam events include: San Antonio Nationals Fueled by Sunoco at San Antonio Raceway on September 25 – 26 and the Summit World Finals featuring Nitro Jam at Memphis International Raceway on October 9 – 10. Tickets are available online at www.NitroJam.com.