Two-time world champion Matt Smith has re-signed Nitro Fish Ultimate Gear as a major associate sponsor of his eye-catching Victory Gunner Pro Stock Motorcycle.
Owned by former Top Fuel and Pro Stock driver Kenny "Capt. Chaos" Koretsky, Nitro Fish Ultimate Gear offers cutting-edge, racing-themed apparel for fans via its website, www.nitrofish.com. The company now has sponsorship deals in place with Smith, his father Rickie Smith, LE Tonglet, and Matt Hartford.

"We are really happy to be back with Matt," Koretsky said. "He's due for another championship year, I truly believe that. They made the switch to Victory Motorcycles last year, and that takes a lot of time and effort, especially starting with a manufacturer that had never been in the sport before. Even so, Matt had three runner-up finishes. He's that good of a rider and tuner.
"On top of everything else, Matt and his wife, Angie, are great people. They're like family to me. He understands the sport and what it takes to succeed, and he certainly isn't afraid to work hard to get what he wants. He's already delivered a championship and eight trophies to me with Nitro Fish on his bike. We're anxious to get some more."
Smith's two Pro Stock Motorcycle titles came in 2007 and 2013. Overall, he has won 17 races in 41 final-round appearances during an 11-year professional career. Smith and wife Angie are both factory riders for Victory Motorcycles.
"Kenny has always been there for me," Matt Smith said. "He's one of those guys that when times are lean, you can call him and say, 'Kenny, we really need this part,' and he never hesitates to jump in and help. I probably wouldn't be out here if it wasn't for Kenny believing in me during those early years.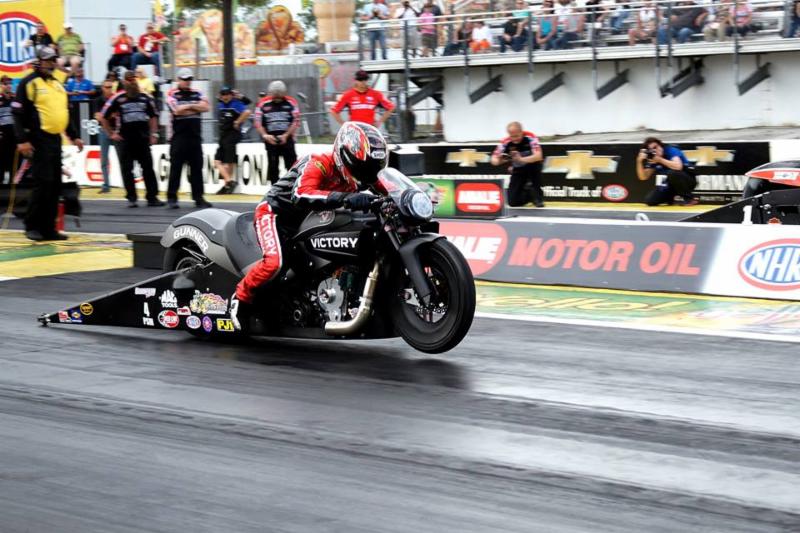 "Drag racers know the best thing you can do for a sponsor is to win and put them in the spotlight as much as possible. We've been lucky in the past and done well for Nitro Fish, and I fully expect that to continue this year. On top of everything else, their gear is really cool. The fans absolutely eat it up and always have."
Nitro Fish will adorn Smith's matte-black Victory Gunner Pro Stock Motorcycle beginning March 18-20 with the annual Amalie Motor Oil NHRA Gatornationals in Gainesville, Fla. The event is the first of 16 on the Pro Stock Motorcycle schedule. Elimination action will air live on FOX Sports 1.