National Hot Rod Association (NHRA) Pro Stock Motorcycle racer "Flyin' Ryan" Oehler had planned on his home track race being a bit more of a laid-back, social affair than the Jegs Route 66 NHRA Nationals at Joliet, Illinois, turned out to be.
But a pre-race thrash, a solid mid-pack qualifying effort, and putting another round win in his logbook kept Oehler and his team firmly in professional mode and showed that they are NHRA's most solid bet for the Road to the Future award—the drag racing organization's version of Rookie of the Year.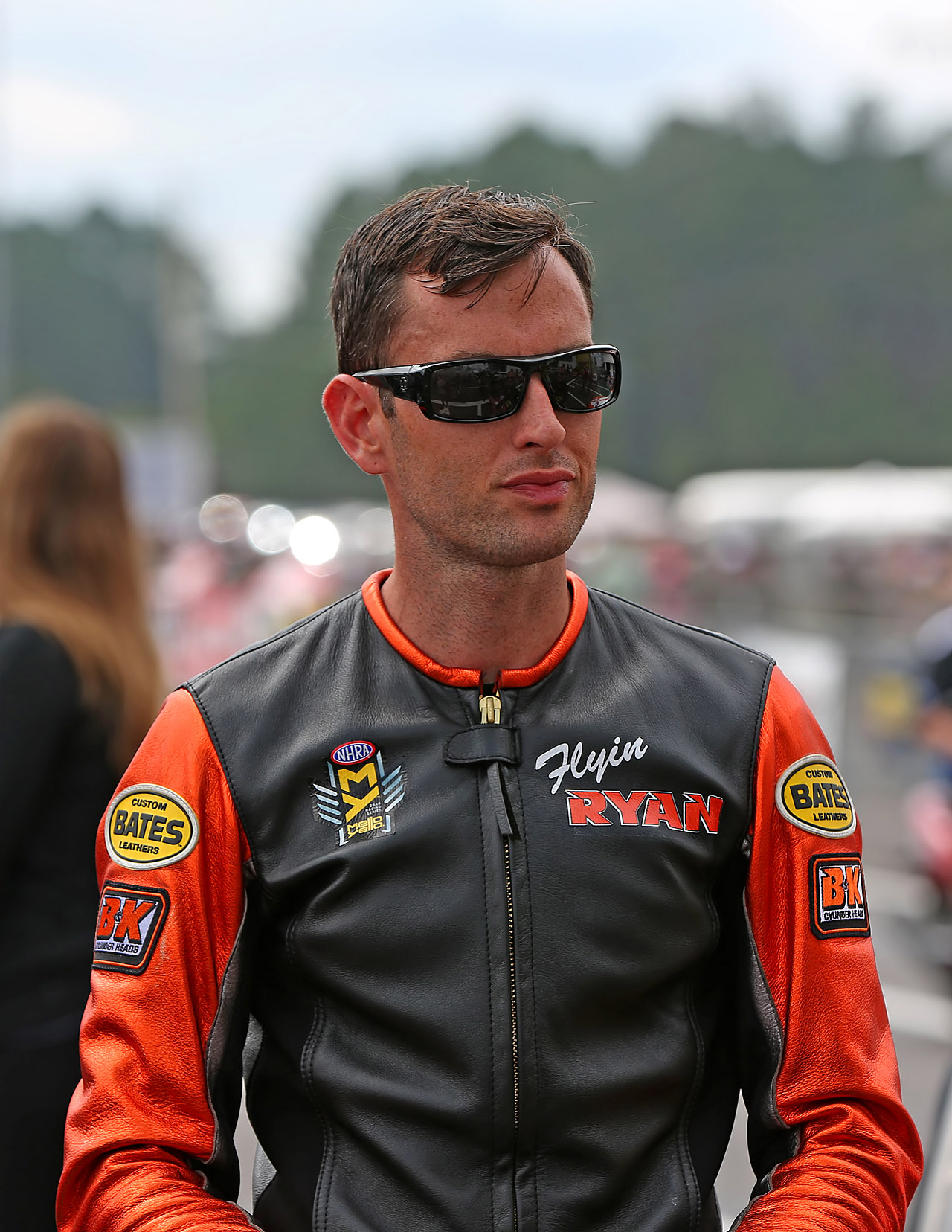 After the Atlanta race in May, Oehler picked up a hot new motor from George and Jackie Bryce at Star Power. "We tested the last two weekends before Chicago," said Oehler. But unfortunately, a major engine failure while running at Lucas Oil Raceway's Night of Thunder in Indy the Saturday before the Joliet race put Oehler's team on the back foot.
"We had planned to run that engine at Joliet but we we're unable to make the needed repairs in the time left. Then while beginning to rebuild our primary engine on Tuesday night, we realized it also needed major repairs."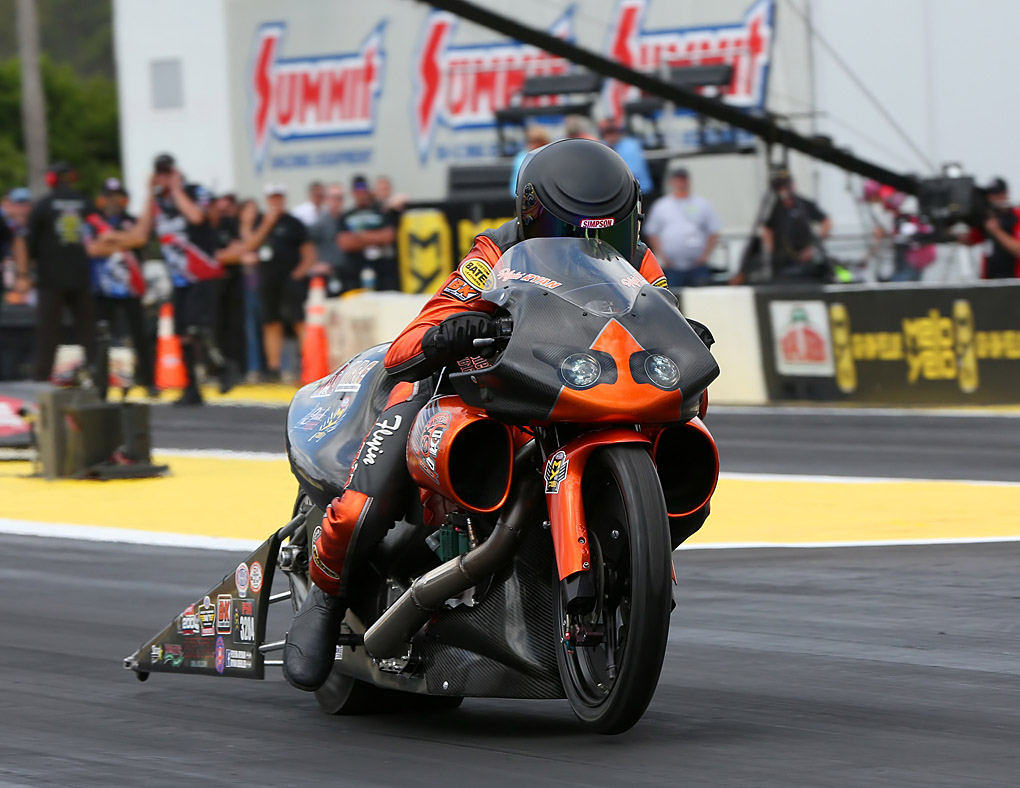 Adding even more pressure, Central Illinois was waist deep in a May heat wave, which meant that Ryan and his engine builder—his dad Brad—were both working late every day from Sunday through last Thursday operating their Bloomington, Illinois-based heating and cooling company.
"So Dad was forced to pull out all of the stops and do what he does best—work long, hard hours machining world class products and not finishing until deep into Thursday night. We all worked from Thursday morning at 6:00 am through the night and into Friday to get the engine assembled, installed, and the bike prepped to be loaded into the trailer."
The engine was finally fired at 6:49 am Friday and the rig was on the road to Joliet at 10:00 am. "Fortunately we only live about 85 miles from the track, but we were still the last team to roll through the gates."
The team jumped right into high gear and got the bike into the lanes for the first qualifying round, where the bike made a hard move to the wall at about 100 feet out and Ryan cut gas.
"Then in Q2, we laid down a solid pass despite the fact that we drilled the rev-limiter in second gear. It was good enough to pull the highest acceleration G's (with a 1.06 60 foot) we have ever recorded, which brought us a 6.948 at 191.46 and placed us eighth after two rounds."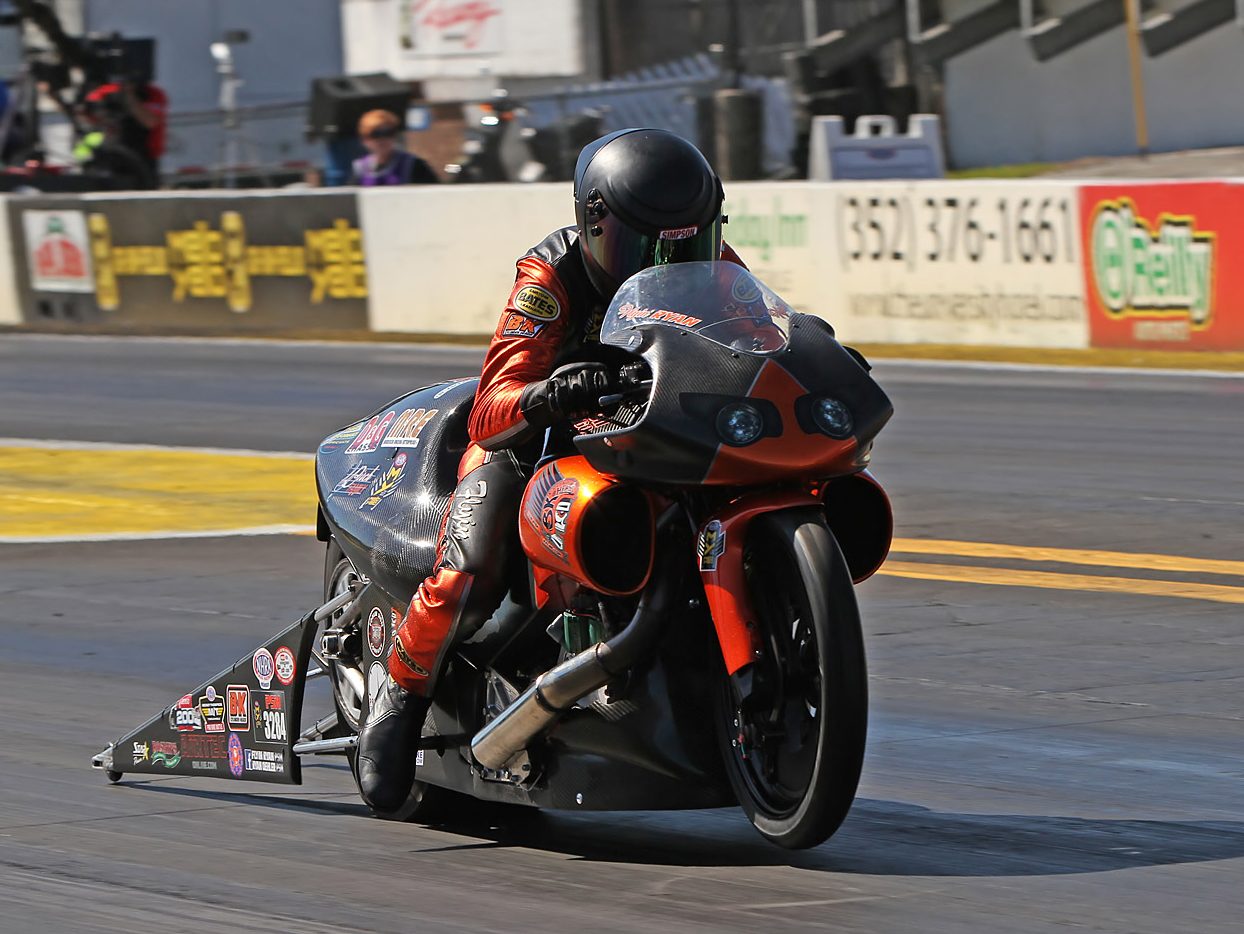 The team's goal coming into the weekend was to qualify in the top half of the field at the end of Saturday and to go rounds on Sunday. "This was the start we needed to do that."
But after two mediocre passes on Saturday, Ryan got bumped to ninth by Hector Arana Sr. "We missed the first goal, but we were presented the opportunity to redeem ourselves. Our Sunday would start by racing the very team that just bumped us.
"Race day started with our confidence very high because we knew that we had underperformed thus far. We spent hours carefully planning our tune-up and executed with the meticulous nature that has gotten us this far," continued Ryan, a two-time AMRA Pro Modified champ.
When the green light dropped, Ryan cut a .034 light and rode one of his best passes on a Pro Stock bike. Arana Sr.'s redlight in the other lane hardly mattered. "We ran a lower ET and higher MPH than we had all weekend. We had our redemption."
But then the team had to race five-time champ Andrew Hines and the Screamin' Eagle/Vance & Hines team. Ryan cut another good light and was immediately out front, but soon saw that lead evaporate. "We attempted to be very aggressive in our race with Andrew and overpowered the track for the conditions."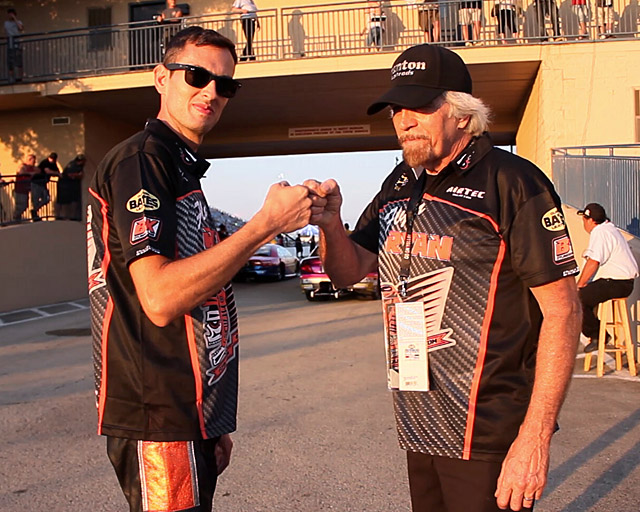 Despite the loss to Hines, Oehler had another round win at the event and the rookie goes to this weekend's Virginia NHRA Nationals at Virginia Motorsports Park sitting eleventh in the standings. That's a mere seven points out of the top ten cut-off for the Countdown to One championship playoff—a remarkable achievement for a completely independent rookie rider and one-bike, family team.
"We do very well when we are up against the wall and under pressure. It has historically been that way and this weekend most certainly proved that.
"We also had hundreds of local fans, family, and friends come and show us love. That really is a blessing and means so much after the kind of week we had. Being the hometown favorite and underdog seemed to give everyone another reason to show that support, and that is the exact thing that makes us thirsty for more. It was truly an amazing weekend.
"We are primarily a self-funded team, but it's amazing how many people are behind us. Every little bit helps and so many companies, friends, and fans have come forward and helped push us to further our program. It's very humbling to receive so many positive words of encouragement.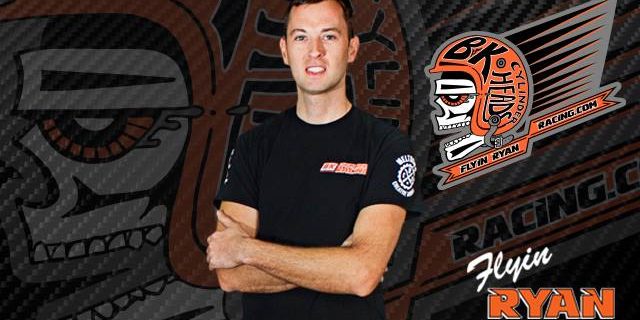 "The Birch Family, especially, has been a huge support to our team and we were very excited to have them in attendance this past weekend in Joliet. High Performance Lubricants were also there and they have been a tremendous help with their amazing product line. George and Jackie Bryce of Star Power have been behind me since day one and we continue to work together in the hunt for horsepower.
"But the biggest contributor to the team is my father, Brad. His hard work and dedication ensure we will continue to be more consistent and run lower ETs.
"And a huge shout out to Alexander Tutt. He has been working day and night doing motor swaps, all the driving, and has been a critical ingredient to our success. He's also come onboard fulltime with our heating and cooling business."
Brad, Ryan, and Alex immediately began the turnaround to be ready to leave Thursday at noon for Virginia Motorsports Park and the next race.
"Our goal is to make the Countdown and compete for the Automobile Club of Southern California Road to the Future Award. So as we go through our motor, develop more speed, fix as many air conditioners as possible, and move on to Virginia, we know in our hearts that there is no rest for the wicked!"
Ryan Oehler thanks the Birch Family https://www.capitolgroupinc.com , Precision Plastic Products http://www.precisionlexan.com/Default.asp , Gas Jockey Graphics https://www.facebook.com/Gasjockeygraphics101/ , High performance lubricants http://www.hplubricants.com/wp/ , Fogler Signs https://foglersigns.com ,
S&S https://www.sscycle.com , MRE http://www.murdochracing.com , D&G Chassis http://www.dgchassis.net , Rosati's Pizza https://www.rosatispizza.com , Bates Leathers https://www.batesleathers.com/ , Worldwide Bearings http://www.worldwidebearings.com/ , AirTec, Inc. https://www.facebook.com/airtecinc/ , George and Jackie Bryce at Star Power http://www.starracing.com , B&K Cylinder Heads and Flyin' Ryan Racing FlyinRyanRacing.com , his family and crewmen Alexander Tutt and Phil Leptich.