NHDRO, the Midwest's largest motorcycle drag racing series, took over the legendary quarter mile of Lucas Oil Raceway for the Summer Celebration during Indy's Motorcycle Weekend on August 8-10. But just like in Columbus, NHDRO was racing the weather on a weekend that was actually much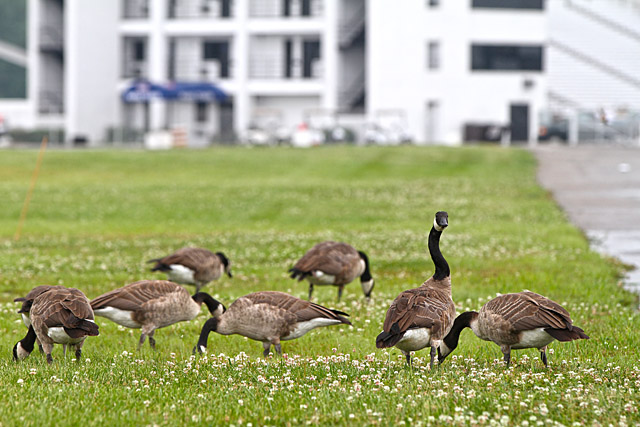 drier than forecast….until it wasn't, and Canada geese found the LOR wetlands more suitable than did high horsepower dragbikes. All classes will wrap up at the Fall Fury Finale in September.
Still, there was a lot of on-track action as NHDRO hustled the program along with a sunny Saturday and many rounds of competition run on Sunday.
McIntosh Machine & Fabrication Pro Street stalled after two rounds, but many favorites didn't make it out of E1. Rob Budgell returned to action after a few years' hiatus, this time not on his own bike but on Mark Paquette's turbocharged Suzuki Hayabusa. Showing no signs of rust, Budgell qualified number 2 with a 7.05 but lost to John Chant on raceday when he threw a rod in third gear. Unheralded Chant then advanced when Frankie Stotz and his turbocharged Honda CBR1000RR were shut off with a leak at the starting line. Chant will meet champion Doug Gall in the semis in September.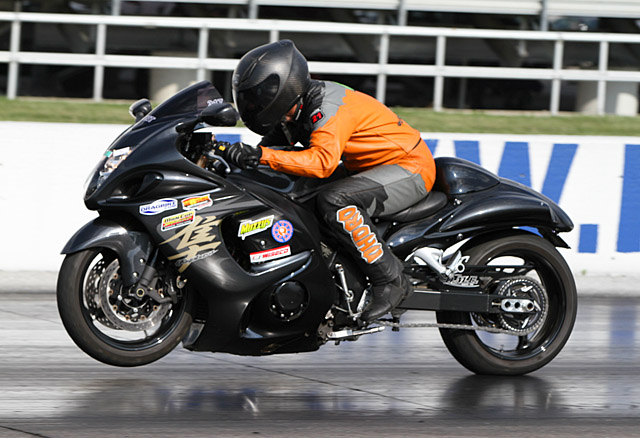 Gabe Fredrick qualified fifth but couldn't get down the track against Joe Robbins when it counted in E1. In a minor 9 vs 8 upset, Tyler Fisher rode Ronnie Mitchell's "Sandra Dee" past James "Crow" Teasley, who showed his chops on a Pro Street bike this weekend.
Crow's son Jeremy Teasley qualified number 1 on John Drake's "No Fear" 'Busa and had no trouble vanquishing his brother Cameron in round 1. Jeremy then went on to beat Fisher and will face Indy homeboy Justin Doucet in the semis.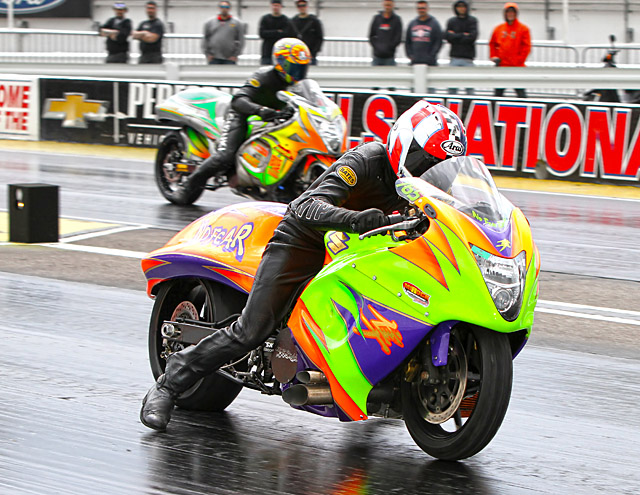 Phil Stoll rode Mitchell's "Rizzo" to a win over red-lighting Doucet in the always-intense Dunigan Pro Street Shootout on Saturday night.
Schnitz Racing Pro Comp again saw Mark Paquette qualify number 1 on his turbo-methanol Kawasaki Funnybike, though not at the incredible pace he set back in July. He'll once again face rival Keith Lynn on his gas/turbo/nitrous Kawasaki in the final when racing resumes in September.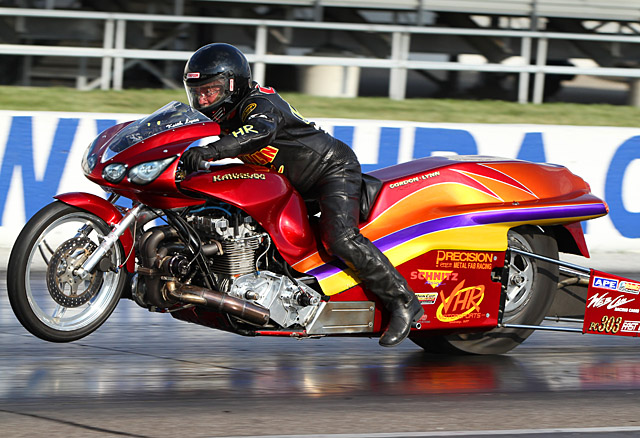 NHDRO offered up its largest payout ever in many classes, especially Route 21 Top Gas and Millennium Trailers Super Comp. Payouts were based on participation, but that bad forecast kept many bikes shuttered in their garages at home. A garaged racebike never collects a Big Check, so it might be time for those whose glory days are collecting dust in the corner to sell to someone who likes to race so that the NHDRO will have to dole out those $10K payslips, ya heard?
Greg Mallett likes Big Checks, and qualified number 1 with a perfect 8.200 in Top Gas. He'll face Carlos Guzman in the quarterfinals when racing resumes in September. Donnie Emerson faces K. Williams, and "Chicken Head" Chad Otts has a bye to the semis.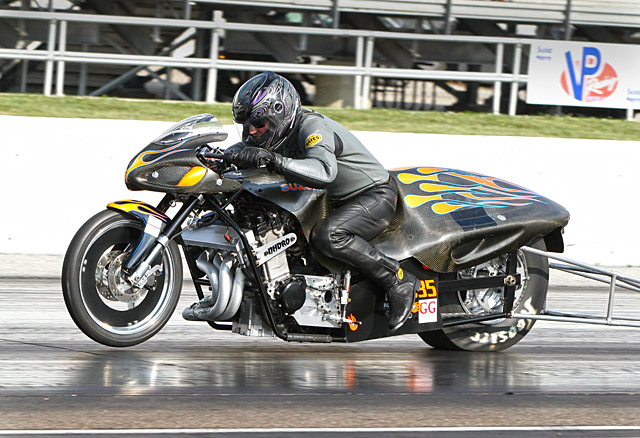 Jim "Put it on the Underhill Tab" Underhill qualified number 1 in Super Comp with an 8.905 but lost to Doug Gall, who'll face Guzman in the quarters in September. Clark Proctor will face Dalton Markham, and Mark Eskew will square off against Brian Selner.
Please note that all of these guys actually like to ride their racebikes and would prefer to have fought through more rounds for $10,000 per class. Those of you who sat home and watched TV can recover from your shame by showing up at the next event, or sell your unused racebike for cable bill money to someone who will.
Gall qualified .001 off from perfect in Catalyst Racing Composites Crazy 8s 8.88 index and is still alive along with a whole bunch of other no-bar badasses—including Jeremy Teasley, Ben Knight and Chris Panko—when the race resumes in September.
Paul Phillips was .004 away from the Tsukigi Racing Streetfighter 9.50 index for number 1 in that class and lives to race another day in September.
Saturday's G&G Metal Spinners Pro ET win went to Mark Eskew over Chad Isley in a f*#ing incredible final. Isley had a .004 light but Eskew was only .007 off his dial for the win.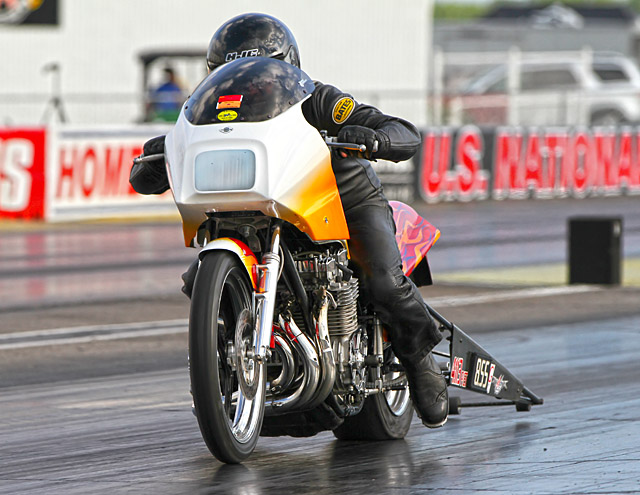 Walter Sharp lived up to his name, taking Saturday's Kevin Dennis Insurance Street ET final over Ron Arnold, who took the tree but broke out by .008.
Port-Tech Grudge never fails to be the most fun scene in motorsports, whether big money's on the line or not. Gall races Super Comp on the NHDRO grudge bike "Lightning," and he challenged NHDRO promoter Brian Welch to the 60 foot. The $100 challenge was that Gall on "Lightning" could out-60 big-boy Welch on "Thunder" by 2/10ths, something he was able to do twice. See? Doug Gall's not afraid to show up and take Welch's money.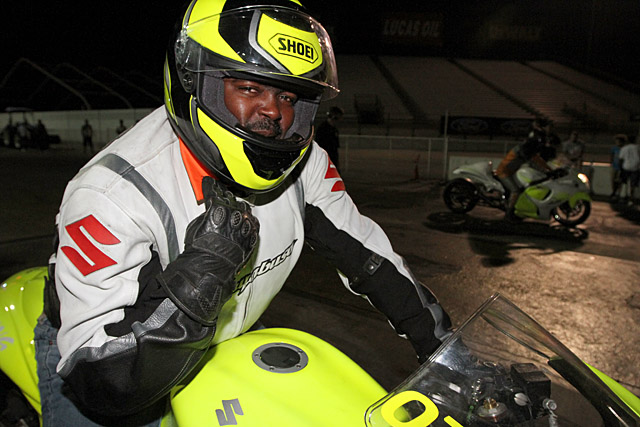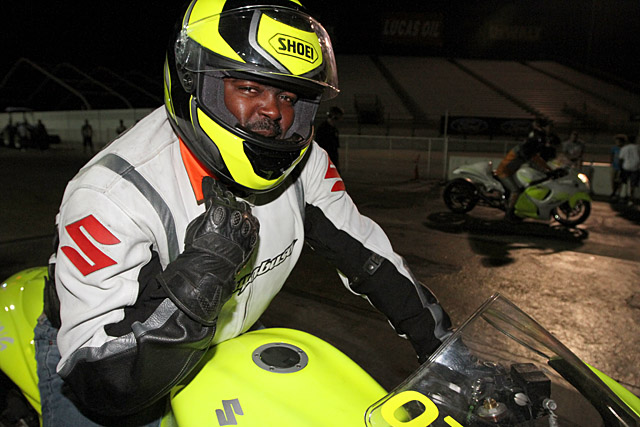 As always, the crowd hung close to the starting line until the last pair closed the night down promptly at the witching hour. NHDRO starts on time and runs late, keeping everyone in shade or dry as the need be beneath KD Kanopies.
NHDRO promoters Brian and Niki Welch cherish their loyal family of racers and sponsors, and look forward to hosting their biggest Finals ever September 26-28 with the Fall Fury Finale right back here at Lucas Oil Raceway.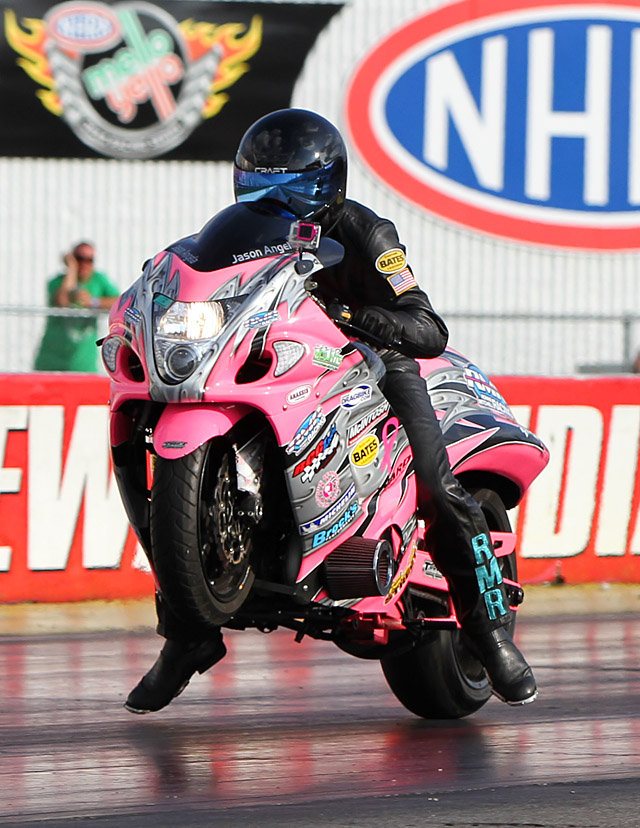 Find out more about the NHDRO at http://www.nhdroracing.com/
NHDRO thanks Schnitz Racing http://www.schnitzracing.com , McIntosh Machine and Fabrication http://www.mcintoshmachineandfab.com , Route 21 Racing Apparel http://www.route21.us , Catalyst Racing Composites http://catalystracingcomposites.com , Tsukigi Racing http://www.tsukigi.com , Millennium Trailers http://www.milltrailers.com , G&G Metal Spinners http://www.ggmetalspinners.com , Kevin Dennis Insurance http://www.bettercoverages.com , Port-Tech http://www.porttechheads.com/index.html , and KD Kanopy http://www.kdkanopy.com .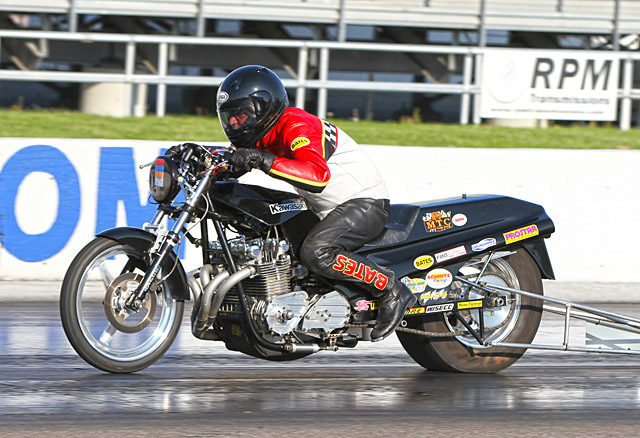 This report was prepared by Tim Hailey. Enjoy everything there is to read, see and watch about motorcycle drag racing and more at http://www.eatmyink.com