One of the great Top Fuel drag bike racing teams, that pounded drag strips for a few decades, recently shared a bit of drag bike racing history with me worthy of repeating. It's important for members of today's sport to know of their roots from yesteryear. For without this past the sport would not be where it is today. Respect your elders are words that should not be taken lightly. Wisdom comes at a high price and takes years to develop, just like Top Fuel drag bikes do.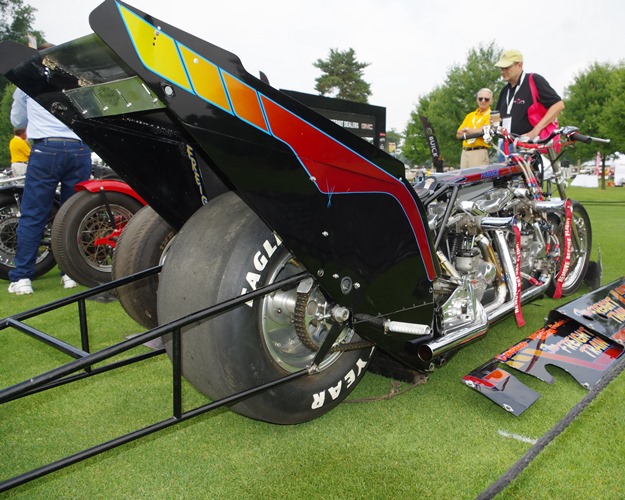 Turning the clock back, to younger days: Top Fuel pilot Pete Hill sits astride his supercharged, fuel injected Knucklehead, Harley Davidson nitro-burner in the staging lanes at some drag strip in middle America awaiting his call in the staging lanes. With his signature Champion Spark Plugs floppy hat on, Pete is ready to inch forward to upper staging with his crew chief of many years, Jackie Hill beside him and fire up the world's fastest Knucklehead drag bike. He feels a tug at his T shirt and looks down at a small boy.
The young man with dark hair and full face is beaming and speaks boldly with sincerity to the old drag bike racer "Hey my daddy is just as fast as you are. Just sometimes his bike ain't." Pete grins at the little boy and nods to him, "I'm sure you're right about that." Jackie, Pete's wife of many years is grinning from ear to ear remembering this treasured memory she shared with me recently, as if that hot summer's day was yesterday.
When little Tony Ruggiero tugged on Pete's shirt to tell him about his daddy, Top Fuel Harley racer Steve Ruggiero, it was racing families sharing what only fellow racers will ever know; the brotherhood of the extended family that binds fellow racers together. And from this the memories are forged from combat out on the drag strips. It's yesterday that breeds today you see. Now some decades later, Pete is retired from racing his Top Fuel bikes and now Tony Ruggiero is a Top Fuel Harley racer. From the past comes the future.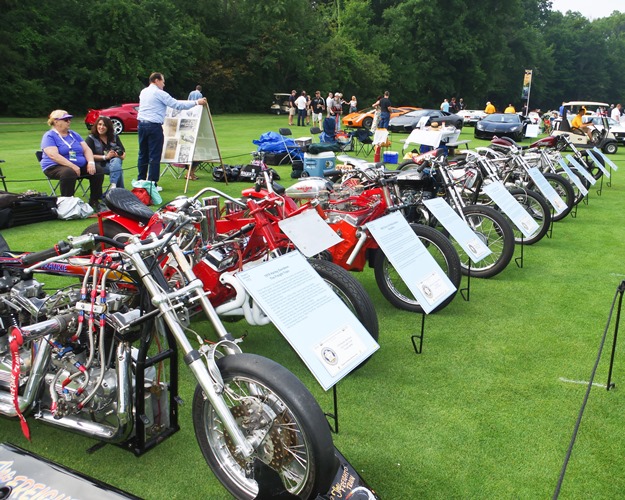 Jackie shared that story with me when I recently I had the pleasure of attending the Concours d'Elegance of America at St. Johns, in Michigan. The prestigious Concours d'Elegance of America car show, held at the Inn of St. Johns, was one of great honor for motorcycle drag racing world. For the first time in the 36 year history of the event, they extended an invitation to the motorcycle drag racing world to include legendary motorcycle drag racing machines from various classes of historical prominence. There were nine very famous and historical machines in attendance by special invitation.
From the Funny Bike (F/B) class of motorcycle drag racing, a Harley Davidson Sportster powered drag bike owned by Ray Price was on hand under the watchful eye of Mr. Price who hails from N.C. Ray not only proudly presented his vintage drag bike of he created, but his race team fired it up for the crowd, much to their delight, filling the afternoon air with the heavenly acrid fumes of nitromethane.
From the class of Top Fuel, the nitromethane powered Vincent know as "The Barn Job," and also "Stagefright" both owned by noted author John Stine took their places in the viewing arena beside Pete Hill's supercharged Knuckelhead as well as Frank Spittle's "Freight Train" double engine T/F bike. These four Top Fuel bikes, in their day, were all world record holders and they span an era of T/F bike development from the 1950's into the 1990's. For the Harley Davidson faithful, there are few motorcycles more legendary than Pete Hill's Knuckelhead powered drag bikes.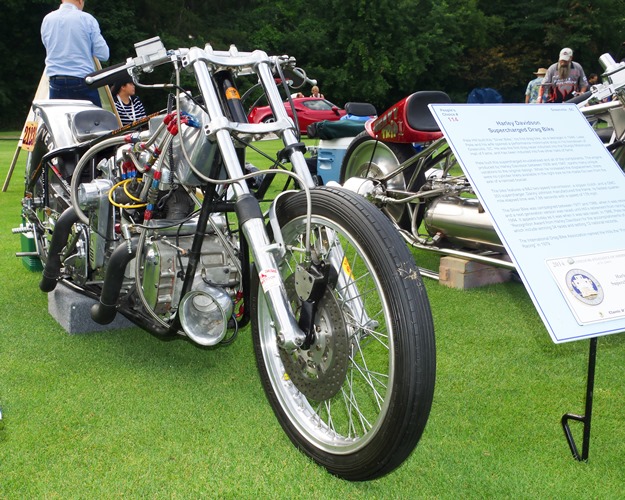 Three spectacular and world famous "exhibition" drag bikes were also a vital part of the display. EJ Potter, well know throughout the drag racing realm as "The Michigan Mad Man," who is world renowned for his automotive V-8 powered drag bikes, was well represented. Two of his former motorcycles, fully restored by current owner Clyde Hensley, commanded great presence. "Bloody Mary" one of EJ's first creations and his well known "Widow Maker" both gave viewers something to think about. Imagine if you can, trying to handle a Chevrolet V-8 powered drag bike with a bald slick behind you, smoking the tire for a full 1320 feet of race course. Booked for packing grand stands time and again, EJ's bikes are a tribute to an era of drag racing when the spectacle of racing was more important than the performance of the machines, back when the show mattered more than go.
Another exhibition motorcycle on display may be hard to imagine as a drag bike. More accurately it's a rocket bike and an important motorcycle in the history of motorcycle drag racing. Larry Welch's "Heavy Trip" rocket bike, powered by not one, but two hydrogen peroxide motors sat amongst the fuel bikes with a unique presence. Its chrome and polished elements, attached to various tanks and gauges, was in stark contrast to its reciprocation powered counterparts. The twin outboard rocket motors sat quietly astride the rear wheel with its large diameter brake rotors on each side of the wheel. There is an eerie aura to the bike, you can sense its quiet violence sitting there poised as if to strike. For interested parties with a flair for dare, Larry informed me that the bike is for sale with a price tag of $40,000 dollars, US currency.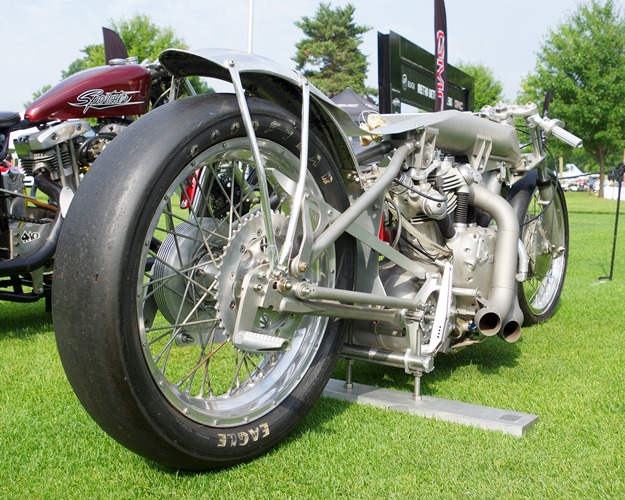 The "Best in Show" award for the event went to the oldest fuel bike on display, "Double Trouble" created in 1953 by Bud Hare, now owned by Glen Kerr. This is one of the oldest known fuel bikes in existence from the earliest days of drag racing that is still operational. Twin 40 CID Triumph motors, one behind the other, with a Harley Davidson gear box behind them make this bike a tribute to the golden age of drag racing when racers had to make everything by hand from whatever they could lay hands on to go racing. The motorcycle is fully operational and can be roller started today, just as it was back in the 1950's. Mr. Kerr still starts the bike on occasion and the sight of the rollers and the sounds of the engines coming to life bring tears of joy to drag bike racers and fans alike as they are transported back in time when brave young men, white knuckled, rode these bikes to glory just for the sheer joy of it. There were no points systems, no sponsors, no insurance companies to muddy the waters back then.
There was a time in America, when racing was about the sport of racing. All of these motorcycles were from that era. So were the men who built them. Pete Hill, when asked why he stuck with racing a Harley Davidson Knuckelhead motor design for close to four decades replied, "I wanted to see how fast I could make it go. I know there's still more in it today than what I found. It was never about how fast I wanted to go. If I just wanted to go fast, hell, I can go buy an airplane ticket anytime and go fast as I want to. I wanted to see what I could make it do." From the past comes the future, take time to remember and salute your past, this is history at it's best.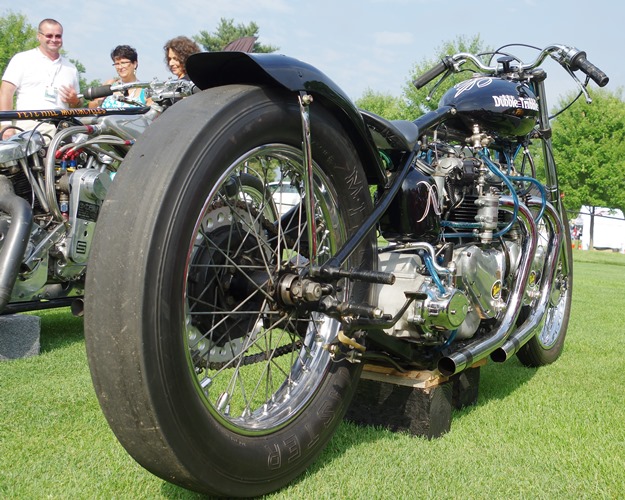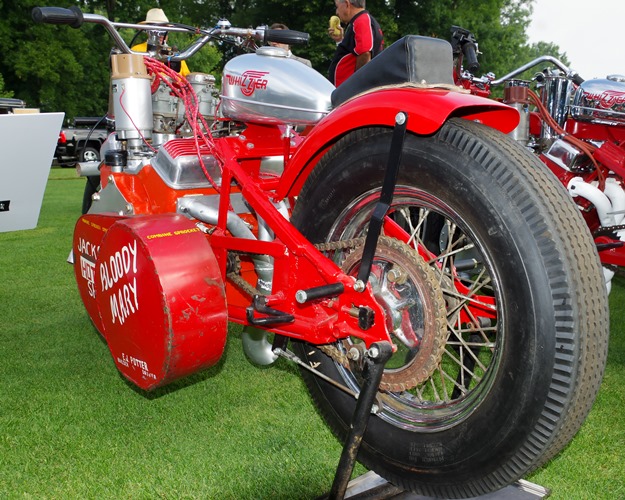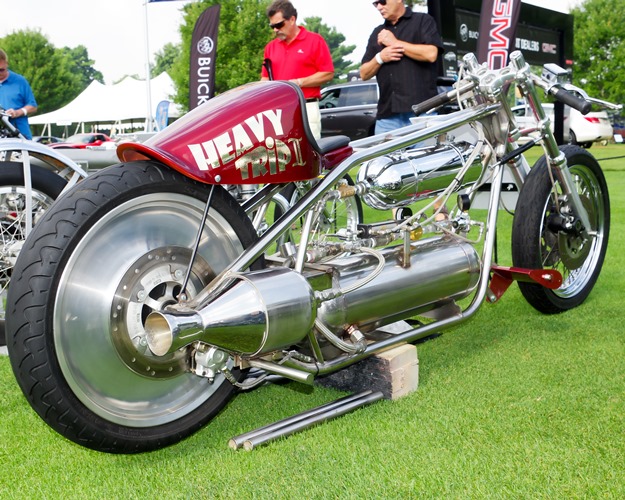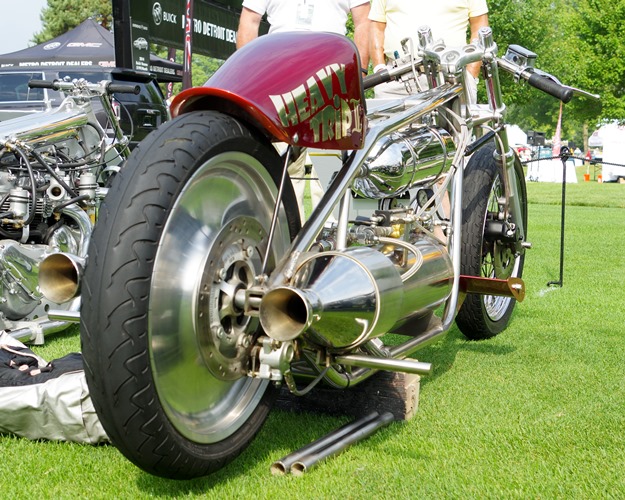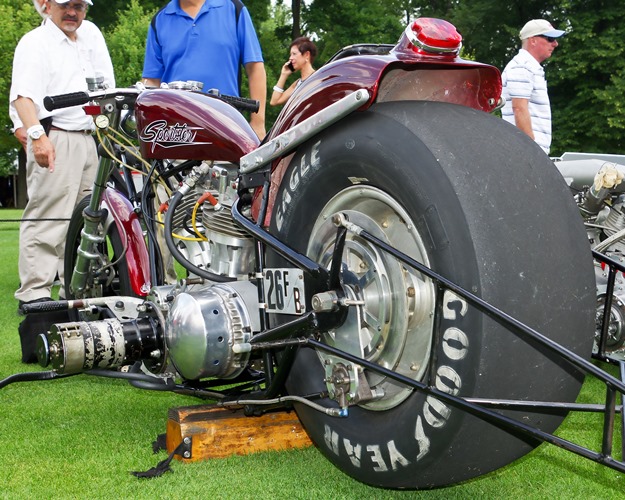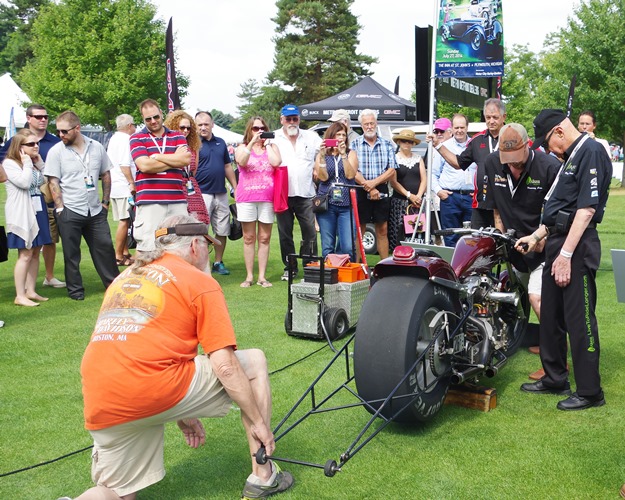 Column by: Tom McCarthy. Click here to read McCarthy's biography.
Click here to purchase McCarthy's must-read book on Elmer Trett from Schnitz Racing