The silver lining to a rained out event is the promise of two races in one weekend, and the pot of gold at the end of NHDRO's Summer Celebration rainbow is 2XL action at the Fall Fury Finale. All classes will finish the August event then race the season finals when the Midwest's largest motorcycle drag racing series returns to Lucas Oil Raceway near Indianapolis on September 26-28.
The world's quickest streetbikes of McIntosh Machine & Fabrication Pro Street stalled after two rounds back in August, but many favorites didn't make it out of E1. Unheralded John Chant out of the Quicktime Racing trailer will meet champion Doug Gall on one side of the August semifinal ladder. Indy homeboy Justin Doucet is another rider rarely seen in the semis, but he'll face number 1 qualifier Jeremy Teasley in the other semi.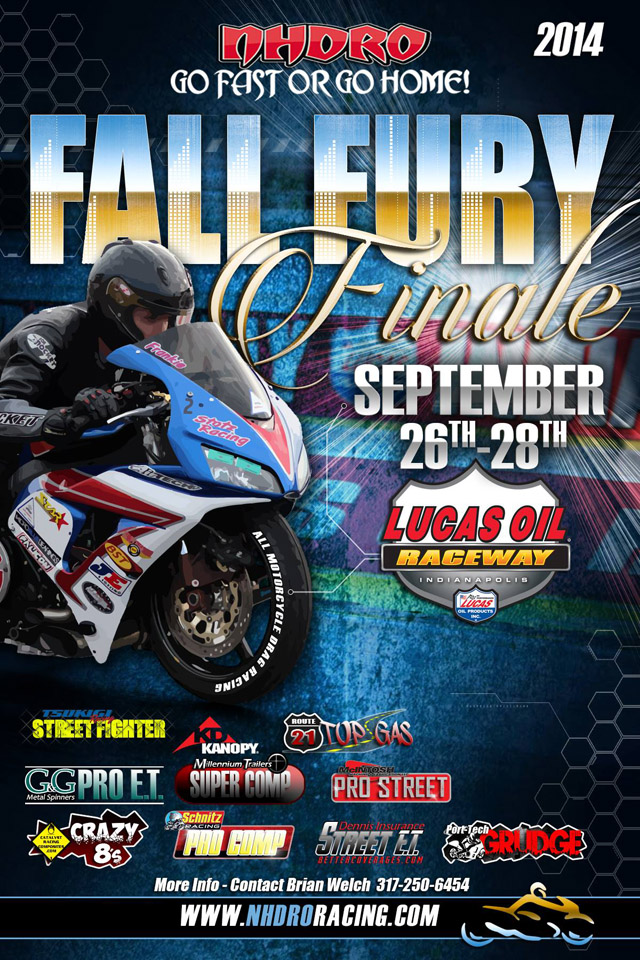 Watching from the sidelines and awaiting their chance for eliminations glory will be studs like Rob Budgell, Frankie Stotz, Gabe Fredrick, Tyler Fisher, Phil Stoll, Bud Yoder and others. All of these guys will also be racing deep into the night on Saturday for the Dunigan Racing Pro Street win, so expect those turbo flames to be popping loudly at NHDRO's crowded starting line.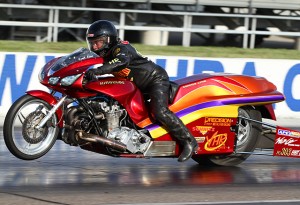 Speaking of flame-belching turbos, Schnitz Racing Pro Comp will see rivals Mark Paquette and Keith Lynn pair up in the August final on their freaking unbelievable turbo Kawasaki Funnybikes. The rapidly improving, multi-combination (nitrous, nitro, turbo, old school, new school—whatcha got?) bikes around them will qualify on Saturday and get their chance at eliminations on Sunday.
Although pros are a great show, sportsman racers are the backbone of NHDRO and are what gives NHDRO events a family reunion atmosphere.
Greg Mallett qualified number 1 in Route 21 Top Gas with a perfect 8.200 back in August. He'll face Carlos Guzman in the quarterfinals when racing resumes this weekend. Donnie Emerson faces K. Williams, and "Chicken Head" Chad Otts has a bye to the semis. Everyone else—like third-in-points Mike "Wags" Wagner, Doug Fisher, Darrell Charmichael and Dave Page—will take their shots on Sunday.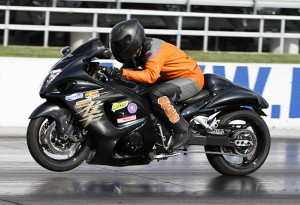 Multi-class racer Gall will face Dalton Markham in the August race semis of Millennium Trailers Super Comp, while Brian Selner has a bye to the final. Selner is second to Ben Knight in points with Bradley Shellhaas third in a very tight championship battle.
Gall also qualified .001 off from perfect in Catalyst Racing Composites Crazy 8s 8.88 index back in August and is still alive, along with a whole bunch of other no-bar badasses—including Teasley, Knight, Ron Arnold, Chris Panko and more—when the race resumes this weekend. Gall leads the points, followed by Teasley, Joe Robbins, Jeremy's brother Cameron Teasley, and Knight.
Paul Phillips was .004 away from the Tsukigi Racing Streetfighter 9.50 index for number 1 in that class and lives to race another day this weekend. Who leads Streetfighter points? Wait for it . . . Doug Gall. But Ron Arnold is only 2 points behind, followed by the Books Brothers Shawn and Chris, then Ryan Schnitz.
Most of these ballers and many more will also be racing three G&G Metal Spinners Pro ET and Kevin Dennis Insurance Street ET races. Jim "Put in on the Underhill tab" Underhill leads Pro ET points followed by Mr. G&G himself Scott Kauffman and Kenny "No-Show" Schwartz. Knight has nearly double the points of his closest Street ET competitor.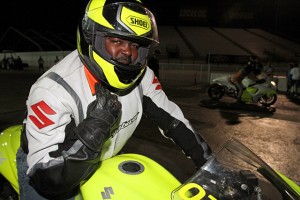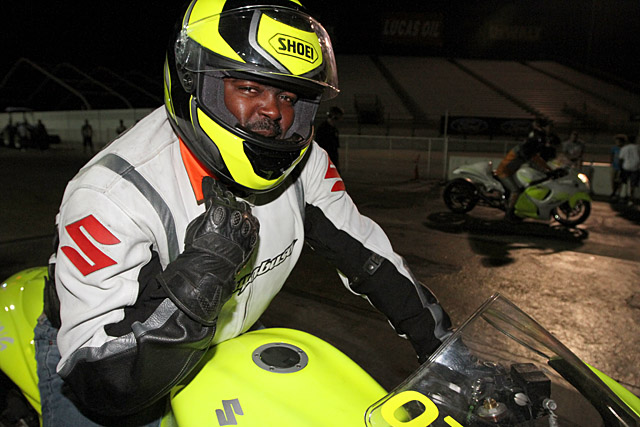 NHDRO promoter Brian Welch always has something up his fluorescent sleeve, and this time around it's Friday Night Fights—a hand-clutch, street-tire, heads-up, eighth-mile, no-time shootout off an instant green light. That rest-up for the weekend you were gonna get on Friday night? Fuggetabout it!
And if that's not gangsta enough, Saturday night will see the usual Port-Tech Grudge good times along with the Dunigan Pro Street Shootout and—Brian promises it's really gonna happen—the return of NHDRO's notorious Big Bikini Throwdown.
There's also a competition for NHDRO's littlest racers—a Big Wheel race for the 12 and under crowd Saturday evening. The youngest in your trailer might be the winningest in your trailer.
Don't forget, NHDRO starts on time and runs late, barely keeping all the fun contained within curfew hours and beneath KD Kanopies.
This is the Midwest's last big motorcycle drag racing blowout of 2014, so you, your bike, your friends, neighbors and every MC within 100 miles just has to be at Lucas Oil Raceway this weekend.
Find out more about the NHDRO at http://www.nhdroracing.com/
NHDRO thanks Schnitz Racing http://www.schnitzracing.com , McIntosh Machine and Fabrication http://www.mcintoshmachineandfab.com , Route 21 Racing Apparel http://www.route21.us , Catalyst Racing Composites http://catalystracingcomposites.com , Tsukigi Racing http://www.tsukigi.com , Millennium Trailers http://www.milltrailers.com , G&G Metal Spinners http://www.ggmetalspinners.com , Kevin Dennis Insurance http://www.bettercoverages.com , Port-Tech http://www.porttechheads.com/index.html , and KD Kanopy http://www.kdkanopy.com .
This report was prepared by Tim Hailey. Enjoy everything there is to read, see and watch about motorcycle drag racing and more at http://www.eatmyink.com