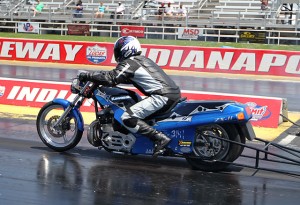 Expect Lucas Oil Raceway in Indianapolis to bust open at the concrete expansion seams when the one-on-one action of the Midwest's largest motorcycle drag racing series—the NHDRO—opens it's fourth season May 16-18 with the May Bike Fest, Title Bout #18 in the history of the NHDRO. MIRock and Manufacturers Cup both had their busiest openers ever this year, so NHDRO's phenomenal growth should continue unabated. And why not? The NHDRO's family reunion atmosphere and Lucas Oil's beautifully prepped racing surface make for a perfect weekend every time.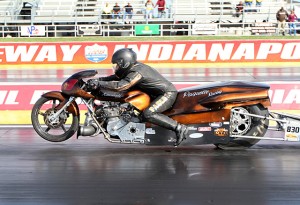 Well, perhaps the 2013 Fall Fury Finals weren't quite so perfect, as rain washed out raceday. Maybe it was only Mother Nature that could stop Schnitz Racing Pro Comp champion Mark Paquette from being the world's third 3-second, eighth mile motorcycle pilot burning anything other than nitro. Paquette qualified his turbo-methanol Kawasaki Funnybike number 1 with a tantalizing 4.000 at 176 mph but didn't get a chance to improve on Sunday. Now he has to defend his title against Keith Lynn, Brunson Grothus, Chris Cutsinger and others.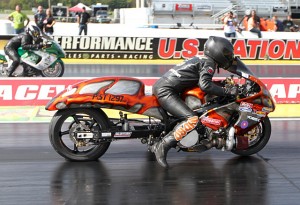 McIntosh Machine & Fabrication Pro Street champion Doug Gall will have his hands full with his title defense, as the most popular Pro class continues to grow and get more competitive than ever. New bikes, new riders, and new combinations will all take their shots at Gall and his oft-raced, turbocharged Suzuki Hayabusa. Contenders include recent Milan winner Bud Yoder on his brand new, Terry McIntosh-tuned 'Busa, veteran rider Phil Stoll on Ronnie Mitchell's pink "Frenchy," Frankie Stotz's Honda CBR1000RR, and Tyler Fisher on Paquette's no-bar ride. Stotz recently ran 6.90 at Valdosta and is a prime contender to make the class's first 6.80 pass, and there's no better place to do that than Indy. Riders who don't make the top 16 qualifiers will still compete for cash in the B class.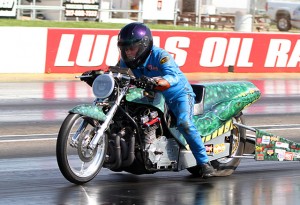 Fisher's dad Doug won the Route 21 Top Gas championship last year and will be fight "Kounselor" Kenny Schwartz, Chad Otts, Rod Bland, Mike "Wags" Wagner, Bradley Shellhaas and others to keep his name on next year's jacket.
Gall won the Catalyst Racing Composites Crazy 8s championship in the NHDRO's first full season, but the man defending that honor this year is Fun For All Motorsports-sponsored Ron Arnold. Arnold's got to deal with Ben Knight, Brad Gott, Quinn Orand, Clark Proctor and more.
Knight still has a chance at a 2013 championship of his own, as Tsukigi Racing Streetfighter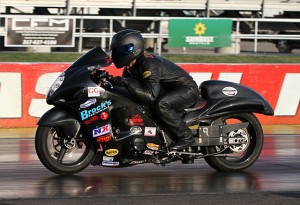 will decide their '13 title at the 2014 opener—the only class to vote to do so. Knight leads Dave Page and John "Spooky" Markham in the class.
Markham's young son Dalton Markham scored the Millennium Trailers Super Comp championship last year and will be defending against the likes of Fisher, Ceslie Shellhaas, Jim "Put it on the Underhill tab" Underhill, and others.
G&G Metal Spinners Pro ET Champ of Champs will feature superstars like Brian Selner, Craig Treble, Jeremy Teasley, Dustin Lee and countless more.
Ditto for Dennis Insurance Street ET with hot gloves like Josh Wood, Ryan Schnitz, Dustin Burchett, Brandon Teasley, Adam Harris and more.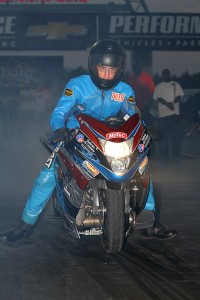 The first race of 2014 will also include the ear-splitting cackle of 2-stroke Super Eliminator bikes. This popular class features today's racers pushing 1970s motors to the limits with the help of contemporary technology.
Port-Tech Grudge will take over the track on Saturday night, with what has to be THE most entertaining grudge session in the nation, with or without big money races.
And speaking of entertaining and pushing limits, the infamous NHDRO bikini contest takes the humble Twinkie to places that Hostess could never have imagined. They would not be a struggling brand if they hired NHDRO to do their marketing…
For those who like two seats and four wheels, the United Corvette Council will hold court at the May Bike Fest as well.
Brian and Niki Welch and the whole NHDRO staff look forward to welcoming new sponsor KD Kanopy and everyone in the NHDRO family for another fluorescent year of on and off track action. That other Indianapolis track that opens in May might very well look west towards Clermont with envy when the NHDRO May Bike Fest pops off May 16-18, 2014.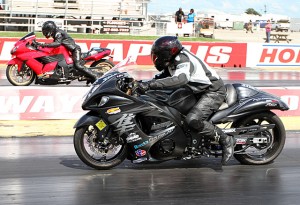 Find out more about the NHDRO at http://www.nhdroracing.com/
This report was prepared by Tim Hailey. Enjoy everything there is to read, see and watch about motorcycle drag racing and more at http://www.eatmyink.com