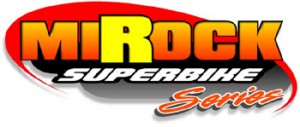 The Mickey Thompson Performance Tires MIRock Superbike Series, one of the most successful independent motorcycle drag racing series in the nation, will return in 2008 with eight events, a 35 per cent increase in purse money and a new racing category.
The new purse structure will pay the Schnitz Outlaw Pro Street winner a whopping $3,000 per event with $1,000 to the runner-up. In the Orient
Express Pro Sport Bike class, the winner's purse will be $2,000 per race with $600 to the runner-up.
Additionally, the series will pay a $5,000 cash bonus to the first plain-bearing motorcycle – Suzuki Hayabusa, Kawasaki ZX-12 or ZX-14 – to break the 7.00 second barrier and another $3,000 to the first to break the 200 mile per hour barrier during the 2008 MIRock Series.
The two host promoters, Royce Miller of Maryland International Raceway and Steve Earwood of Rockingham Dragway, also have organized a contingency program for 2008 and have made a deal with Straightliner Magazine, an insert in U.S. Rider News, to cover all eight events in the 2008 MIRock Series. A breakdown of the contingency program is available online at www.mirockracing.com.
The series will be further expanded with the addition of HTP Performance True Street, a budget-oriented class that will be contested at all Mickey Thompson MIRock events. True Street is designed for late model, fuel-injected, street legal sport bikes with limited modifications As they have in the past, champions also will be crowned in Schnitz Racing Outlaw Pro Street, Orient Express Pro Sport Bike, MIRock Quick 32 and, at Rockingham only, Honda-Suzuki of Sanford 5.60 Pro Comp class. Pro ET and Street ET will be contested at all events and the popular "Afterdark Underground" will follow each Saturday's final qualifying session.
The Rock and Maryland International Raceway will each host four MIRock events. The series will begin March 29-30 at Rockingham Dragway with the Honda-Suzuki of Sanford Spring Open before moving to MIR for the Fast by Gast Spring Bike Classic on April 19-20. Rockingham's FBR Shop event is scheduled for May 3-4, followed by the Fast by Gast Summer Showdown at MIR on June 7-8. The largest MIRock event held at MIR is next with the Fast By Gast / WPGC Bike Fest on July 19-20. The tour travels back to Rockingham Dragway for the 10th Annual Schnitz Summer Sizzler, Aug. 16-17, and returns to Maryland on Oct. 4-5 for the Fast by Gast Superbike Finals. The series will conclude with Rockingham's Lee's Performance Fall Bike Nationals, Nov. 15-16.
Last year's series champions are expected to defend their titles. They include Dave Norris of Bryans Road, Md., who last November at Rockingham became the first driver of a non-turbocharged motorcycle to break the 7.00 second barrier.
2007 Schnitz Racing Outlaw Pro Street Champion, Dave Norris
Norris will defend in the featured Schnitz Racing Outlaw Pro Street class that also includes female standout Angie McBride of Lewisville, N.C., FBR Shop winner Robert Hunnicutt of Youngsville, N.C., and fall event winner Ronnie Procopio of Wake Forest, N.C.
Procopio, who finished second to Norris in Outlaw points, won the 2007 championship in the FBR Shop Quick 32. His wife, Robin, won the title in Honda-Suzuki of Sanford Pro Comp contested at Rockingham, and finished second in Quick 32.
2007 FBR Shop Quick 32 Champion, Ronnie Procopio
The other defending champion is veteran Vincent Demito of Collegeville, Pa., the only driver to win last year at both The Rock and MIR, winning an unprecedented four out-of- seven event titles. Other contenders in the Orient Express Pro Sport Bike class include Anthony Navarro of Royersford, Pa., a two-time event winner last season, and Dimey Eddinger, Winston-Salem, N.C, winner of the season opener last year
2008 Mickey Thompson Performance MIROCK Superbike Series Schedule
Honda-Suzuki of Sanford Spring Bike Open
Rockingham Dragway
March 29-30, 2008
Fast by Gast Spring Bike Classic
Maryland International Raceway
April 19-20, 2008
FBR Shop Bike Nationals
Rockingham Dragway
May 3-4, 2008
Fast by Gast Summer Showdown
Maryland International Raceway
June 7-8, 2008
Fast by Gast WPCG Bike Fest
Maryland International Raceway
July 19-20, 2008
10th Annual Schnitz Summer Sizzler
Rockingham Dragway
August 16-17, 2008
Fast by Gast Superbike Finals
Maryland International Raceway
October 4-5, 2008
Lee's Performance Fall Bike Nationals
Rockingham Dragway
November 15-16, 2008