With a tropical storm off the east coast, the daily weather forecast for the Bike Bash was on a magic carpet ride. However, XDA racers WANT TO RACE and showed up ready to rock the quarter-mile. The Millers modified the schedule, and the quarter-mile was humming all weekend. The event was forty-five minutes away from completion on Sunday when a large weather cell came through to end the party prematurely. Four classes will finish their final rounds at the Bike Brawl on September 10-12, 2021 at Virginia Motorsports Park.

With 561 entries, the Pro classes delivered with a very tight field of competitive racing, our sportsman racers kept the show rolling with the toughest bracket racing in the game; and the Team Money Cycles Sound Off and Custom Bike Show kept the dial turned up all weekend.
Orient Express Racing Pro Street
The Orient Express Racing Pro Street racers continued to improve their performance standings as Virginia delivered cooler temperatures for these 650+ horsepower machines.
Justin Shakir took the number one qualifying spot on Friday night with a 6.505 before Rodney Williford knocked Shakir down a rung on Saturday with a 6.464 pass.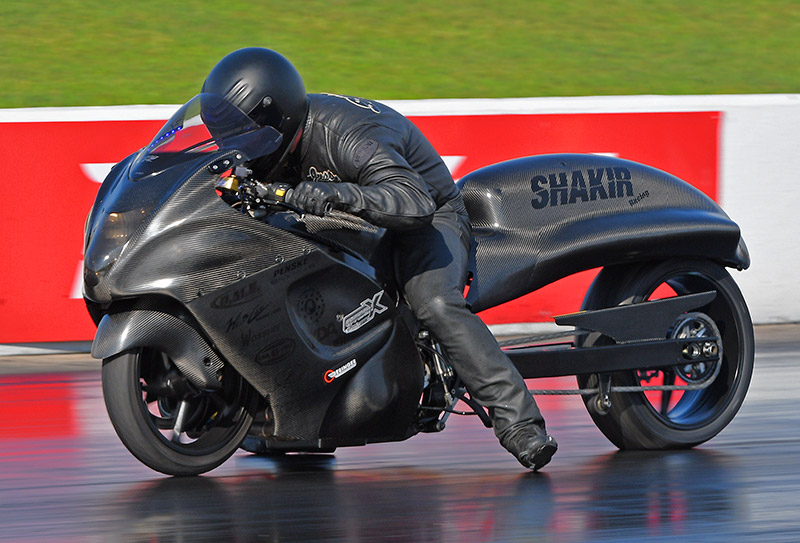 During the Saturday qualifying session Darion Payne improved his personal best ET to a 6.652 and broke the 220mph barrier with a 221.42mph run. Curtis Brown also improved with a 7.011, and we expect to see his first six-second pass at the next race.
In round one of eliminations, James Waugh poked his head into the 220mph barrier running 220.33mph and improving his ET to a 6.601 while winning over Ryan Hable.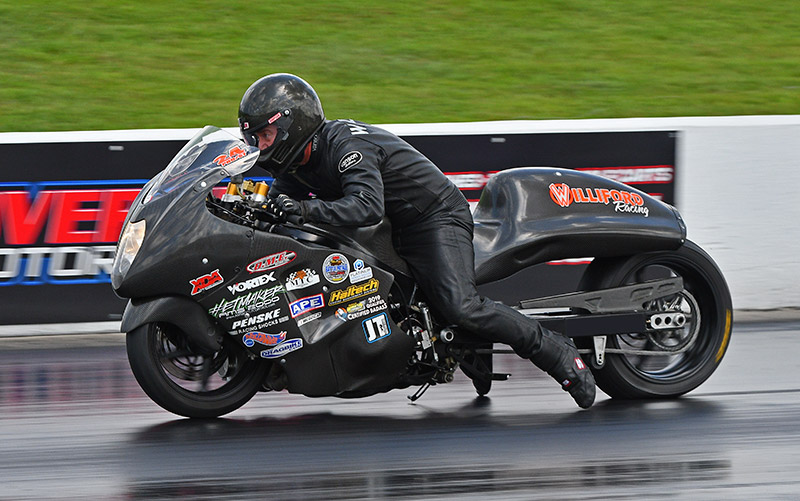 Rodney Williford had an earned bye, along with Jason Dunigan and Shakir's broke bye runs, easily advanced to round two. Curtis Brown had starting line issues sending Jamie Lopes on to round two. Darion Payne, Greg Wallace, and Gaige Herrera also won their rounds to move on.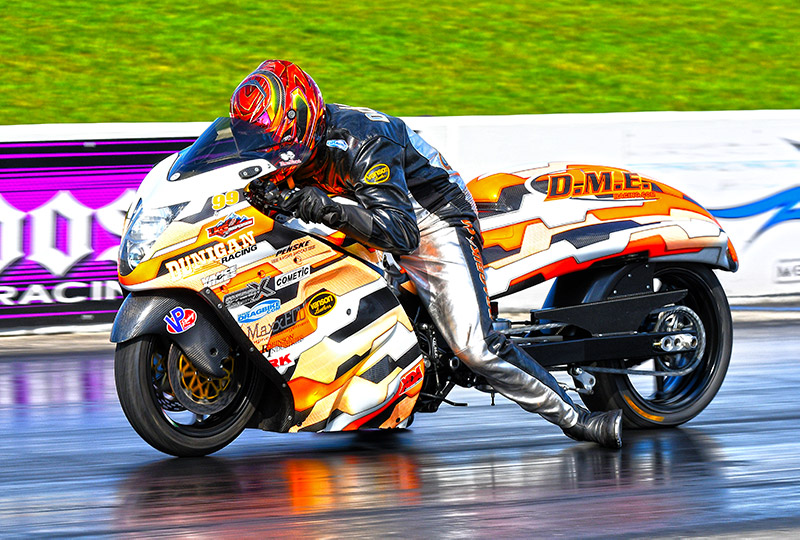 We saw three stout passes in the forties from round two, with Williford running 6.465 at 226.73mph, Dunigan a 6.499 at 230.45mph, and Shakir improving his personal best with a 6.476 at 228.54mph. Wallace also advanced with a 6.513 win over Lopes.
In the semi-final, Shakir would take out rival Dunigan with a 6.574 after a wheelie slowed Dunigan off the line. And Rodney Williford would reveal the quickest pass of the weekend with a 6.455 at 230.17mph to send teammate Wallace back to the pits.
This is Shakir's first XDA final, but the rain couldn't come soon enough as he needed the delay to change a motor for the final round. Shakir's rain dance paid off and no doubt he will be ready to face off with an undefeated Williford during qualifying at the next event, September 10-12, back at Virginia Motorsports Park for the inaugural Bike Brawl.
DME Racing Real Street
The DME Racing Real Street class gives us a good show at every event, and with three different winners this season, you never know what you will get. Spencer Claycomb took the number one qualifying spot with 7.547 on his nitrous Hayabusa. Being on top would be short-lived when Claycomb lost in the semi-final against previous event winner Mark Hylton.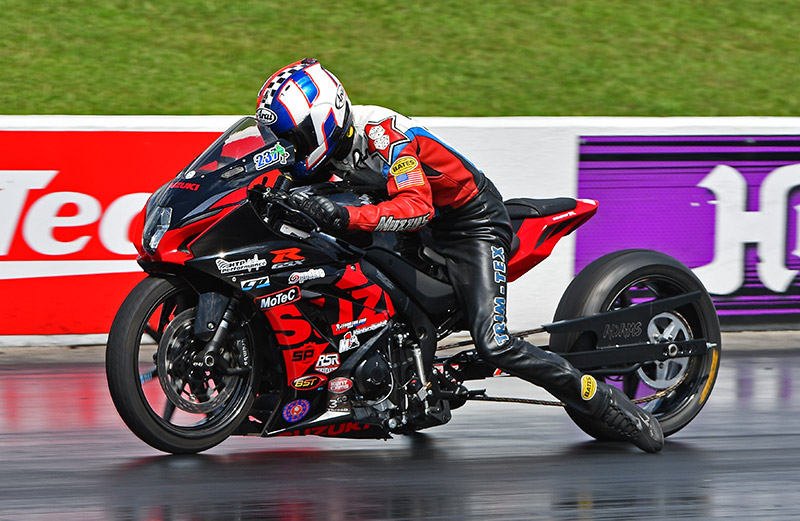 After coming off a strong performance, Ralphie Navarro struggled at this event. He lost in round one after leaving before the tree was activated, sending Trevor Schnitz to his first, second-round appearance in DME Racing Real Street. Schnitz will automatically make it to his first final in three weeks against Mark Hylton with an earned bye in the semi-final.
With David Stewart missing eliminations and Hylton going to the finals, he is now poised to take over the points lead with only two events left in the season. The drama will unfold September 10-12 at the inaugural Bike Brawl.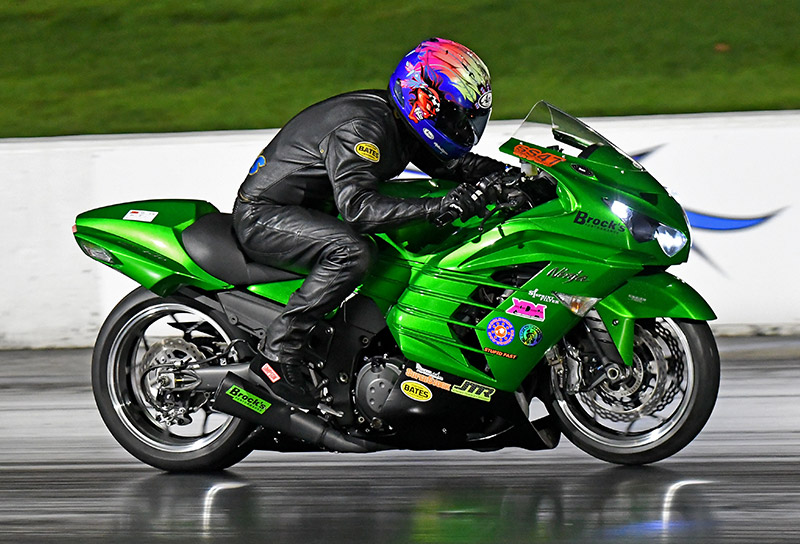 HTP Performance Super Stock
David Fondon continues to terrorize the HTP Performance Super Stock class as he takes another number one qualifying position with an 8.756. Super Stock was cut short, leaving David Fondon, Mike Davis, and Curtis McDougald to finish this battle at the next event. McDougald will get a bye to the final to face either Fondon or Davis. All three of these racers are running close performance numbers and will be ready to give us a show.
MaxxECU Pro Xtreme
Winner – Chris Garner-Jones / Runner-up – John Collins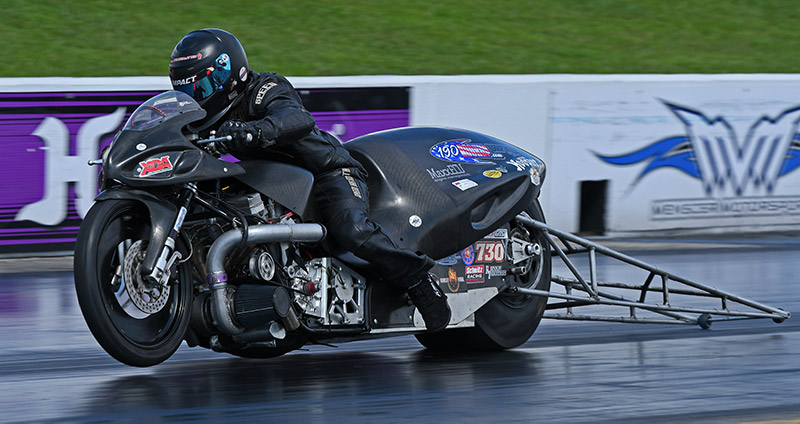 MaxxECU Pro Xtreme didn't deliver any three-second passes this past weekend as the Collins-Jones battle raged on. For the third time this season, John Collins and Chris Garner-Jones would find themselves in the final against each other AGAIN. Both racers each had a win on each other going into the bike Bash.
Collins got the jump on Garner-Jones taking the number one qualifying position with a 4.025 to Garner-Jones' 4.124. In round one, Bobby Lovingood was broke giving Collins an easy path to the final. Garner-Jones took out Travis Davis with a 4.069 to a 4.402 to meet Collins in the final round.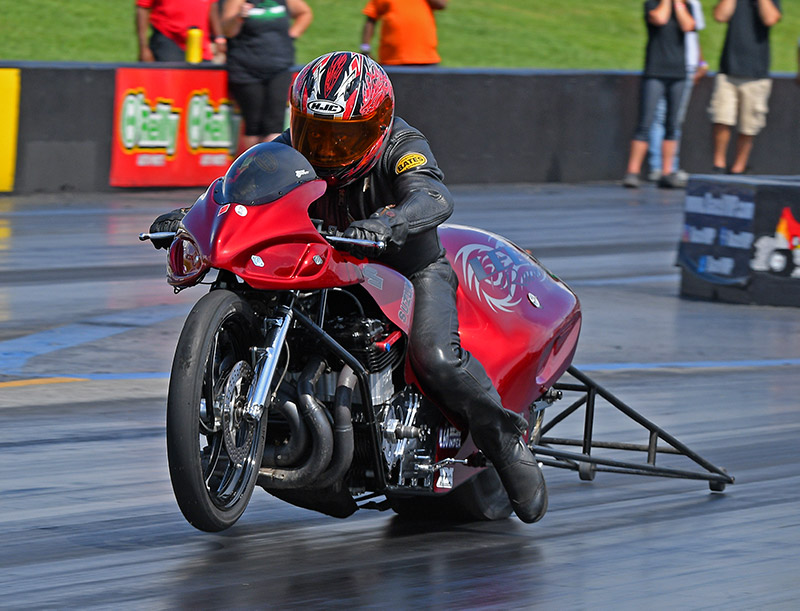 Collins would have the clear ET advantage; however, he threw it all away with a -.025 red light to give Chris Garner-Jones the win and a 2 to 1 win rate over him this season.
MaxxECU Pro Xtreme is presented by Ace Mechanical, Billy Vose Racing, Dallas Flat Glass, Dunigan Racing, DME Racing, Grothus Dragbikes, Harley Haul, Rob Bush Motorsports, Robinson Industries, Schnitz Racing, Timblin Chassis, and Worldwide Bearings.
Vance & Hines 4.60
On Saturday, the Vance & Hines 4.60 index class was wild when points leader Ronald Procopio and Boo Brown did not make the thirty-two bike field. Tyler Cammock, Eran Pielert and Ron Bonitatis all ran a perfect 4.600 in qualifying. Still, it was Cammock who got the number one qualifying position based on his higher mph as the tiebreaker.
On Sunday Ronald Procopio was ready as an alternate when other qualified riders pulled out of the event due to broken parts. However, Procopio's showing would be short-lived after going -.001 red against Ron Bonitatis in round one.
We will have to wait a couple more weeks to find out who is going to take the win in this class between Cameron Shelton, Jim Jordan, Michael Ostrowski, and Chester Lee. Don't miss the action in a couple weeks at the inaugural Bike Brawl.
HTP Performance Grudge
After a hiatus, the Boosted Bulls turbo class returned this season to encourage new bike builds and the competitive spirit. It's been quite the show this year with racers two-stepping competition. This past weekend the DME Racing team brought out a new Turbo GSX-R1000 bike along with Pro Street veteran Frankie Stotz on shakedown duty. While the plan was to work out the bugs of a new setup, the bike was flying. And in only six passes, DME Racing held the time ticket for the quickest pass on the property that weekend. And for those who got to lay their eyes on the time slip, well, they were all just speechless. DME Racing is back in grudge and ready for action.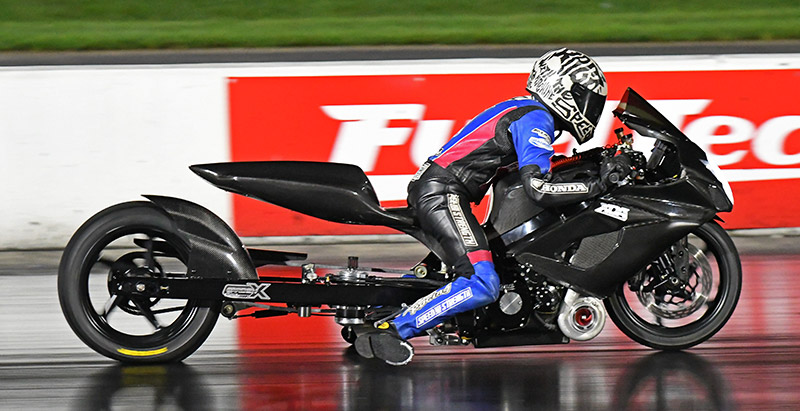 APE Nitrous Bulls
Winner – Russell Dennison Jr / Jimmy Hendricks
Runner-up – Billy Vose / Power Slave
With Richard Gadson a no-show, Russell Dennison Jr took over the APE Nitrous Bulls points lead with zero obstacles. In round one, Dennison Jr had an earned bye for an immediate pass to the final round.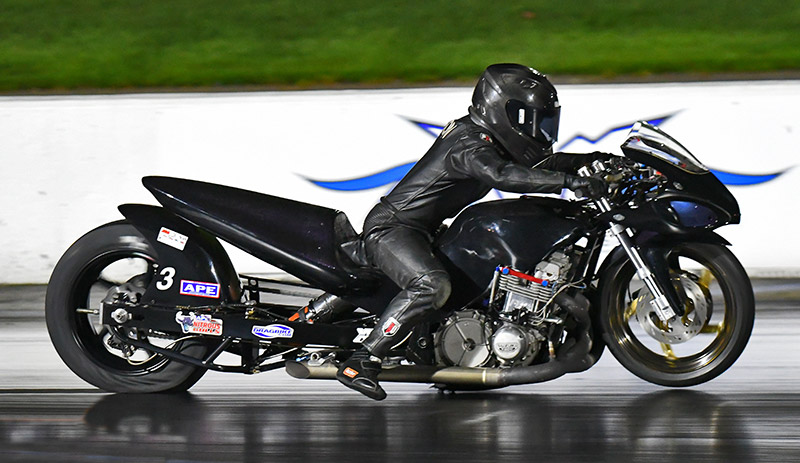 On the other side of the ladder, Ray Lee on 'Lil Ugly' struggled with monster wheelies and allowed Billy Vose on 'Power Slave' to rocket past him for the win. But tragedy would strike 'Power Slave' as his lane filled with smoke as he slowed through the finish line.
With Vose broke and unable to make the final round, 'Jimmy Hendricks' took a leisurely pass for a win, and the points lead.
3 Sixty 5 Monster Bulls
Winner – Mike Burkhart / Attila
Runner-up – David Page / Pickin Pockets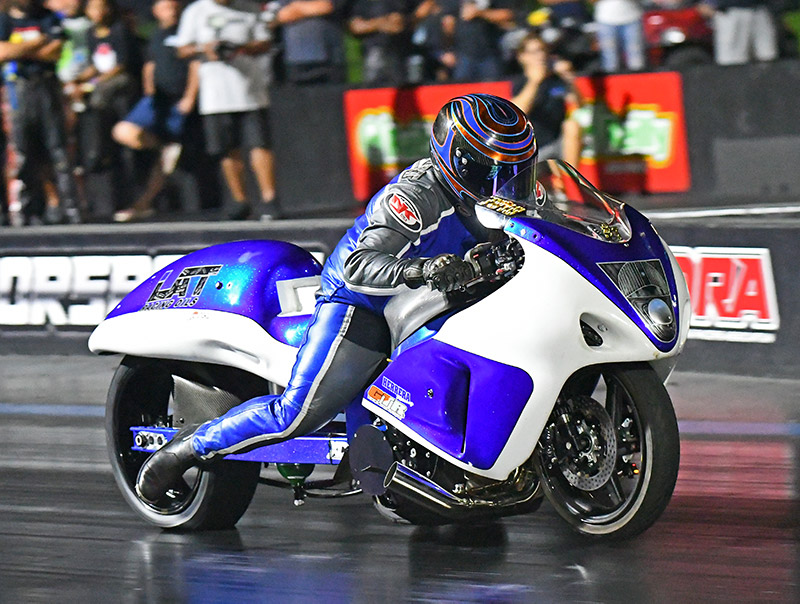 In 3 Sixty 5 Monster Bulls Dave Martin took a first-round loss against Michael Thyen on 'The Prisoner' and lost his points lead.
Jason Herron on Spencer Claycomb's 'Tic Tok' just came off two wins in a row when he took out Howard Gerken on 'Son of Sam' in round one. Herron recovered from a starting line wheelie a little too late in round two and Mike Burkhart on 'Attila' snuck in for the win.
Burkhart then went on to the final to meet the 2020 class champion, David Page, on 'Pickin Pockets.' The change fell out of Page's pocket and he slid around the starting line while 'Attila' hooked up and left on a solid straight pass for his first 3 Sixty 5 Monster Bulls win! Someone get Page a Dunlop Dragmax.
Tommie's Motorsports DMV Bulls
Winner – Cody Lowe / Codeine
Runner-up – Desmond Spalding / Sho Nuff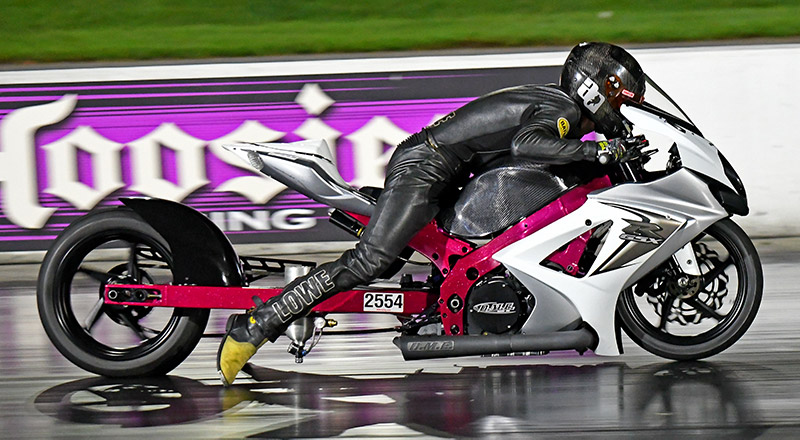 In Tommie's Motorsports DMV Bulls the first round of competition was a slaughter with winners Desmond Spalding, Augustine Herrera, Jamell Scott, Melvin Reese, and Cody Lowe gapping their opponents easily at the finish line. The show stopper of the round was between Alex Kupetz on 'Monkey Business' and Deshawn Jones on 'Dr. Jekyl.' Kupetz got off the starting line first with a lead, but Jones quickly overtook him, and just as fast, Kupetz was coming back around him as they crossed the finish line for the win.
In round two, 'Codeine' ridden by Lowe would send Kupetz back to the zoo as he advanced to take out Scott on 'Cotton Mouth' in round three, to then meet Spalding on 'Sho Nuff' in the final. And Sho Nuff, Lowe took his second win of the season because you need more than what Spalding had to put down the 'Codeine.'
1 Stop Speed 5.60
The 1 Stop Speed 5.60 index racers had a competitive battle before rain dashed their chance at crowning a champion. Dustin Davis took the number one spot with the only perfect 5.600 in qualifying. Five racers were still in competition when the rain came in. The $1,800 purse was split among points leader Dustin Lee, Freddy Frazier, Kenny Morgan, Barry Pryer Sr, and Turon Davis.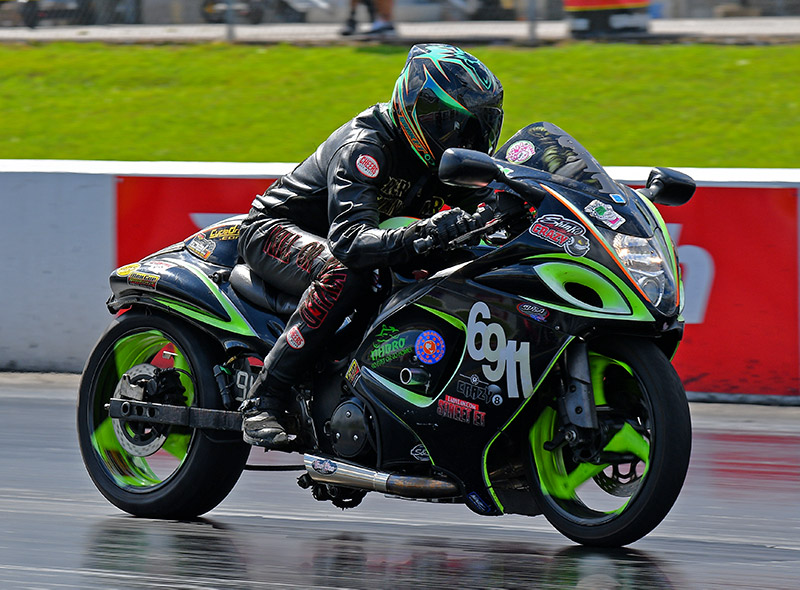 Mickey Thompson Tires Top Sportsman
Winner – Pablo Gonzalez / Runner-up – Ryan Schnitz
NHRA Pro Stock Motorcycle racer Pablo Gonzalez used his free time to come to the XDA Bike Bash, and it paid off. After his Friday night Gamblers win, he took the number one qualifying position in Mickey Thompson Tires Top Sportsman on Saturday with a 7.471.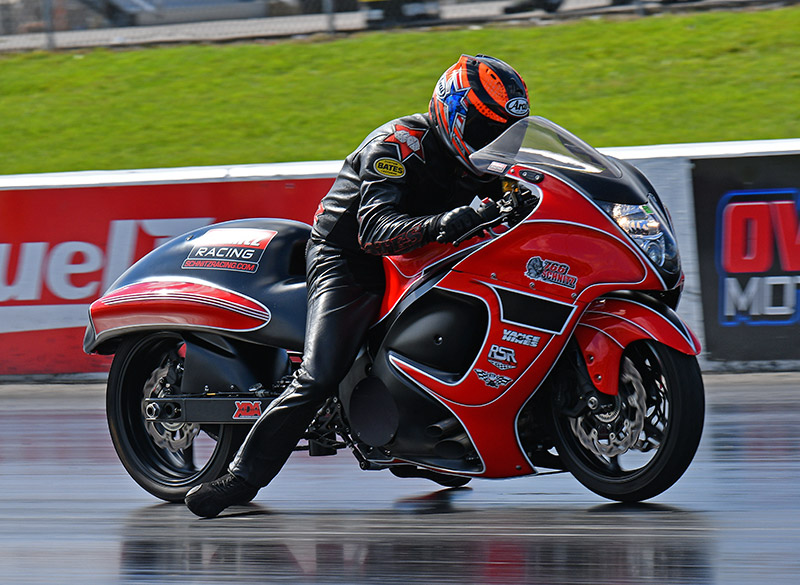 Pablo won four rounds of competition, running consistently close to his dial round after round until he met previous NHRA Pro Stock Motorcycle competitor Ryan Schnitz in the final. Schnitz, a veteran rider traversing all classes of motorcycle drag racing, was eager to get into the winner's circle. But his eagerness yielded him a -.020 red light and awarded Gonzalez another win along with $2,000 to add to his weekend winnings.
MPS Racing Pro ET
Over a hundred racers entered the Sunday MPS Racing Pro ET class. Four rounds were completed before the rain came in on Sunday and forced the final ten racers to split the $10,800 purse.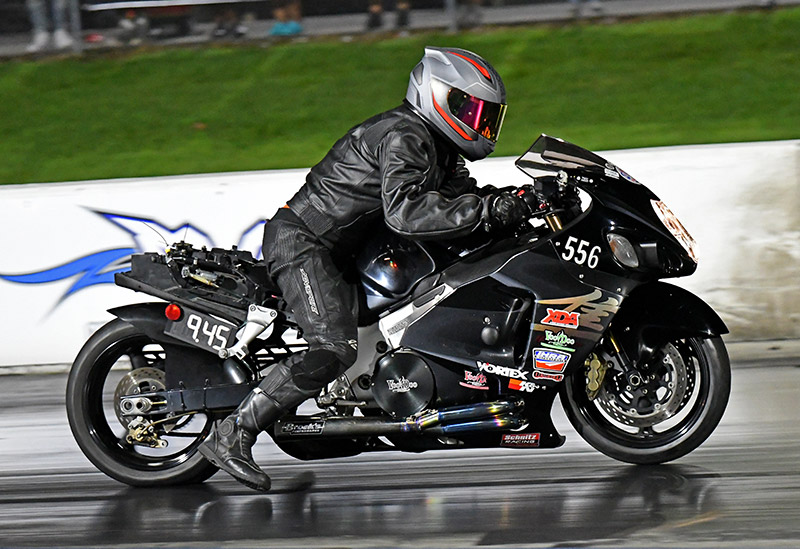 The class points leader, Jeffrey Santin took a second-round loss leaving room for his competitors to gain ground on him before the Bike Brawl in two weeks. With only two events left in the season, this will likely hurt him.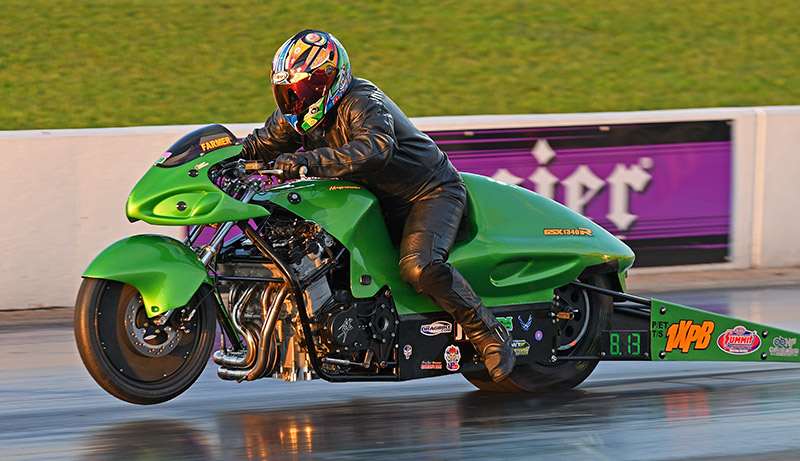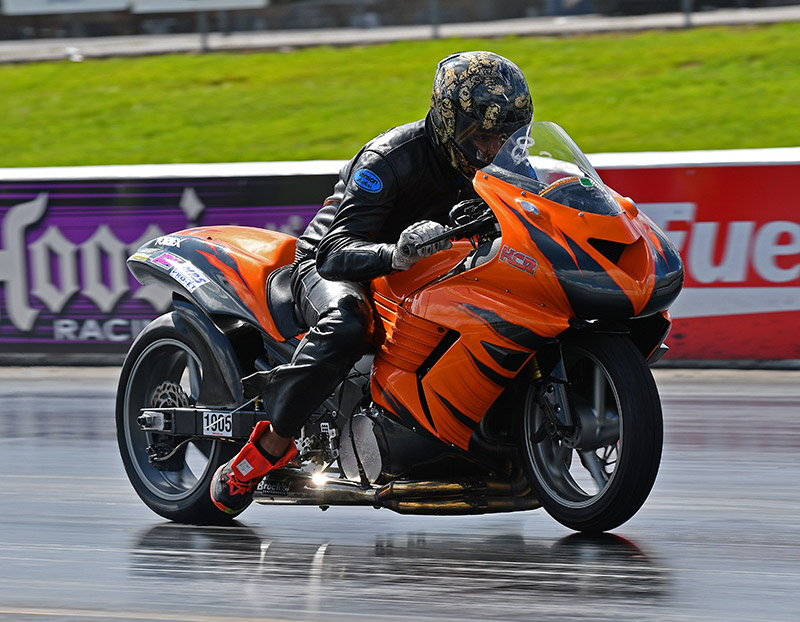 Brock's Performance Street ET
Brock's Performance Street ET was another class that was caught up in the Sunday night downpour with six racers still in competition. Ronnie Reece Jr, Barry Purnell, Rafaelle Proctor, Mark Blake, Nick Hamlett, and Derrick split the $3,400.00 purse.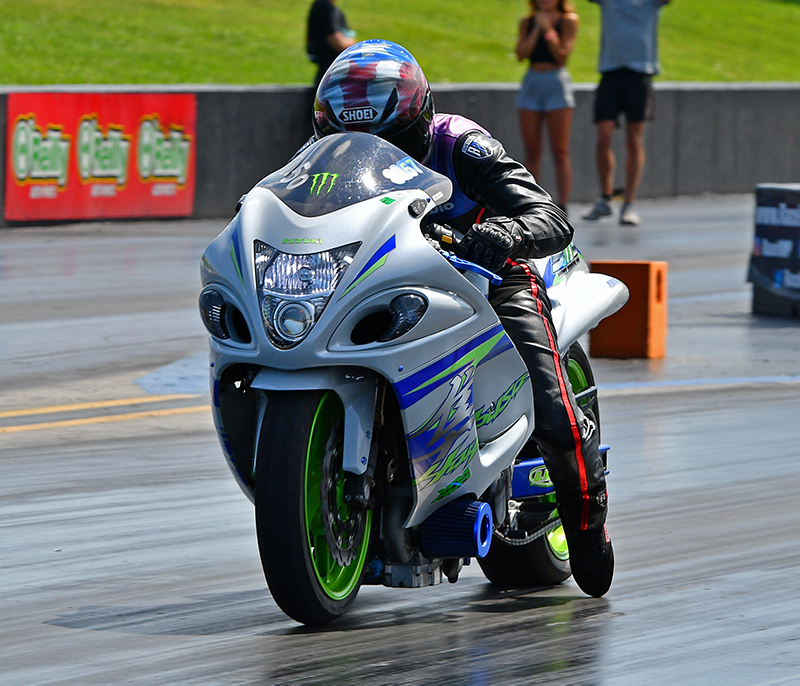 VooDoo Components Bracket Bash
Winner – Bill Foskey
Runner-up – Derek Crawford
On Saturday, one hundred racers entered the VooDoo Components Bracket Bash for a chance at the $4,500 class payout. With XDA serving up the toughest competition in the country, the reaction times were so tight that we saw forty-five red lights in the eight rounds of competition.
Bill Foskey of Delaware avoided the dreaded red light despite coming close three times with multiple .002, .002, and .003 reaction times on his way to the finals against Derek Crawford.
Crawford and Foskey lined up with close dial-ins of 9.41 and 9.45 for the final. This pairing looked well matched for an exciting run until the bulbs dropped, and Crawford turned on the red light sending Foskey directly to the Winner's Circle to collect the $3,000 winner payout.
Hard Times Parts & Service Gambler's Race
Winner – Pablo Gonzalez
Runner-up – Michael Rankin
The Friday night Hard Times Parts & Service Gambler's race delivered fierce competition as the sportsman heavy hitters put up a C-note for a chance at a $2,400 purse. Floridian entry Pablo Gonzalez started the weekend with a Friday night win when he took out XDA regular Michael Rankin with a killer .014 reaction time and running 9.482 on his 9.47 dial for a clean package and cash to start the weekend on high.
The XDA season continues at Virginia Motorsports for the inaugural Bike Brawl on September 10-12, 2021. With only two events left in the 2021 motorcycle drag racing season, mark your calendars so you don't miss a moment of incredible performance numbers created by our XDA racers. Come see the show for yourself!
There are more videos on the Cycledrag Youtube channel (please subscribe here) and the Cycledrag.com Facebook page (Please like here) and more will be coming soon. Check back daily.
To take advantage of some amazing discounts at Brock's Performance, click – http://brocksperformance.com?aff=12
USE cycledrag5 coupon code.