Keystone Raceway in sleepy New Alexandria, Pa. is not a track you would ever expect a Top Fuel dragster to run down.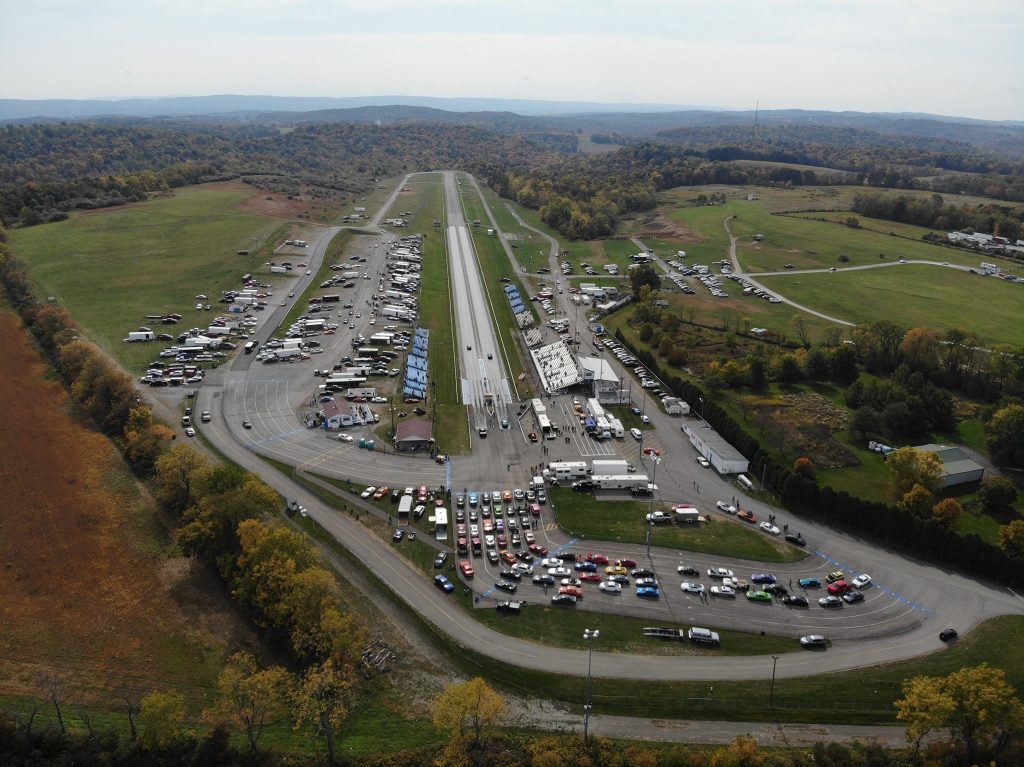 The legendary facility, about an hour outside of Pittsburgh, Pa., has seen its share of history, including the first six-second Funny Car run by "TV" Tommy Ivo. In the 80s and 90s the track became a bit outdated and short by today's standards.
The Tedesco family purchased and rescued the drag strip around the turn of of the century and it has been in a state of improvement ever since.
Since coming on-board, President Greg Miller has taken the track to a whole new level.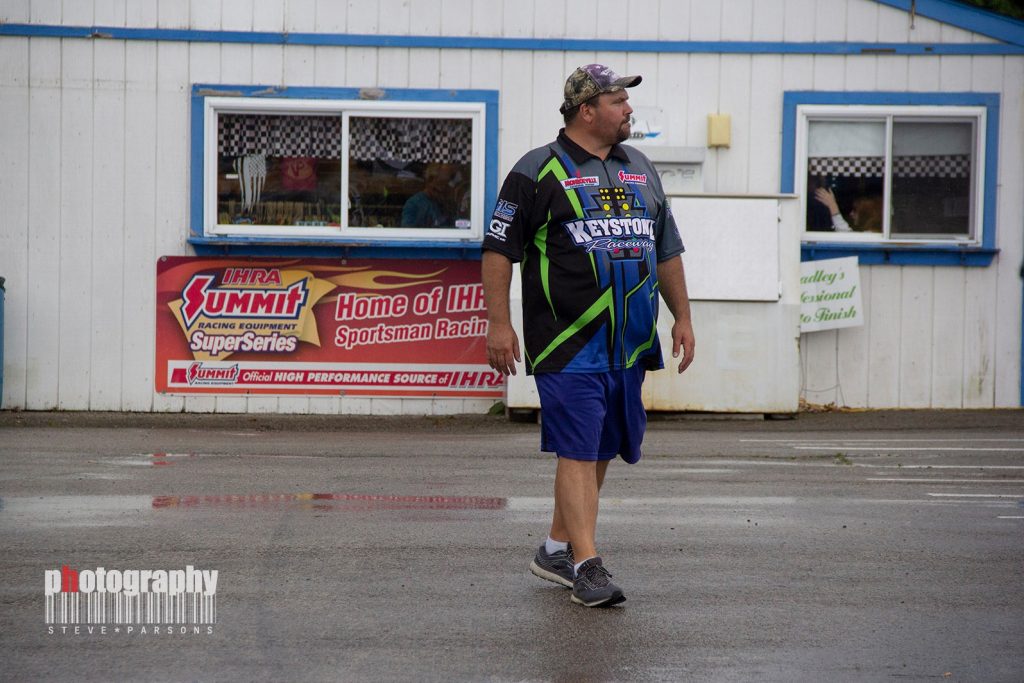 New Alexandira never thought it would see a legit Top Fuel dragster. Well, it did.
Miller shared the following inspirational tale on Facebook –
"Saturday night, the Night of Fire, we accomplished something that for many years I always thought to myself would remain only a dream. As much as it would be awesome to have a Top Fuel car run here, in my mind I knew this old track had its day and would not be able to handle it.
It became apparent in 2020 we were losing the track surface, and did what was needed to get through the rest of the season. I knew there was no going forward without replacing the bad track surface. Spring 2021 we did just that. We have faced challenge after challenge but keep pushing through.
After redoing the surface I started thinking to myself, I am going to look into a Top Fuel car. I went to Summit Motorsports Park National Event to hangout and talk with many friends. I got to run into Joe Morrison, who has raced at KRP before, while out there and we talked briefly about it, deciding to connect back up after the event.
After some discussion back and forth we pulled the trigger on having the Leverich Top Fuel Dragster at Keystone Raceway Park. I later questioned my sanity more than normal but turned a positive look and said "WE ARE GOING TO DO THIS AND ITS GOING TO BE GREAT".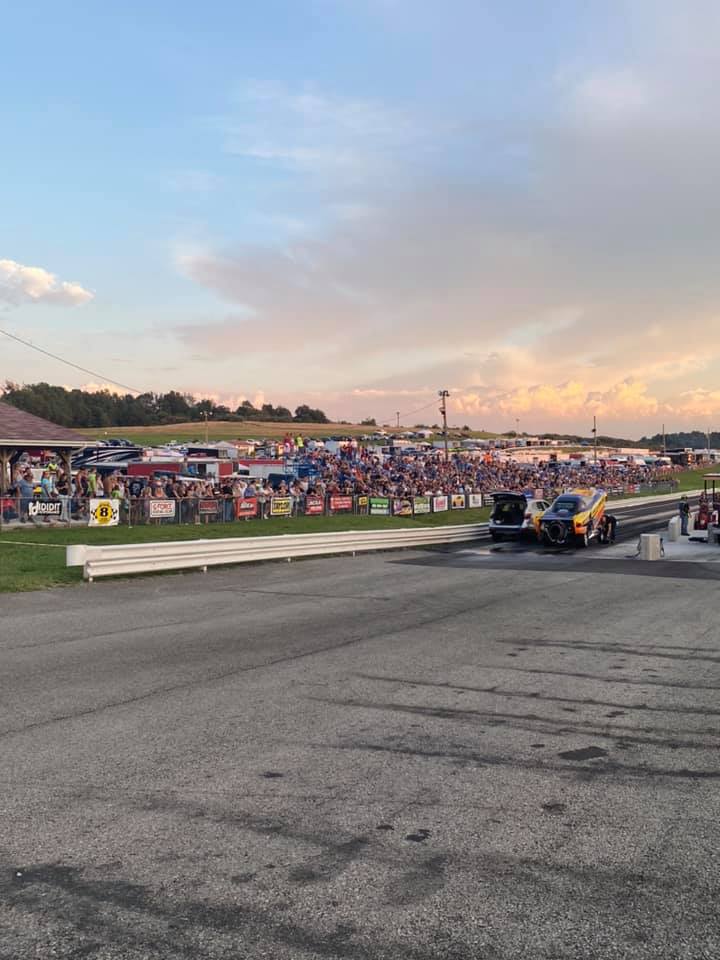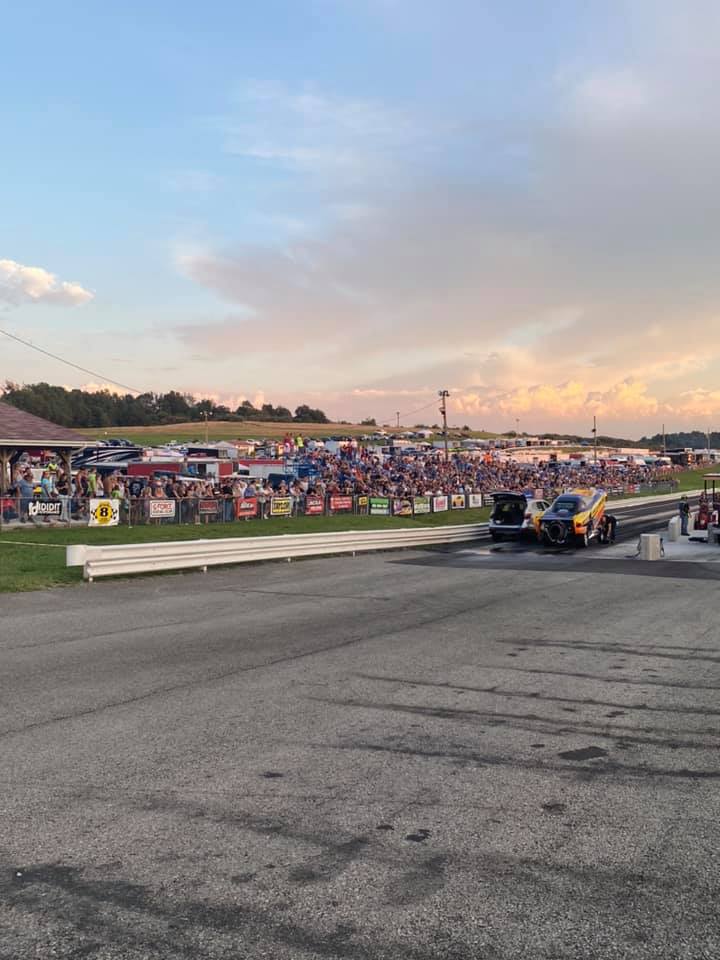 After week in and week out of rain this season, I refused to watch the weather and said it's out of my control and the big guy upstairs is leading this ship. Not only were we blessed with beautiful weather but we were able to share "A First" with a record setting crowd of family and friends along with a brand new track et and mph record.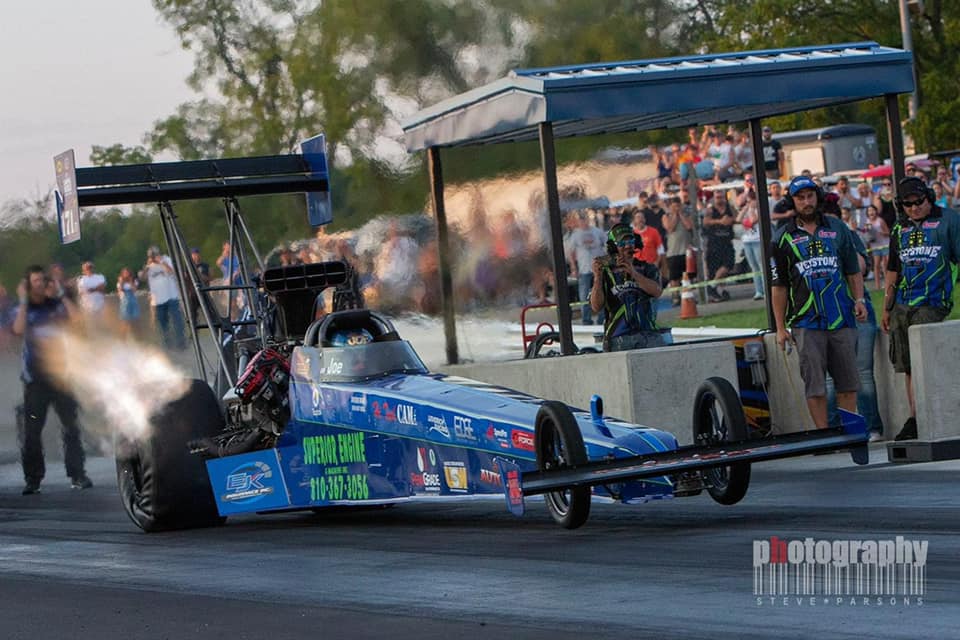 Joe, and the Leverich family/crew told me they have no doubt about getting down this track. As I stood up on the hill behind the burnout box I watched that car launch, hook and hold down the track with a .903 second 60' and go 3.53 in the 1/8th mile, lifting after the 330'. The second pass was everything…. there is nothing like all 8 nitro filled candles lit at night! .899 in the 60', 3.28 @ 259 mph in the 1/8 mile! That is when a dream came true. Joe Morrison, Gary, Daniel, Matt and team Leverich, thank you for becoming a part of our history and showing the world our little track loves NITRO!
Thank you to BigAl Hanna, Richard Hanna and Hanna Motorsports, Scott Leber with the Scott Rods AA Gassers, The "Thunder Buggy", Bob Motz and Steve with R & R Fireworks for making Night of Fire such an amazing event.
None of this would have ever happened if it wasn't for so many people. In the 54 years of Keystone Raceway Park being open, every person from track owners, sponsors, racers, families, spectators, employees and more that kept the track going for these 54 years.
Thank you goes out to all of our sponsors who believed in the vision of where we are heading at Keystone Raceway Park and standing by my side.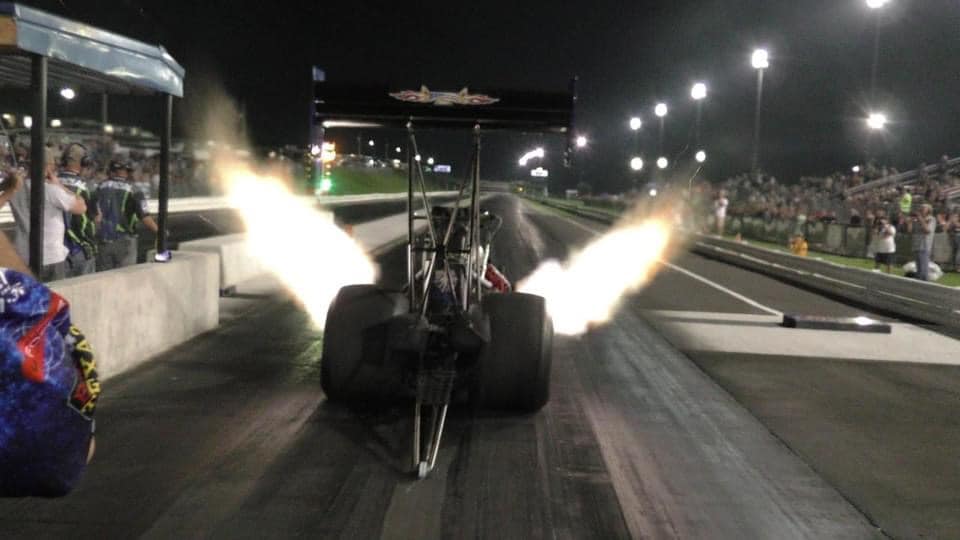 A huge thank you goes out to my staff and crew. Many people do not realize what all goes into making events work. From all the hard work through the week of keeping the facility looking good, to track personnel who sacrifice weekend after weekend to stand by my side and put in an 18 hour shift in the hot heat and deal with everything that's thrown at us then back to cleaning up the facility and working/fixing everything that may have been damaged or needs serviced to get ready for the following week.
The Media family for capturing all of our memories for us to share for our lifetime and beyond.
Last, to my family, friends, racers, crew and spectators, from the bottom of my heart, THANK YOU!
WE PUT A TOP FUEL DRAGSTER DOWN OUR LITTLE HOME TRACK. This is just the beginning, more to come!"
Please join us in congratulating Miller and his entire team at Keystone Raceway Park on this monumental achievement.
There are more videos on the Cycledrag Youtube channel (please subscribe here) and the Cycledrag.com Facebook page (Please like here) and more will be coming soon. Check back daily.
To take advantage of some amazing discounts at Brock's Performance, click – http://brocksperformance.com?aff=12
USE cycledrag5 coupon code.