What makes the most anticipated event on the motorcycle drag racing and culture calendar better? Nitro! For the first time ever at a Mickey Thompson MIROCK Superbike Series event, Top Fuel motorcycles will light the sky and rotate the earth at Maryland International Raceway's WPGC Bike Fest, July 25-27 in Budds Creek, MD, USA.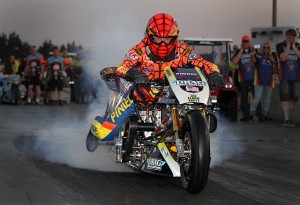 Larry "Spiderman" McBride—the living legend of Top Fuel—will take on nitro newcomer Dave Vantine in a four-round match race at 3:00pm and 8:00pm on Saturday, and 1:00 and 5:00 on Sunday. "I'm excited, I really am," said McBride. "I've seen how Jason Miller and his staff prepare the track there, and I've never seen anyone prepare a track like that. I haven't run there since about '94-'95 when I was running 6.70s, 6.80s at 195,198 mph on Harleys. So the 5.70s at 248 that we're running now should be a big difference!"
And big entertainment for the fans and clubs that flock to the Bike Fest—as if there needed to be more at an event already jam-packed with the world's quickest streetbikes, hottest bikini models, craziest stunters, the all-ladies Paint the Quarter Pink breast cancer awareness race, and the DC area's best bands.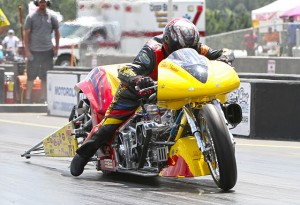 That famous MIR track prep might also produce the world's first 6.80something street tire pass at the Bike Fest, as Orient Express Pro Street champion Joey Gladstone and challenger Jeremy Teasley both ran just a few thousandths of a second off the milestone with their turbocharged Suzuki Hayabusas in June. Gladstone ran a new ET record 6.903 at a mind-blowing 220.02 mph on the DME Racing 'Busa, and Teasley just took two NHDRO wins last week in Indianapolis. Both bikes will be set on kill at the Bike Fest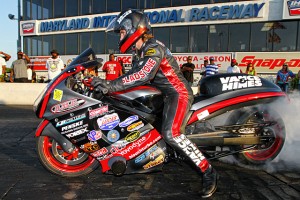 But this is no two horse race. An HTP Performance nitrous 'Busa was the first to run a 6.90, and riders Danny Cox and Ryan Schnitz will be looking to improve on that number. And what about the expected return of Tony Ficher and the radical new DAS supercharged 'Busa? What will that screaming monster do in its first weekend of competition? And Gladstone's teammate Terence Angela? He always turns up the wick when the spotlight is on. And 3X champ Rodney Williford? Never count him out of any speed contest.
While maybe not a 6.80 threat, consistent players like Doug Gall, Darion "Nanu" Payne, Rendolf Torbed and more will be looking to clean up amidst the carnage.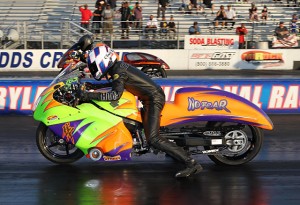 DME Racing Real Street has busted out with competiveness all over in 2014, and yet Teasley still rules the roost on his sinister black, nitrous-huffing RS Motorsports Kawasaki ZX14. As usual, Johnny Dobrin is right on his tailpipe with a turbocharged 'Busa. Even Rickey Gadson has re-emerged as a player, runner-upping in June on his turbo ZX14R.
Teasley is also the defending champion of the wildly popular Cycle Connection Crazy 8s no-bar index class. He sits third in points so far this year behind Virginian Clay Davies and Kentuckian Ron Arnold. This race will be a turning point for the second half of the season for everyone in the top 10.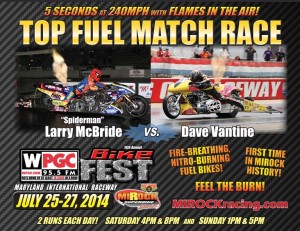 The world's quickest, 2-wheeled index class, Louis Concrete 4.60, is also MIROCK's fastest growing. While champion Kenny Cornell struggles in a tie for seventh, April race winner Darryl Hollins leads the points in this big-tire, race to the eighth mile.
Taking an extra second to make the trip is FBR Shop 5.60, with Michael Ostrowski leading a tight group at the top including Robert Parker, June winner Michael Rankin and June runner-up Ben Knight.
Perennial champion of something each year, Boo Brown is so far leading Trac King Clutches Top Sportsman—the quickest 32 of every Pro ET field. By the end of the year, you can bet that George Shriver, Brian Canoles, Jimmy Shifflet, Jay Windsor and more will all be making moves and striking at Brown's lead—now is the time to start.
The staging lanes will swell each and every day with Fast by Gast Pro ET and Brock's Performance Street ET racers—the toughest in the world.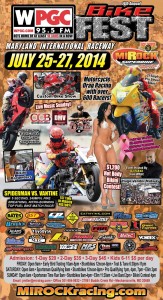 And speaking of tough, don't forget Saturday's Afterdark Undergound. HTP's Cobra Kai. Kingpin, Cocaine and Mandingo will be looking to battle all comers, so bring it and don't forget to pack your wallet
Sunday will bust loose with WPGC's DJ Flexx, live music, the East Coast Stunt Jam competition, bikini bartenders, custom bike show, huge vender midway, and of course the famous MIR bikini contest featuring the lovely ladies of the International Bikini Team. All the major DC motorcycle clubs will be streaming to Budd's Creek for this event and your club will want to be in that number.
This is THE ONE can't miss motorcycle drag racing event of the year, THE ONE that drags them in from the deep south, the midwest and beyond. Like you've got something better to do? Pack that trailer, load that cooler, bring your bleacher cushions and parasols and BE THERE.
Find out more about the Mickey Thompson Performance Tires MIROCK Super Bike Series at http://www.mirockracing.com
Find out more about Maryland International Raceway at http://www.mirdrag.com/
This report was prepared by Tim Hailey. Enjoy everything there is to read, see and watch about motorcycle drag racing and more at http://www.eatmyink.com