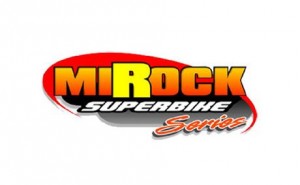 An extended winter weather pattern and deteriorating forecast have forced Rockingham Dragway owner Steve Earwood to impose a one-month delay to the start of the 2013 Mickey Thompson Performance MIROCK Superbike Series which was to have begun this weekend.
New dates for the FBR Shop Spring Open, which was to have kicked off the nine-race series hosted by Rockingham Dragway, Maryland International Raceway and Atco (N.J.) Dragway, are April 19-21.
The race program will remain unchanged with a MIROCK-exclusive test-and-tune session on Friday (April 19), pro qualifying Saturday and eliminations Sunday in all the popular MIROCK categories plus the new Louis Concrete 4.60 Index class.  Rockingham also will host its popular Afterdark Underground program following Saturday's qualifying.
All the usual suspects in Orient Express Pro Street, D.M.E. Real Street, MIROCK Crazy 8s, FBR Shop 5.60, Trac King Top Sportsman, Nitrous Express Pro ET and Brock's Performance Street ET are expected to return for the belated opening event in one of the nation's most successful independent series.
"It's very disappointing to have to postpone a race of any kind, but especially one of this magnitude," Earwood said.  "Unfortunately, one of the realities of drag racing is that we are at the mercy of the elements and in a series like this one that draws racers more than 20 states, you have to be sensitive to more widespread travel issues.  It would not be prudent to force racers to drive here knowing we stand more than a fifty-percent chance of facing a rain-out.
"We're just fortunate to have had a date in an especially busy schedule to which we could move the Spring Bike Open."
As it has in the past, The Rock will play host to four events in the series while MIR will host four and Atco one.  Two of Rockingham's events will focus exclusively on the expanding sportsman classes – The Adams Performance Sportsman Summer Sizzler, June 28-30, and the dragbikelive.com Sportsman Showdown, August 9-11.
Rockingham's Lee's Performance Fall World Finals again will close the MIROCK season, Nov. 1-3.
For more information on the Mickey Thompson Tires MIROCK Superbike Series please visit: www.mirockracing.com.