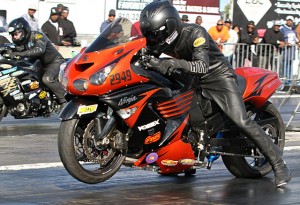 Rockingham, North Carolina, USA—The world's largest motorcycle drag racing organization—the Mickey Thompson MIRock Superbike Series—kicks off the 2014 season with the Adams Performance Spring Bike Open at legendary Rockingham Dragway. Steve Earwood's hardworking staff will be spraying plenty of PJ1 record-setting traction compound to keep the power of the world's quickest streetbikes in check and perhaps launch these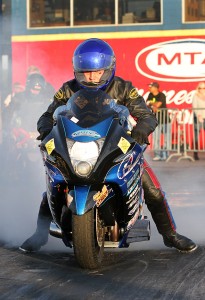 beasts into crowd-pleasing, mid-track wheelies.
Orient Express Pro Street champ Joey Gladstone returns to The Rock from Delaware with a brand new, turbocharged, DME Suzuki Hayabusa. Maybe DME tuner Andy Sawyer picked up a speed trick or two from his hectic winter Arabian Drag Racing League season at the Qatar Racing Club in Doha, but either way we can expect to see mid-to-low 6.90s out of this exquisite motorcycle.
Gladstone will have to contend with DME teammate (and Battle Royale winner) Terrence Angela of Aruba, and Massachusetts' Tony Ficher aboard a brand new, deafeningly loud, supercharged 'Busa. Ficher's builder/tuner Eric Paquette also spent some time in Qatar this winter, and you can bet this new bike will be a radically refined version of the first one.
Race sponsor Coby Adams of Mooresville is working hard to get his turbo Kawasaki ZX14 together and up to speed, and a whole host of contenders will be battling to emerge as big-timers.
Adams has also prepared engines for longtime racing partner Roger Starrette's many nitrous-huffing Kawasaki ZX14s in DME Real Street—Pro Street's slightly milder cousin. Starrette's star rider Jeremy Teasley of Ohio claimed his incredible fifth Real Street title in multiple sanctions last year and will be hard to beat for a sixth.
But Florida's Johnny "Turbo" Dobrin has beaten Teasley for a Real Street championship, and although he said he might step back a bit in 2014, expect the racing bug to be biting him hard as this release goes to print, and his own Exoticycle turbo 'Busa to roll off the trailer at The Rock.
Last year, Darion "Nanu" Payne made a hard charge from mid-season on, and recently tested with a super-stout 7.78. Expect Nanu to make an other-worldly effort this weekend.
Teasley also won the hotly contested Cycle Connection Crazy 8s 8.88 index championship on his own ZX14R. This is annually one of the hardest fought, down-to-the-wire MIRock classes and the race at The Rock will be no different.
FBR Shop 5.60 eighth mile index champion Marion Ford will be back to defend his title, as will first-ever Louis Concrete 4.60 championKenny Cornnell. Virginia's "Hillbilly Hustler" Jimmy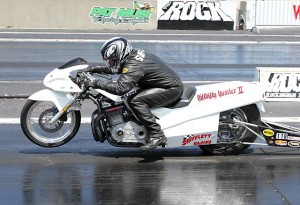 Shifflett will attempt to fend off all challenges to his Trac King/APE Top Sportsman crown, while Connecticut Kingpin Bob Carlson defends his Brock's Performance Street ET Tournament of Champions win and Michael Herman Jr. does likewise in Nitrous Express Pro ET.
And all bets are ON when Afterdark Undergound hits the stage with the region's quickest Grudge bikes and fastest trash talkers.
Years from now there will be only one shameless answer to the question "Were you at the start of the 2014 MIRock season?" Make sure you are not shamed!
Find out more about PJ1 motorcycle products at http://www.pj1.com/
Find out more about the Mickey Thompson Performance Tires MIRock Super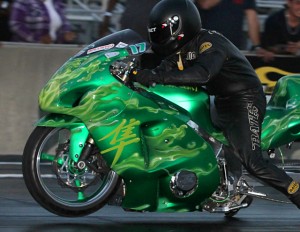 Bike Series: http://www.mirockracing.com
Find out more about Rockingham Dragway: www.rockinghamdragway.com
This report was prepared by Tim Hailey. Photos are for editorial use only. Enjoy everything there is to read, see and watch about motorcycle drag racing and more at http://www.eatmyink.com