Australia's fastest two-wheel man Chris Matheson grew up in Armidale (NSW) where horses, dirt bikes and fast road bikes were the initial building blocks for his ultimate quest for speed.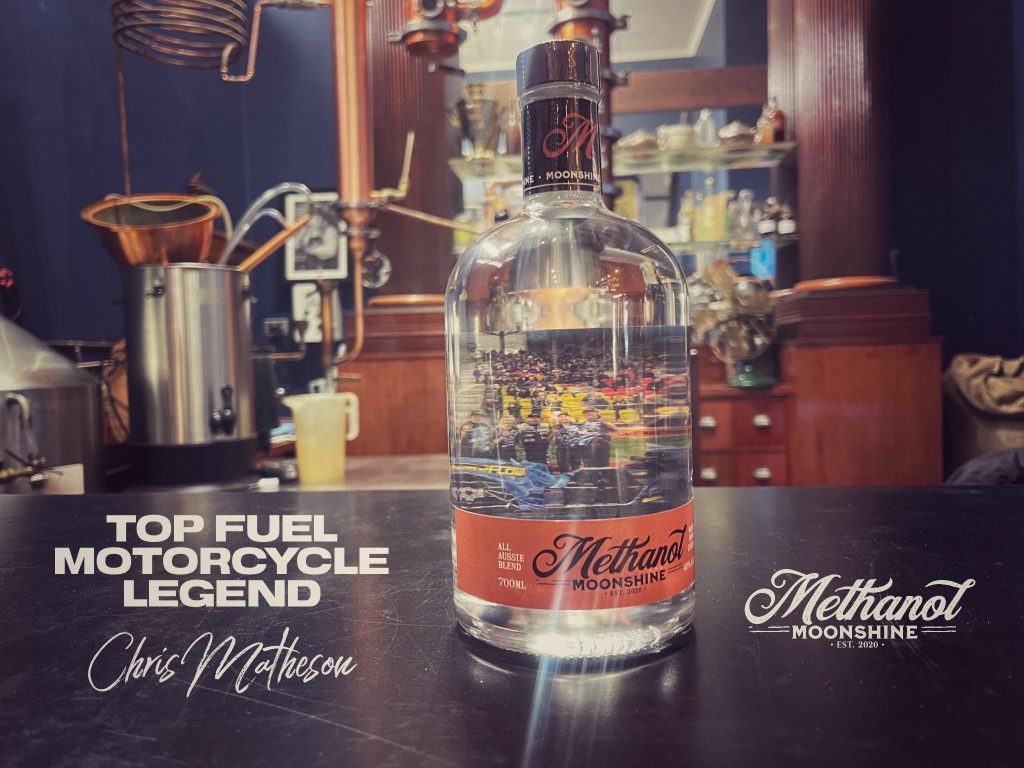 He soon took on the Salt Flats of Lake Gairdner in South Australia and then headed to the Taj Mahal – Bonneville in Utah USA chasing the ultimate adrenaline rush.
Family and business took priority but then Matheson decided it was time to chase a long-time dream to race Top Fuel Motorcycle.
He purchased the former 'Hulk' Top Fuel Motorcycle from Larry 'Spiderman' McBride then revamped it including building his own engines and called the beast 'Nitro Voodoo'.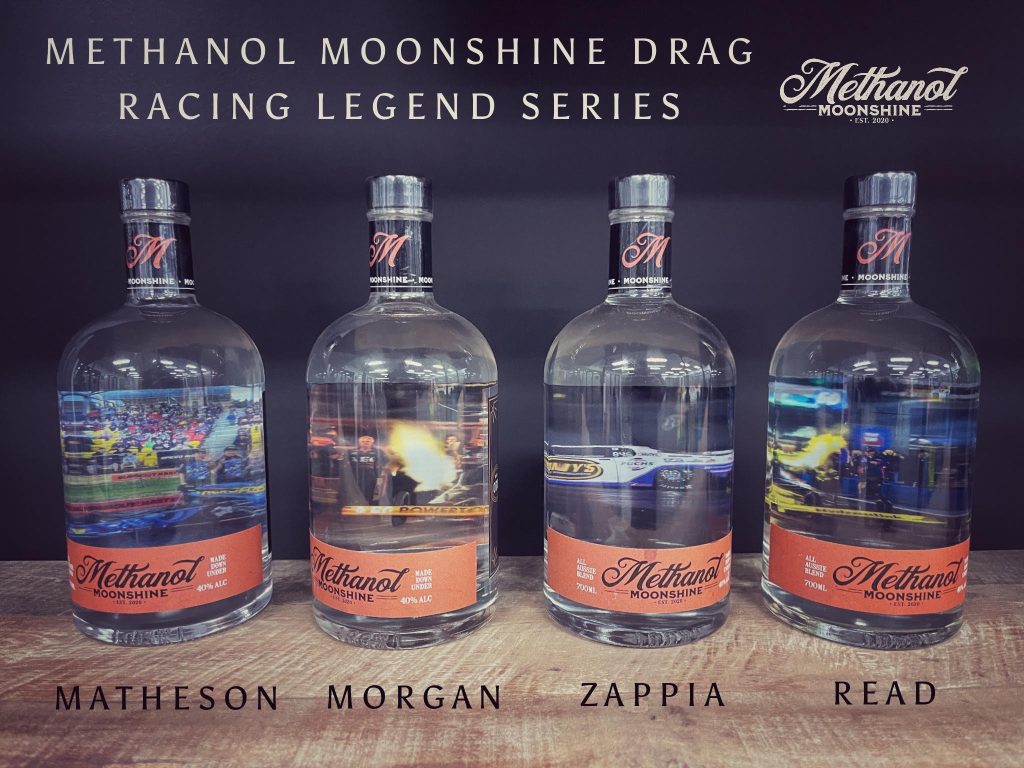 And then changed the game.
He rewrote Australian drag racing history resetting the National ET and speed record which he still holds today and won eight from eleven Australian Championships going on to hold track records at all six major Group One tracks across the country. He's collected more than 50 group one wins, 70 podiums and 60 plus top qualifier passes.
And on May 5, 2023 he ran a 5.920 at 232.23mph – Australia's first ever 5 second pass!
That kid from Armidale has gone on to become an immortal of Australian Drag Racing and on May 16 hung up the helmet having achieved everything he set out to and more, including a magical five second pass…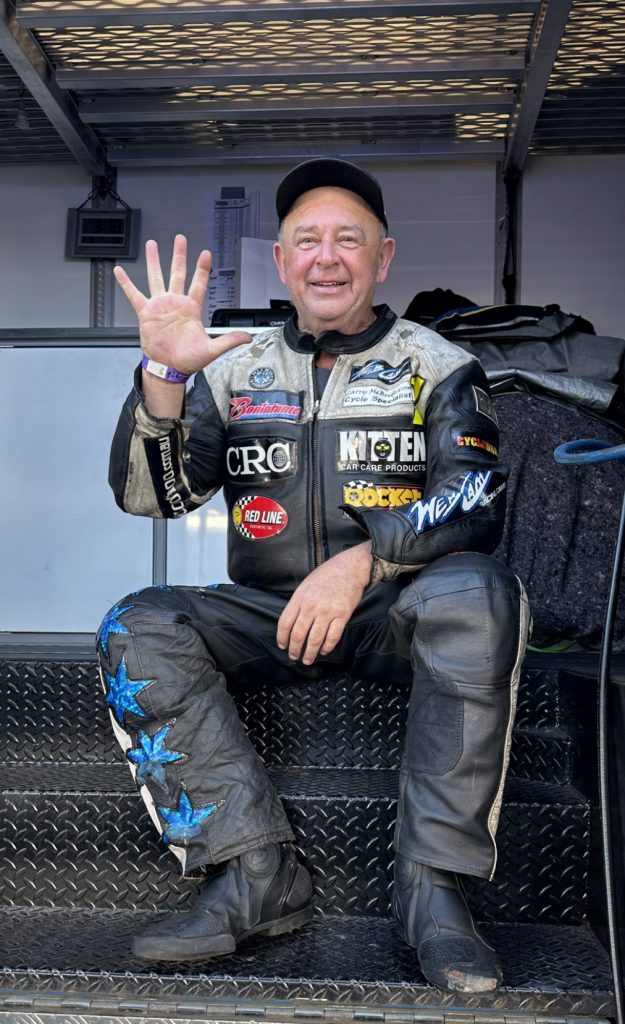 WHAT IS METHANOL MOONSHINE
It's a uniquely motorsport themed label and bottle with an alcohol blend that we promote as 'smooth and subtle or a whole lotta trouble.'
THE START
In June 2020 we created the brand and the product in our home base of Mildura, Victoria Australia.
From our Gin Distillery we concocted a blend of grape and grain spirit and marketed the concept to the Australian dirt track racing industry as "Methanol Moonshine" – a brand name that we knew would resonate with the motorsport community for it's catchiness and it's slick logo design.
It was met with immediate excitement and a loyal group of consumers grew daily as they bought each new bottle from our monthly releases.
The Australian Speedway industry had never seen a product nor tasted one, like it.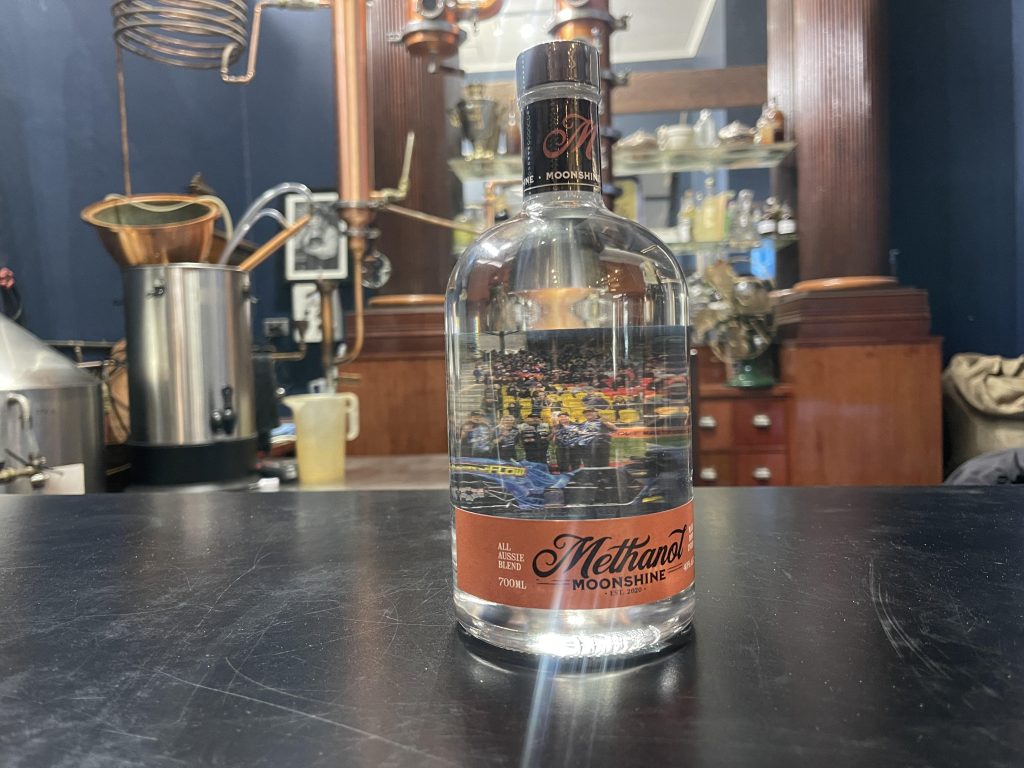 THE BIGGER PICTURE
We were immediately met with a global curiosity about this new concept – particularly from the creators of Moonshine, the USA.
After some research about how we could take our product north of the equator, we arrived in Iowa in late July.
Three months ago today we launched Methanol Moonshine USA from our distillery in Spencer Iowa.
Our blend for the USA market was different to the Aussie one – the Spencer Iowa creation is a Corn Whiskey compared to our grape and grain spirit product 'down South' in Australia.
THE MARKET
We began our attack on the American market at the biggest Sprint Car race in the world – the Knoxville Nationals.
We sold it online, at the Century Farms Distillery in Spencer and through Fareway and Hy-Vee Liquor in Knoxville.
It was an immediate smash hit.
With a spectacular Knoxville Nationals label for the fans, and a unique 24-only exclusive label for the A-Main starters in the $150,000 to win Knoxville Nationals, Methanol Moonshine was an immediate success.
Everyone wanted to know, 'what is this Methanol Moonshine and how cool is the bottle?'
THE NEXT MONTH
On the success of the Knoxville Nationals event – in which Hyvee and Fareway sold out of their stock and had to reorder – the time was right to create an event label and bottle for the fantastically radical "Super Nationals" in Boone Iowa where again the bottle and the merchandise was a smash hit. Fareway and Hy-Vee Boone stocked our product and again had to reorder as the dirt track community rushed to get this new product.
NEW MARKETS
We now have four states where Methanol Moonshine is sold – Iowa, Pennsylvania, South Dakota and Minnesota.
Our plan is to expand to as many States of the USA that have a strong dirt track industry following including Florida, California, Indiana, Oklahoma, Nebraska, Arizona, Texas, Ohio, Missouri, Georgia, Virginia, Kentucky, Kansas, Mississippi and many others.
Each state has it's own complex and unique set of distribution laws and we are working our away through them all with a view to making our product as widely accessible as possible.
NEW MOTORSPORT GENRES
We are not just limited to dirt track motorsport disciplines. We have prototype labels ready for NHRA drag racing, circuit racing, motorcycle racing and even stock car racing. The beauty of our unique labelling system is that we can literally apply new genres and target their respective markets when required. This will give us a broader market and in the process also provide more value to our distributors.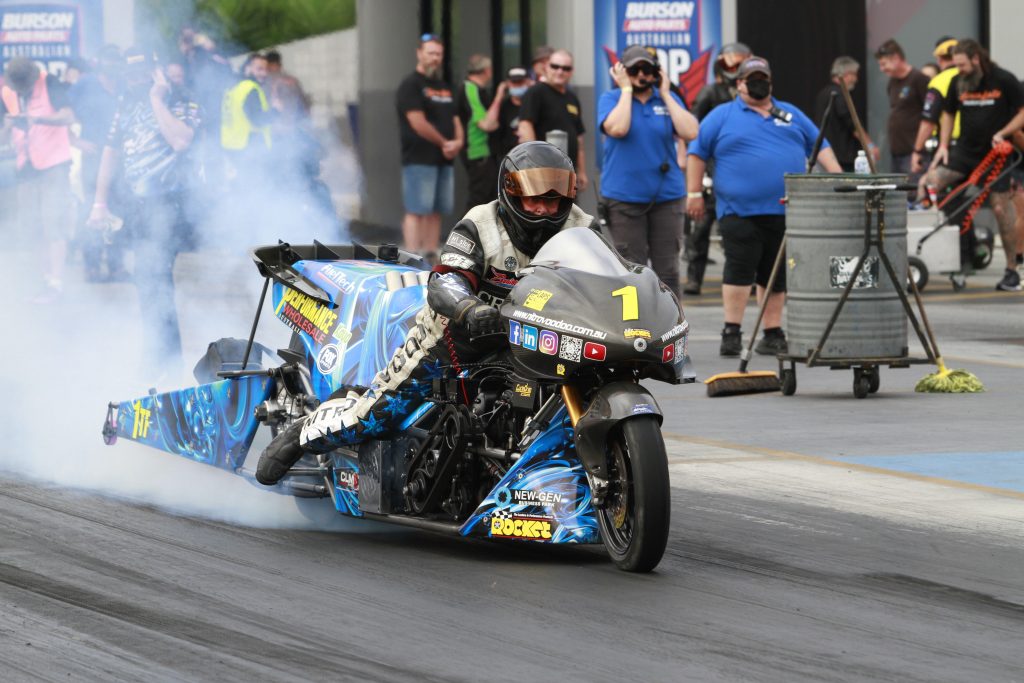 THE AMERICA – AUSTRALIA POSSIBILITIES
We have our original blend in Australia,
And we have our USA crafted blend.
Our plan is to eventually introduce the American market to our Australian product as well, giving us a two-prong attack in the market.
AMERICAN NHRA TOP FUEL RACER BUDDY HULL
This year, through the creativity and generosity of Texan Top Fuel drag racer Buddy Hull we have made our first appearance in the mega million dollar industry of NHRA elite drag racing. We have been overwhelmed by the interest in what we are, where you get us and how people can support us. We are so grateful to Buddy for taking us into the NHRA world and we plan to work closely with him in 2023 and beyond.
There are more videos on the Cycledrag Youtube channel (please subscribe here) and the Cycledrag Facebook page (Please like here) and more will be coming soon. Check back daily.
To take advantage of some amazing discounts at Brock's Performance, click – http://brocksperformance.com?aff=12
USE cycledrag5 coupon code.