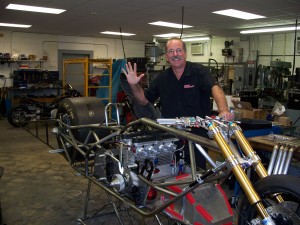 Top Fuel Motorcycle icon Larry "Spiderman" McBride reported earlier this year that he hoped to debut his new motorcycle at the end of the 2011 season. McBride now plans to unveil his fresh, state-of-the-art ride sometime in 2012.
"We will absolutely finish this bike," McBride said.  "We just haven't been pushing the issue. The economy has been slow and we have been waiting to see what the sanctioning bodies or potential new sanctioning bodies decide to do.  We felt like there was no reason to rush the bike together."
The new motorcycle will feature an adjustable 104 to 108-inch wheelbase. The total length of the new motorcycle, from the tip of the front tire to the end of the wheelie bars, will be over a foot longer than McBride's existing ride, at 18.8 feet.
"The motorcycle is 90 percent complete," McBride said.  "We just need to get it over to the carbon fiber shop to finish up the bodywork."
Next up for McBride will be the Manufacturers Cup from Valdosta, Ga, Nov, 11-13, where he will compete on his record-holding 1,511 c.c., supercharged Puma that McBride has been racing since 1994.
McBride has stated he would love to retire his current motorcycle with a run in the 5.60s.  His best is a 5.74.
McBride thanked; Pingel Enterprise, Drag Specialties-Parts Unlimited, Red Line Synthetic Oil Corporation, K&N Air Filters and Web-Cam as well as his other sponsors.
Trim-Tex Drywall Products, Vance & Hines Motorsports, PR Factory Store, Muzzys Performance, Ferrea Valves, Kibblewhite, Precision Machine, World Wide Bearings, Vanson Leathers, Performance Machine, Belt Drives Ltd, Street & Competition, Simpson Race Products, Nitrous Express, APE, EK Chain, Arias Pistons, R/D Spring Corp, Autolite, MSD, Protect ALL, Whipple Industries, Cometic Gaskets, B&J Transmission, Carolina Cycle, L.A. Sleeve, PJ1, Mickey Thompson Tires, Valco, Goodridge, Carlisle Belts and Gates Belts.