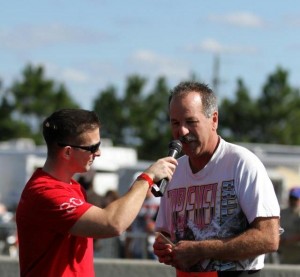 Top Fuel legend Larry "Spiderman" McBride feels like a kid counting down the days until Christmas morning.
The world's quickest motorcycle drag racer (5.79) is eager and poised to begin his 34th season of competition at the Manufacturers Cup from Valdosta, Ga., April 13-15.
"I'm ready to get back to the track and have some fun," McBride said. "We waited all winter for this."
McBride has faired extremely well at the Manufacturers Cup events, winning two of three.  That's not to say it was easy for the 10-time Top Fuel champion.  In three races, McBride has been faced with some of the toughest and quickest fields of the past 15 years.  Last November, qualifying was so combative, heading into the final session, McBride was sixth and in danger of being bumped out by an ambitious group of Nitro Harley racers.  McBride fully expects the same level of competition at this year's event.
"This race could be the most challenging one yet.  I know Chris Hand and Ray Price will be there," McBride said. "The Nitro Harleys seem to get quicker every year.  It is so great for our sport to have the Harleys compete with us.  They add so much excitement."
McBride's first qualifying session takes place Friday evening, April, 13th.
McBride thanked sponsors; Pingel Enterprise, Trim-Tex Drywall Products, Drag Specialties-Parts Unlimited, Red Line Synthetic Oil Corporation, K&N Air Filters and Web-Cam as well as his other sponsors.
Vance & Hines Motorsports, PR Factory Store, Muzzys Performance, Ferrea Valves, Kibblewhite, Precision Machine, World Wide Bearings, Vanson Leathers, Performance Machine, Belt Drives Ltd, Street & Competition, Simpson Race Products, Nitrous Express, APE, EK Chain, Arias Pistons, R/D Spring Corp, Autolite, MSD, Protect ALL, Whipple Industries, Cometic Gaskets, B&J Transmission, Carolina Cycle, L.A. Sleeve, PJ1, Mickey Thompson Tires, Valco, Goodridge, Carlisle Belts and Gates Belts.