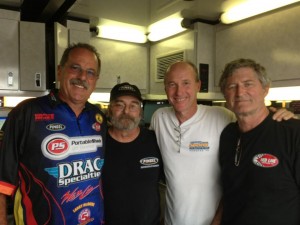 After many miles on the interstate and nearly 14 days since departing, 11-time Top Fuel champion Larry "Spiderman" McBride is returning home with a new Norwalk track record 0f 5.88 from the Night Under Fire, Aug. 10, and a winner's trophy from the Man Cup/ NHDRO Pingel Thunder Nationals in Indianapolis, Ind., Aug. 16-18.
"It was a nice escape from the real world.  We needed to get away. It was a lot of fun," McBride said."The win sure helps financially with how much diesel fuel is now."
McBride found himself in unfamiliar territory on Saturday night in Indy when his 5.97 was bumped down to the No. 2 qualifying position by his friendly rival Chris Hand.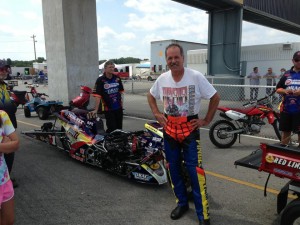 Hand, a 40-year veteran of the sport, realized a lifelong dream by recording his first sub-six second run at 5.89.
"I'm so proud of him of Chris. He deserves it more than anyone. He stuck it out and he prevailed," said McBride, who has raced with Hand since 1978.
It meant a lot to McBride to be the one to break the news to Hand.
"I was sitting at top end and as soon as I heard it, I said man that sounded like a five second pass. Chris said he couldn't tell.  Then Steve (McBride) and my entire team came down beeping the horn and I said Chris they are not beeping the horn for me. It was quite the scene. Chris was overcome with emotion."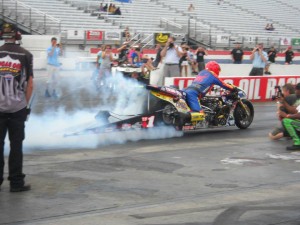 In opening eliminations McBride used a 6.12 to defeat Top Fuel rookie and McBride protégé Dave Vantine's 6.20, in a much closer race than expected.
"He got me off the light and really impressed me. He's a great racer and is learning Top Fuel quickly," said McBride, who cut a .079 to Vantine's 0.65.  "The track was better than we thought. We took too much weight off the clutch and it almost bit us."
The 6.12 was good enough to give McBride lane choice in the final over Hand, who advanced with a 6.17.  McBride was not about to take Hand lightly.
"We stepped everything up. We put more nitro in it and a couple degrees of timing," McBride said. "I knew it could take a low 5.80 to win."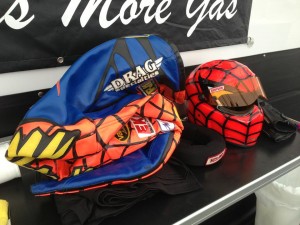 In the final both races struggled with tricky atmospheric conditions. McBride earned his second Man Cup victory of the season with a 6.23 to Hand's 7.06.
"We leaned it out and because it was very hot, we dropped cylinders at the hit of the throttle. We dropped another one at the finish line. It wasn't the best run but it was good enough to win," McBride said.
Overall, McBride was very happy with his experience at his first NHDRO event.
"I was really surprised they had over 600 motorcycles," McBride said. "Brian Welch (NHDRO owner) is a great guy and he has a real passion for motorcycles."
Next up for McBride will be the Bike Bash, Sept. 28th at Palm Beach Raceway, Fla.
Click here to visit the Pingel Enterprise Website
Click here to visit the Trim-Tex Website
McBride thanked his primary sponsors;  Pingel Enterprise, Trim-Tex Drywall Products, Drag Specialties-Parts Unlimited, Red Line Synthetic Oil Corporation and Final Swipe Merchant Services.  
McBride thanked associate sponsors; K&N Air Filters, Web-Cam, Vance & Hines Motorsports, PR Factory Store, Ferrea Valves, Kibblewhite, Precision Machine, World Wide Bearings, Vanson Leathers, Belt Drives Ltd, Simpson Race Products, Nitrous Express, APE, EK Chain, Arias Pistons, MSD, Protect ALL,  Cometic Gaskets, B&J Transmission, Carolina Cycle, L.A. Sleeve, PJ1, Mickey Thompson Tires, Valco, Goodridge, Carlisle Belts and Gates Belts.