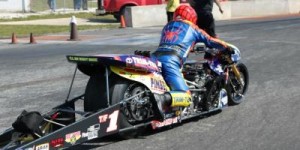 Top Fuel legend Larry "Spiderman" McBride began the 2013 campaign the way he begins most of his seasons – victorious.  Spiderman scored a commanding and dominant win at the Exoticycle Manufacturers Cup from Bradenton, Fla. April 5-7.
"Everything went very well.  It was one of those rare weekends where we didn't have any issues with the bike at all," McBride said. "I had a great time."
McBride's biggest concern heading into the event didn't involve any parts on the bike. It was a body part that was his cause for distress.  McBride was nursing a sore knee from a meniscus surgery last month.
"It's been healing very slowly, and I've been in quite some pain," McBride said.  "Fortunately everything felt great when I was on the bike. It didn't affect my riding."
Due to a rough racing surface, Top Fuel was contested on the eighth mile for rider safety. The 11-time champion showed great versatility in adapting to the short track.  McBride seized the pole with a 3.85 at 194 mph the first session of qualifying.
"We were happy with that. We got a little loose. We couldn't put a ton of power down given track conditions," McBride said. "I enjoy eighth-mile racing too. It's easier on parts, and it doesn't change the way we approach the tune-up."
McBride's 3.85 was only eight hundredths off his all-time best of 3.77. With McBride's usual back-half around 1.9 seconds, the Fuel veteran estimated his 3.85 could have equaled a 5.69 in the quarter.
In opening eliminations McBride recorded a 3.90 at 204 mph on his competition bye run.
"It was tough because the track temperature was 130 degrees.  We prefer the track temp to be around 110 degrees," McBride said.  "It was a good run in those conditions."
In the final, McBride defeated his longtime, friendly rival Chris Hand with a 4.21 at 177 mph.
"We got lucky that Chris broke a drive belt because we forgot to arm our clutch and ignition system," McBride said. "Chris really had me in his crosshairs."
McBride now looks forward to his next event, the Manufacturers Cup, from his home track of Virginia Motorsports Park, June 21-23. The Spiderman also has an exciting mentoring session lined up before the race.
"We are taking Dave Vantine to test Greg Pollard's Top Fuel bike. Dave is a great racer, and we are going to give him all the help and advice we can," McBride said. "We will try to do some testing as well."
For 2013 McBride is happy to welcome in his new sponsor, Final Swipe Merchant Services.
McBride thanked his primary sponsors;  Pingel Enterprise, Trim-Tex Drywall Products, Drag Specialties-Parts Unlimited, Red Line Synthetic Oil Corporation and Final Swipe Merchant Services.  
McBride thanked associate sponsors; K&N Air Filters, Web-Cam, Vance & Hines Motorsports, PR Factory Store, Ferrea Valves, Kibblewhite, Precision Machine, World Wide Bearings, Vanson Leathers, Belt Drives Ltd, Simpson Race Products, Nitrous Express, APE, EK Chain, Arias Pistons, MSD, Protect ALL,  Cometic Gaskets, B&J Transmission, Carolina Cycle, L.A. Sleeve, PJ1, Mickey Thompson Tires, Valco, Goodridge, Carlisle Belts and Gates Belts.