Most veteran motorcycle drag racers get sentimental and can't help reminiscing when it's time to race the famous South Jersey launchpad late in the season.
Just about everyone has fond memories there.
The Orient Express U.S. Nationals from Atco Dragway, Sept. 11-13, is the longest running dragbike race in the country and has been home to several of the sport's greatest battles.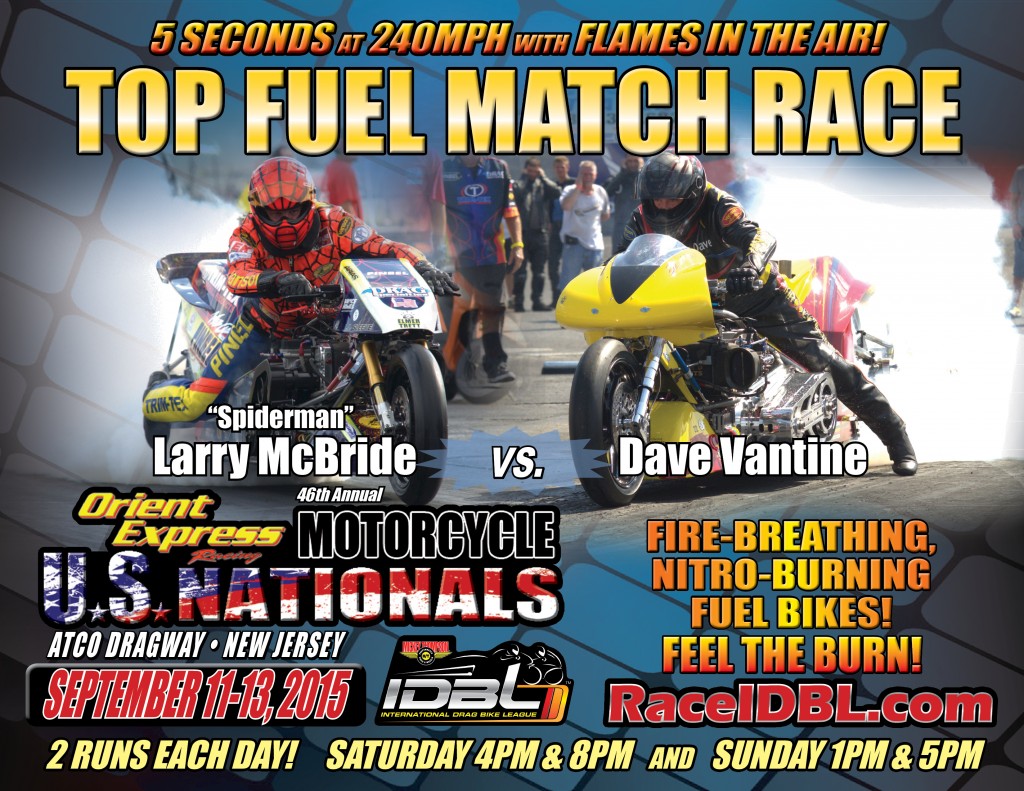 In fact, for many years Atco was as big as it got for two-wheel drag racers. The event was appropriately named, because Atco was to dragbike racing what the illustrious U.S. Nationals in Indy is to the NHRA.
"It was the one everyone wanted to win," said Larry "Spiderman" McBride, who throughout his 37-year career engaged in unforgettable battles with some of the category's all-time greats like Elmer Trett, Tony Lang and Korry Hogan. "For a while it was our World Finals too."
Larry McBride vs. Elmer Trett in 1995
McBride and talented third-year Top Fuel racer Dave Vantine are poised for the second installment of their 2015 match race trilogy.
"Atco for me is a huge deal. It's the closest race to home (Hamilton, N.Y.) and friends, family and co-workers attend.  I've been going to Atco for about 25 years and it has been a blast every time," Vantine said.  "The track was re-done not too long ago.  It's in great shape and the lanes are even."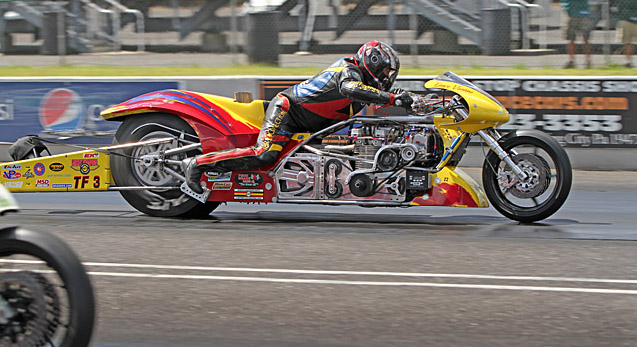 With the benefit of a smooth track, Vantine has a bold prediction.
"I expect you'll see the second side-by-side five-second pass," said Vantine, who accomplished the historic five-second feat with McBride last year in Maryland. "We got a little off track and have only been able to run high 6.0s and low teens and we have been about 10 mph slow, running only 225 mph. It is a little crazy to say that's slow, but this bike usually runs between 235 – 237 mph when it's right."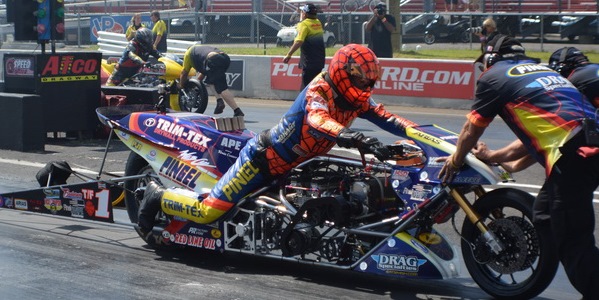 Vantine won this season's first meeting with McBride in late July at Maryland International Raceway.
It was a race that took a heavy toll on machinery for both competitors.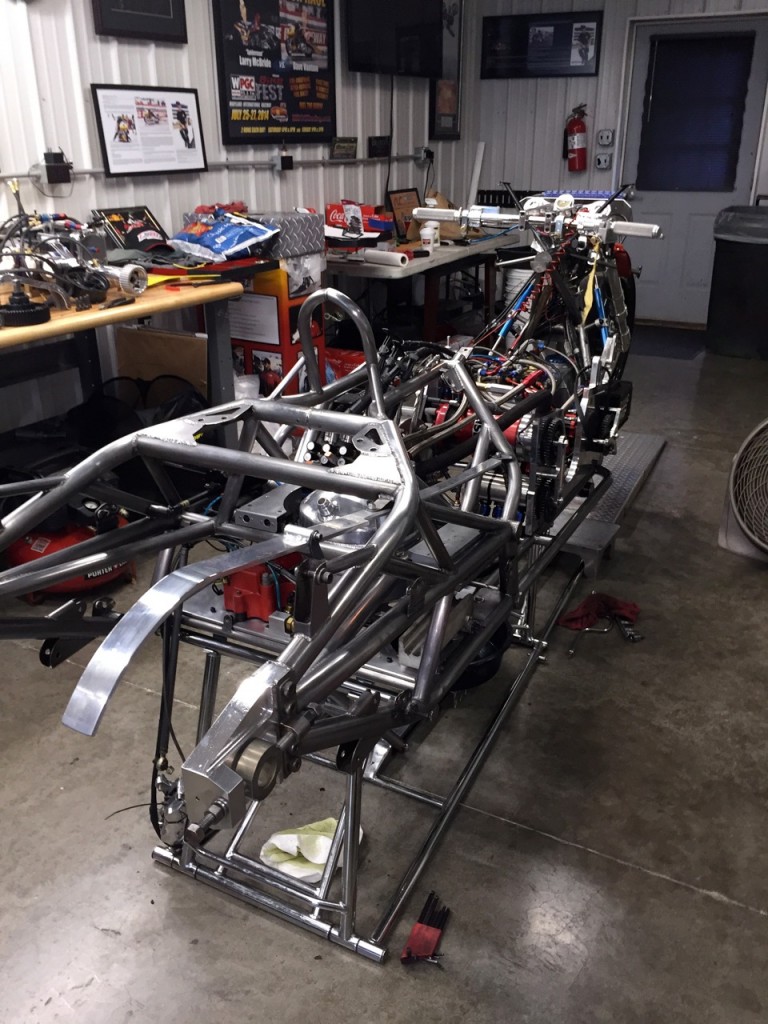 "Larry reviewed some of our data, pointed out some areas where he would do things differently, so I believe we should be back in the game," Vantine said. "Having someone with 30 years of nitro experience helping you out is invaluable. Larry and Steve have said it a thousand times, and will probably say it a thousand more times "Nitro is not your friend.""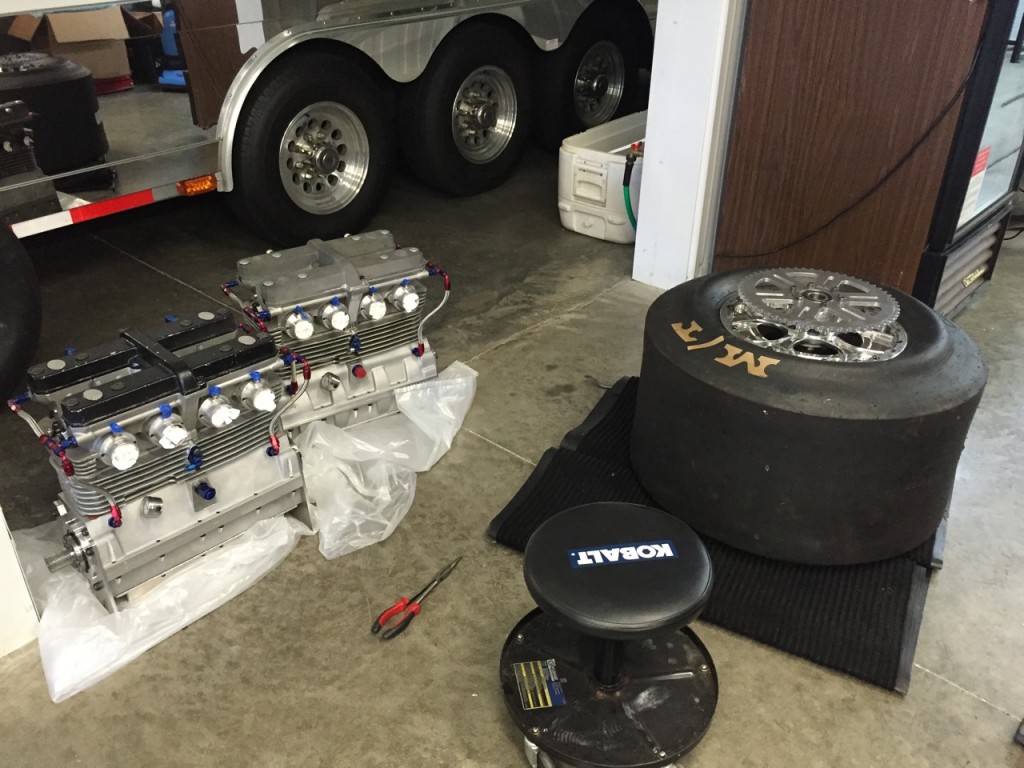 Team Vantine has put in a lot of work into preparing for Atco.
"Joe Taranto and Greg Pollard have been hard at work. We unfortunately had to sit out the Manufacturers Cup in Rockingham as we hurt all three motors and broke the welds on some tabs on the chain guard, most likely from tire shake," Vantine said. "So the two motors went to Larry's in Virginia and the chassis went to Rick Stetson from HMP (Harry's Machined Parts) in Northborough, Mass. Once those two engines were repaired, we picked them up, brought them back to N.Y. and dropped off the third motor to Larry which he will repair and bring to Atco. I picked up the chassis on Saturday and Greg arrived from Canada Sunday evening and we began work Monday morning."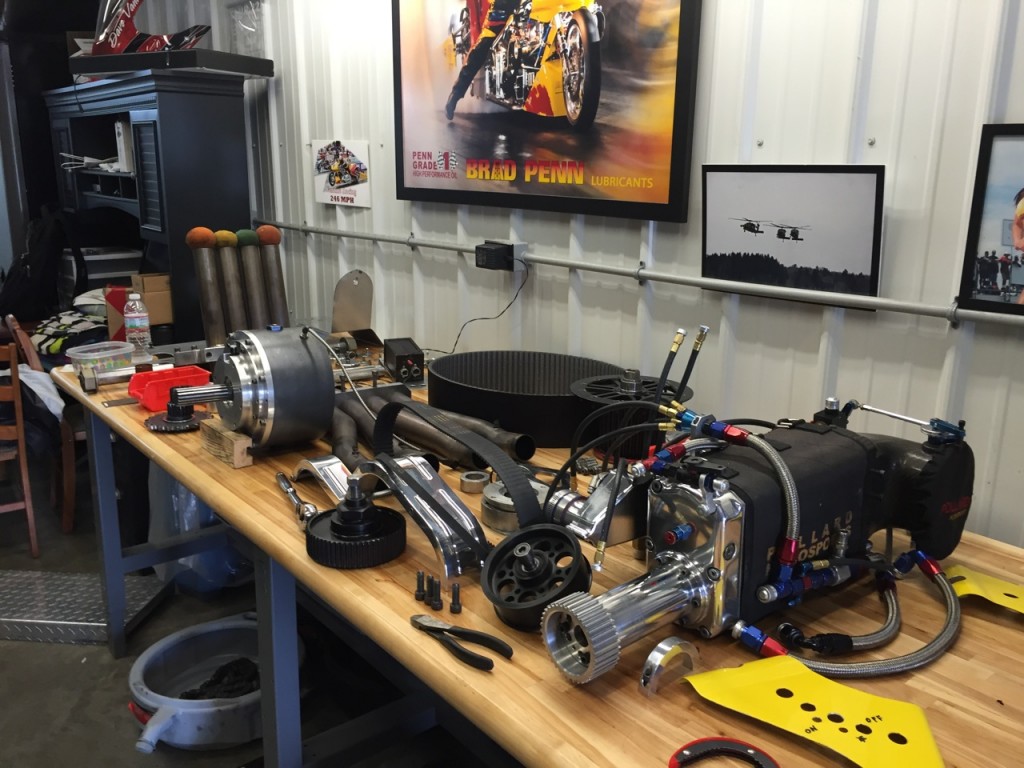 There have been a lot of late nights at the race shop for Team McBride too.
"I've fixed seven motors in the past two weeks," said McBride, who serviced Vantine's motors and the four McBride hurt at the Man Cup race two weeks back.  "It has been a lot of hard work, but we are coming."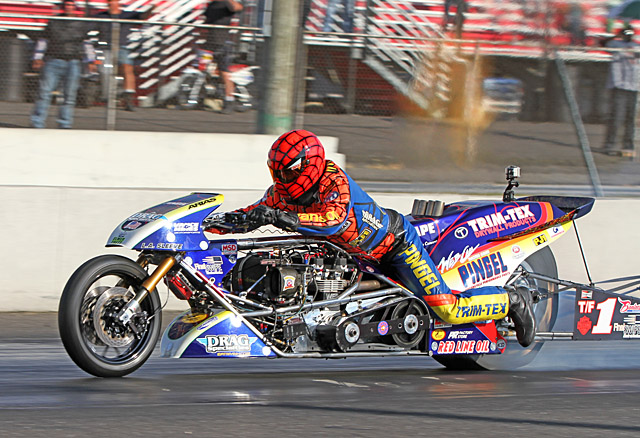 The 14-time Top Fuel champion and holder of a 5.74 time ticket,  has come a long way since setting his first record at Atco in 1991 with a 6.49.
"I have so many great memories there," McBride said. "It's always a joy to go back."
Many organizations have come and gone over the event's 46-year history. Two years ago the IDBL, formerly MIROCK, took over and the tradition has continued to grow.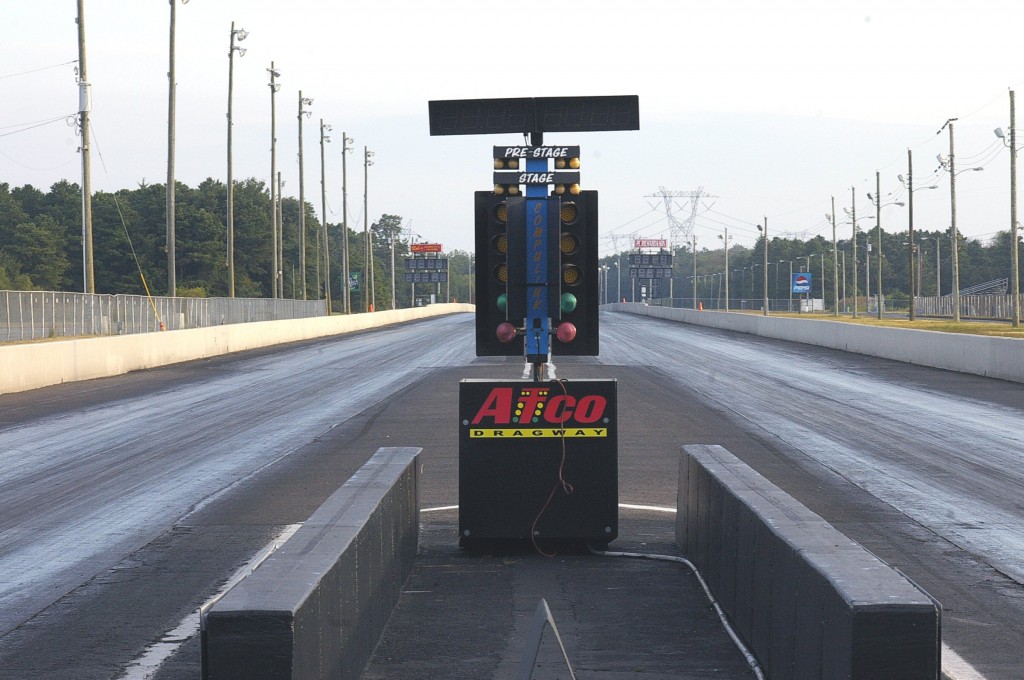 Atco's U.S. Nationals and Top Fuel are nearly synonymous.
"I am very excited to be able to keep the tradition of Top Fuel going at IDBL for the historic 46th annual Orient Express Motorcycle U.S. Nationals," said IDBL president and promoter Jason Miler. "McBride and Vantine really know how to put on a show! From long smoky burnouts, to signing autographs in the pits, to lighting up the night with those awesome nitro flames."


Both McBride and Vantine thanked Dave Dunigan of Dunigan racing for adding $1,000 to the purse.
"He's the man," McBride said.
"It's a big as it gets," Dunigan said about Top Fuel dragbike racing. "It's our sport's biggest draw we can't afford to lose."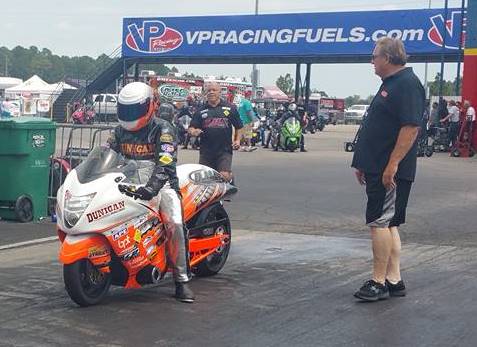 Like most, Dunigan gets a lot of enjoyment out of watching the two spirited racers battle for the bonus cash.
"It's a lot of fun because they are both friends but they are both so competitive. Larry told me he was really happy for Dave for collecting the check. He also told me it will be the last time Dave beats him," laughed Dunigan.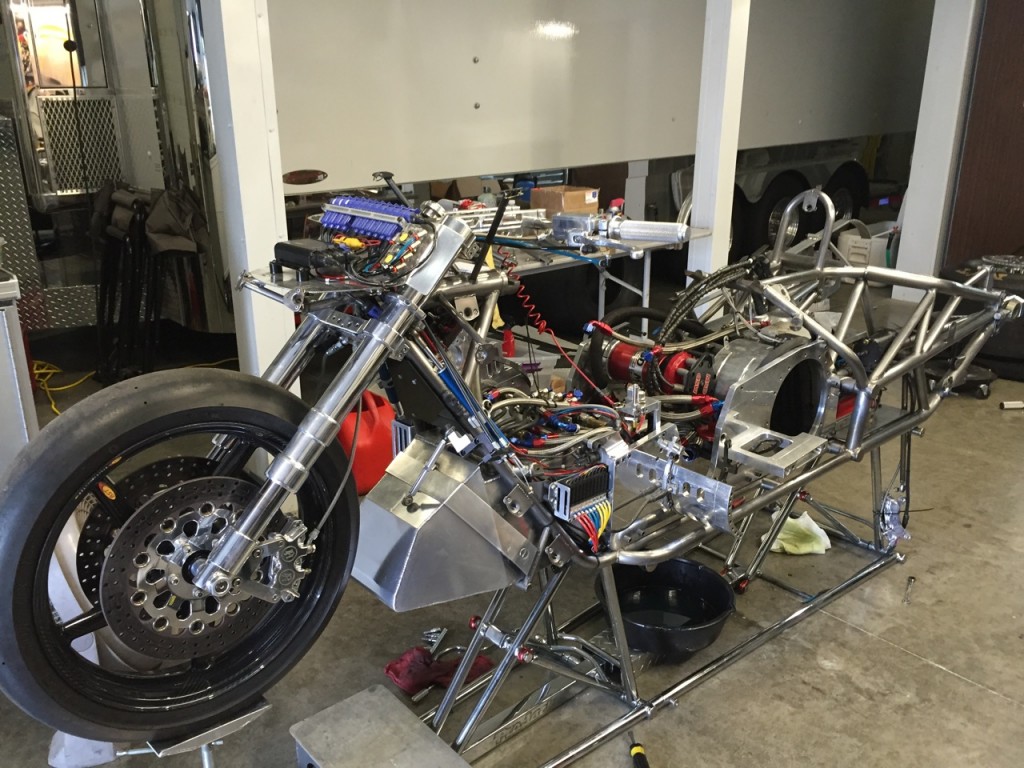 "I would like to give a huge shout out and thank you to Dave Dunigan," Vantine said. "These bikes are very expensive to operate so it is much appreciated."
Vantine also thanked his team for all the support.
McBride thanked his primary sponsors; Pingel Enterprise, Trim-Tex Drywall Products, Drag Specialties-Parts Unlimited, Red Line Synthetic Oil Corporation and Final Swipe Merchant Services.
Web-Cam, Vance & Hines Motorsports, PR Factory Store, Ferrea Valves, Kibblewhite, Precision Machine, World Wide Bearings, Vanson Leathers, Millennium Technologies, Belt Drives Ltd, Simpson Race Products, Nitrous Express, APE, EK Chain, Arias Pistons, Cometic Gaskets, B&J Transmission, Carolina Cycle, L.A. Sleeve, PJ1, Mickey Thompson Tires, Valco, Goodridge, Carlisle Belts and Gates Belts.