Defending NHRA world champ Matt Smith may be getting hot at the perfect time in Pro Stock Motorcycle, rolling to the Dodge Power Brokers NHRA U.S. Nationals victory in impressive fashion. He went 6.872 at 195.99 on his Denso Auto Parts EBR in the final round, knocking off Karen Stoffer to claim his first Indy win since 2006. It's also Smith's third win this season and 35th in his standout career, as he knocked off Scotty Pollacheck, Hector Arana Jr., and Jerry Savoie to reach the final round. Smith was consistent throughout qualifying and eliminations, putting together an ideal weekend to win at the Big Go, moving into the points lead heading into the Countdown to the Championship.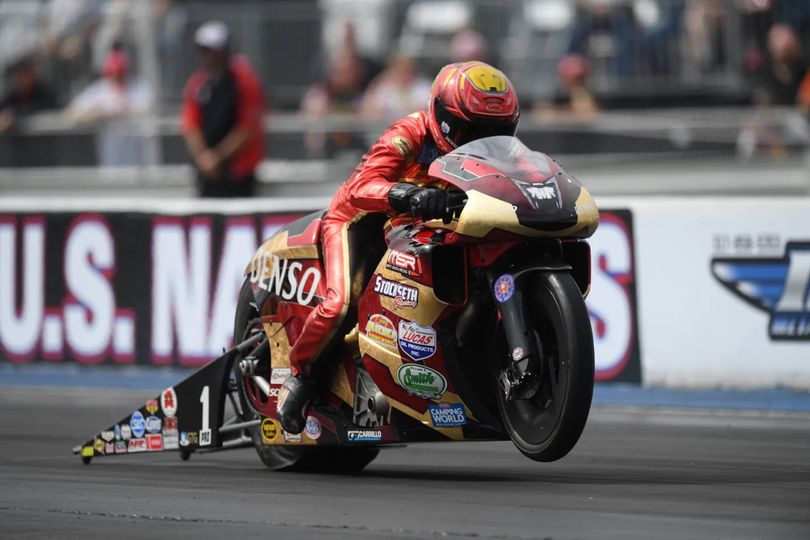 "We started with the Suzuki on Friday, but I just wasn't happy with it," Smith said. "It ran well up to the eight-mile, but I was just frustrated with it. I decided to go with the (EBR) and we had a good bike the rest of the weekend. All in all, I felt it was a great weekend for the bike. I've been to the finals a lot of times here and I'm just blessed to have two (Indy) wins. They better watch out for me. We've got a good bike and we're going to defend our championship."
Stoffer reached her 30th career final round and third this season on the strength of round wins against Joey Gladstone, Ron Tornow, and Steve Johnson.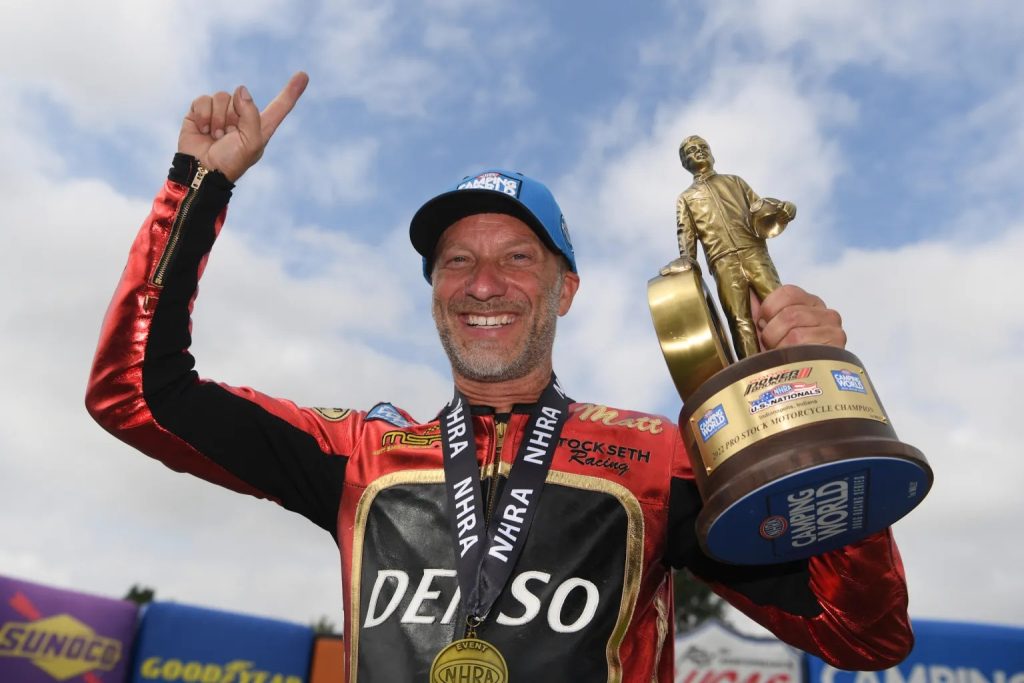 The NHRA Camping World Drag Racing Series returns to action with the Pep Boys NHRA Nationals at Maple Grove Raceway on Sept. 15-18. It is the first event in the six-race Countdown to the Championship playoffs.
ROUND ONE — Karen Stoffer, Suzuki, 6.913, 194.10 def. Joey Gladstone, Suzuki, 6.942, 193.82; Angie Smith, 6.908, 196.13 def. Ryan Oehler, 7.015, 191.19; Hector Arana Jr, Buell, 6.895, 195.76 def. Marc Ingwersen, 6.922, 194.24; Jerry Savoie, Suzuki, 6.878, 194.52 def. Chip Ellis, 7.097, 190.70; Jianna Evaristo, Suzuki, 6.952, 193.74 def. Eddie Krawiec, Suzuki, 6.966, 194.07; Steve Johnson, Suzuki, 6.907, 195.05 def. Kelly Clontz, Suzuki, 6.978, 192.11; Ron Tornow, 6.981, 190.27 def. Angelle Sampey, Suzuki, 6.919, 195.31; Matt Smith, Suzuki, 6.866, 198.55 def. Scotty Pollacheck, 7.034, 194.58;
QUARTERFINALS — Stoffer, 6.914, 194.88 def. Tornow, 7.098, 182.33; Johnson, 6.912, 193.82 def. A. Smith, 6.891, 196.36; Savoie, 6.889, 193.32 def. Evaristo, Foul – Red Light; M. Smith, 6.859, 198.47 def. Arana Jr, Foul – Red Light;
SEMIFINALS — Stoffer, 6.920, 194.10 def. Johnson, 6.930, 192.06; M. Smith, 6.893, 197.45 def. Savoie, 6.950, 191.43;
FINAL — M. Smith, 6.872, 195.99 def. Stoffer, 8.094, 104.17
Pro Stock Motorcycle Points
1. Matt Smith, 802; 2. Joey Gladstone, 774; 3. Steve Johnson, 734; 4. Angelle Sampey, 728; 5. Eddie Krawiec, 688; 6. Karen Stoffer, 675; 7. Angie Smith, 665; 8. Jerry Savoie, 656; 9. Marc Ingwersen, 427; 10. Ryan Oehler, 346.
There are more videos on the Cycledrag Youtube channel (please subscribe here) and the Cycledrag.com Facebook page (Please like here) and more will be coming soon. Check back daily.