Matt Smith continued to stay a step ahead of everyone in Pro Stock Motorcycle, picking up his fourth win this season on his Denso Auto Parts/Stockseth/Matt Smith Racing EBR after a pass of 6.828 at 199.52 in the final round against Angelle Sampey at the 61st annual Lucas Oil NHRA Winternationals presented by ProtectTheHarvest.com at Auto Club Raceway at Pomona.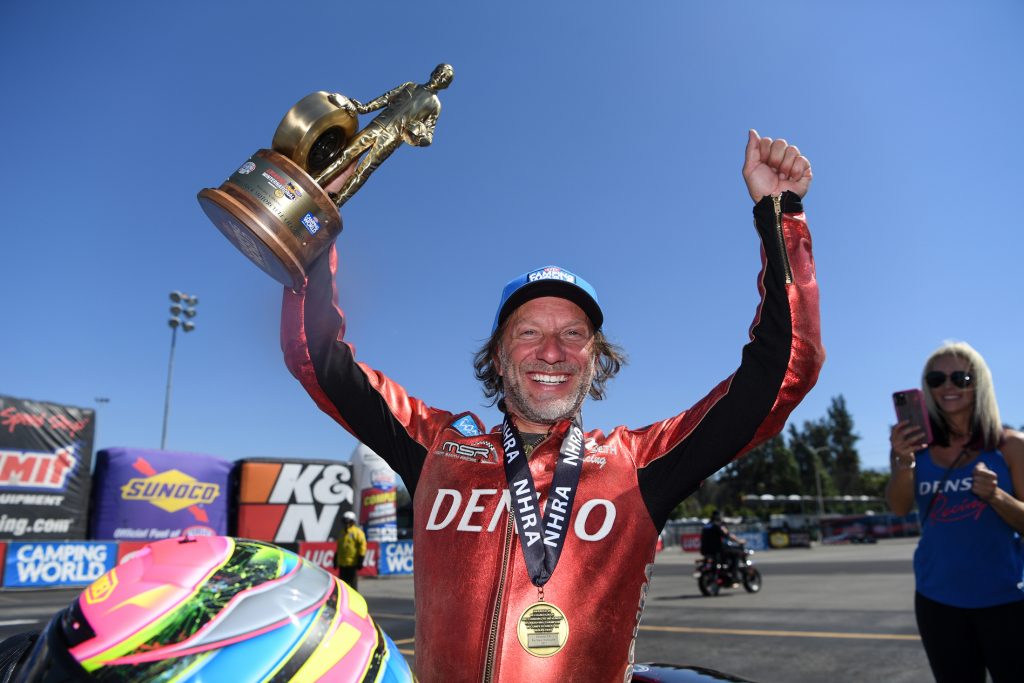 Smith was the No. 1 qualifier by a wide margin and rolled through the field on Sunday, earning round wins against his wife, Angie, and teammate Scotty Pollacheck before cruising to the win against Sampey. He maintained his healthy lead in the points standings and picked up his second win on the Western Swing as well.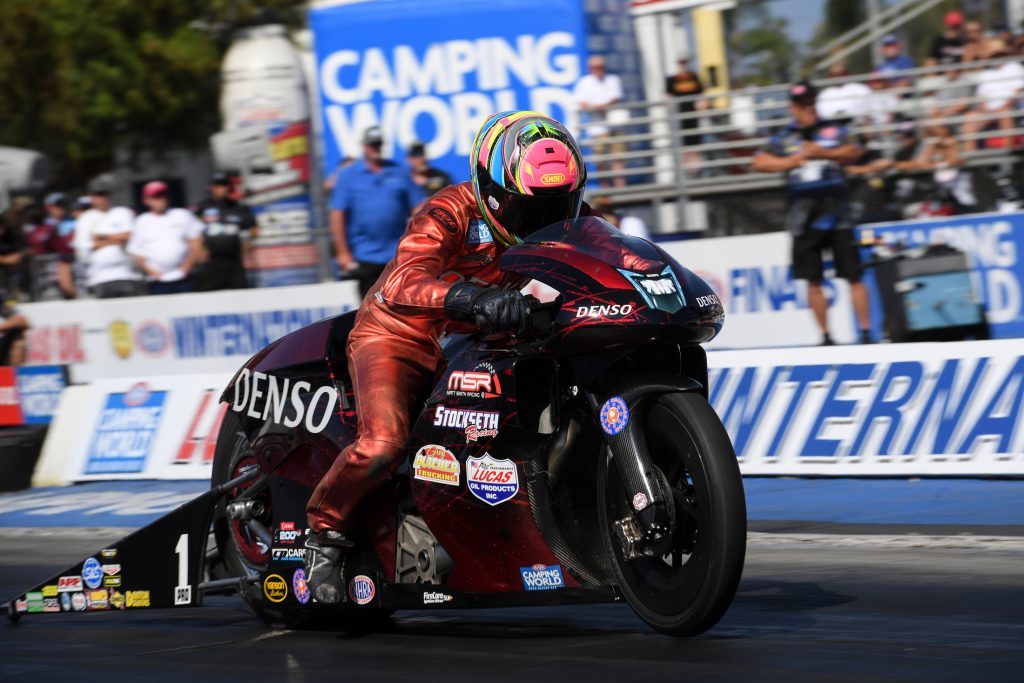 "It was hot out there and that was the biggest thing, just fighting the track with it being this hot," said Smith, who now has 30 career wins. "But we got it done, qualified No. 1 and were almost low every round. I knew what we had to do in the final and we laid down a great run (in the final). I can't say enough about the people who help us. We've got a great team."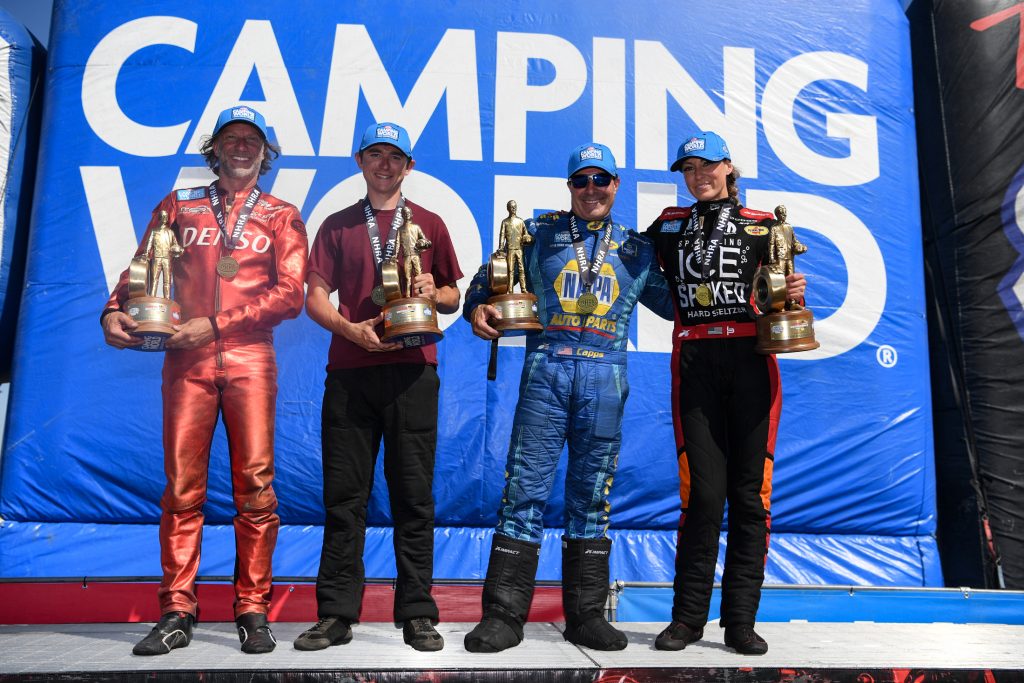 Sampey advanced to her first final round of the season and 75th in her standout career by taking out Jim Underdahl, Joey Gladstone and Vance & Hines teammate Eddie Krawiec. She also moved to fourth in points.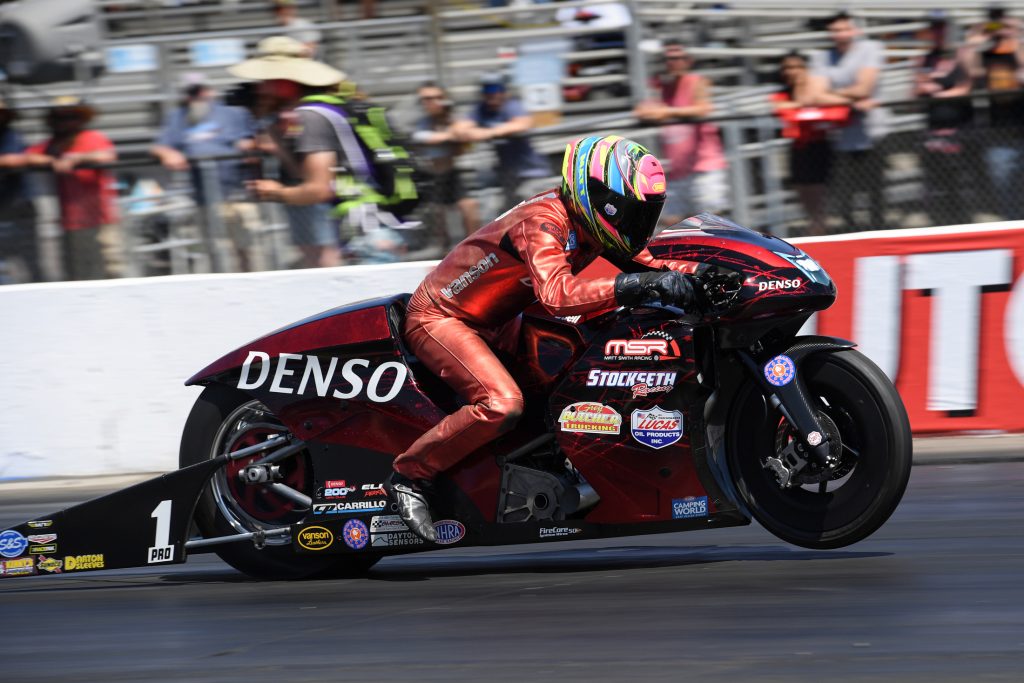 The NHRA Camping World Drag Racing Series returns to action Aug. 13-15 with the Menards NHRA Nationals presented by PetArmor at Heartland Motorsports Park in Topeka, Kan.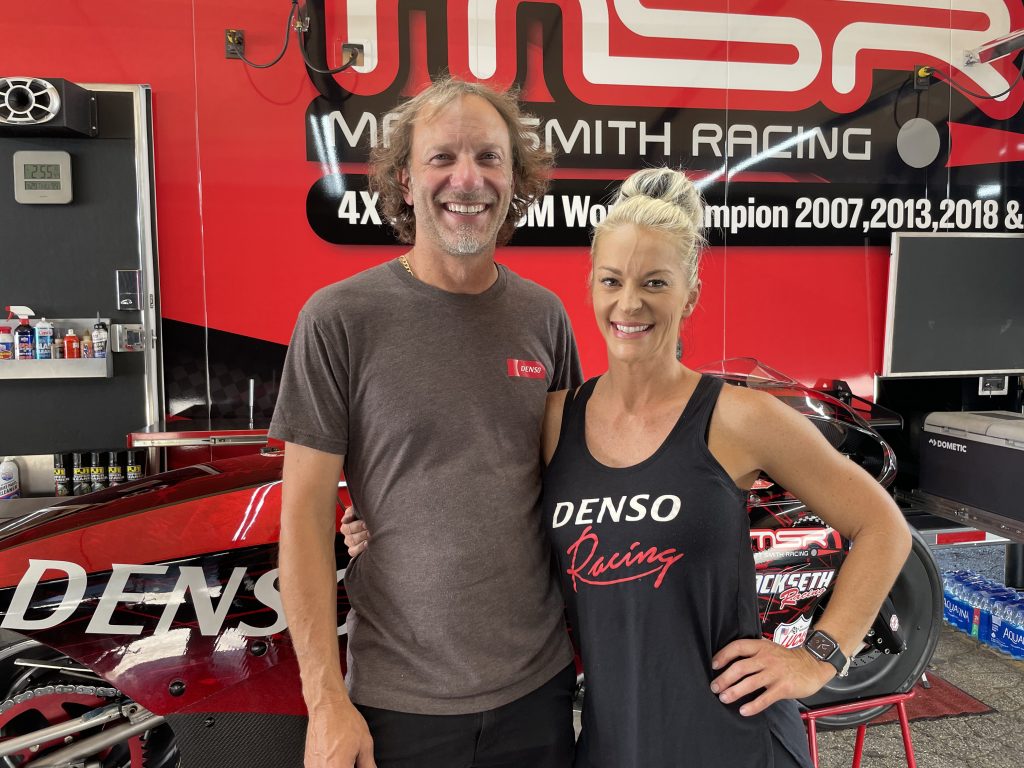 ROUND ONE — Angie Smith, 6.917, 196.70 def. Steve Johnson, Suzuki, 7.020, 177.30; Joey Gladstone, Suzuki, 6.937, 196.53 def. Jianna Salinas, Suzuki, 7.032, 192.11; Angelle Sampey, Suzuki, 6.822, 198.35 def. Jim Underdahl, Suzuki, Broke – No Show; Scotty Pollacheck, 6.882, 198.82 def. Cory Reed, Suzuki, 7.126, 178.54; Freddie Camarena, Suzuki, 7.031, 193.40 def. Andrew Hines, Buell, 19.190, 38.82; Eddie Krawiec, Buell, 6.884, 199.94 def. Karen Stoffer, Suzuki, 6.913, 195.62; Matt Smith, 6.901, 173.81 was unopposed; Jerry Savoie, Suzuki, 6.843, 197.31 def. Ryan Oehler, 7.017, 194.77;
QUARTERFINALS — M. Smith, 6.838, 199.82 def. A. Smith, 6.929, 196.76; Krawiec, 6.945, 197.62 def. Camarena, 7.091, 190.24; Sampey, 6.843, 197.10 def. Gladstone, 7.044, 196.53; Pollacheck, 6.891, 197.97 def. Savoie, 6.961, 195.65;
SEMIFINALS — Sampey, 6.878, 195.42 def. Krawiec, 6.933, 197.91; M. Smith, 6.919, 197.31 def. Pollacheck, 6.965, 197.62;
FINAL — M. Smith, 6.828, 199.52 def. Sampey, 6.911, 173.96.
Pro Stock Motorcycle Points
1. Matt Smith, 813; 2. Steve Johnson, 551; 3. Scotty Pollacheck, 491; 4. Angelle Sampey, 443; 5. Ryan Oehler, 441; 6. Angie Smith, 429; 7. Karen Stoffer, 428; 8. Eddie Krawiec, 409; 9. Joey Gladstone, 389; 10. Andrew Hines, 381.
There are more videos on the Cycledrag Youtube channel (please subscribe here) and the Cycledrag.com Facebook page (Please like here) and more will be coming soon. Check back daily.
To take advantage of some amazing discounts at Brock's Performance, click – http://brocksperformance.com?aff=12
USE cycledrag5 coupon code.