All four points leaders in the NHRA Camping World Drag Racing Series finished the job on Sunday, as Steve Torrence, Matt Hagan, Erica Enders and Matt Smith claimed world championships during the 20th annual Dodge NHRA Finals presented by Pennzoil at The Strip at Las Vegas Motor Speedway.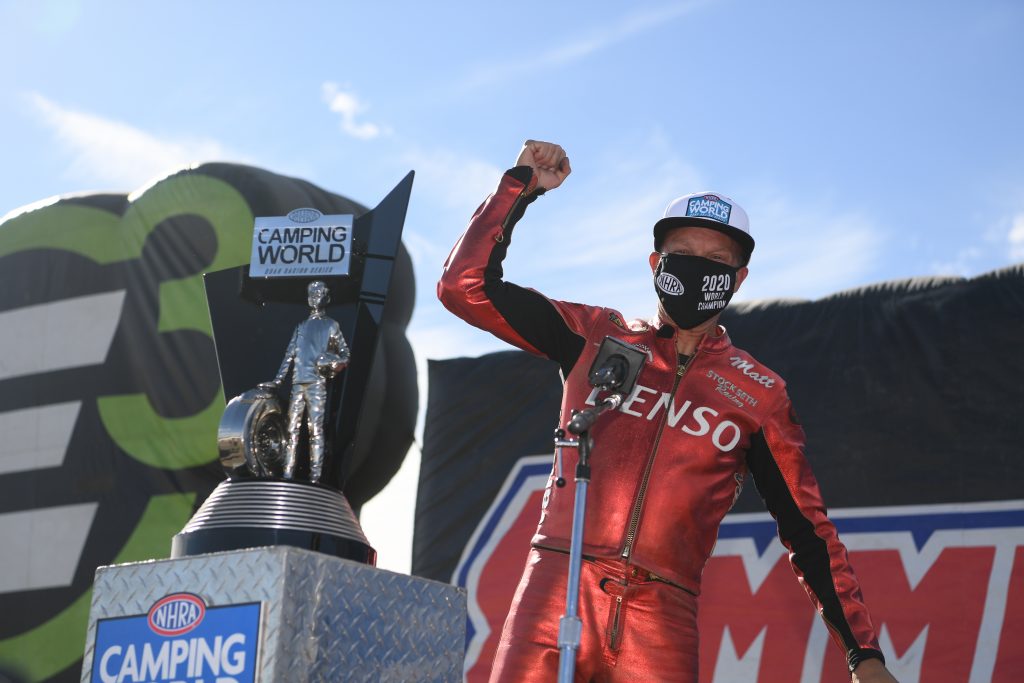 M. Smith's championship dream became reality when Eddie Krawiec fell in the second round. He also did his job on his Denso/Stockseth/MSR EBR, beating three-time champ Angelle Sampey in the opening round and defending champ Andrew Hines a round later.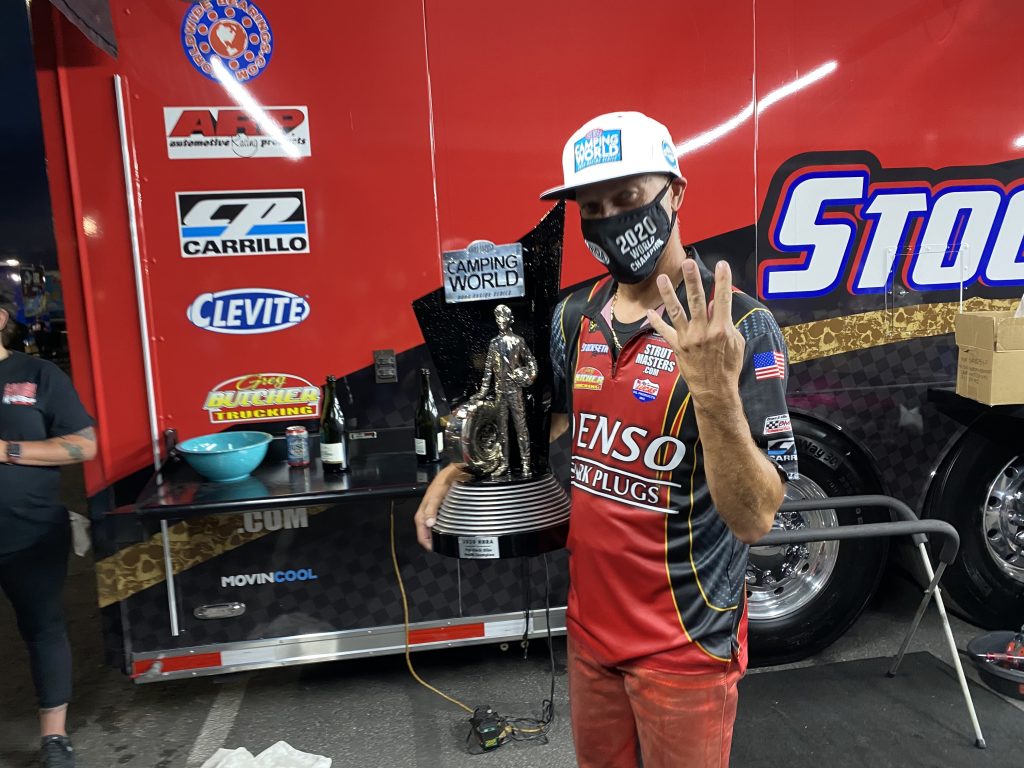 The four-time champion was a step ahead of the class for most of the season, qualifying in the No. 1 spot five times, winning twice and advancing to three final rounds. He also won the Mickey Thompson Pro Bike Battle, becoming just the fourth rider in Pro Stock Motorcycle history to win four championships.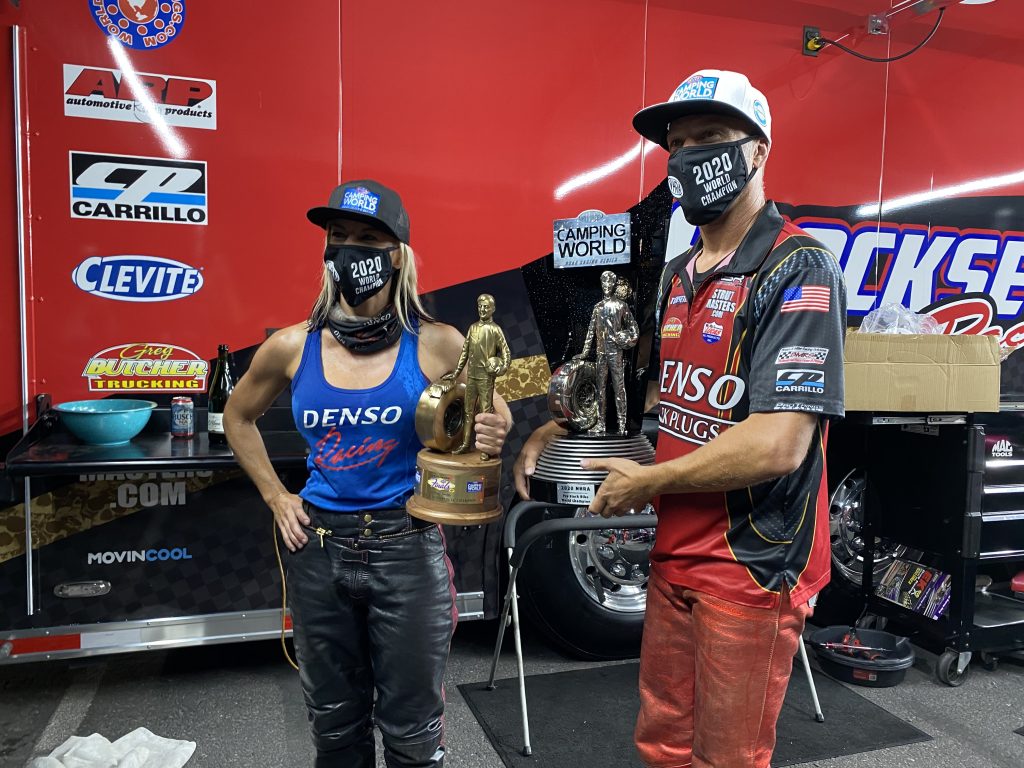 "This was a long hard deal today," M. Smith said. "That [Vance & Hines] group played their cards right and I had to race them in the first and second rounds. If you want to be the champ you have to beat the champ and I just beat the champ [Hines] to win this, so we are the champions. I can't thank Denso and Mark Stockseth enough for what they do for me."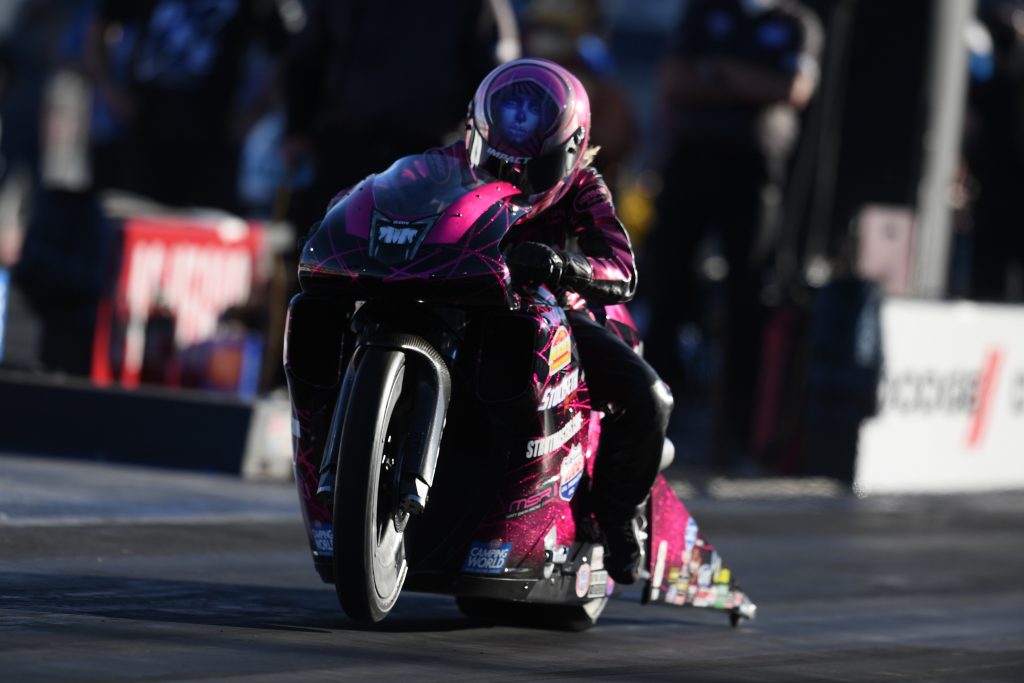 A. Smith gave the husband and wife team another reason to smile on Sunday, picking up her second career victory with a run of 6.917 at 194.83 on her Denso EBR to beat Steve Johnson in the final round. She advanced to the championship round with wins against Katie Sullivan, Scotty Pollacheck and Hector Arana Jr.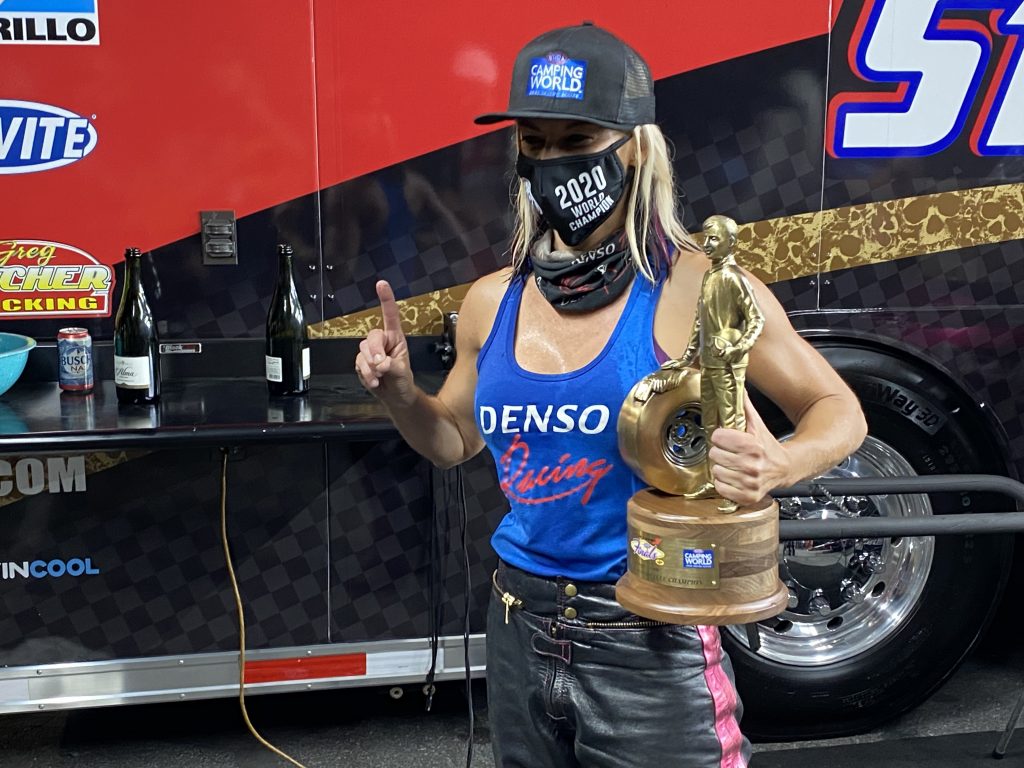 "You never know when you're going to get back here, and I'm so emotional," A. Smith said. "I want to thank my team. They have built me up and have told me to never give up. This one's for them."
The 2021 NHRA season begins with the 52nd annual AMALIE Motor Oil NHRA Gatornationals, March 12-14 at Gainesville Raceway.
PRO STOCK MOTORCYCLE:
ROUND ONE — Hector Arana Jr, 6.957, 192.19 def. Ryan Oehler, 6.981, 192.11; Angie Smith, 6.914, 195.11 def. Katie Sullivan, Suzuki, 7.026, 190.00; Joey Gladstone, 7.741, 124.64 def. Freddie Camarena, Suzuki, Foul – Red Light; Scotty Pollacheck, 7.020, 191.62 def. David Barron, Foul – Red Light; Steve Johnson, Suzuki, 6.983, 187.70 def. Kelly Clontz, Suzuki, 7.057, 187.29; Matt Smith, 6.872, 196.27 def. Angelle Sampey, Harley-Davidson, 6.916, 191.40; Eddie Krawiec, Harley-Davidson, 6.903, 196.10 def. Cory Reed, Foul – Red Light; Andrew Hines, Harley-Davidson, 6.944, 193.10 def. Chris Bostick, Suzuki, 7.023, 187.94;
QUARTERFINALS — Johnson, 6.980, 188.99 def. Gladstone, 7.017, 190.86; A. Smith, 6.955, 194.52 def. Pollacheck, 8.259, 114.22; Arana Jr, 6.946, 194.32 def. Krawiec, 6.893, 194.18; M. Smith, 6.875, 196.13 def. Hines, 6.949, 193.13;
SEMIFINALS — A. Smith, 6.950, 192.17 def. Arana Jr, Foul – Red Light; Johnson, 7.073, 188.49 def. M. Smith, Broke;
FINAL — A. Smith, 6.917, 194.83 def. Johnson, 6.990, 189.07.
Final Points
1. Matt Smith, 703; 2. Eddie Krawiec, 593; 3. Scotty Pollacheck, 587; 4. Andrew Hines, 576; 5. Angie Smith, 514; 6. Angelle Sampey, 495; 7. Ryan Oehler, 448; 8. Steve Johnson, 445; 9. Hector Arana Jr, 434; 10. Jerry Savoie, 323.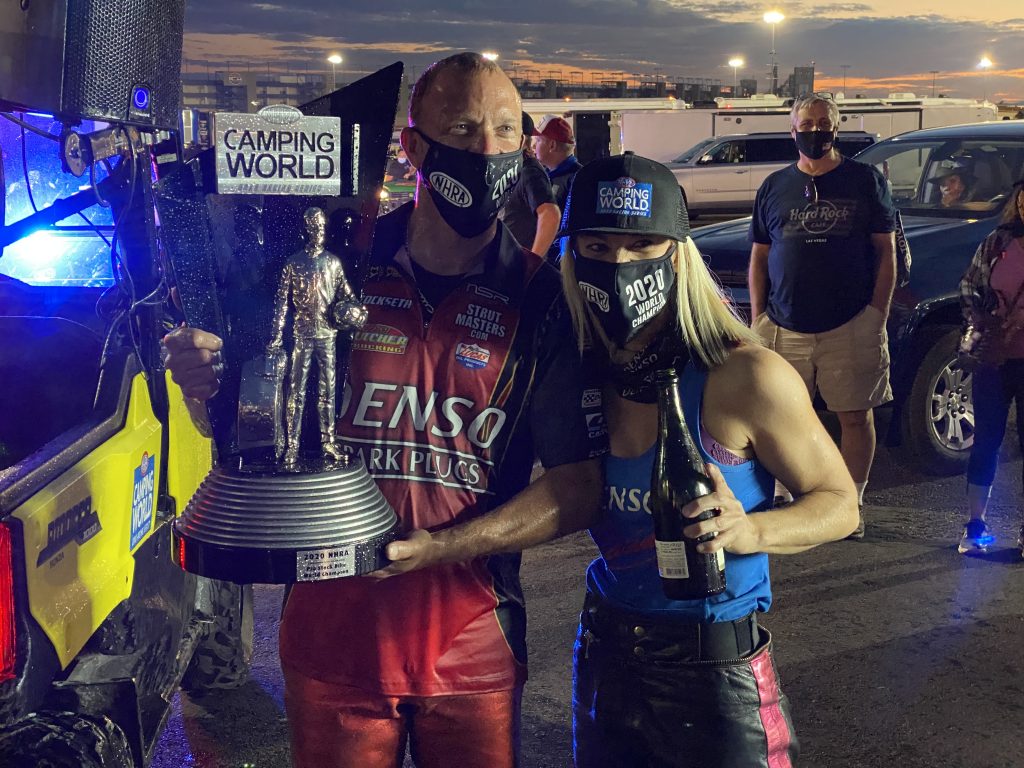 There are more videos on the Cycledrag Youtube channel (please subscribe here) and the Cycledrag.com Facebook page (Please like here) and more will be coming soon. Check back daily.
To take advantage of some amazing discounts at Brock's Performance, click – http://brocksperformance.com?aff=12
USE cycledrag5 coupon code.