Three-time NHRA world champion Matt Smith vaulted into the points lead on Sunday at Gainesville Raceway, powering past Andrew Hines in the final round to win the AMALIE Motor Oil Gatornationals.
Smith finished off a dominant weekend with his first win of the season on his Denso/Stockseth/MSR EBR, going 6.843 at 196.99 to beat defending world champ Hines in the final round.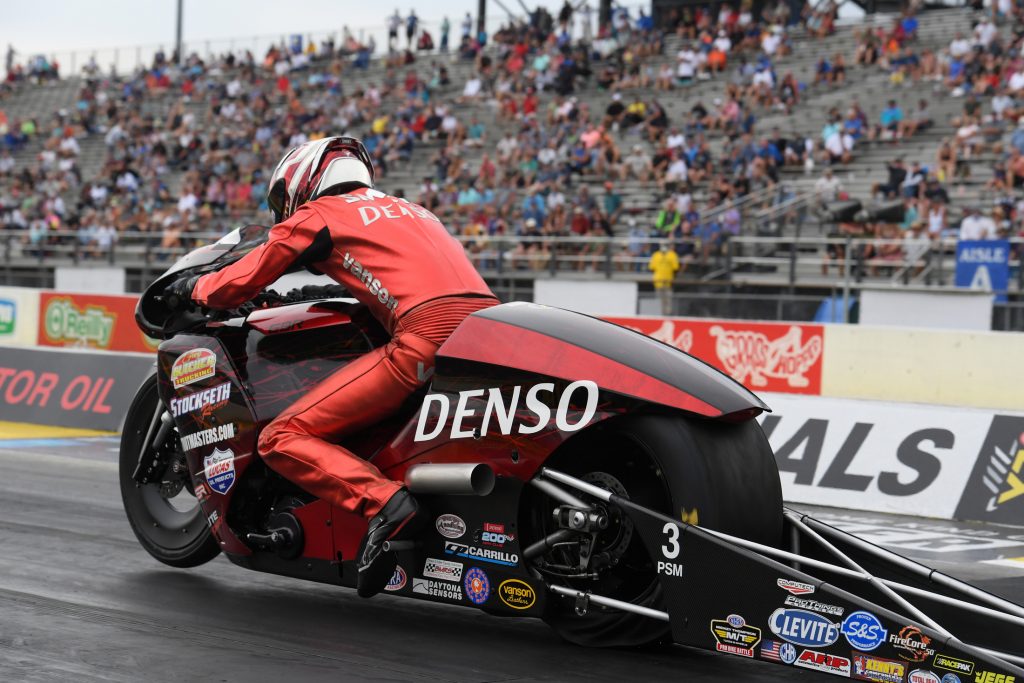 It also gives Smith, who was the No. 1 qualifier, his 25th career victory, continuing a stretch that also saw him win the Mickey Thompson Pro Bike Battle at the most recent race. He knocked off Kelly Clontz, John Hall and Scotty Pollacheck to reach the final round before his wire-to-wire win against Hines. Smith moved into the points lead with his first win at Gainesville, celebrating a special weekend that also saw his dad, Rickie, win in Pro Mod.
"I've tried since 2006 to win this race and I've never been able to do it," said Smith, a three-time world champ. "I've watched my dad do it a couple times and it means a lot to win it. I've always wanted to win Gainesville and leave with the points lead, and I was able to do it. Right now, I think Team MSR has the best team out here and we have the power to win this thing. We've just to keep everything together, but we have the power to win races and win a championship."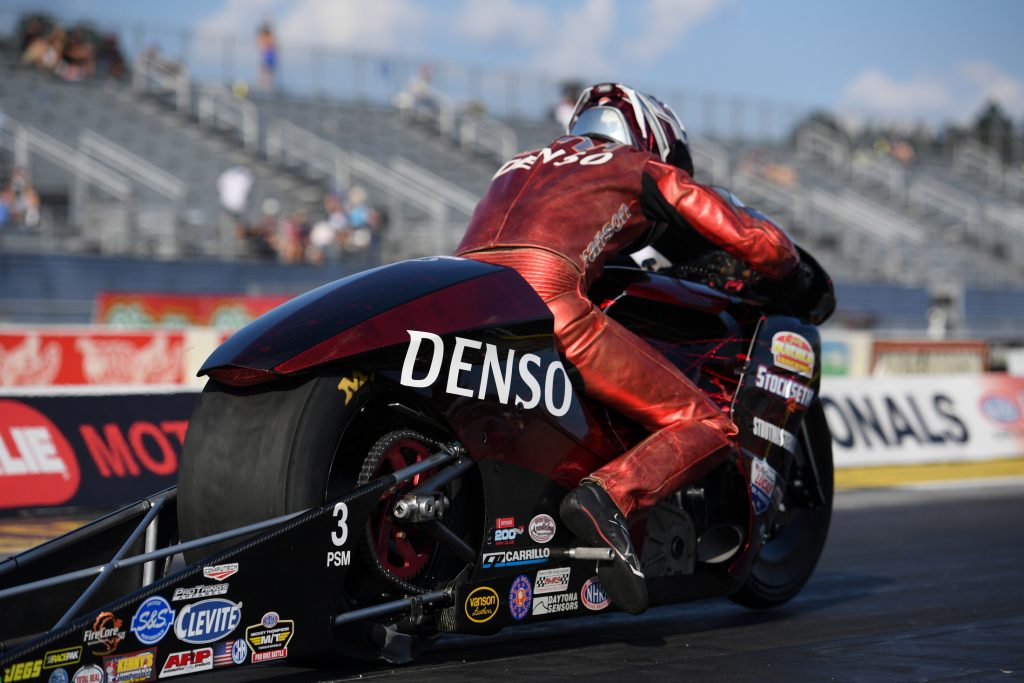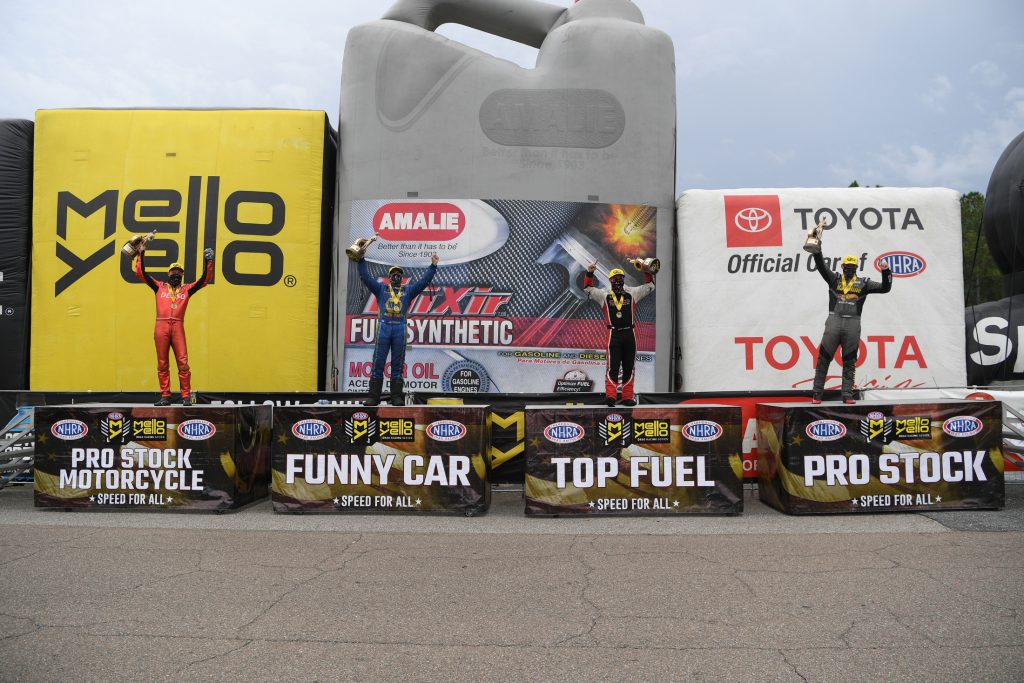 Hines reached his 98th final round with victories against Hector Arana Jr., and teammates Eddie Krawiec and Angelle Sampey.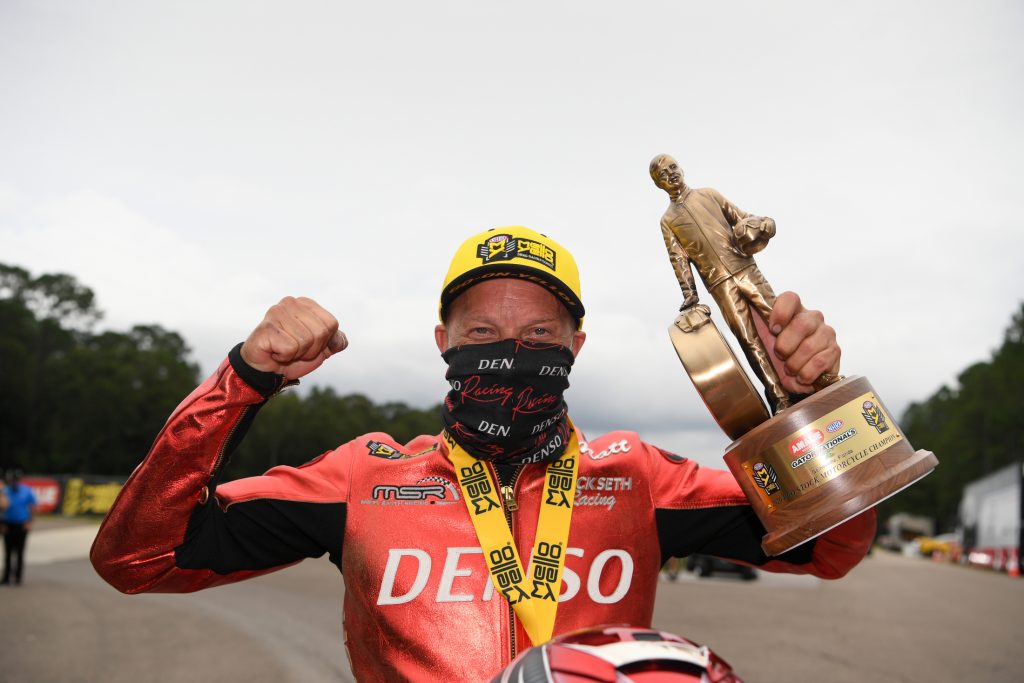 The NHRA Mello Yello Drag Racing Series continues Oct. 2-4 with the Mopar Express Lane NHRA Midwest Nationals presented by Pennzoil at World Wide Technology Raceway in St. Louis.
There are more videos on the Cycledrag Youtube channel (please subscribe here) and the Cycledrag.com Facebook page (Please like here) and more will be coming soon. Check back daily.
To take advantage of some amazing discounts at Brock's Performance, click – http://brocksperformance.com?aff=12
USE cycledrag5 coupon code.
Finish order
1. Matt Smith; 2. Andrew Hines; 3. Angelle Sampey; 4. Scotty Pollacheck; 5. Eddie Krawiec; 6. Angie Smith; 7. John Hall; 8. Jerry Savoie; 9. Hector Arana Jr; 10. Steve Johnson; 11. Chris Bostick; 12. Michael Phillips; 13. Kelly Clontz; 14. Ryan Oehler; 15. Marc Ingwersen; 16. Hector Arana.
ROUND ONE — John Hall, Suzuki, 6.980, 190.03 def. Ryan Oehler, 7.105, 189.02; Angie Smith, 6.895, 197.05 def. Steve Johnson, Suzuki, 6.957, 191.08; Andrew Hines, Harley-Davidson, 6.851, 195.79 def. Hector Arana Jr, 6.920, 195.36; Jerry Savoie, Suzuki, 6.924, 189.58 def. Chris Bostick, Suzuki, 6.972, 192.66; Eddie Krawiec, Harley-Davidson, 6.846, 197.36 def. Marc Ingwersen, Foul – Red Light; Scotty Pollacheck, 7.382, 177.23 def. Hector Arana, Broke; Angelle Sampey, Harley-Davidson, 6.856, 196.59 def. Michael Phillips, Suzuki, Foul – Red Light; Matt Smith, 6.860, 198.20 def. Kelly Clontz, Suzuki, 7.015, 190.35;
QUARTERFINALS — Pollacheck, 6.898, 194.63 def. Savoie, 6.972, 189.36; M. Smith, 6.828, 197.77 def. Hall, Foul – Red Light; Sampey, 6.907, 194.83 def. A. Smith, 6.906, 195.85; Hines, 6.912, 195.05 def. Krawiec, 6.894, 195.93;
SEMIFINALS — Hines, 6.941, 194.74 def. Sampey, Foul – Red Light; M. Smith, 6.859, 196.73 def. Pollacheck, 6.903, 195.68;
FINAL — M. Smith, 6.843, 196.99 def. Hines, 6.927, 194.63.
Pro Stock Motorcycle Points
1. Matt Smith, 348; 2. Scotty Pollacheck, 327; 3. Andrew Hines, 320; 4. Angelle Sampey, 300; 5. Eddie Krawiec, 284; 6. Ryan Oehler, 237; 7. Angie Smith, 198; 8. Hector Arana Jr, 190; 9. Chris Bostick, 181; 10. Steve Johnson, 169.