NHDRO—the Midwest's largest motorcycle drag racing series—follows up their wildly successful $62,000 BB Racing Bracket Shootout—the biggest-ever payout in motorcycle drag racing history—with the CC Powersports NHDRO World Finals and Big Payback on at October 2-4 at Lucas Oil Raceway in Brownsburg, Indiana.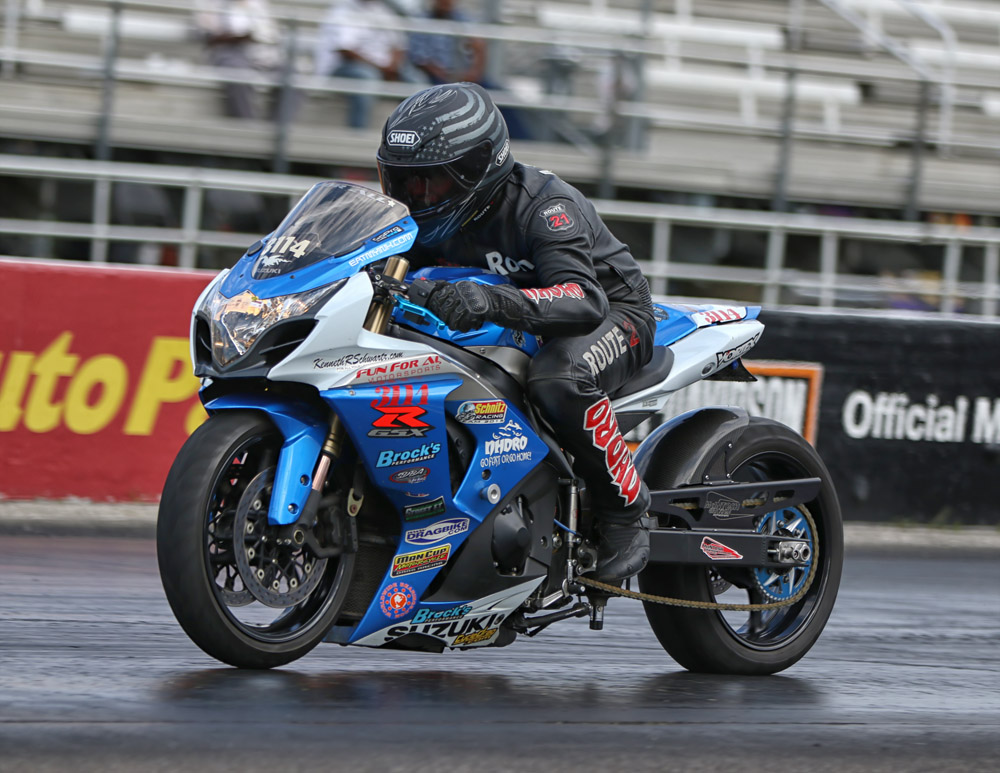 The Big Payback spreads the Big Money around, especially with the $18K BB Racing Bracket Shootout starting at 4:30 pm on Friday. Eighteen is not 62, but it's a good chunk of change for one day's bracket racing. This time it's a 32 no-box ladder and 32 delay box ladder, with the winners of each meeting in one big final. And if you haven't already locked in, sorry ballers, this one is sold out!
Florida box skills master Roy Hagadorn made big news when he won 50K on his 1981 Suzuki GS wheelie bar bike in August against Gateway regular Janie Palm on her true, stock hand-clutch Suzuki Hayabusa streetbike. Palm left with "only" $12K. Who will win this time around?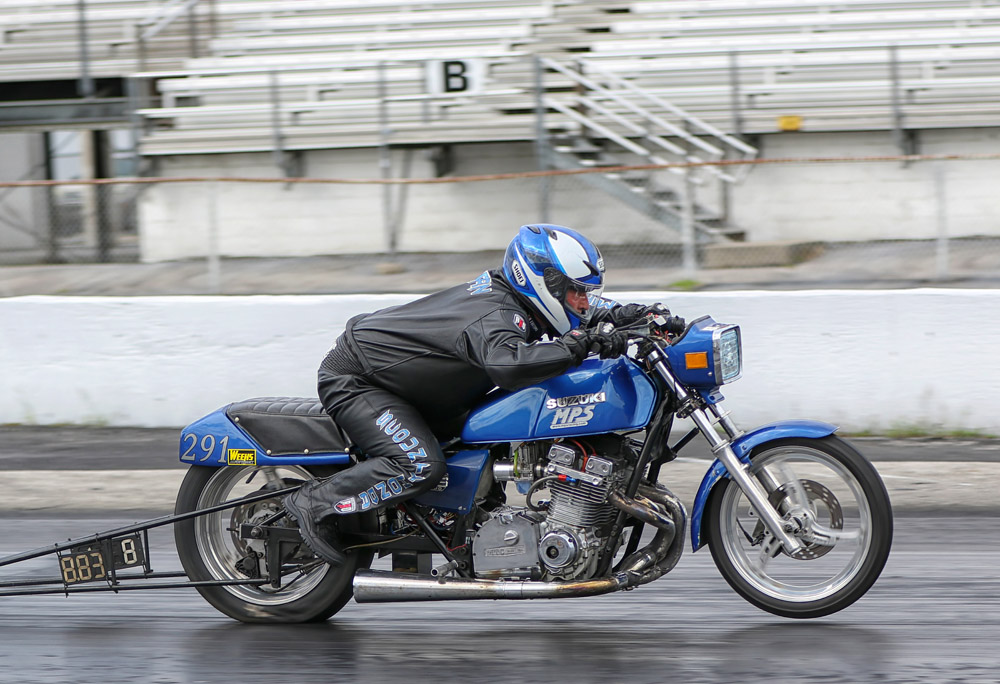 865 Racing and Corey Lee have boosted the 865 Racing Top Gas 8.20 index purse this weekend to $9,000. You can bet that champion Joe "Big" Deck is licking his lips over this one, but so are all the other major contenders, including Jeremy Teasley, John "Spooky" Markham, Dustin "Biscuits" Lee, and many, many more. Registration for this Big Money Top Gas purse is $350.
Indiana insurance titan Kevin Dennis saw Big Money purses popping off at NHDRO and said, "I want in. My Street ET people deserve Big Money too!" And just like that, Saturday's Kevin Dennis Insurance Street ET pot rose to $5,000 with a $100 entry fee. Sunday Street ET will have the regular entry fee and payout.
Pro Ultra 4.60 presented with the I-65 series has gone full in on Big Money. Not only have Grothus Dragbikes and Klemme Performance Motorcycle boosted the 4.60 purse to $4,000, but talk to Jeff Jones of Fast Times Motorsports for some side-bet, shootout action, and that 4K jacks up exponentially. Drop $500 to earn an annual salary in 4.6 seconds this weekend!
Louisville racers Terry Hoke and Deshawn Wheeler, recent class dominator Chase Van Sant and his iconic Trick-Tools Suzuki, Maegan "Bikerchicc" Petway, Chad Otts, Dan McCarten and many more will all be wrestling their big tire bikes to eighth mile glory in the world's quickest two-wheel index class.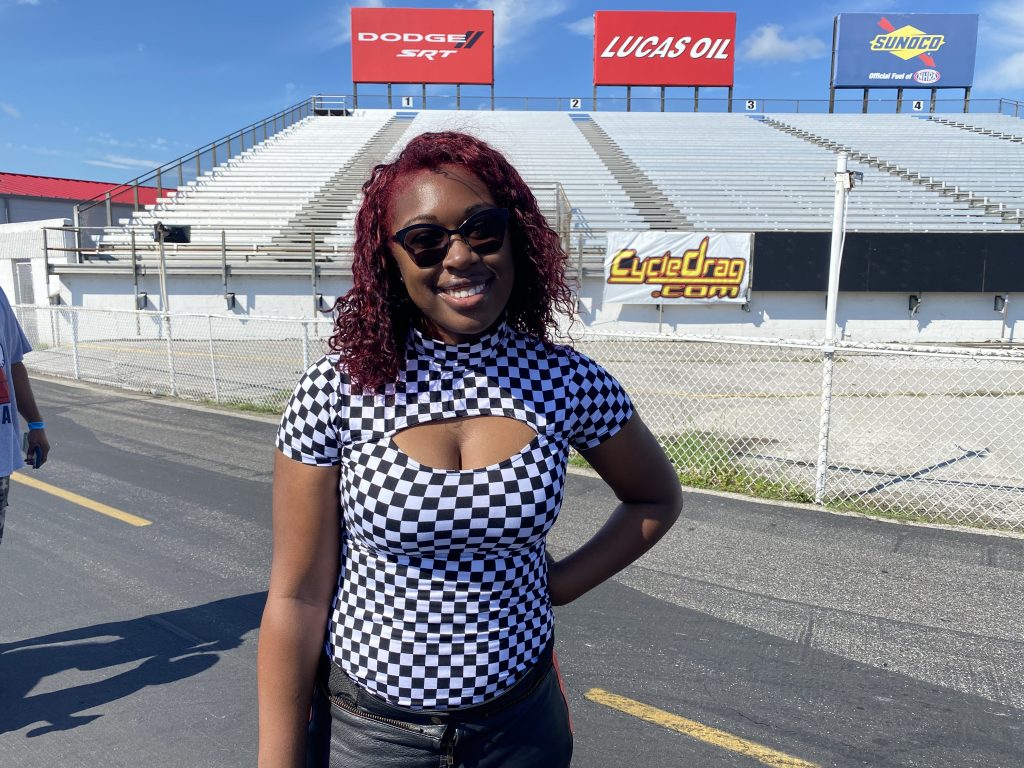 8.90 index BB Racing Super Comp will have to settle for NHDRO's everyday, loaded Big Check, which is always a great reward for a great weekend of racing. One lucky Super Comp racer—like in every other class—will walk off with the perks of a championship.
Ditto for M2.Shocks 8.70 Quick Street, Dirty 30 9.30 index, and two full days of MPS Pro ET racing. Sportsman studs like Ronnie Woodall and Ronnie Woodall Jr., Tom and Joseph Klemme, Chad Isley, Ron "Ju-Jitsu" Arnold, Jason Keller, Jeremy Murphy, Wes Brown, Mark Parmenter, David Liquori and gobs, gobs more.
While sportsmen are the backbone of NHDRO's motorcycle drag racing family, everybody loves them some pro racing—especially the all-out, street legal Pro Street beasts. Gabe Frederick and his turbocharged Suzuki Hayabusa are generally the quickest and fastest in the field, but an Indy win has eluded him so far. Will this be his weekend?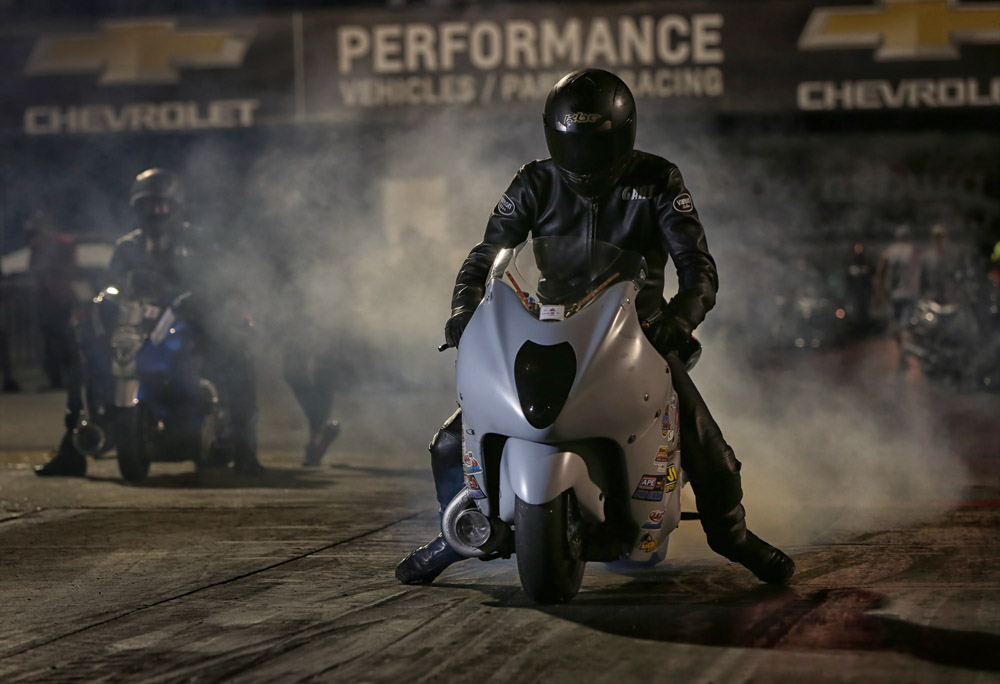 Or will the Quicktime Racing stable take the win, like Brad Christian did in August? Brett Ware and Quicktime boss Rudy Sanzottera will all try to take the Big Check back to St. Charles, but Mike Bayes and Ronnie Mitchell also have room in their Michigan-bound trailer for that prized orange Gatorboard.
Richard Gadson will be in the house to—among other things—defend his August HTP Super Stock win on his Suzuki GSXR1000. There will be plenty of racers choosing that tool for the job, but a guy like Indy racer Dustin "Naked Boy" Clark prefers a Kawasaki ZX14. And then there's Decatur legend Ryan Schnitz, working hard to get his Ducati Panigale V4R's dry clutch to smoothly launch. This rider's class and its variety of nearly-stock motorcycles might be the best show on the strip.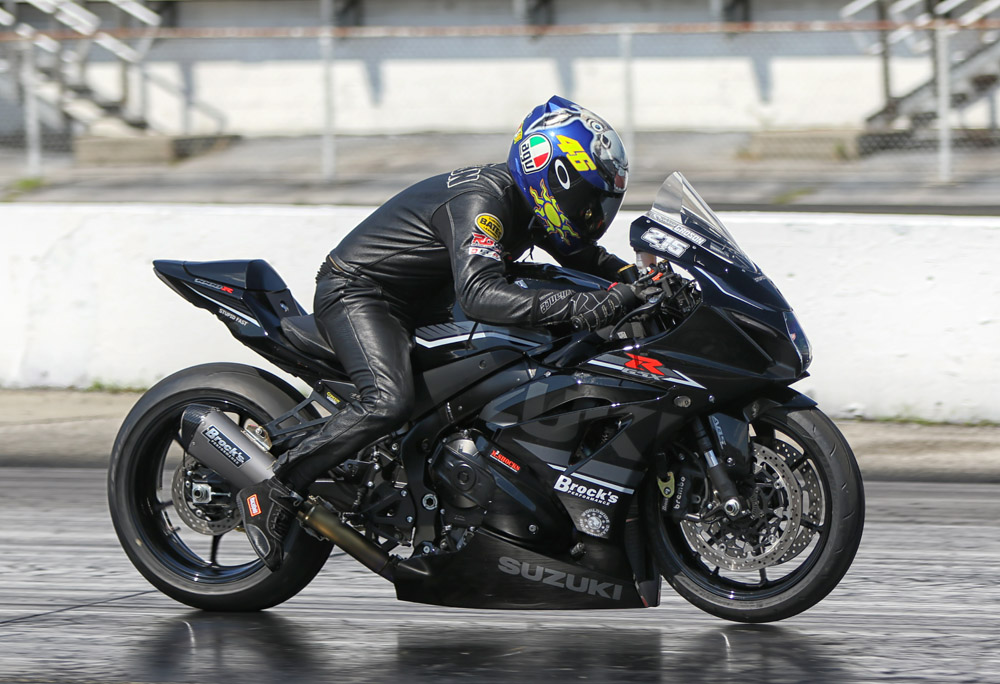 VooDoo Grudge will—as always—liven up those NHDRO nights, and Kaleigh Welch (no relation to NHDRO's Welch family) will aim to defend her win in August's first ever Hard Times Parts and Service Jr. Dragster race.
There will be a kids costume parade and goodie bags thanks to Lisa Cameron Wagner.
NHDRO continues to miss their many Canadian racers and hope that their across-the-border family can return for 2021.
NHDRO's Brian and Niki Welch, along with CC Powersports' Tina and Jose Gonzales, look forward to welcoming the NHDRO family back to Indy for the CC Powersports NHDRO World Finals and Big Payback.
Even though 2020 turned out to be only a two-race season for the NHDRO family, Brian and Niki will crown 2020 champions. 2019 Gold Cards will still be good in 2021, along with the new 2020 champs.
Gates open at 9AM on Friday morning
There are more videos on the Cycledrag Youtube channel (please subscribe here) and the Cycledrag.com Facebook page (Please like here) and more will be coming soon. Check back daily.
To take advantage of some amazing discounts at Brock's Performance, click – http://brocksperformance.com?aff=12
USE cycledrag5 coupon code.