It was an outstanding start to a title defense season for Pro Stock Motorcycle's Matt Smith, as he made multiple runs of 200 mph or faster on his Denso Auto Parts/Stockseth/Matt Smith Racing EBR, including the final round when he went 6.785 at 200.65 to beat Ryan Oehler's 6.869 at 196.53. It was Smith's quickest run of the weekend and he topped 200 mph on every run in eliminations to win in Gainesville for a second straight year. He knocked off Jim Underdahl, Hector Arana Jr. and Steve Johnson to reach the final round, rolling to his 27th career win.
"I just have to go up there and race my lane," said Smith, a four-time Pro Stock Motorcycle world champion. "This bike was on mean this weekend. We weren't able to quite get the E.T. we needed, but this bike was running the speed."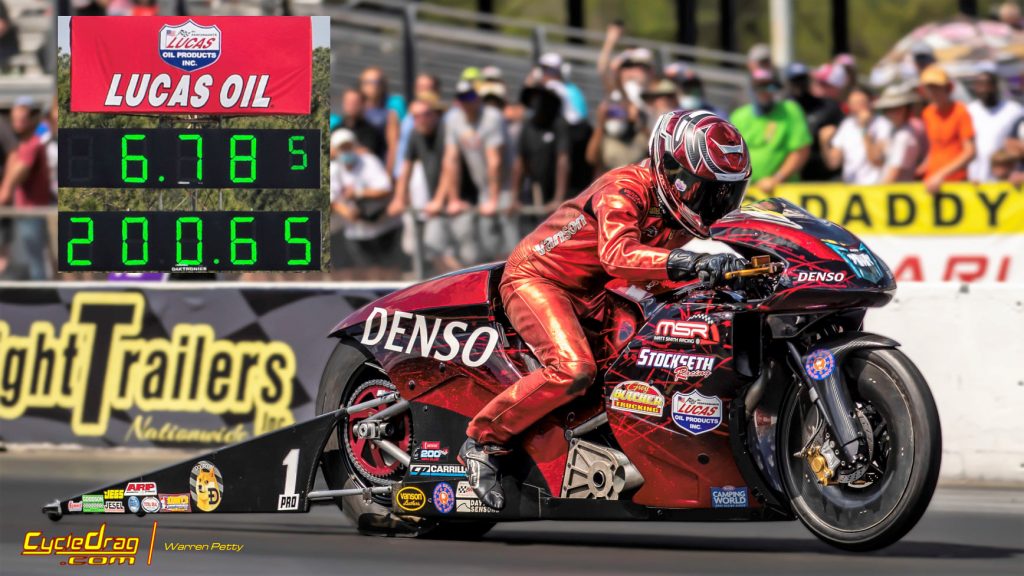 Oehler advanced to his third career final round thanks to round wins against Jerry Savoie, Karen Stoffer and Scotty Pollacheck.
There are more videos on the Cycledrag Youtube channel (please subscribe here) and the Cycledrag.com Facebook page (Please like here) and more will be coming soon. Check back daily.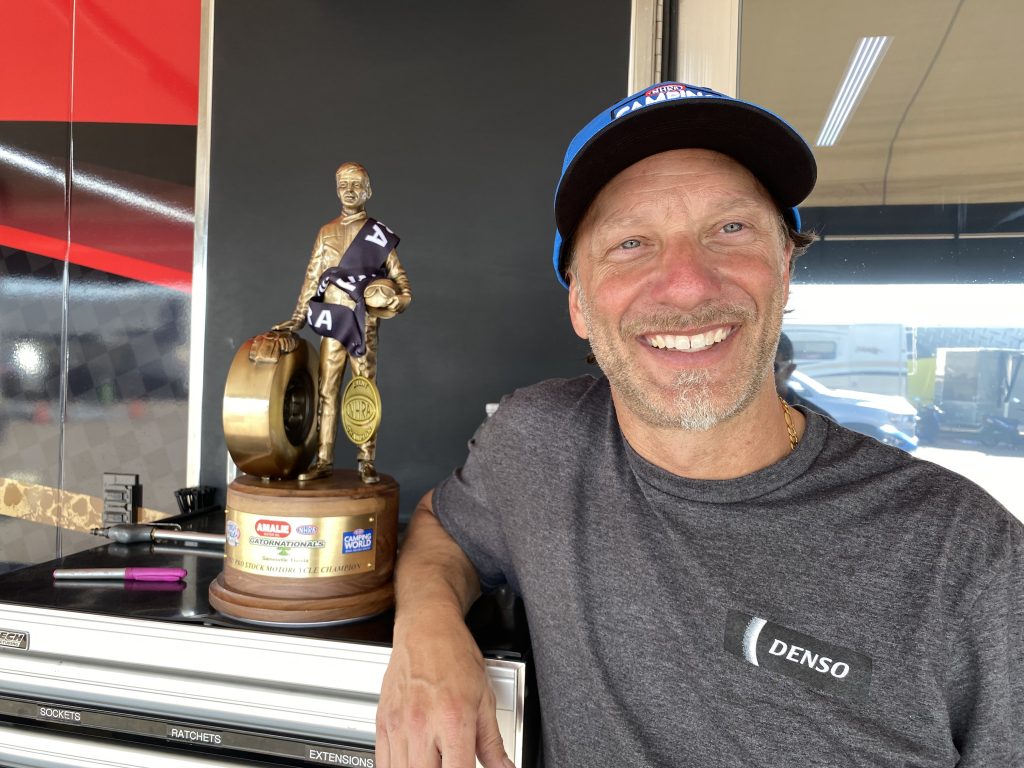 ROUND ONE — Scotty Pollacheck, 6.833, 196.82 def. Cory Reed, Suzuki, 6.870, 195.59; Karen Stoffer, Suzuki, 6.811, 194.80 def. Kelly Clontz, Suzuki, 6.913, 194.04; Hector Arana Jr, 6.812, 199.32 def. Angie Smith, 6.835, 198.38; Steve Johnson, Suzuki, 6.869, 197.42 def. John Hall, Buell, 9.745, 86.02; Angelle Sampey, Suzuki, 6.764, 197.13 def. Michael Phillips, Suzuki, 6.900, 194.72; Ryan Oehler, 6.845, 197.28 def. Jerry Savoie, Suzuki, 15.853, 41.55; Chris Bostick, Suzuki, 6.840, 196.27 def. Joey Gladstone, Suzuki, 6.819, 194.88; Matt Smith, 6.811, 200.89 def. Jim Underdahl, Suzuki, 6.915, 192.60;
QUARTERFINALS — Johnson, 6.853, 197.02 def. Bostick, Foul – Red Light; Oehler, 6.818, 198.99 def. Stoffer, Foul – Red Light; M. Smith, 6.808, 200.71 def. Arana Jr, 6.816, 197.97; Pollacheck, 6.831, 197.13 def. Sampey, 6.820, 196.27;
SEMIFINALS — Oehler, 6.880, 196.85 def. Pollacheck, Broke; M. Smith, 6.850, 200.29 def. Johnson, 6.912, 195.56;
FINAL — M. Smith, 6.785, 200.65 def. Oehler, 6.869, 196.53.