In Pro Stock Motorcycle, Matt Smith continued his strong championship march, going to the No. 1 spot on his Denso Auto Parts Buell with a pass of 6.797 at 201.04 at the 22nd annual NHRA Nevada Nationals.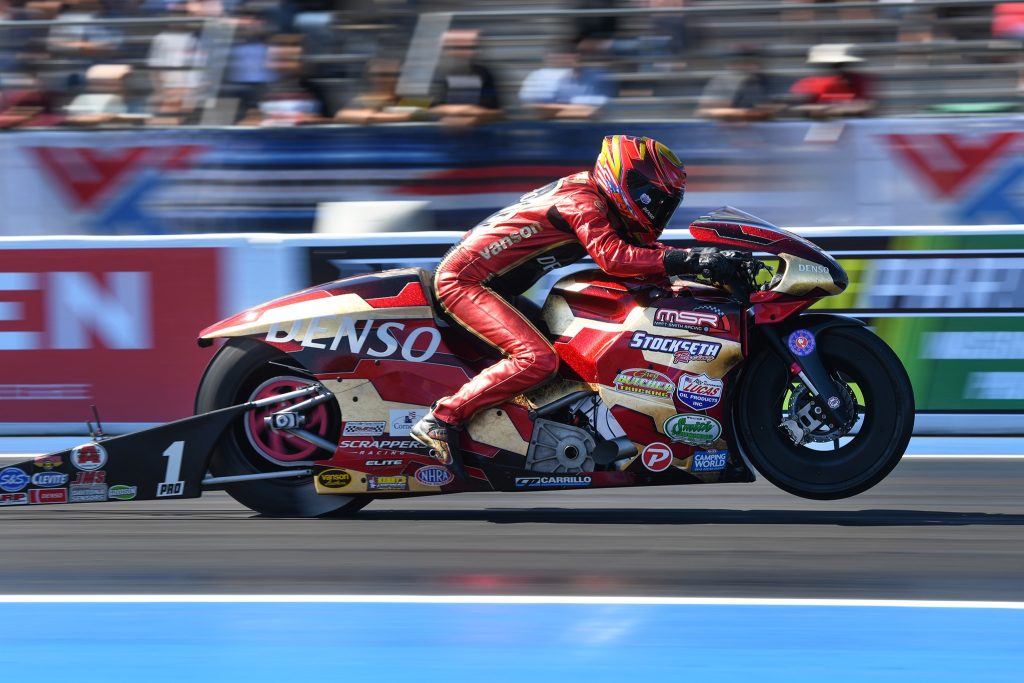 If it holds, it will give the points leader his fifth No. 1 spot in 2022 and 52nd in his career. More importantly, it puts Smith, who held a 51-point lead over Joey Gladstone entering the weekend, in position to continue his playoff momentum as he seeks a sixth world championship. He's won twice in Las Vegas and a third victory would put him in an ideal position to clinch a world title in Pomona.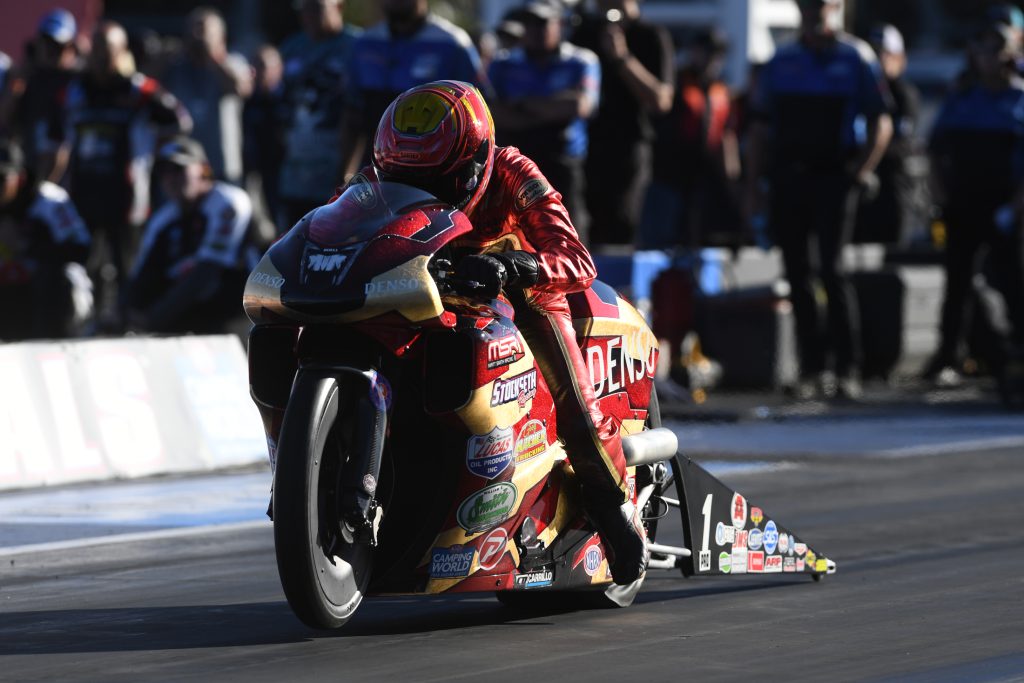 "This is a good start. We messed up in Q1 and blew the tire off it but we de-tuned it for Q2 and went to the top," Smith said. "I've said this all along but to win a championship you've got to have no parts failures and not let anything stupid happen. It's tough out here right now. Steve Johnson has a good bike. Jerry Savoie has a good bike, my wife (Angie) has a good bike and Joey definitely has a good bike."
Angelle Sampey is currently second after going 6.807 at 198.64, with Steve Johnson in third after his pass of 6.832 at 195.19.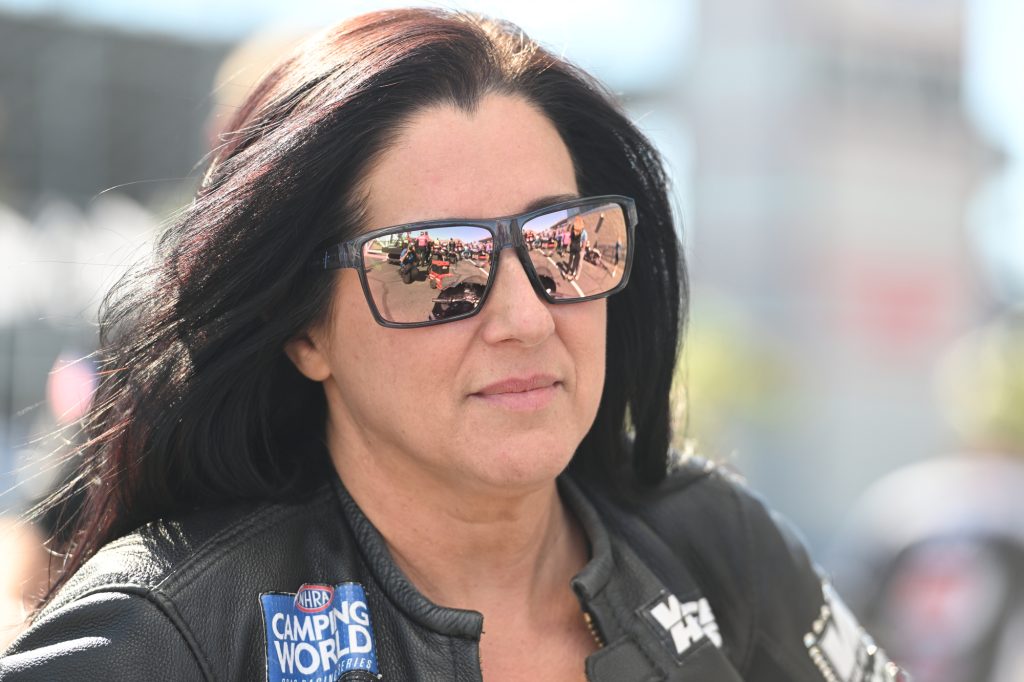 Legendary driver and team owner Tony Stewart also made his NHRA racing debut on Friday in Top Alcohol Dragster, going 5.219 at 276.52 during the first session.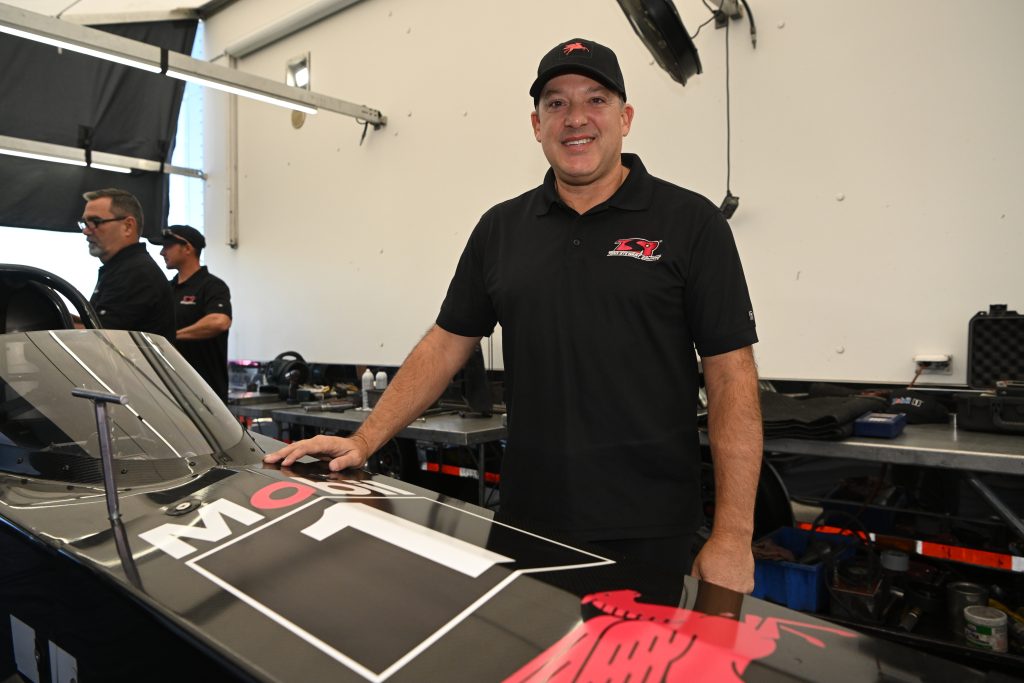 Qualifying continues at 12:00 p.m. PT on Saturday at the NHRA Nevada Nationals at The Strip at Las Vegas Motor Speedway.
Pro Stock Motorcycle — 1. Matt Smith, Buell, 6.797, 201.04; 2. Angelle Sampey, Suzuki, 6.807, 198.64; 3. Steve Johnson, Suzuki, 6.832, 195.19; 4. Jerry Savoie, Suzuki, 6.844, 196.27; 5. Angie Smith, EBR, 6.846, 199.02; 6. Eddie Krawiec, Suzuki, 6.846, 197.02; 7. Marc Ingwersen, EBR, 6.855, 195.56; 8. Joey Gladstone, Suzuki, 6.860, 194.97; 9. Chip Ellis, EBR, 6.868, 196.67; 10. Karen Stoffer, Suzuki, 6.915, 194.83; 11. Ryan Oehler, EBR, 6.929, 194.86; 12. Gaige Herrera, Suzuki, 6.968, 191.87; 13. Jianna Evaristo, Suzuki, 6.989, 191.48; 14. Freddie Camarena, Suzuki, 6.996, 193.13; 15. Hector Arana Jr, Buell, 6.998, 196.59; 16. Kelly Clontz, Suzuki, 6.999, 193.46.
Not Qualified: 17. Chris Bostick, 7.054, 194.07; 18. Katie Sullivan, 7.067, 191.73; 19. Rick Newport, broke; 20. Michael Phillips, broke.
There are more videos on the Cycledrag Youtube channel (please subscribe here) and the Cycledrag Facebook page (Please like here) and more will be coming soon. Check back daily.