Matt Smith moved into the points lead to finish off a dominating weekend in Pro Stock Motorcycle, beating Hector Arana Jr. in the final round. Arana left too soon on the starting line, while Smith put together a run of 6.839 at 199.08 on his Denso Auto Parts/Stockseth/Matt Smith Racing EBR at the 36th annual Texas NHRA FallNationals.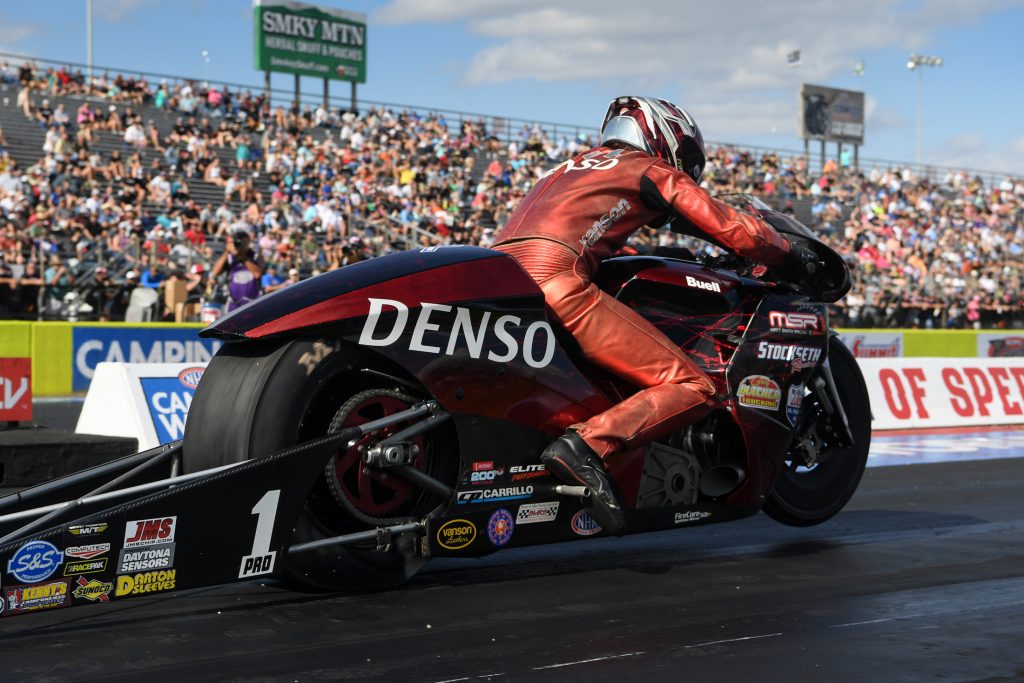 It gave Smith his first career victory at Texas Motorplex, along with his fifth victory of the season and 31st in his career. He reached the final round with wins against Michael Ray, Chris Bostick and his wife, Angie, to advance to the final round. Smith also had the quickest run in the class in each round of eliminations, moving into the points lead where he now holds an eight-point advantage over Steve Johnson with three Pro Stock Motorcycle races remaining.
"It was a great weekend for this Denso team," said Smith, who also set the track speed record this weekend. "We were pretty flawless all weekend and we were low every round. We've got a pretty awesome team. Since 2005, I've always wanted to win this race and never got it done, and I'm just glad to get it done. We've had the best bike all year. Steve has definitely stepped his program up and we're going to go head-to-head with him the rest of the year, and hopefully we can pull this out and get a fifth championship. That's the goal and we're going to do everything we can to try and do it."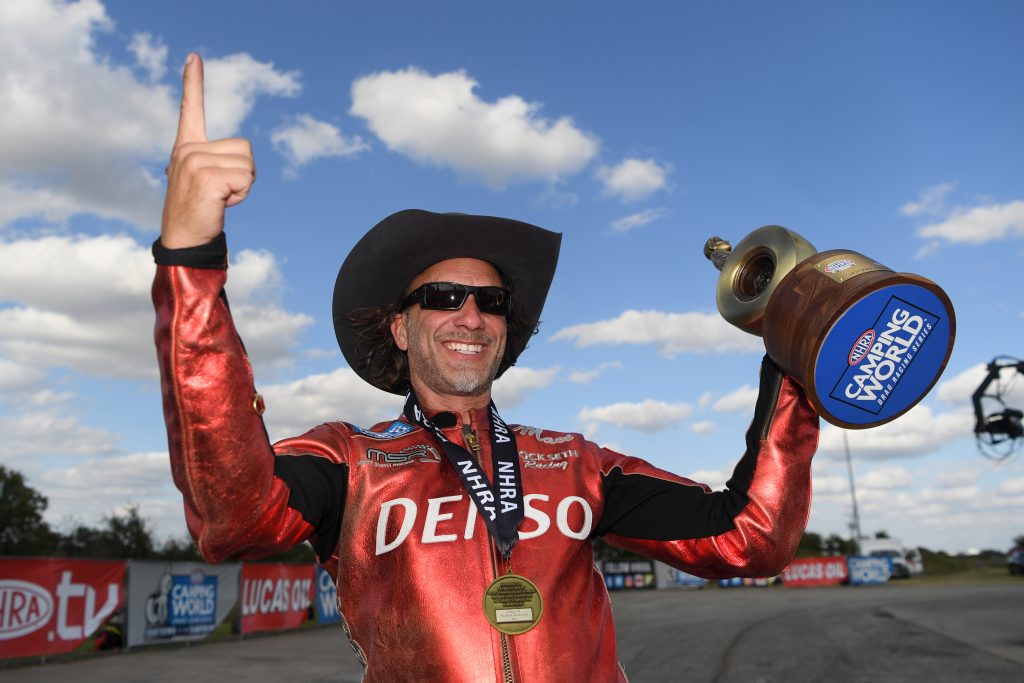 Arana Jr. knocked off Kelly Clontz, Jerry Savoie and Johnson to reach the final round for the first time this season and 28th time in his career.
The NHRA Camping World Drag Racing Series returns to action Oct. 15-17 with the NHRA Thunder Valley Nationals at Bristol Dragway.
PRO STOCK MOTORCYCLE:
ROUND ONE — Scotty Pollacheck, 6.966, 194.21 def. Karen Stoffer, Suzuki, 6.999, 190.59; Chris Bostick, 6.909, 194.30 def. Jim Underdahl, Suzuki, 6.982, 190.35; Jerry Savoie, Suzuki, 6.901, 194.86 def. Joey Gladstone, Suzuki, 7.016, 67.58; Hector Arana Jr, 6.911, 197.19 def. Kelly Clontz, Suzuki, 7.066, 189.34; Angelle Sampey, Suzuki, 6.845, 196.19 def. Andrew Hines, Buell, 6.940, 195.65; Steve Johnson, Suzuki, 6.840, 195.62 def. Jianna Salinas, Suzuki, 7.026, 191.29; Matt Smith, 6.798, 201.37 def. Michael Ray, Broke – No Show; Angie Smith, 6.935, 196.33 def. Eddie Krawiec, Buell, 7.142, 198.64;
QUARTERFINALS — Arana Jr, 6.938, 193.29 def. Savoie, 6.902, 193.74; A. Smith, 6.952, 195.99 def. Sampey, 8.074, 116.13; Johnson, 6.872, 194.13 def. Pollacheck, 7.012, 192.49; M. Smith, 6.828, 199.40 def. Bostick, 6.957, 189.90;
SEMIFINALS — Arana Jr, 7.061, 192.28 def. Johnson, Broke; M. Smith, 6.882, 198.12 def. A. Smith, 7.066, 192.74;
FINAL — M. Smith, 6.839, 199.08 def. Arana Jr, Foul – Red Light.
There are more videos on the Cycledrag Youtube channel (please subscribe here) and the Cycledrag.com Facebook page (Please like here) and more will be coming soon. Check back daily.
To take advantage of some amazing discounts at Brock's Performance, click – http://brocksperformance.com?aff=12
USE cycledrag5 coupon code.