Matt Smith achieved a personal milestone Sunday at Virginia Motorsports Park, winning on his brand new Suzuki at the Virginia NHRA Nationals.
In Pro Stock Motorcycle, defending world champ Smith denied Steve Johnson his third straight win, adding another great layer in their ongoing rivalry, going 6.842 at 198.35 on his Denso Auto Parts/Stockseth/Matt Smith Racing Suzuki to beat the points leader on a holeshot. It was a satisfying first victory in 2022 for Smith on a number of levels, including the fact that it was his first career victory on a Suzuki.
"This is big for us," Smith said. "Our did team did their homework after Charlotte. We're still not where we want to be, but we're getting closer and all in all, it was a great weekend for us. I went to 4-5 finals on a Suzuki early in my career, but I could never close the deal, so to now have won on a Suzuki, I'm truly blessed. I haven't been this excited to win a race in a very long time."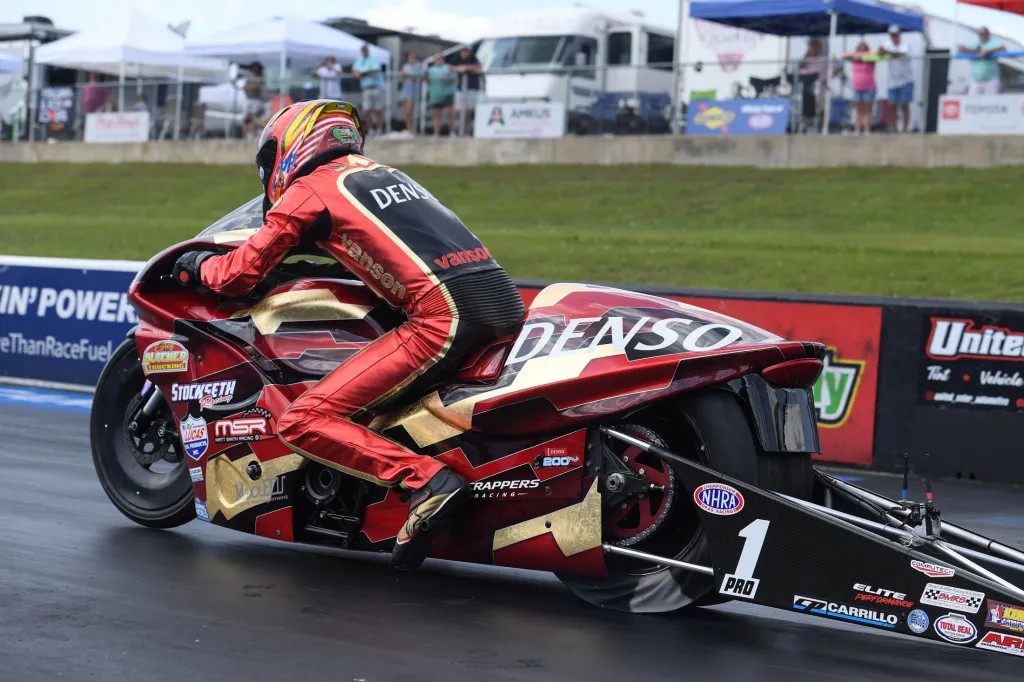 To reach the final round, Smith knocked off Chris Bostick, teammate Jimmy Underdahl and Eddie Krawiec. He left first on Johnson in the finals, holding him off at the finish line to earn his 33rd career victory and first at Virginia.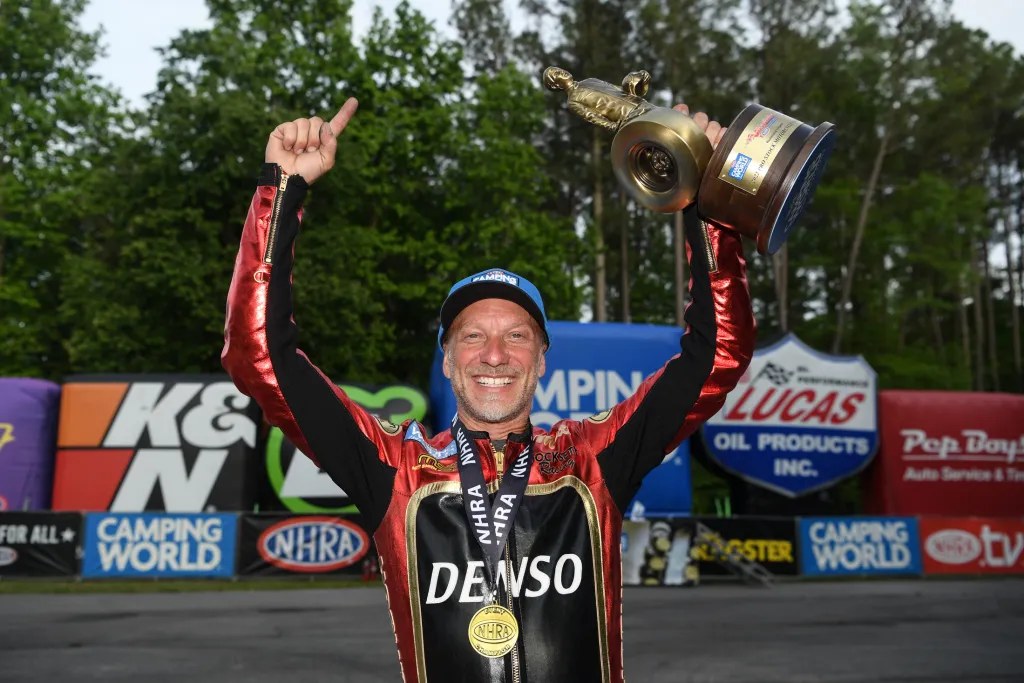 Johnson, who maintained his points lead, reached his third straight final on the strength of wins against Ryan Oehler, Karen Stoffer and Marc Ingwersen.
The NHRA Camping World Drag Racing Series returns to action with the NHRA New England Nationals on June 3-5 at New England Dragway in Epping, N.H.
ROUND ONE — Eddie Krawiec, Suzuki, 6.823, 196.30 def. Joey Gladstone, Suzuki, Foul – Red Light; Marc Ingwersen, 6.950, 193.16 def. Ron Tornow, 6.980, 189.39; Angie Smith, 7.009, 197.51 was unopposed; Jim Underdahl, Suzuki, 6.846, 197.91 def. Kelly Clontz, Suzuki, 13.221, 58.42; Angelle Sampey, Suzuki, 6.784, 199.26 def. Jianna Evaristo, Suzuki, 7.299, 149.20; Steve Johnson, Suzuki, 6.807, 196.56 def. Lance Bonham, Buell, Foul – Red Light; Matt Smith, Suzuki, 6.871, 197.57 def. Chris Bostick, Suzuki, 7.042, 188.83; Karen Stoffer, Suzuki, 6.888, 195.65 def. Ryan Oehler, Foul – Red Light;
QUARTERFINALS — M. Smith, 6.860, 196.67 def. Underdahl, 6.886, 197.13; Krawiec, 6.869, 196.99 def. A. Smith, 9.496, 89.39; Johnson, 6.813, 196.64 def. Stoffer, 6.897, 197.19; Ingwersen, 6.884, 194.32 def. Sampey, Foul – Red Light;
SEMIFINALS — M. Smith, 6.868, 197.86 def. Krawiec, 6.898, 196.56; Johnson, 6.850, 196.19 def. Ingwersen, 6.918, 194.52;
FINAL — M. Smith, 6.842, 198.35 def. Johnson, 6.786, 198.06.
Pro Stock Motorcycle Points
1. Steve Johnson, 393; 2. Karen Stoffer, 343; 3. Eddie Krawiec, 279; 4. Matt Smith, 272; 5. Angie Smith, 245; 6. Joey Gladstone, 229; 7. Angelle Sampey, 209; 8. Jim Underdahl, 194; 9. Marc Ingwersen, 186; 10.
Jerry Savoie, 158.
There are more videos on the Cycledrag Youtube channel (please subscribe here) and the Cycledrag.com Facebook page (Please like here) and more will be coming soon. Check back daily.
To take advantage of some amazing discounts at Brock's Performance, click – http://brocksperformance.com?aff=12
USE cycledrag5 coupon code.