Not only was it the worst day of defending NHRA Pro Stock Motorcycle champion Matt Smith's nearly three-decade racing career, it was one of the worst days of his life.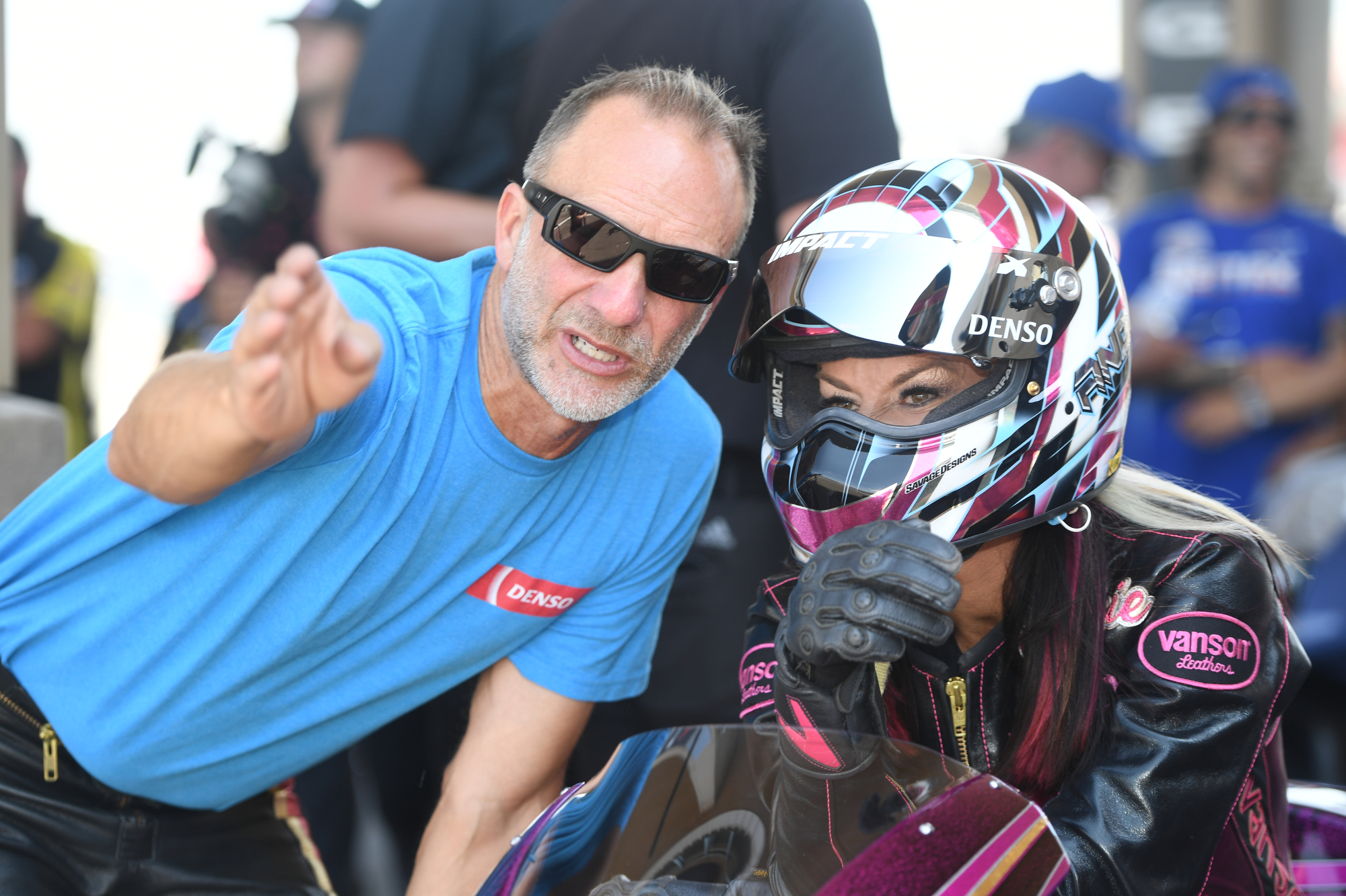 "When you see your wife crash," said Smith, pausing to collect his thoughts, recalling his wife Angie's devastating top-end crash last weekend at the NHRA Midwest Nationals at World Wide Technology Park in St. Louis.
"I watched her go through the lights, and I turned to walk back to my bike. I heard the announcers say somebody went down. The first thing that went through my mind, was oh no, Cory (Reed) just made his first lap on his Gen 3 Suzuki Hayabusa and something must have gone wrong. Then they said it was Angie who was down. I ran to my scooter as fast as I could. It was definitely one of the worst moments of my life," Smith said.
Smith raced to the shutdown area and found his wife in a state of shock.
"I was laying with her on the track, trying to keep her calm. She was hysterical," Smith said.
Angie had just made a 198 mph pass in her second race on the team's black, Denso Buell before the front wheel seemingly locked up, sending the bike down, briefly catching Angie underneath it before she separated from the motorcycle and violently tumbled to a stop.
"I saw a lot of blood and I was really scared something bad was going to happen. She couldn't breathe, she was trying to get up and every time she moved more blood was coming out," Smith said. "I've never seen that much blood. There was so much blood (NHRA) held up white sheets. I was scared she was going to die."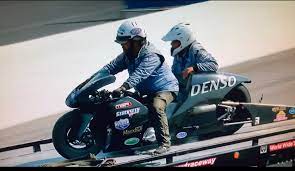 It was a traumatic scene that instantly made a drag race trivial compared to a precious life.
Most importantly it's a story Angie will live to tell thanks to swift action by the NHRA Safety Safari, first responders and doctors and staff at a nearby hospital. It's an incident that left Angie with two broken feet and wounds deep enough to see tendons.
Tony Stewart racing came to the hospital the next day and flew Angie home on the team's private plane.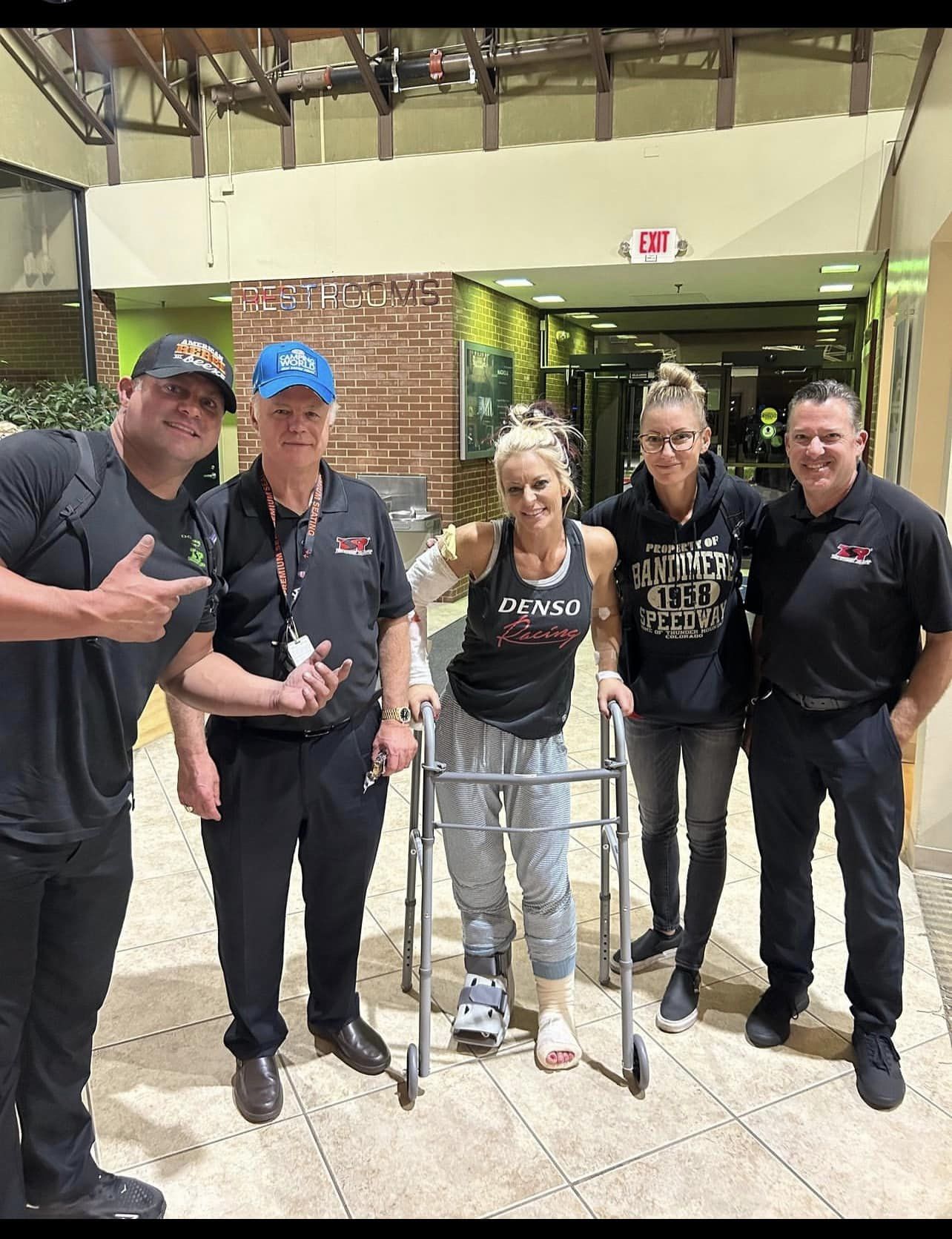 Angie underwent more surgery this past Friday to help the healing process. She is wearing two hard boots for her broken feet.
In a social media post and later in an article by Competiton Plus, Smith expressed his frustration after he says he was told by NHRA that he would not be able to recover his wrecked motorcycle until the tour gets to Pomona, the last race of the season in early November.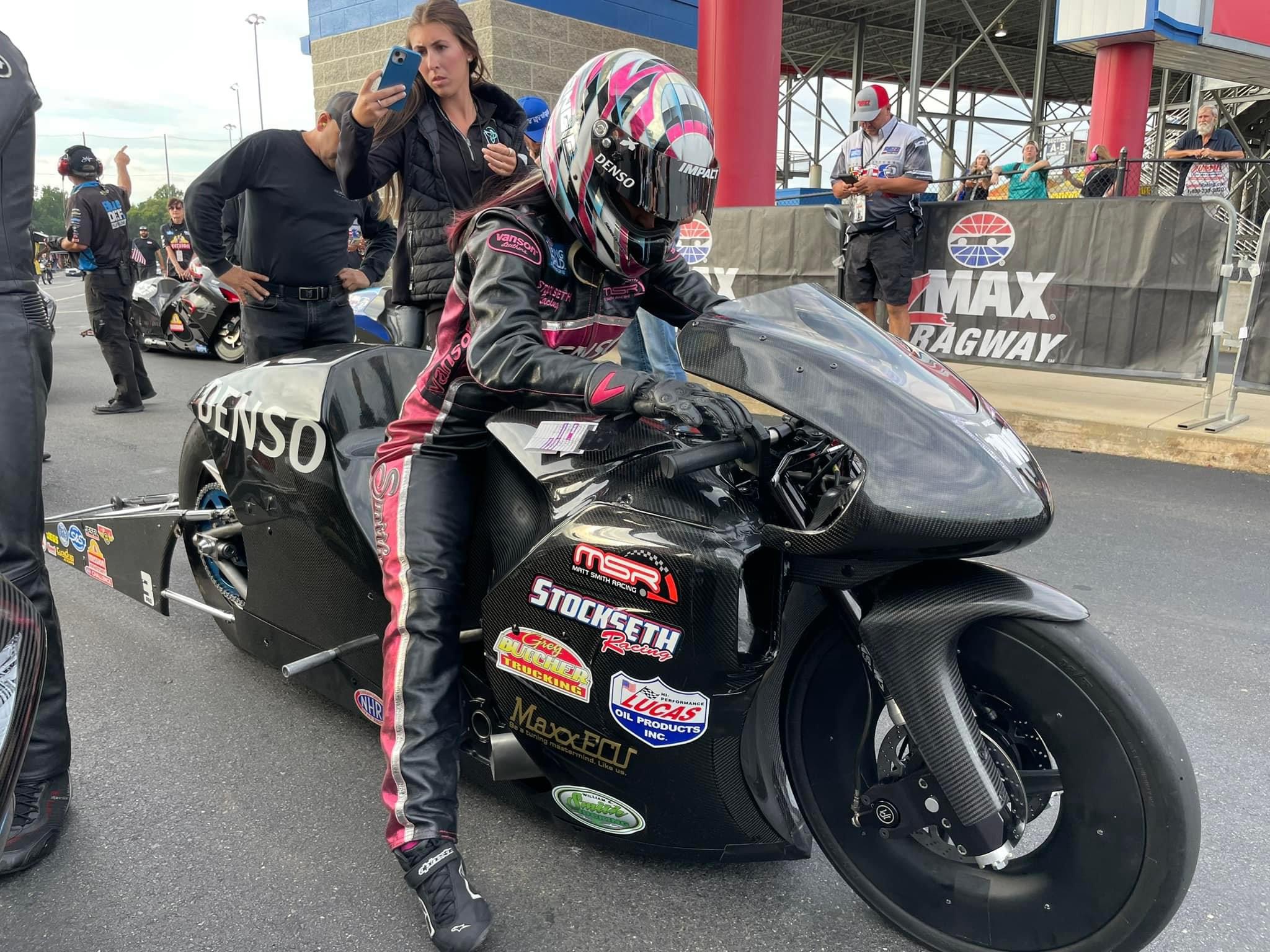 While the NHRA rule book gives the sanction the right to seize, investigate and hold a vehicle, Smith pointed out the precedent in other notable NHRA crashes, where teams are typically able to recover their property within a couple of days. Smith says he was given no explanation other than "legal" as to why his motorcycle would be kept for so long.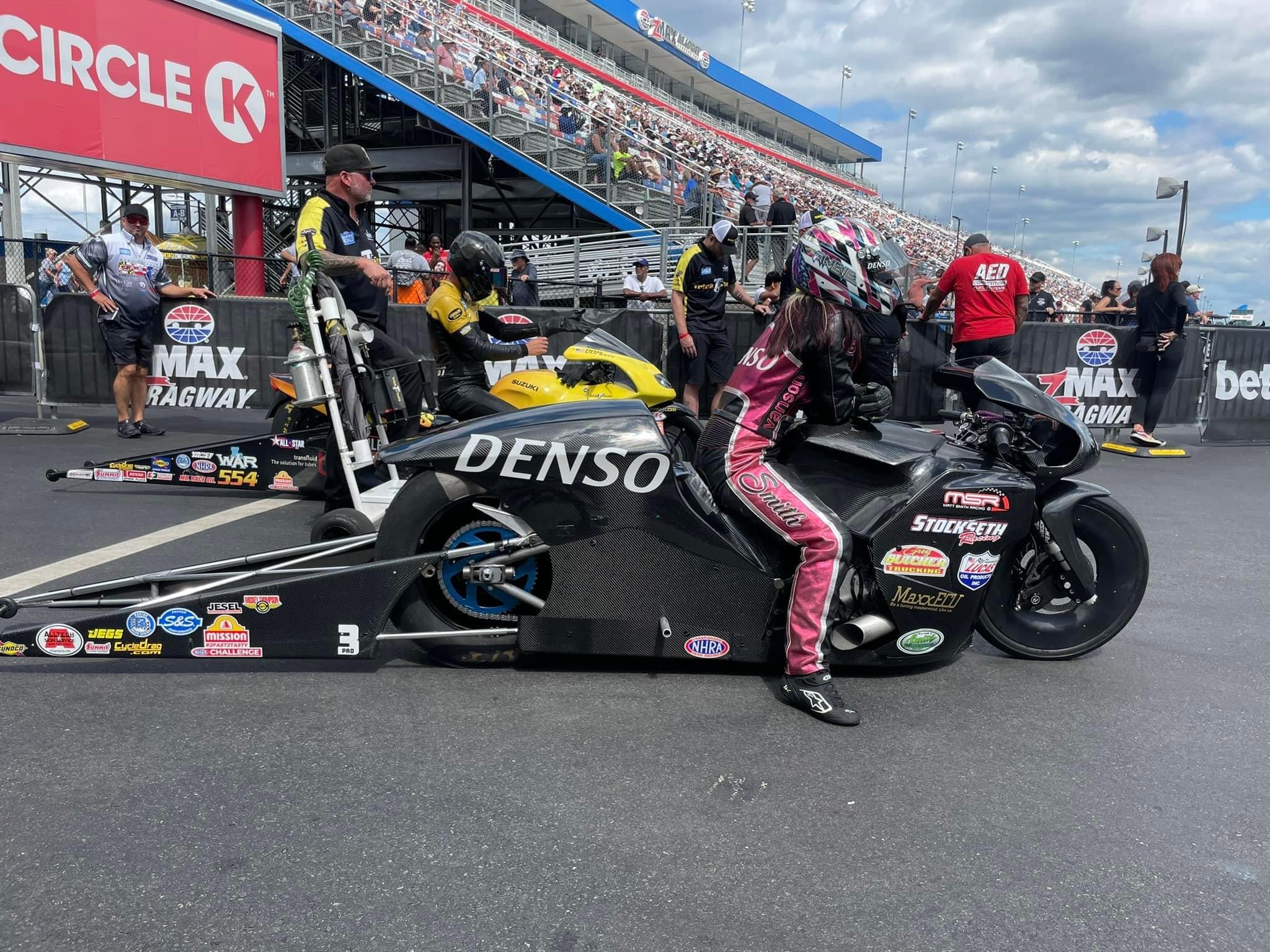 Smith had surrendered the on-board data from the ECU and Angie's safety gear to the NHRA to comply with the investigation and says he saw no reason for the organization hold his bike. Smith threatened legal action of his own.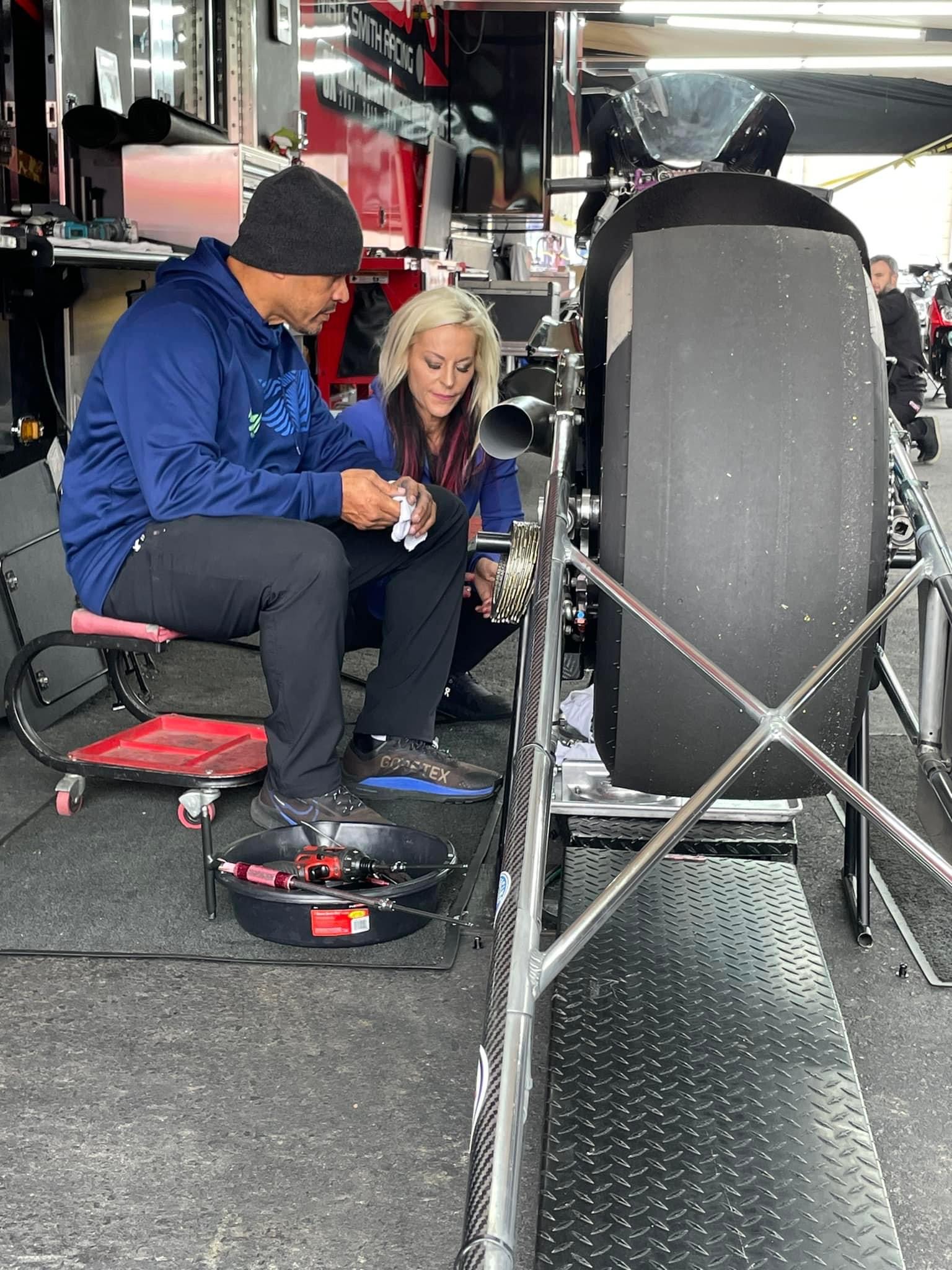 The story took a turn late Thursday when Smith says Angie got a call from the NHRA technical department saying the bike needed to be picked up from St. Louis the next day from a private garage of the track owner.
"We are 12 hours away," said Smith, the King, N.C. resident.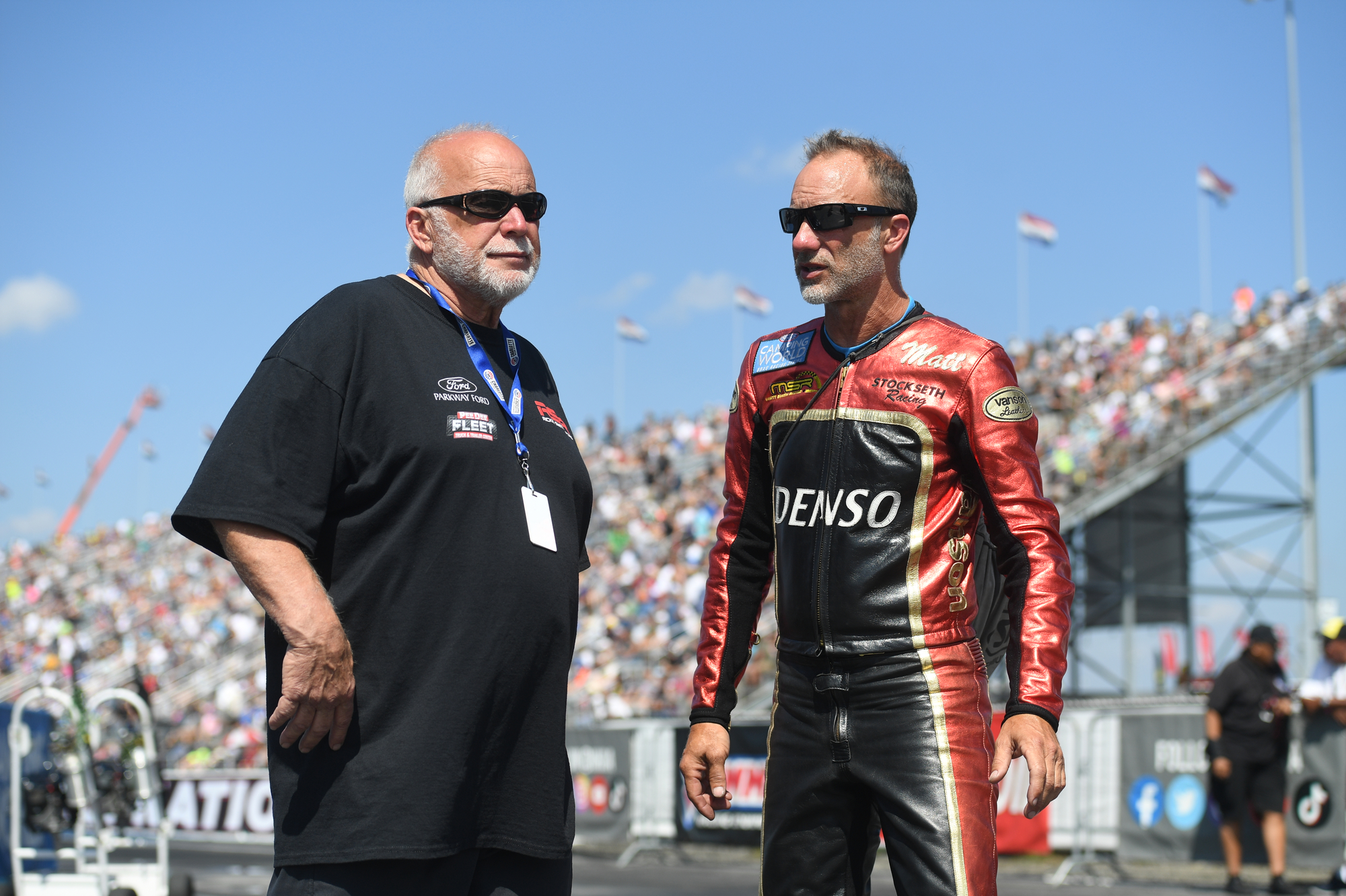 Smith's father, Pro Mod legend "Trickie" Rickie Smith called his friend Jerry Haas of Jerry Haas Race Cars of Fenton, Mo. to see if he could pick up the motorcycle and bring it Dallas. Haas was able to pick the bike up on Friday and will transport it to the NHRA Fall Nationals in Dallas, the following weekend.
Smith said has was still not given any type of explanation as to why the bike was held all week.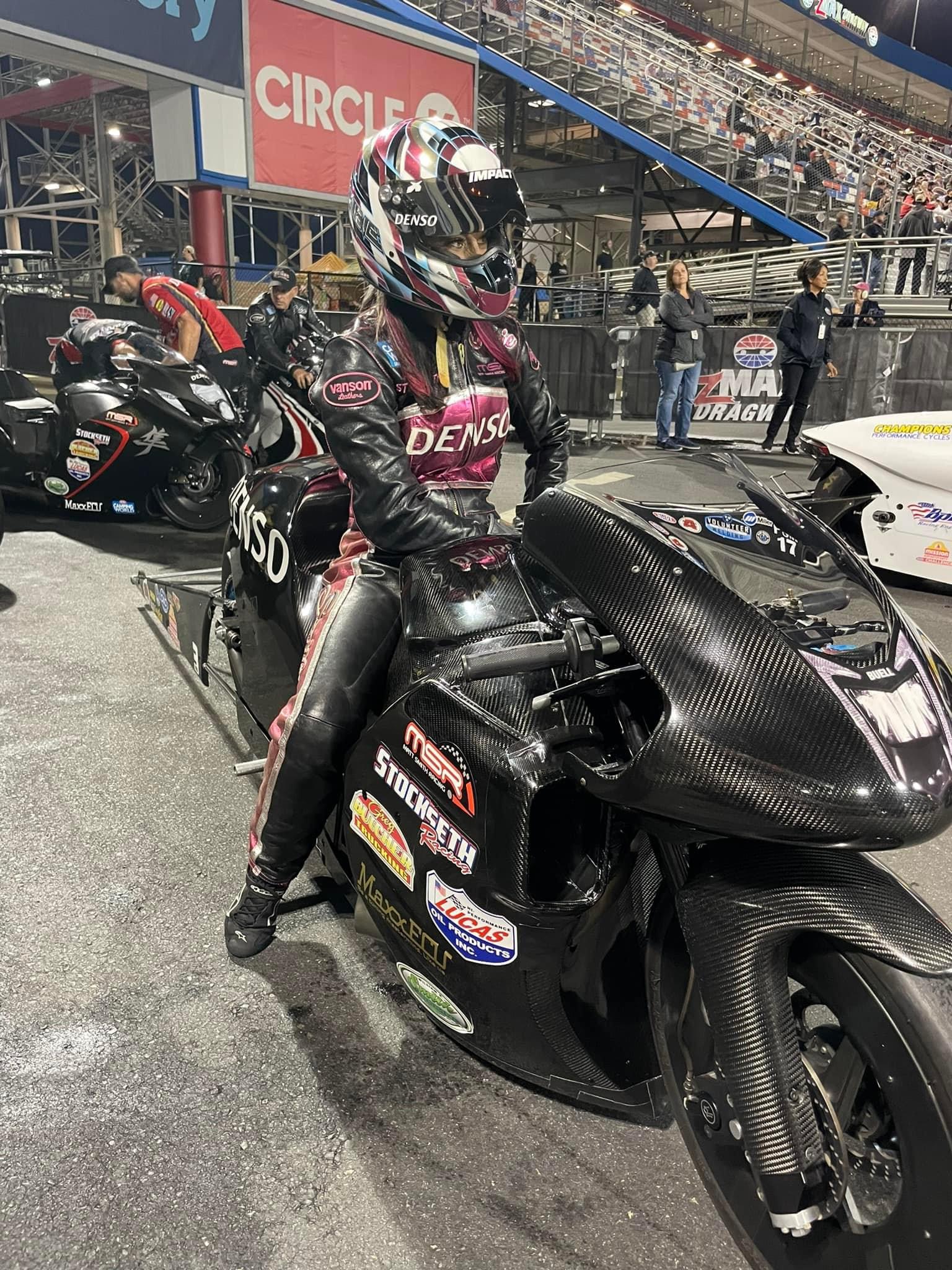 Some have speculated that perhaps NHRA found sound something suspicious or illegal on the bike. Smith says the theory lacks validity.
"I have never cheated and I never will," Smith said. "That would tarnish our name. We don't cheat and there was absolutely nothing illegal on the bike."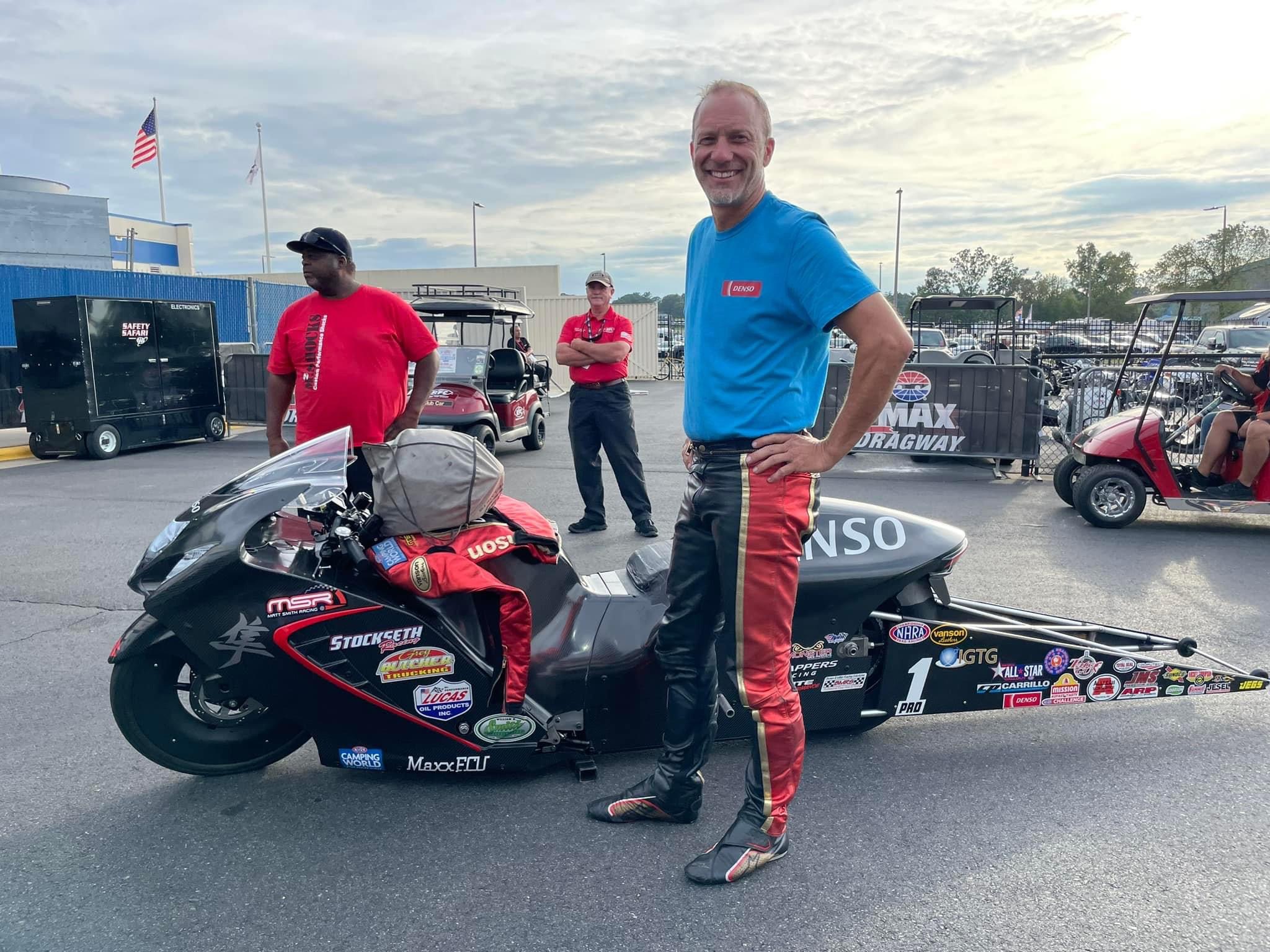 Perhaps another plausible reason for the more thorough inspection is due to the fact that Angie's bike was still running when safety personal got to it. The tether kill or "dead man switch" as it's sometimes refereed to is designed to shut off the motorcycle if a rider comes off the bike. It's a safety rule designed to prevent runaway vehicles. Smith says the problem was Angie's tether cord broke as she came off and the plug never came out of the kill switch.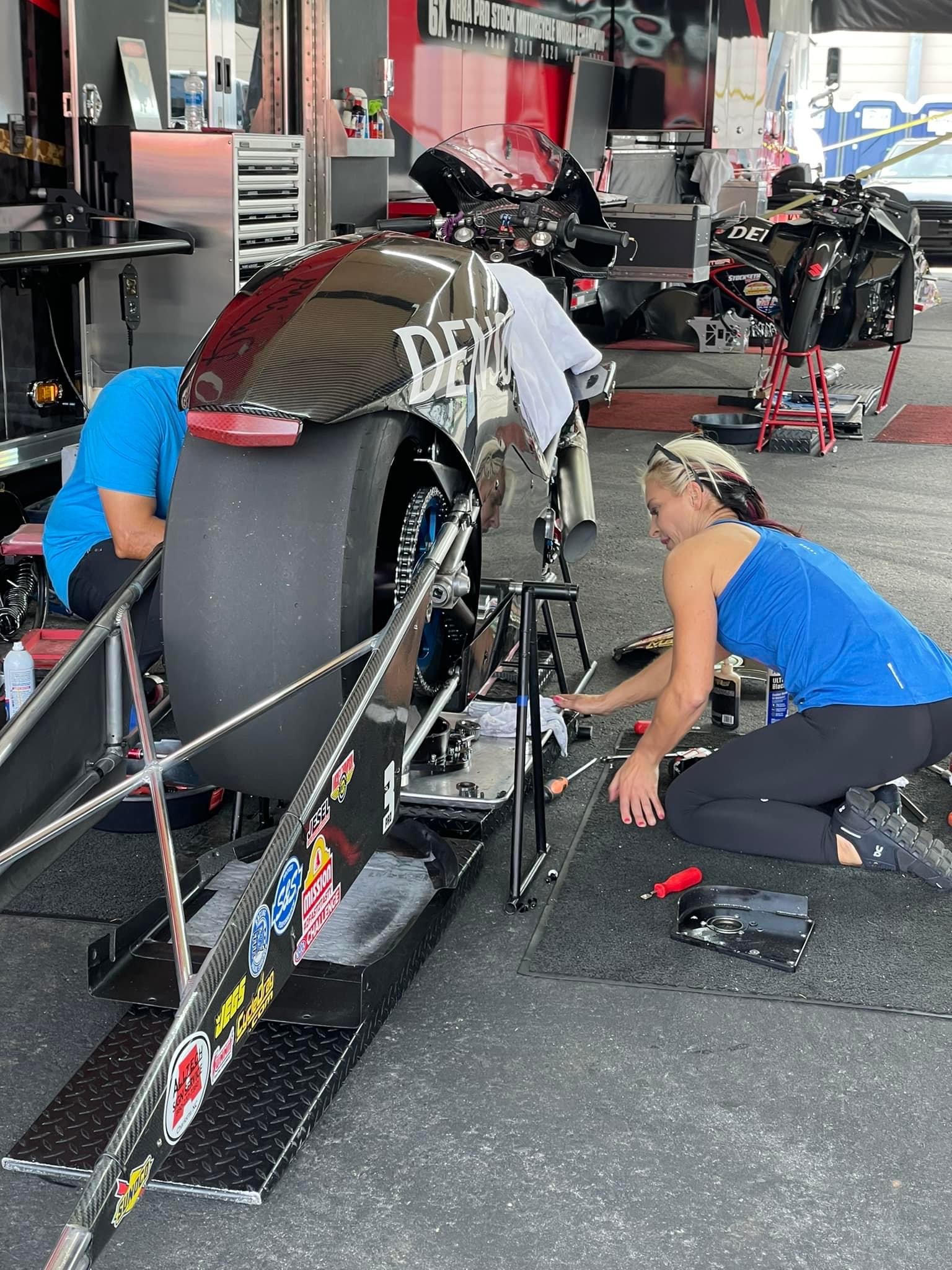 "The bike didn't shut off but it ran out of gas," Smith said. "It's alarming none of the safety workers knew how to shut it off."
Smith says the episode has led to a NHRA rule change on the type of tether required, as the organization is moving more towards a nylon, jet-ski style system to try to prevent any further issues.
Smith can't determine if this was the reason for the extended hold time of the motorcycle.
"I have no clue," Smith said.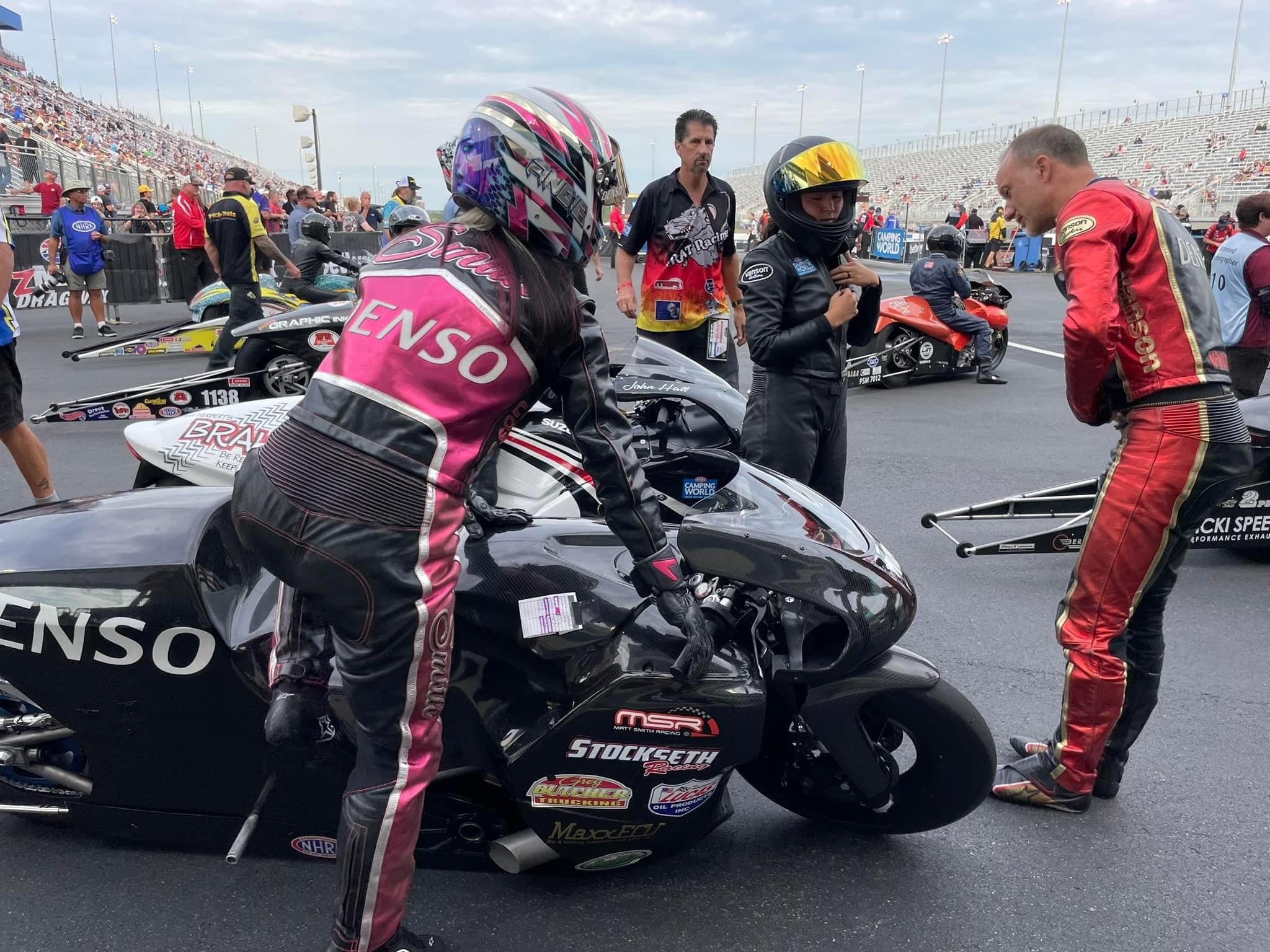 It's also not the first time a competitor's motorcycle has failed to shut off during a crash.
As for the crash itself, after reviewing all the footage, including on-board video, Smith feels he has determined the cause of the accident.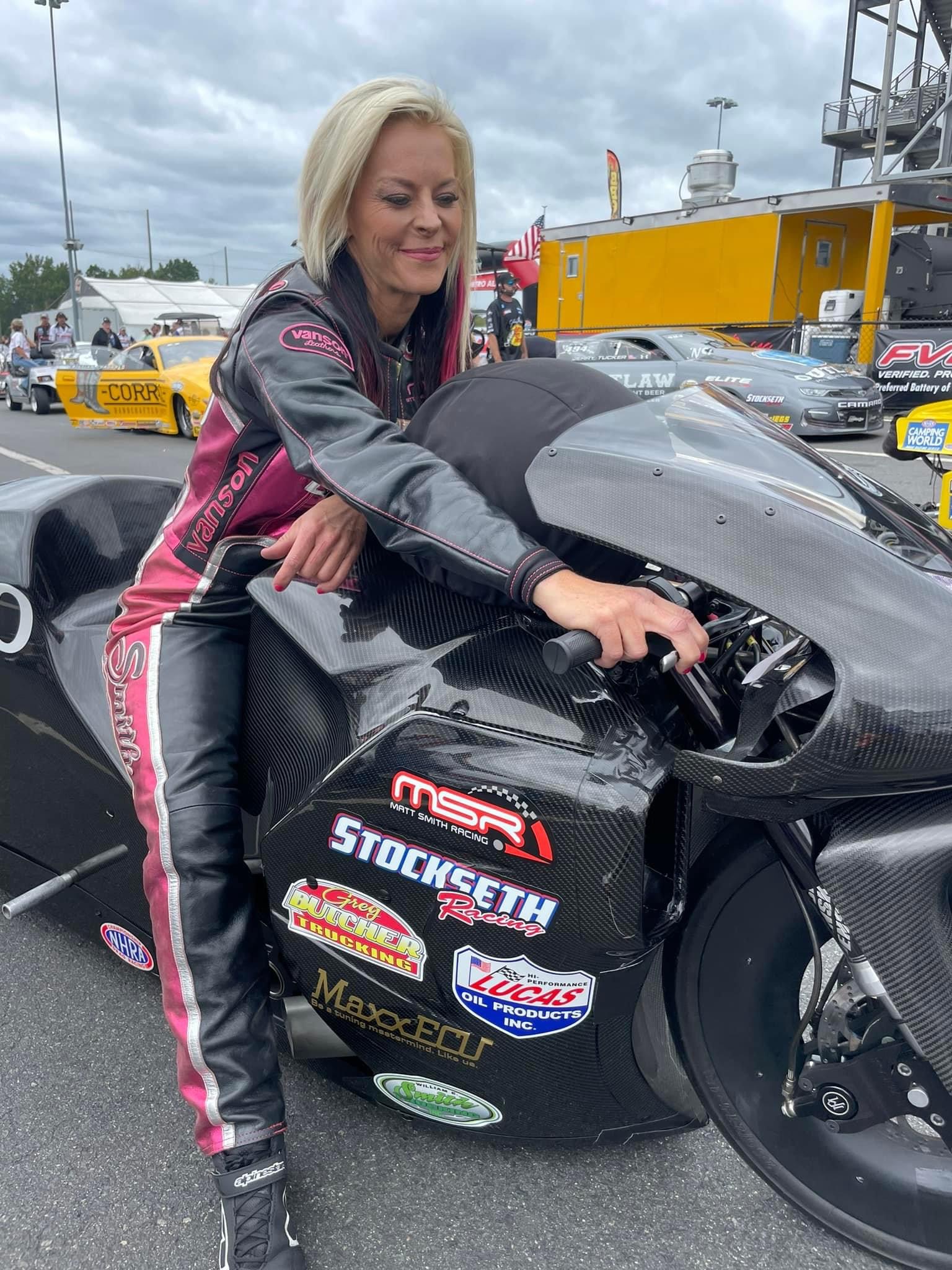 "She grabbed too much front brake," Smith said. "This was a bike Angie had only been on in Charlotte and that is a way smoother track. This bike has a different brake system. For her Pink bike we made her special (longer) brake levers because she has small hands and it can be hard for her to get to the levers at speed. When we built this bike, we found they don't make the master cylinder we have on her Pink bike anymore so we had to make something different."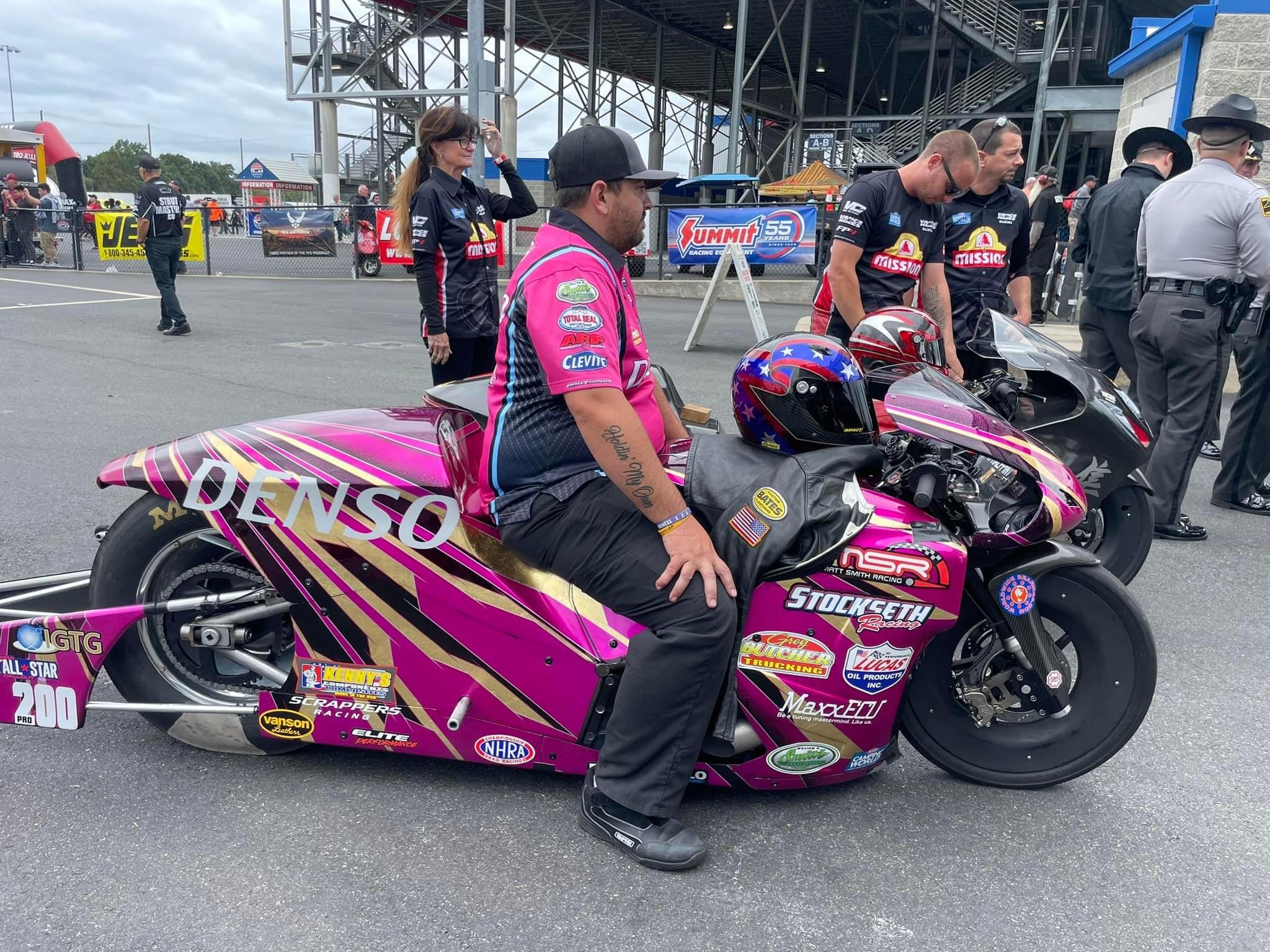 Smith says bumps after the finish line also contributed to the crash.
"When you are going 200 mph you have to get on the brakes pretty quick. We really need to first 300-400 feet after the finish line to be smooth. St. Louis is rough and bumpy," Smith said. "It can happen to anyone. Even Gaige (Herrera) locked up in the semifinals, but he didn't go down. The points leader could have went down and that would have been a major story."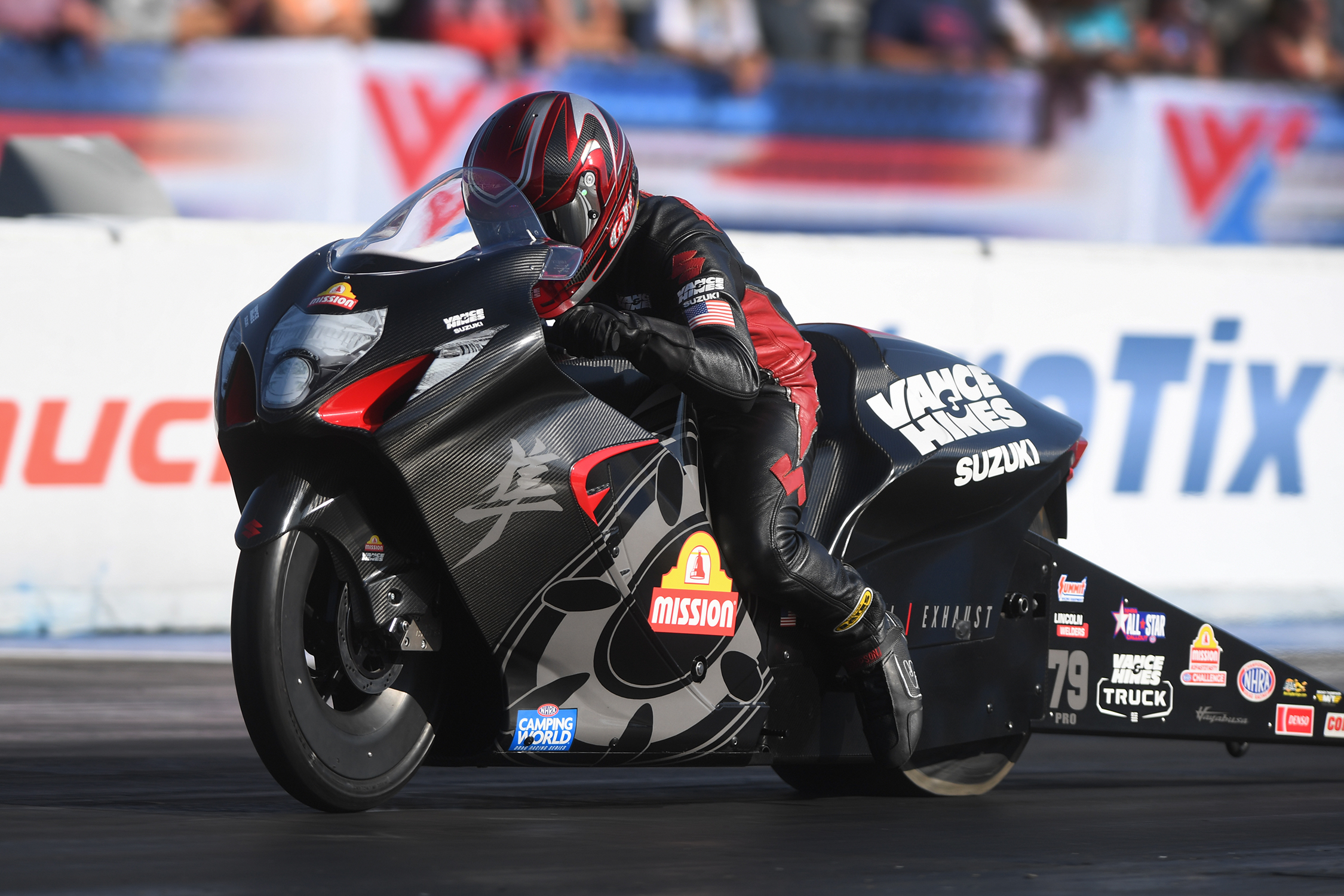 Smith, now 99 points back of leader Herrera with just three races left to go, says the plan is to again put Joey Gladstone on his wife's Pink Buell and try to draw Herrera in round No. 1.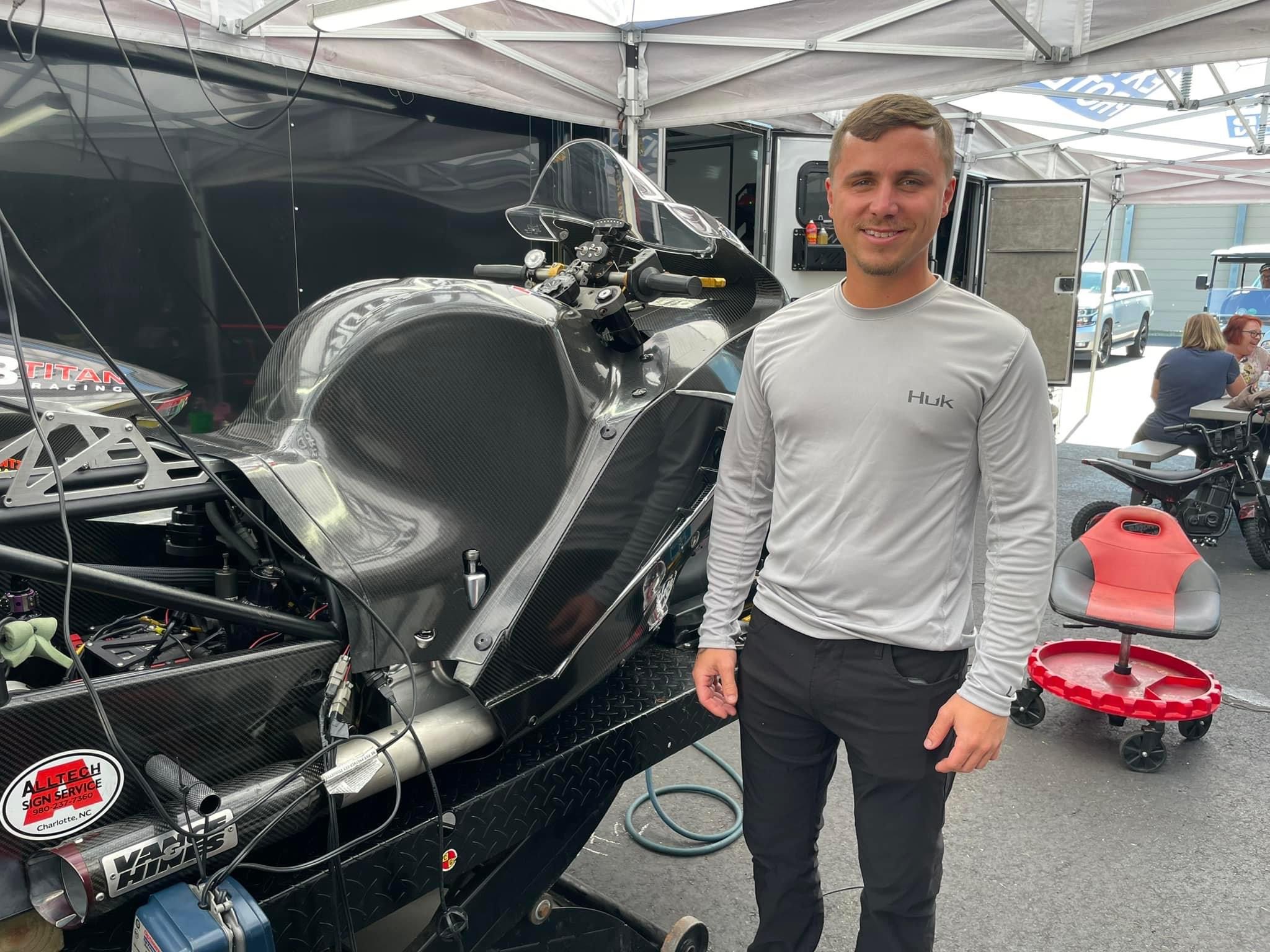 This is the matchup the team got in St. Louis.
"We had a chance to do it last weekend I just didn't give Joey a good enough bike," Smith said, of the .021 light and 6.78 of Gladstone to the .064 light and 6.70 of Herrera in Round No. 1 in St. Louis.
Smith says recovering the crashed bike back will greatly help as getting spare parts is still a struggle for many in the racing world.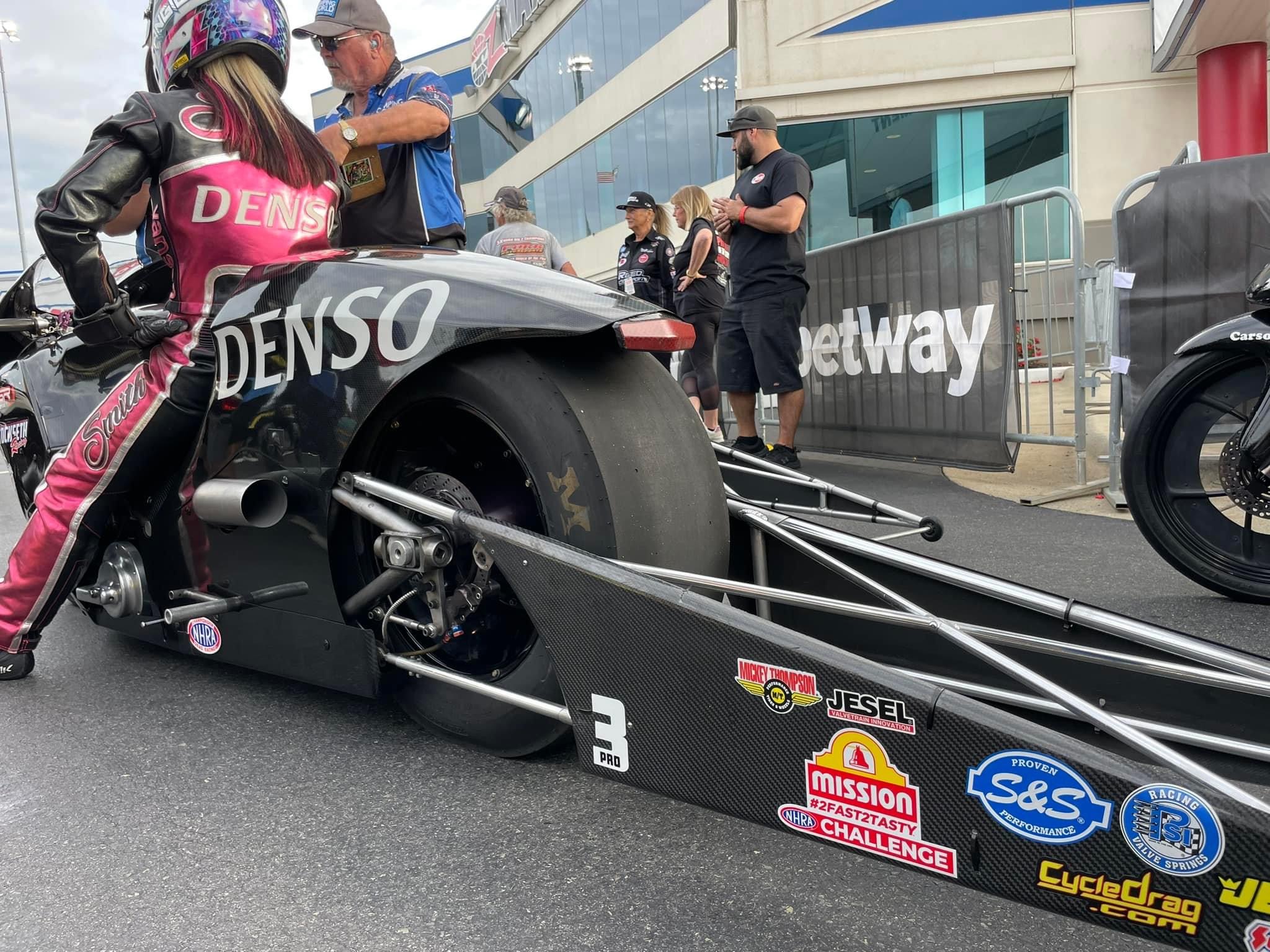 "I know the clutch is good, the motor should be good. The wheel, tire and ECU are things we can use if something goes wrong."
The parts shortage is still so dire that Smith, who signed a deal with Suzuki over the off-season, had no choice but to switch back to his Buell after destroying two crankshafts in his Gen 3 Suzuki Hayabusa in Charlotte.
"Vance & Hines is the only supplier of crankshafts," Smith said.
Smith feels relying on his biggest rival for critical components is something that taints the integrity of the class.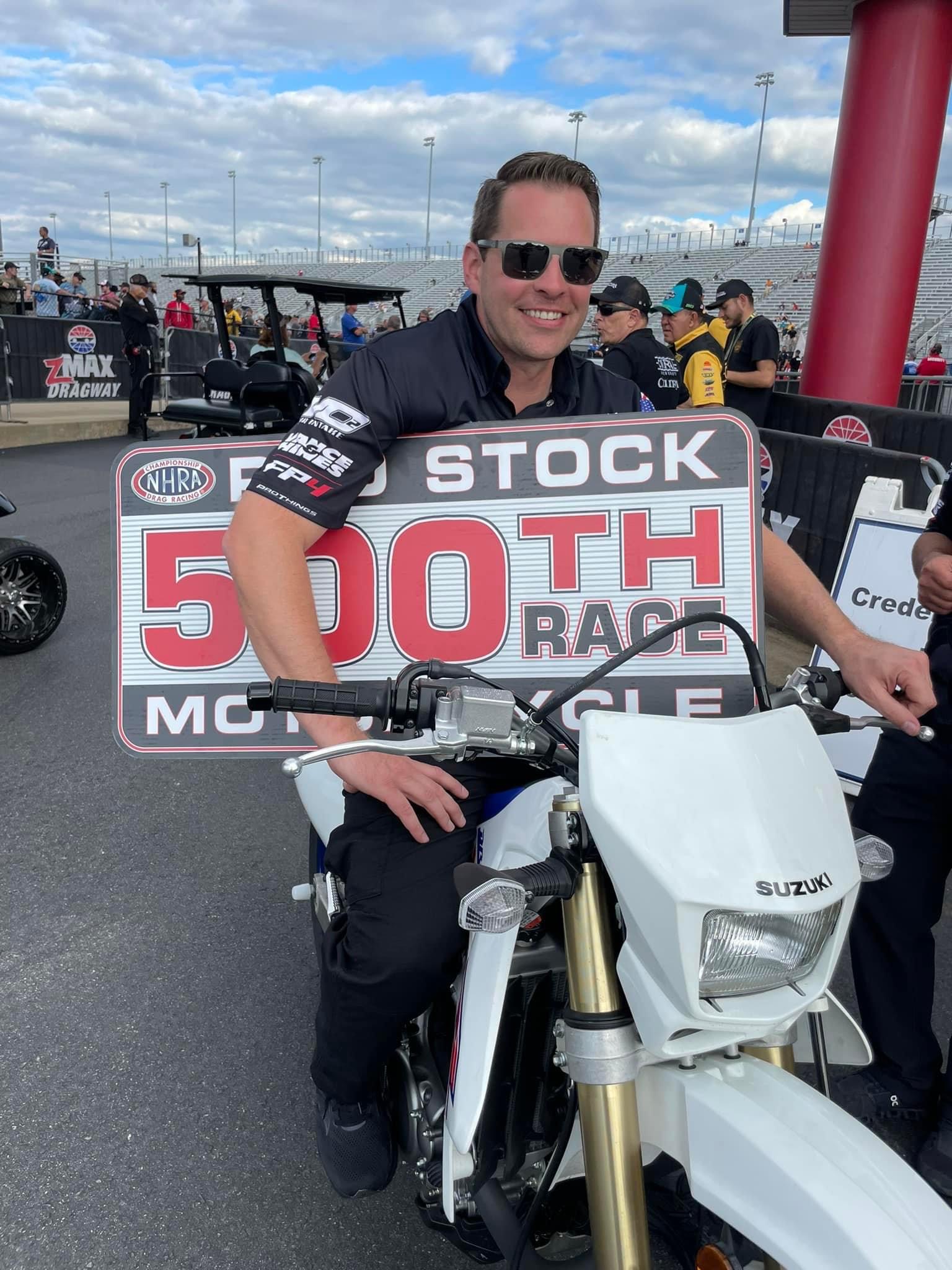 "In my opinion (Vance & Hines) can build them how they want to. They can build really good stuff and also average stuff if they want and I don't think we are getting the reliability we should. It blew up in fifth gear. It's not Suzuki's problem, it's Vance & Hines' problem."
Smith plans to be back on his Suzuki for Dallas and says he will now come back to his N.C. headquarters before departing for the penultimate race in Las Vegas.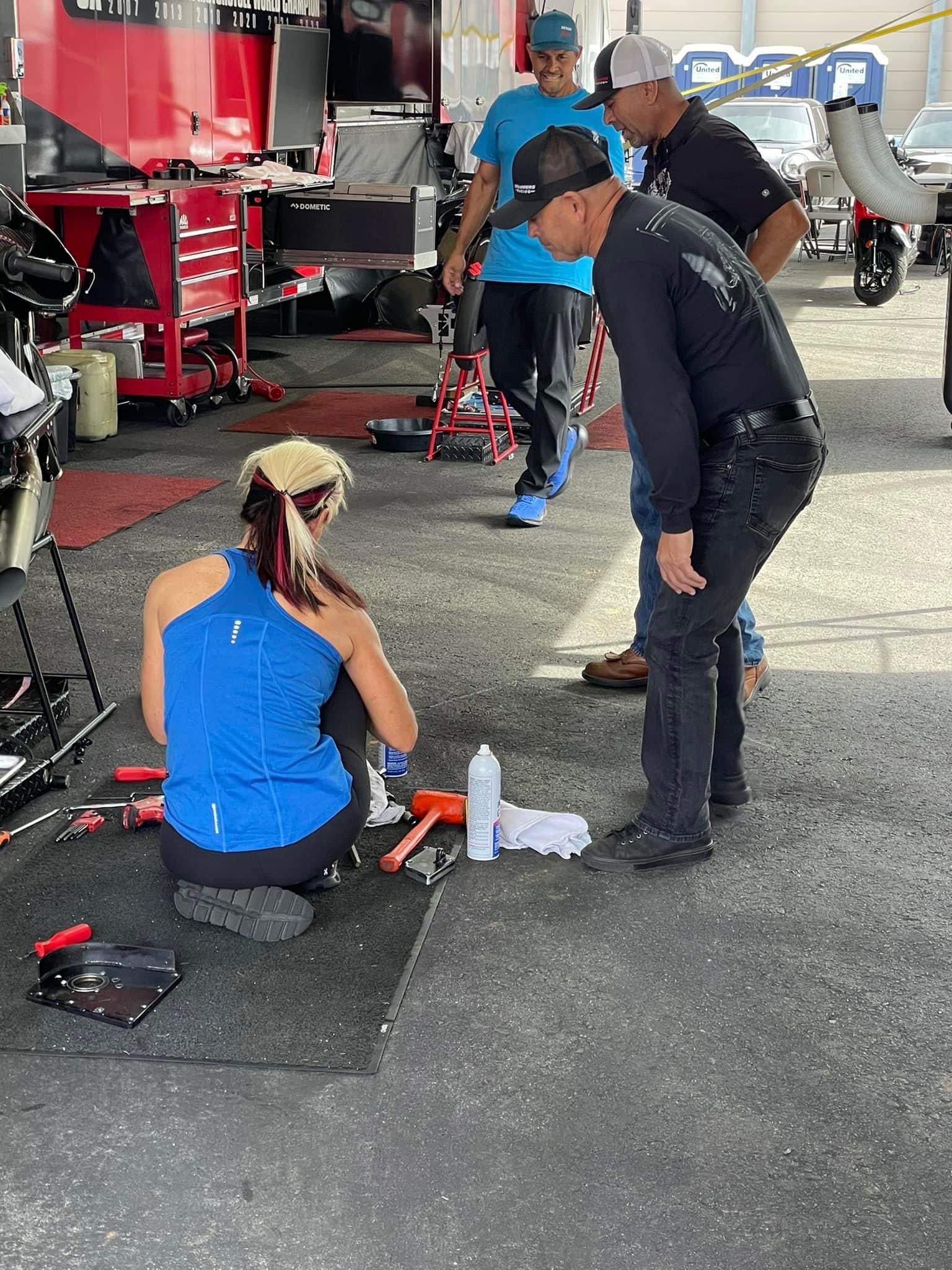 "I was going to just stay on the road but we need to bring the crashed bike back to really get a good look at it," Smith said.
It's clear Smith is going to live up to his reputation as one of the hardest workers in the sport to meet his goal of winning an unprecedented 7th NHRA Pro Stock Motorcycle championship.
If Herrera's lead of 99 proves to be insurmountable, Smith, the fierce competitor who has won four out of the last five titles certainly will not be pleased, but solace can be taken in the greatest win of them all, and that is the survival of Angie in St. Louis.
It's a firm reminder nothing is as valuable or precious as a human life, not even a gold Wally.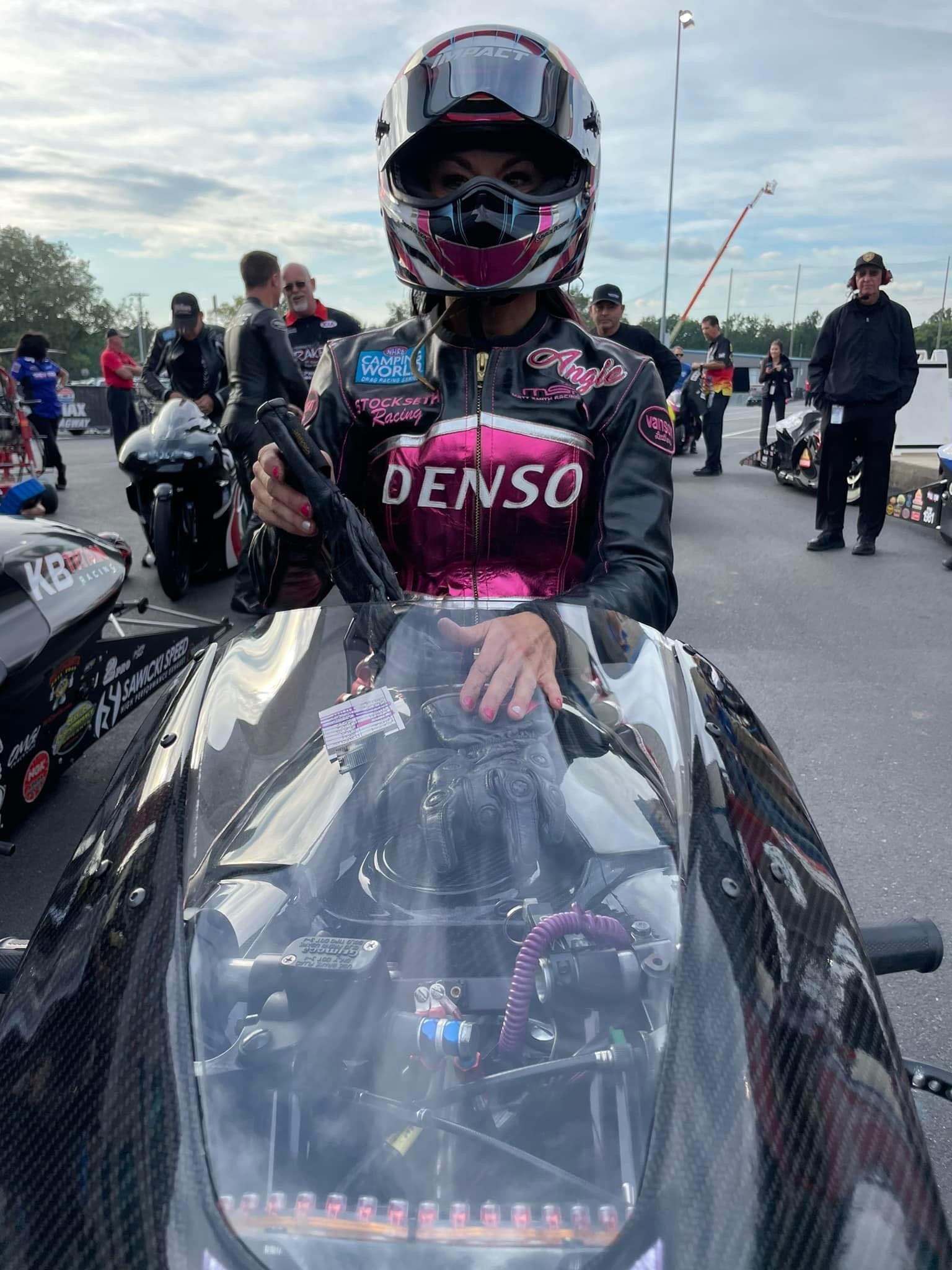 There are more videos on the Cycledrag Youtube channel (please subscribe here) and the Cycledrag Facebook page (Please like here) and more will be coming soon. Check back daily.
To take advantage of some amazing discounts at Brock's Performance, click – http://brocksperformance.com?aff=12
USE cycledrag5 coupon code.