Competition Bike racer Joe Khoury might have had a delayed start to his racing season, but he is more than making up for lost time now.
"I have been very fortunate to go drag racing all over this beautiful country of ours, while working my interstate motorcycle transport business," Khoury said.
"I wasn't able to make the first event in Darwin and then the second at Alice Springs was cancelled, so I have had to play catch up to get my season underway.
"I was lucky enough to come away with a win in Mildura and I have to say, I love that place, the whole team are fantastic and so accommodating.
"To back up another Australian title would be an awesome and fantastic achievement for me, and who wouldn't want to be the first National Championship winner of the new NDRC series?" he grinned.
Khoury has been racing for more than 20 years, and had been actively chasing a national championship for the last decade before breaking through in the 2022/2023 season. He says that so far, he is impressed with how the NDRC is evolving.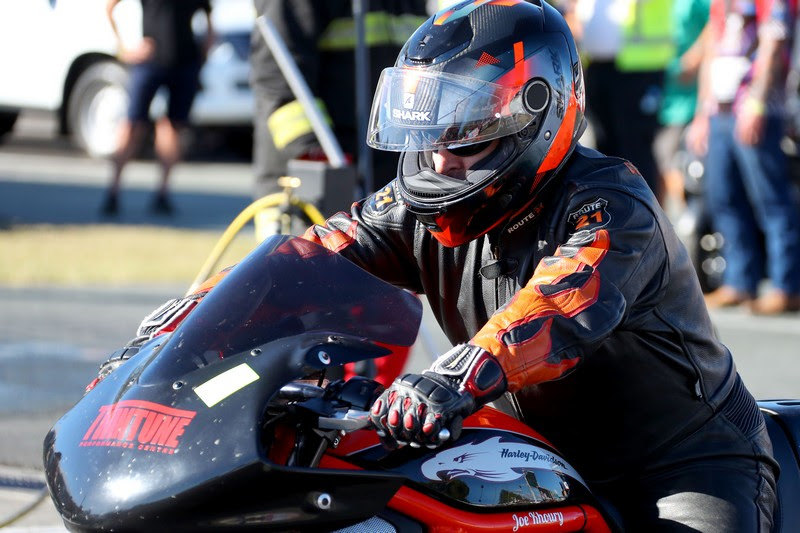 "I think the NDRC is a bit of a God send for a lot of racers – it almost reminds me of the earlier days in our drag racing careers where you travel most of the country to fight for a championship win. There are still things to iron out with time of course, but I think it is a great series so far," Khoury stated.
With traction control now permitted in all group two motorcycle classes, the NDRC expects the group two bike ranks to swell across the coming meetings.
"I have heard so much about Benaraby, but have never raced there before. I am really looking forward to it. As an eighth-mile track, I think my bike and I will do very well there, but of course there will be a lot of talented bike racers there. Hopefully I can achieve another win," he said.
"And of course, The Bend is going to be epic. I have a few friends who ran down the track there as part of the HogFest Rally at the end of September and they said it is a fantastic venue.
"We are really blessed I think to have Dragway at The Bend, my home track of Sydney Dragway, the Perth Motorplex, Willowbank Raceway when it is back online, and all the regional tracks to race at.
"I am definitely planning on racing in both conferences and at as many tracks and events as I can across the entire season.
"In the meantime, I would like to thank Jim from Twintune Performance and Dyno Tuning in Minto (NSW) for all his hard work, advice and dyno Tuning hours, thanks to him my bike is flying.
"And thanks also to VP Racing Fuels Australia; Joe Khoury Motorcycle Transport; my racing and pit crew friends, Cheryl Beddoes, Sean Rickets, Dylan Wales and Evan McCann in New South Wales and Edge Mallis and Johnny Hog in Victoria; all of my racing friends across all racing classes; and my whole family for supporting and believing in me."
There are more videos on the Cycledrag Youtube channel (please subscribe here) and the Cycledrag Facebook page (Please like here) and more will be coming soon. Check back daily.