The Midwest's largest motorcycle drag racing series swelled even bigger this past weekend with the NHDRO Summer Celebration and Big Money ET Throwdown at Lucas Oil Raceway (LOR) in Brownsburg, Indiana on August 5-7. With $5,000 to win in MPS Pro ET and $3,000 to win in Kevin Dennis Insurance Street ET (and bigger purses down the ladder), it was no wonder that racers from all over the country rushed to be a part of this lucrative motorcycle bracket race and NHDRO's biggest ever stand-alone event.
After Brian and Niki Welch ponied up the 5 and 3K initially, members of the NHDRO family jumped in to add their own support. For Pro ET, Scott Kauffman's G&G Metal Spinners put up a whopping $1450. MPS Racing, Grothus Dragbikes, and Jeff Jones' Fast Time Motorsports each offered up $250. Oink Johnson and Shellhaas Family Racing put in $200, while Mike Belo's 1StopSpeed, Ray Mancini's Xtreme Motorsports, Joe Deck Racing, Ricky Scott Jr., Brett Stoner, and Michael Mathews all chipped in $100.
Street ET saw similar support. Kevin Dennis Insurance, 8 Below Racing and MSP added $250. 1StopSpeed, John Drake's No Fear Racing, and racer Ron Arnold chipped in $100 each.
It wasn't just cash up for grabs. Starting with Rudy Sanzottera's Quicktime Motorsports' offer of a free Shinko tire to winners and runner-ups in both classes, other vendors jumped in to pile on swag. Bill DeShong's Port Tech pitched in a VP Fuel container and $50 fuel voucher, M.C.Z Moto a pair of gloves for the winner, runner-up and semifinalists, and Stock Motor Mafia added swag bags and shirts.
NHDRO paid out the entire pot, including bye spots on the ladder. Making to the last eight pairs of the 100-bike field paid $90, and among those remaining were luminaries of the sport. Dragbike.com BAMF Dustin "Biscuits" Lee, former NHRA Pro Stock regular (and current LOR track champion) Wesley Wells, Ricky Scott Jr., Dustin Burchett, Bob Nugent, "The Chads" Isley and Otts, and two—count 'em, two—entries with John "Spooky" Markham in the saddle.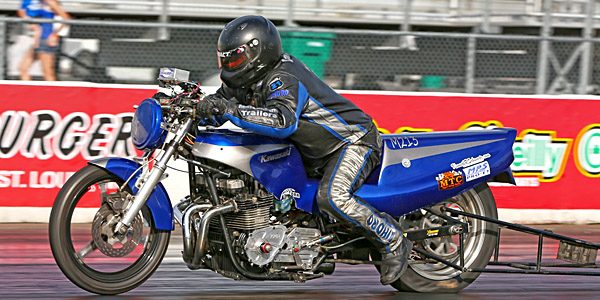 Both of Markham's bikes made it to the quarterfinals ($345), where he withdrew one to concentrate on his trusty blue Super Comp bike and the resulting bye to the semis ($500). Otts had a scheduled bye, while Lee had to beat Scott to advance—the only no-bar bike to do so.
It was Lee's turn for the bye to the final, while Markham beat Otts in a close race. Spooky's .025 to .068 advantage at the tree was the decider in the final as Lee broke out making up the difference, giving Markham the win just before midnight and Lee the $700 runner-up check.
Spooky and the Markham family were obviously thrilled with the $5000 win, but there was more work to be done on Sunday—and complete the job they did. Markham won Sunday's MPS Pro ET final as well, beating Wells and his classic Ray Skillman-sponsored Top Gas TL1000 in the final this time around. Wells took the tree with a Pro-Stock-sharp .009 but Spooky made it up by running only .004 over his dial-in.
Markham's a loyal NHDRO regular and is racing somewhere every weekend. But Saturday's Big Money Kevin Dennis Insurance Street ET winner was a bit of a wild card, and the runner-up even wilder.
Keith "Shine" Dennis (no relation to Kevin) is a true legend known mostly for his grudge racing exploits. But the diminutive trash talker has also mastered many other classes, from AMA/Prostar's Supersport to Pro Stock. How would the master of all things flashy fare against a 129-bike field of NHDRO's bracket regulars?
Damn well it turns out. Shine had the bye to the final, where he faced Kenneth Smith—both riders on Kawasaki ZX14Rs. Veteran Indy racer Smith looked to be a cool customer on his beautiful '14, but the Shine mystique may in fact have rattled him. Dennis changed his dial-in from an 8.99 to match Smith's 9.49, and Smith cracked with a -.128 redlight. Shine was 3 grand richer and Smith still had $500 for his trouble.
Illinois racer Larry Sargis took Sunday's Street ET win on his old-school Suzuki despite ceding Ken Evans .060 at the tree.
Dustin Lee didn't lick his Big Money runner-up wounds long, beating Danny Miller in a double breakout Route 21 Street Fighter final with an .038 light to Miller's .107. Number one qualifier Shane Combs lost to Rocky "Wheelie" Ward midway through the day.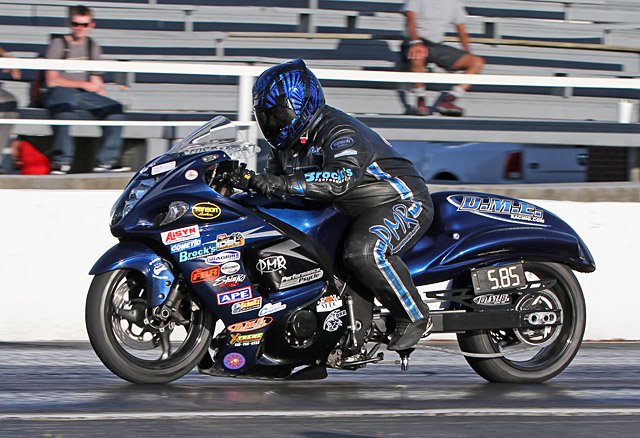 After breaking his own Ninja on Saturday, Bruce Damewood borrowed a KZ for Sunday and won Millennium Trailers Super Comp with it, beating redlighting "Chicken Head" Otts in the final. Number one qualifier Jim "Put it on the Underhill tab" Underhill lost to Otts in the quarterfinals.
Ron "Jiu-Jitsu" Arnold fought off Saturday blahs to win Motorcycle House Crazy 8s on Sunday. He beat Wes Brown in a double-breakout final, despite Brown's .004 light aboard Ben Knight's Hayabusa. Knight was busy lining Team DRR racers up at the starting line while nursing a hand broken in his Gateway crash. Number one qualifier Scott Leonard went out early.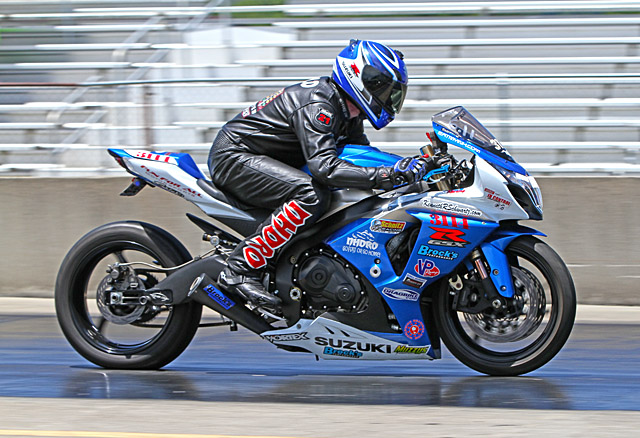 Tennessee racer Ron Morris put his GS dragbike in the G&G Metal Spinners Top Gas winners circle after beating Gateway winner Jeremy Teasley and his 'Busa streetbike in the final. It was a helluva race, with Morris taking the tree .014 to .032 and the stripe 8.21 to 8.22. Number one qualifier Bob Mann lost to Donnie Emerson in round 2.
Multi-time Top Gas champ Greg Mallett was stuck at home recovering from surgery, allowing hard-charging Heather Baldi to take over the points lead with one race remaining.
Randy Butler scored the Quicktime Motorsports/Lindeman Performance Pro Ultra 4.60 win over Dan McCarten in the final. Number one qualifier Chase Morris broke an exhaust cam and was done before the day started. Points leader Jeff Lindeman also suffered mechanical carnage during a tough weekend for the world's quickest two wheeled index class. Jeff Jones' Fast Time Motorsports added $250 to the 4.60 purse.
Brunson Grothus came through for the HMH Motorsports Coatings Pro Open win, running a low ET of 6.59 on his nitrous-huffing PXM Suzuki. That's well off Eric McKinney's world record, but still effortlessly quick for anyone who's watched these bikes improve over the last 20 years.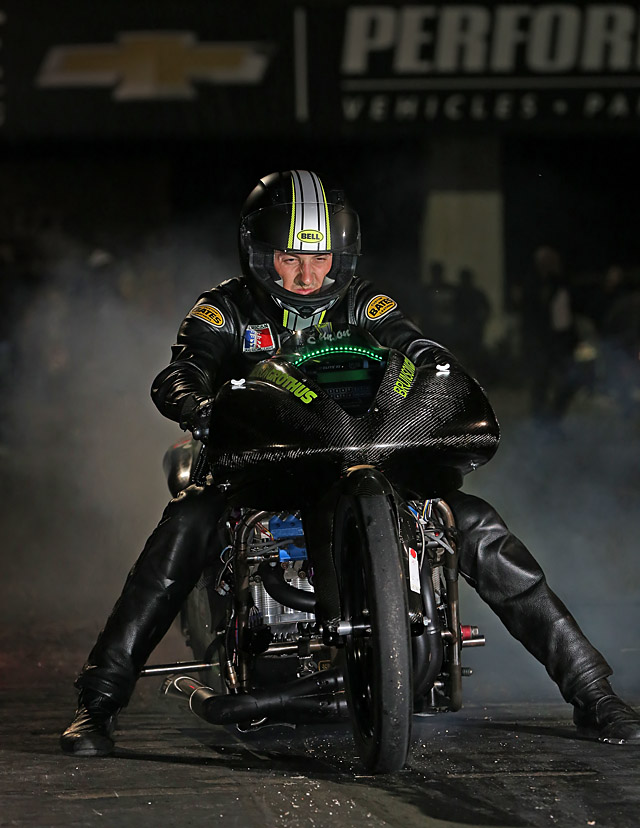 Grothus beat points leader(!) Marty "Pops" Sanzottera in the final. Number one qualifier Chris Cutsinger redlit in round one.
Michigan racer Mark Paquette has absolutely swept NHDRO's McIntosh Machine & Fabrication Pro Street marquee class with his turbocharged 'Busa. After skipping the Huntsville opener, Paquette has won every single round and already secured the championship with the Indy win.
While others struggled in the heat, Paquette qualified number one with a 6.81 at 213 mph. He ran 6.83 to beat the constantly improving Joey Jobbe in the final.
Paquette's teammate Bud Yoder—the defending Pro Street champion—had his worst weekend ever with tranny problems and DNQed for the first time in his career. Rudy Sanzottera and his Quicktime Motorsports turbo 'Busa spun and lost to Jobbe in round 2. Indy homeboy Justin Doucet lost to D.D. Boulware—riding John Drake's "Ambition"—in round 2, and "Mohug" Doug Gall lost to Paquette in the semis.
Ronnie Mitchell brought bikes for Teasley and Michael Bayes. The Teasley mount is brand new and lacking the amazing paint job that RMR bikes always sport. Qualifying fifth with a 7.10 on only its second pass, the new bike shows great promise. Bayes lost to Gall in round 2.
With all the intense Big Money bracket action going on Saturday night, grudge racing seemed tame by comparison. Teasley made strong laps on the MSP-built bikes "Venom" and "Clean Getaway."
NHDRO's World Finals are September 23-25 right back on the world's greatest quarter mile at Lucas Oil Raceway. Even if you're not in a heated points battle, this will be your chance to see what the NHDRO family experience is all about!
Find out more about the NHDRO at http://www.nhdroracing.com/
NHDRO thanks McIntosh Machine and Fabrication http://www.mcintoshmachineandfab.com , Quicktime Motorsports http://quicktimebikes.com , Route 21 Racing Apparel http://www.route21.us , Millennium Trailers http://www.milltrailers.com , G&G Metal Spinners http://www.ggmetalspinners.com , Kevin Dennis Insurance http://www.bettercoverages.com , MPS http://www.mpsracing.com/default.asp , Motorcycle House https://www.motorcyclehouse.com , and HMH Motorsports Coatings https://www.facebook.com/HMH-Motorsports-Coatings-427240650798192/