Persistent rains forced AHDRA officials to cancel the Friday night and Saturday pro qualifying sessions. On a beautiful sunny race day Bob Malloy captured his first AHDRA Top Fuel win since 2001, G-Squared rider and Pro Gas winner Chip Ellis recorded a phenomenal run of 6.92 in NHRA trim, and Pro Fuel winner Jay Turner reset both ends of the record.
Unpredictable.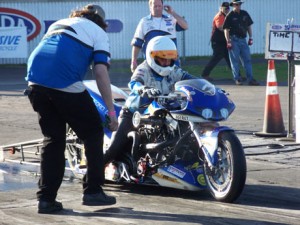 That word best sums up race day of the 2007 AHDRA season-opening event, The Screamin' Eagle Bikeweek Nationals from Gainesville, Fla.  Heading into eliminations none of the pro riders had made a single qualifying or shakedown run.
After rain showers washed out most of the first two days of the event, AHDRA president Craig Tharpe decided the fairest way to qualify the riders was to rank them based on the 2006 final point standings.
That formula left Nitro Harley racer Bob Malloy in the No. 11 spot in the full 16-bike ladder.  Despite the less than favorable starting position Malloy, who owns the quickest high-gear-only Harley, performed magnificently consistent throughout the day with winning runs of 6.38, 6.32 (his quickest to date), 6.44, and a 6.48 to defeat the Samson Exhaust/Ray Price-backed bike of Tommy Grimes in the final.  The victory was Malloy's first since building his unique, one-of-a-kind Fueler in 2001.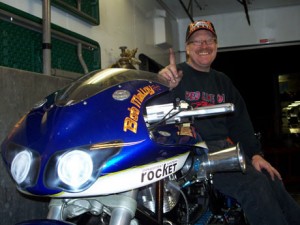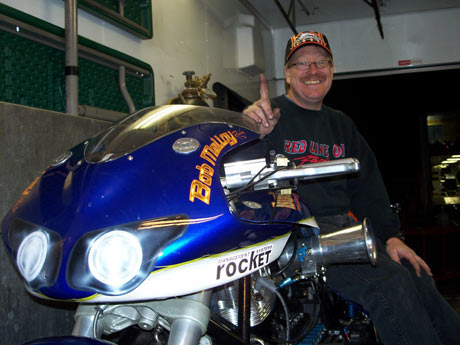 "It's going to take a little while to sink in," a shocked Malloy said shortly after the race.  "It's taken a lot of hard work. I continue to set my bike up a little bit differently from everyone else and it has finally come to fruition.  Today was my day."
After retuning to the pits from his semifinal win Malloy discovered some possible damage on his machine and didn't think he'd be able to make the final.
"My motor was so tight it wouldn't hardly turn over.  I went over and told Tommy (Grimes) that I wasn't going to run," Malloy said.  "Fortunately as the thing began to cool it loosened up and we were able to get some oil pressure."
Malloy went on to explain why he decided to make his bike so atypical and why he prefers the high-gear-only combination.
"Originally everyone was breaking their transmissions and I just didn't have the funding to keep replacing them," Malloy said. "I decided that I could develop the high gear set-up. We still have a long way to go but it's showing some promise."
The event victory gives Malloy the first point lead of his decade-long Top Fuel career.
In Jims Pro Fuel most everyone expected Jay "The Bulldog" Turner to emerge as one of the top riders, after a tremendous finish to the 2006 season, which included a double win in Dinwiddie, Va.  Turner seemed to pick up right where he left off in 2006, with an emphatic victory at the Bikeweek Nationals.
Turner reset both ends of the record with an amazing 6.58 at 211 mph and defeated John Breckenridge in the final to gain the early season point lead.
"The competition is as tough as ever," Turner said.  "It's going to take strong performances like this to stay in the hunt."
The last time G-Squared/Drag Specialties rider Chip Ellis showed up at an AHDRA event, the 2006 Bikeweek Nationals,  he smashed the Pro Gas record with a stellar 7.06.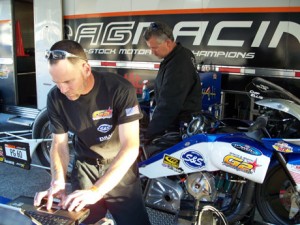 Ellis, racing an NHRA-legal set-up put on quite the encore with an unbelievable run of 6.92, just one hundredth off his 6.91 all-time best in Sonoma last season. Ellis defeated a red-lighting Rick Moore in the final, but his 7.02 would not be good enough to back-up the 6.92.  Instead the record will stand at the 7.01 he posted in the opening round.
"The bike was running so strong this weekend," Ellis said.  "This is very exciting and gives us a lot of momentum heading into the Gatornationals."
"It was awesome," G-Squared co owner George Bryce said. "The bike was fast and conditions were just great. Anytime you have 600 feet of corrected altitude and a tailwind you are going to go fast."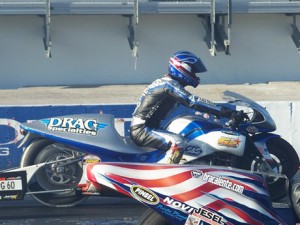 Ellis, after reviewing the data from the on-board computer, felt as is if the 6.92 run wasn't flawless and believed it could have been even quicker.
"I didn't go far enough in first gear and that cost us a couple of hundredths," Ellis said. "If it wasn't a high-80 it would have been a 90 for sure."
The final exemplified how easy it is to make a mistake in drag racing, even for a pro-caliber rider like Ellis.  Ellis had a .416 light and didn't have the revs high enough.
"It was just a brain-fade.  We turned on all four lights and I didn't even floor it.  (Moore) took off before I even had the RPMs up," Ellis said.  "It's the first time I have raced at night in a long time, but that's not an excuse.  The real deal is that I'm a human and I make mistakes just like everyone else.  Fortunately the other guy red lit and we were able to get the win."
Bryce said the team won't be able to attend many AHDRA events this season, because the NHRA 15-race event schedule keeps the squad so busy.
"I think it's fair that we got the record at 7.01 and didn't completely blow it away to a 6.92," Bryce said.  "Some of the others guys in this class that have been running really well, like Junior Pippin, will have a chance at it."