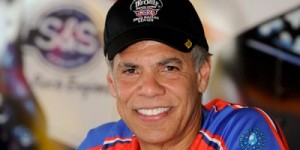 Lucas Oil Buell rider Hector Arana Sr. clinched a spot in the Countdown to the Championship with a semifinal finish Sunday in the NHRA Sonoma Nationals.
Arana Sr. beat Steve Johnson in the first round, ran down Karen Stoffer in the second round and then left first on Eddie Krawiec in the semifinals before falling to a faster Pro Stock Motorcycle.
Arana Sr. locked up a position in the NHRA playoffs with two races – Brainerd and Indy – remaining before the Countdown begins.
"The good thing is you're not going to the U.S. Nationals with that pressure that you have to do well in order to clinch it," Arana Sr. said. "Sometimes little things happen, and you can be left out – and then do awesome the rest of the season. To secure it is taking pressure of my shoulders, and now I can concentrate on other things."
Arana Sr., fourth in the Pro Stock Motorcycle points standings, came up about 8 feet short of reaching the finals. He had a .018-second reaction time against Krawiec, leaving with a .012-second lead. But Krawiec made a pass of 6.812 seconds at 197.80 mph to beat Arana's run of 6.850 at 196.44 mph.
"I'm getting more comfortable and staying focused," Arana Sr. said of his light against Krawiec. "I'm pleased. I know we lost, we spun the tire, but I did my job, so it doesn't hurt as much."
Arana Sr. needed the speed of his Buell in the second round against Stoffer, who left with a .020 light to gain a quick lead. But Arana Sr. made a run of 6.814 seconds at 195.00 mph to nip Stoffer's pass of 6.889 seconds at 194.41 mph.
"I dropped the clutch, and the bike bogged and hesitated," Arana Sr. said. "I'm like, 'Wow, she's ahead of me.' All I could think was, 'Stay focused, Hector, watch your shift light, shift on time. We crossed the finish line, and I wasn't sure who won because I couldn't see that I passed her.
"I didn't know who won, and then I looked over for the win light. I saw it on my side, so I was happy."
Arana Sr. and his team were happy in Sonoma, poking fun at Krawiec after he said in Denver he was the Greek hero Achilles who slayed two Hectors. Arana's team dressed as "peasants" during one qualifying session Saturday and again during the semifinals Sunday.
"He said some words, so we ran with it," Arana Sr. said. "We're going to play with it. To my surprise, the fans reacted great. They got a good laugh out of it, so overall, it was a good thing."