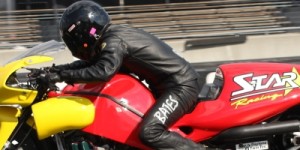 In a move befitting the NHRA's 60th anniversary season, a race team that is a cornerstone of the Pro Stock Motorcycle category will be returning to competition as the Star Racing team and team owners George and Jackie Bryce confirmed that they would be participating in this weekend's Tire Kingdom NHRA Gatornationals in Gainesville, Florida, ending a two-year absence from the Full Throttle Drag Racing circuit.
Also making a comeback will be Star's trademark paint scheme made famous by three-time champion John Myers featuring a large yellow star on a red bike, which was last seen on an NHRA Pro Stock Motorcycle in 1996. Finally, although the Star Racing S&S powered Buell will still be tuned by multi-time championship crew chief Ken Johnson, the final piece of the puzzle will be completely new, as the team has named relative Pro Stock Motorcycle newcomer Michael Ray as their rider for the East Coast season-opener.
"I really got to know Michael when he came to our school in 2006," said Bryce. "He was really fast and quickly learned the methods that we teach. I then had the opportunity to travel to Curacao to work with some of our Star Racing Pro Stock Motorcycle customers, who had asked me to come down and bring a professional driver with me so we could tune the bikes and show them just how fast they were. I immediately thought of Michael so I asked him to join me for the trip.
"We had a great time, Michael did a tremendous job, and somehow we started talking about each other's plans for the future. We agreed that it would be great if we could get the sponsorship together to go racing in the NHRA. He asked how much it would take, so we gave him a price, and fortunately, he was able to come up with the backing of several companies and friends from his home state of Texas, allowing us to make it to the Gatornationals, after which we'll evaluate the program and see where we head next."
Although the 26-year-old Ray has only a few Pro Stock Motorcycle starts to his credit, a quick look at his accomplishments in other series shows that he is more than capable of joining the 11 other drivers who have scored national event wins aboard the Star Racing entry. From his three championships and multiple national records in the All Harley Drag Racing Association (AHDRA) to his work as a crew member and test rider for other Pro Stock teams, the New Braunfels, Texas native has the credentials to take on the best in the NHRA. At the same time, he is appreciative of the opportunity presented, as it allows him to follow in the footsteps of one of his childhood idols.
"I grew up watching Star Racing and John Myers, when Steve Evans was calling the races on TNN," said Ray. "They were the picture of dominance and a truly great team, so to be able to represent them, as well as our sponsors GOTTSPEED and Jet Aircraft Interior Services, is absolutely huge.
"I've known the Bryces for my entire life, as my father raced with them in Pro Stock Motorcycle, and everything I've done to this point in my career including the three AHDRA championship and 25 national event wins has been to get the sponsorship help to allow me to race with Star Racing. You look at the names of the people who have ridden for them and just to be on the list is a tremendous accomplishment and a dream come true for me.
"As for this weekend, this is our equivalent of the Daytona 500, so just as Trevor Bayne went out with the historic Wood Brothers team and took Daytona by storm, I'm hoping that Star Racing and myself can go down to Gainesville, take it one round at a time and see what we can do to match that performance on Sunday."
However, even with adequate sponsorship in place, resurrecting their NHRA Pro Stock Motorcycle organization was far from an easy task for the Americus-based team. Having been off the circuit for two seasons, team owner Bryce is realistic, yet cautiously optimistic about their chances for this weekend.
"We had a fast Pro Stock Motorcycle that Chris Rivas had ridden to two wins in our last two races in Vegas and Pomona," said Bryce. "However, many of the pieces for it were scattered all over the country as we had sold them to our NHRA customers trying to help them out, so we had to come up with a plan to put it back together. Fortunately we were able to do just that, after which we took it to the track where it ran really fast, which has us all excited.
"We're looking forward to going Gainesville and seeing a lot of friends and frenemies, as Darrell Waltrip calls them, that we used to race with. It's also going to be special to participate in the NHRA's 60th anniversary season, especially as it will be the first time we come with the red and yellow colors on our bike and transporter since the late great John Myers raced with us.
"As for our goals for the Gators, I'm interested in seeing how we stack up against our competition after all these races we have missed. Even though we haven't been racing, we've continued to make advances, so I want to see where we end up on the page after each run. Of course, it would be really great to be able to come back and win, but we're going to take things one step at a time. At this point, we're just happy to be heading to Gainesville."
Ray and Star Racing would like to thank the following sponsors for their support in this effort – Xtreme Rebellion, 2listers.com, GOTTSPEED Racing, Jet Aircraft Interior Services, Javelina Harley-Davidson, Gruene Harley-Davidson, Hot Licks Racing, S&S Cycle, Mickey Thompson, Royal Purple, Diamond Bar Choppers.