When a collegiate wrestler finishes a marvelous career with a victory, he often leaves his shoes in the middle of the mat and walks off for the final time.
Perhaps Larry "Spiderman" McBride should leave one of "Blue's" massive Mickey Thompson drag slicks at the starting line after this weekend's race in Valdosta, Ga.
Blue is McBride's beloved Top Fuel Motorcycle of the past 21 seasons. There may be no more legendary or accomplished piece of equipment in the sport of dragbike racing. Blue was the first motorcycle to reach the five second zone, it currently holds the North American elapsed-time record at 5.76 and it has utterly dominated the Top Fuel Motorcycle class for the past 15 years.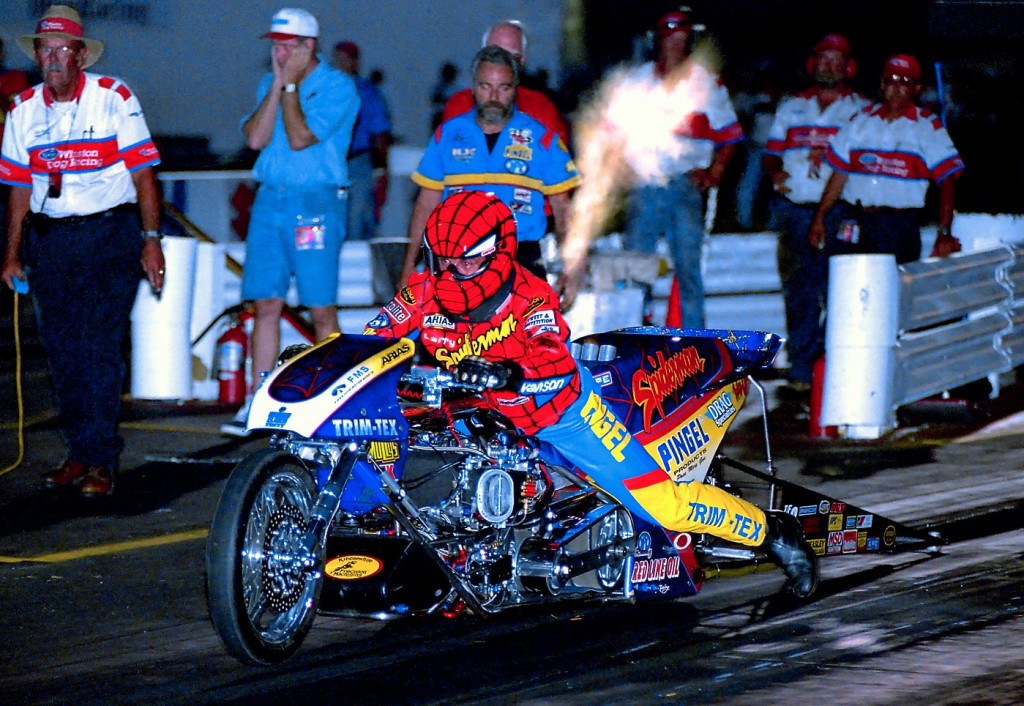 With McBride's new, state-of-the-art motorcycle nearing completion, this weekend's MANCUP Exoticycle/Roaring Toyz Spring Cup at South Georgia Motorsports Park, April 10-12, could very well be Blue's last trip.
"This motorcycle has meant the world to me and my team," McBride said. "I'm going to cherish every last pass on it. I love Blue."
South Georgia Motorsports Park is a very fitting venue for Blue's Swan song. McBride has won nearly every race he has ever entered there, he ran his unofficial best at 5.74 in 2008, and last November, he successfully reset the national elapsed time record to 5.76.
"We are ready for more," crew chief Steve McBride said. "We are going to see what old Blue can still do."
Can Blue out-do the record, or even the 5.74 all-time best?
"I'm pretty sure we can," Steve McBride said. "It's a great track and I think it will be prepped just right."
There will be one round of Pro qualifying on Friday, followed by two on Saturday.
"We took everything except the kitchen sink," McBride said. "I want to ride Blue to its full potential."
Blue's historic first five in 1999
This will mark the 37th season of dragbike racing for the McBride brothers. McBride is a 14-time world champion.
McBride thanked his primary sponsors; Pingel Enterprise, Trim-Tex Drywall Products, Drag Specialties-Parts Unlimited, Red Line Synthetic Oil Corporation and Final Swipe Merchant Services.
Web-Cam, Vance & Hines Motorsports, PR Factory Store, Ferrea Valves, Kibblewhite, Precision Machine, World Wide Bearings, Vanson Leathers, Millennium Technologies, Belt Drives Ltd, Simpson Race Products, Nitrous Express, APE, EK Chain, Arias Pistons, Cometic Gaskets, B&J Transmission, Carolina Cycle, L.A. Sleeve, PJ1, Mickey Thompson Tires, Valco, Goodridge, Carlisle Belts and Gates Belts.