A nitromethane burner can be more temperamental than a teething baby.
Give it just what it wants and it can be beautifully peaceful and harmonious. Upset it and a boisterous, unruly fiasco can break out.
Perhaps no one understands this better than 40-year Top Fuel Motorcycle veteran Larry "Spiderman" McBride, whose Trim-Tex team became flummoxed and bewildered at what tune-up their 5.61 record-holding machine known as "Star" wanted to get down the track cleanly at the Man Cup World Finals from South Georgia Motorsports Park, Nov. 15-18. McBride trusted his team could find the magic formula to lead it to a 19th championship title.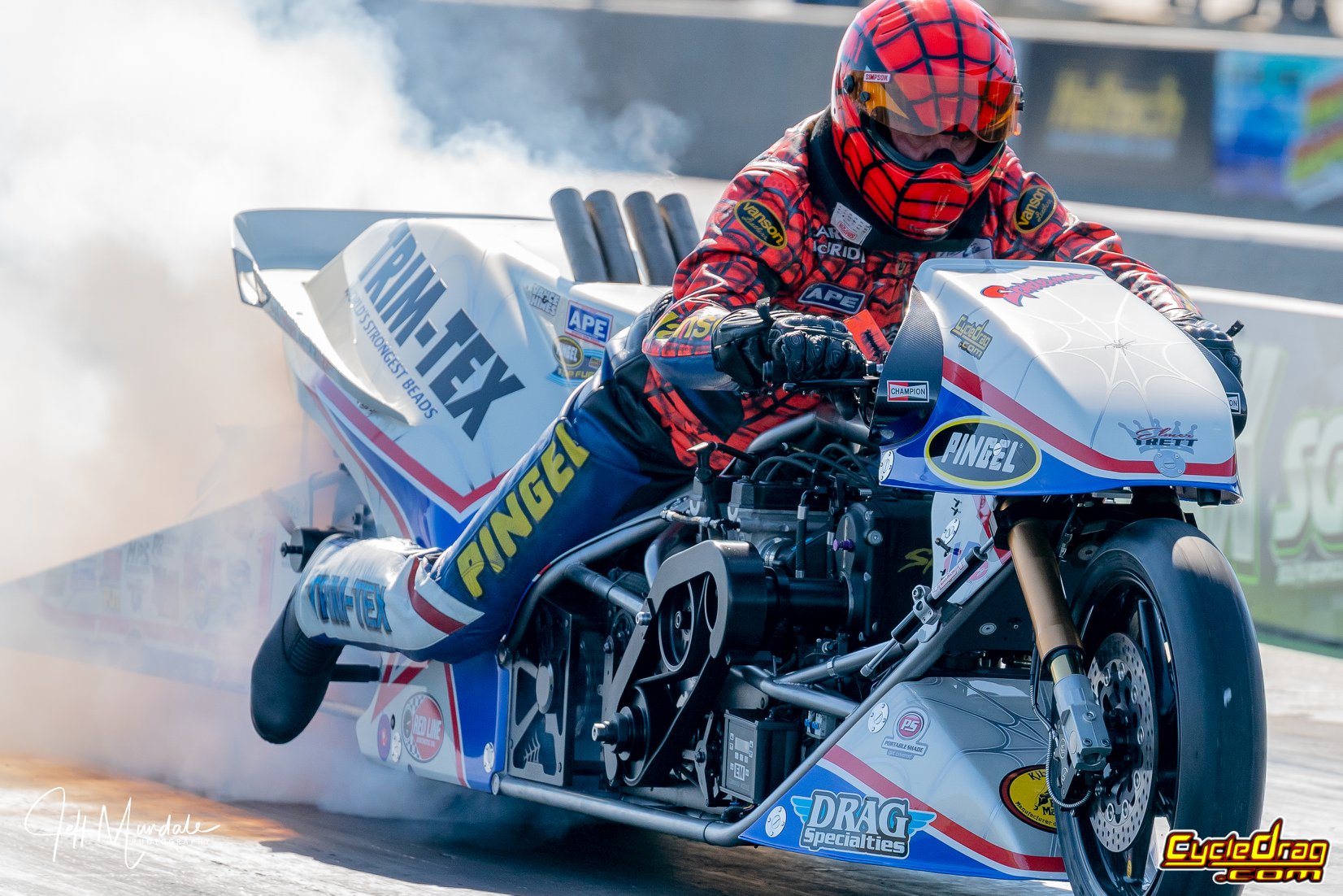 McBride's race week got off to an ill-fated opening when the first two days of testing were rained out and the team failed to make a full pass on Friday.
"It was hard to figure out. The track was good, but very different from last year. It was like we suffered from lack of wheel speed," McBride said. "There was so much glue it seemed the bike was stuck to the ground. You could hardly push it into the lights."
Saturday's first two qualifying runs brought more dissatisfaction as team McBride smoked the tire at the outset.
"It was grabbing the tire and banging back on the bar," McBride said. "We just didn't calm it down enough."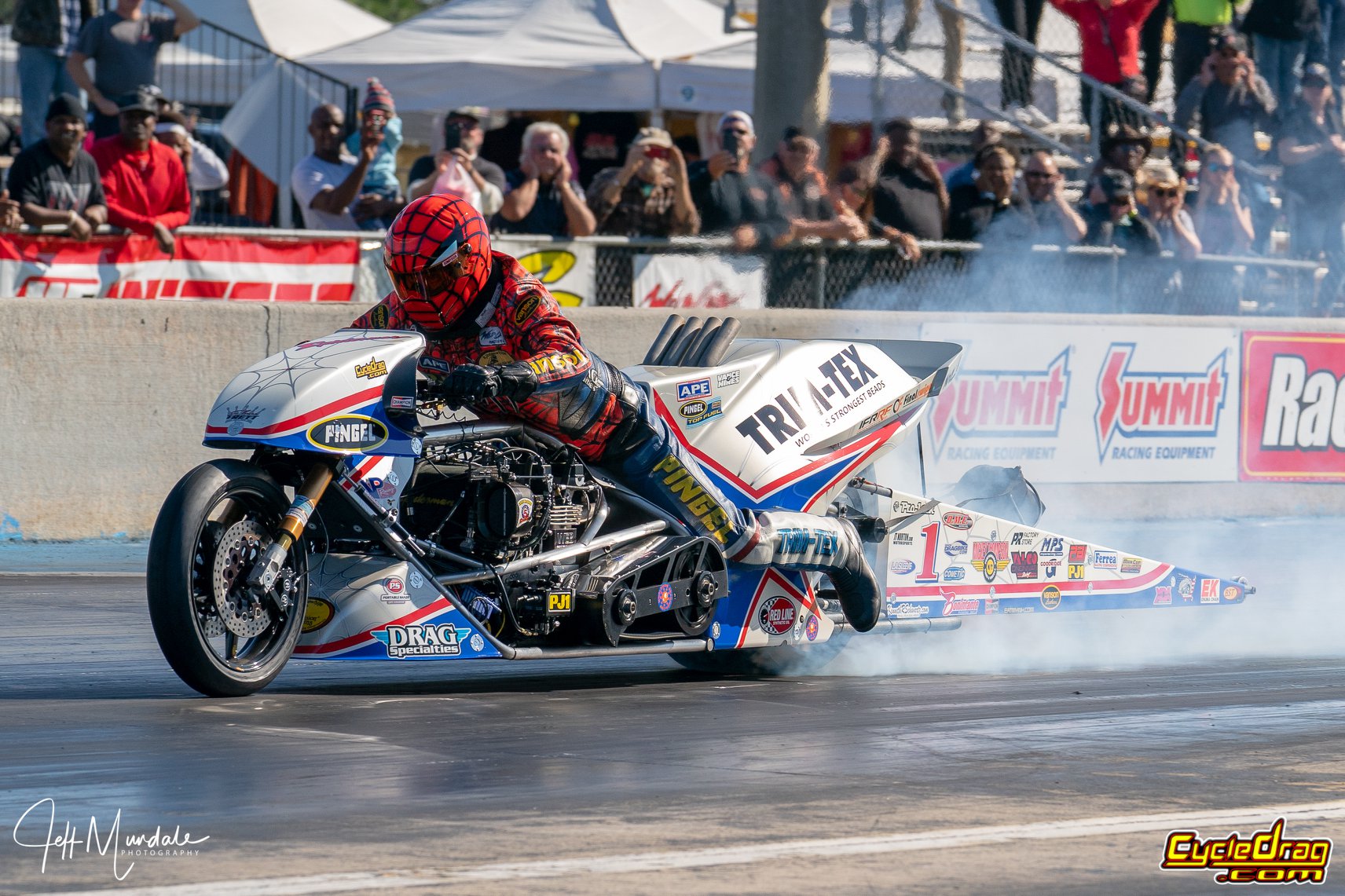 It set McBride up as an underdog in a gargantuan pressure-filled showdown against Dave Vantine with a season title hanging in the balance.
Facing elimination in the championship chase, McBride stepped up to a 5.77 at 241 mph to defeat point leader and then No. 1 qualifier Vantine in the final of the rain-postponed Dragway 42 final from July. The critical win shortened the points deficit up to just 16, less than a round, heading into championship Sunday.
"It could not have come at a better time," McBride said with a sigh of relief. "We were focused on getting down the track. Not getting to test really hurt us. My team did a great job working with what they had."
McBride said a dropped cylinder was a blessing in disguise, keeping him from overpowering the track and again smoking the tire.
"It stuttered a cylinder early, dropped it, picked it back up and went out again," McBride said. "I have to believe that helped."
What transpired on Sunday spoke to the unpredictability and unforgiving nature of Top Fuel. While most were expecting a McBride vs. Vantine, winner-take-all final, Norway's Sverre Dahl had other plans. In opening eliminations Dahl snuck by Vanitne in a pedal fest, all but crowning McBride with the championship.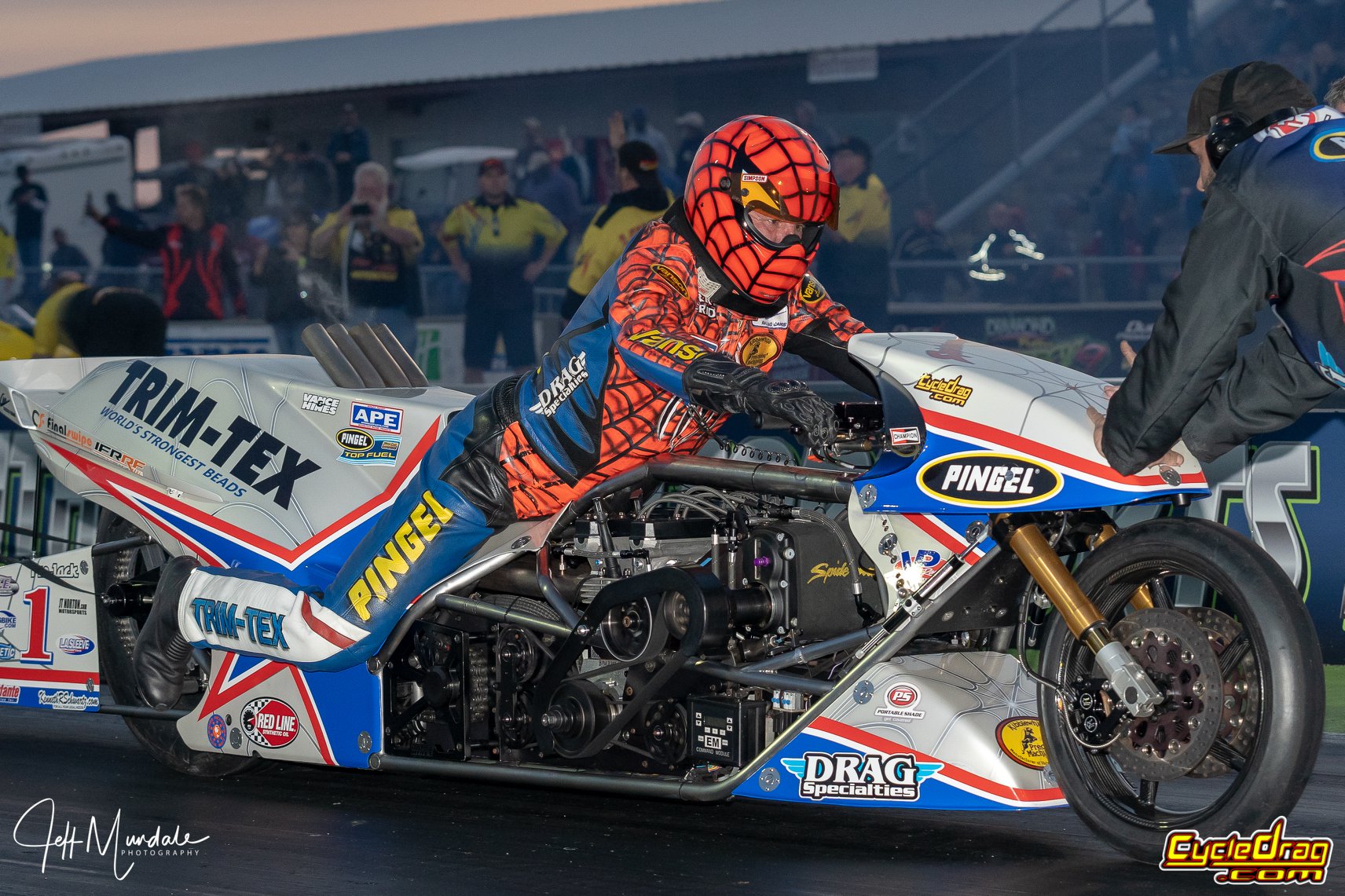 "That shocked me. I hated it for Dave. He had a great season. I was very lucky to have won this championship," McBride said. "I smoked the tire twice against Dave this year so I know exactly how he feels. Getting out run is one thing but beating yourself is another. It hurts a whole lot worse. I wouldn't be surprised if Dave was battling the same situation I was."
McBride took the insurmountable points lead with a tire-smoking solo pass on his first round bye.
It was fortunate for McBride that he qualified in the top spot and earned the bye.
"We made our best run when it mattered most," McBride said.
The event upsets were far from over. In the second round of eliminations McBride again was unable to make a clean pass, smoked the tire hard and was defeated by Ian King of England.
"I knew it was all over and I was done right away," McBride said. "It was a tough loss for my team. We really wanted to win this race. The only thing you can do is take it back to the pits and regroup for next year."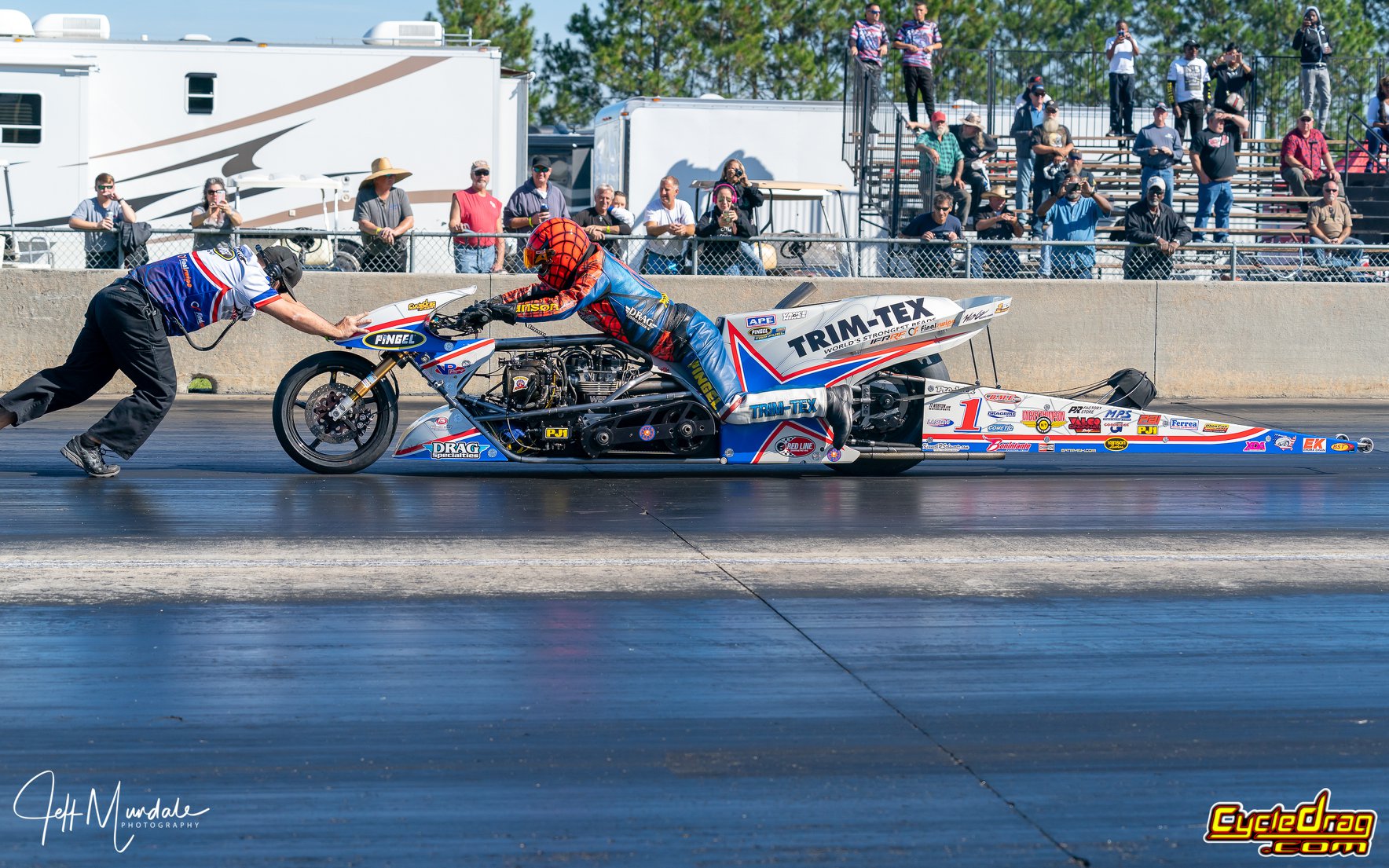 What's even more baffling for McBride is the team left the same exact 5.77 setup in the bike from Saturday for Sunday.
"We were definitely dealing with changing conditions," McBride said.
McBride congratulated Mitch Brown for advancing to the final and upsetting King to collect his first career win.
"It was great. It just goes to show you anybody can win if you never give up. We were all excited for him," McBride said. "Ian was looking down at something when the lights came on. I think he had a problem with his bike. Mitch did a great job and was on his game."
McBride won the title by a mere four points. The veteran racer knows any championship, no matter what the margin, is coveted.
"It's still a championship. When you win the Super Bowl it doesn't matter how many points you won it by or what you did in the regular season," McBride said. "It's that one game that means everything. This race was our Super Bowl."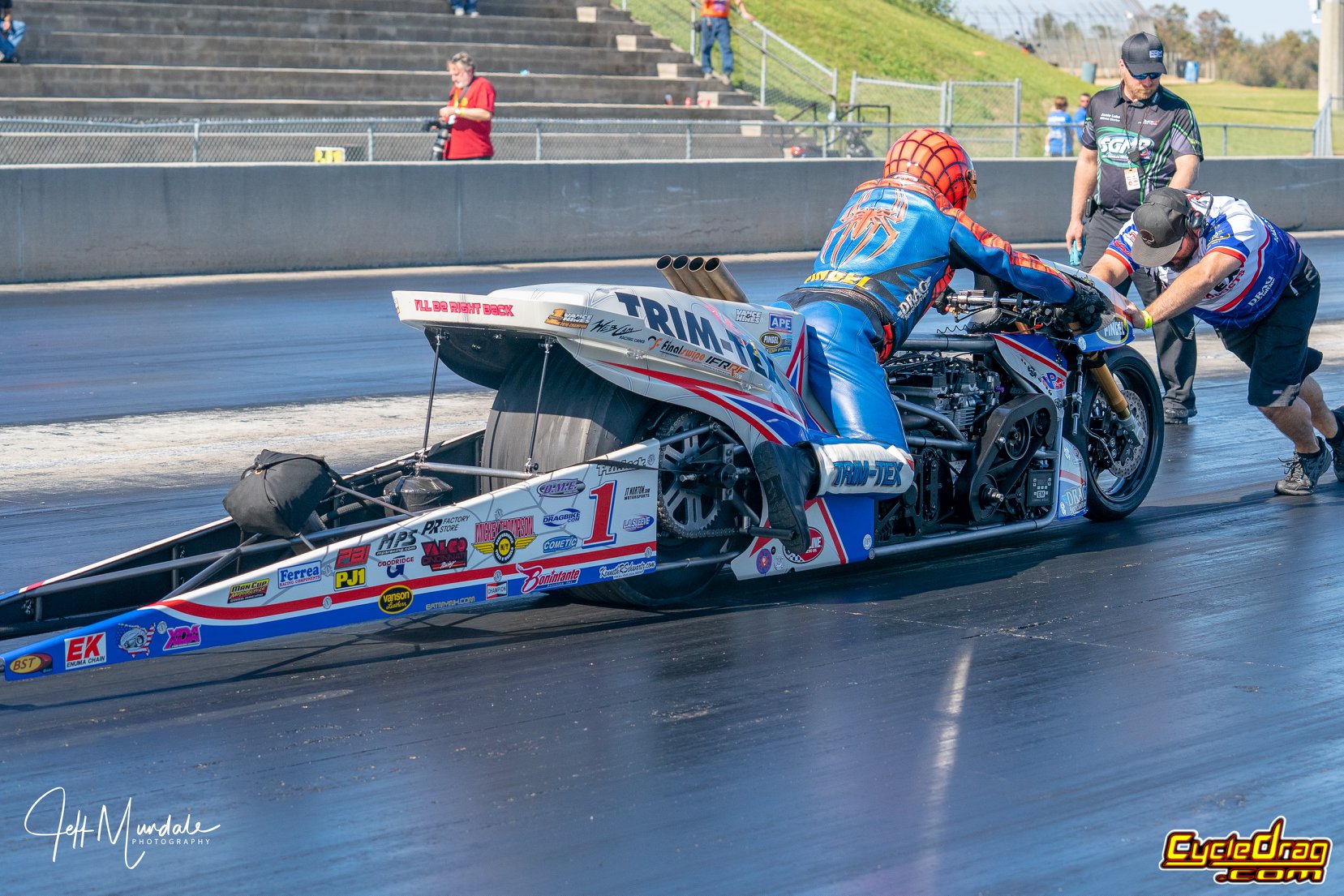 In sum, McBride made one full pass throughout the weekend and it could not have come at a better time. It was an unusual but successful end to what was a bizarre and unpredictable season, greatly impacted by inclement weather.
"It was really strange. I'm surprised we won but we never gave up. The main objective was to win the championship and we got that," McBride said. "We were on our game in Ohio. We felt good there. It goes to show how you can go from hero to a zero in one run. You are only as good as your last race and I wasn't very good at the Finals. I'm grateful we won the championship and have a chance to come back and do better next year."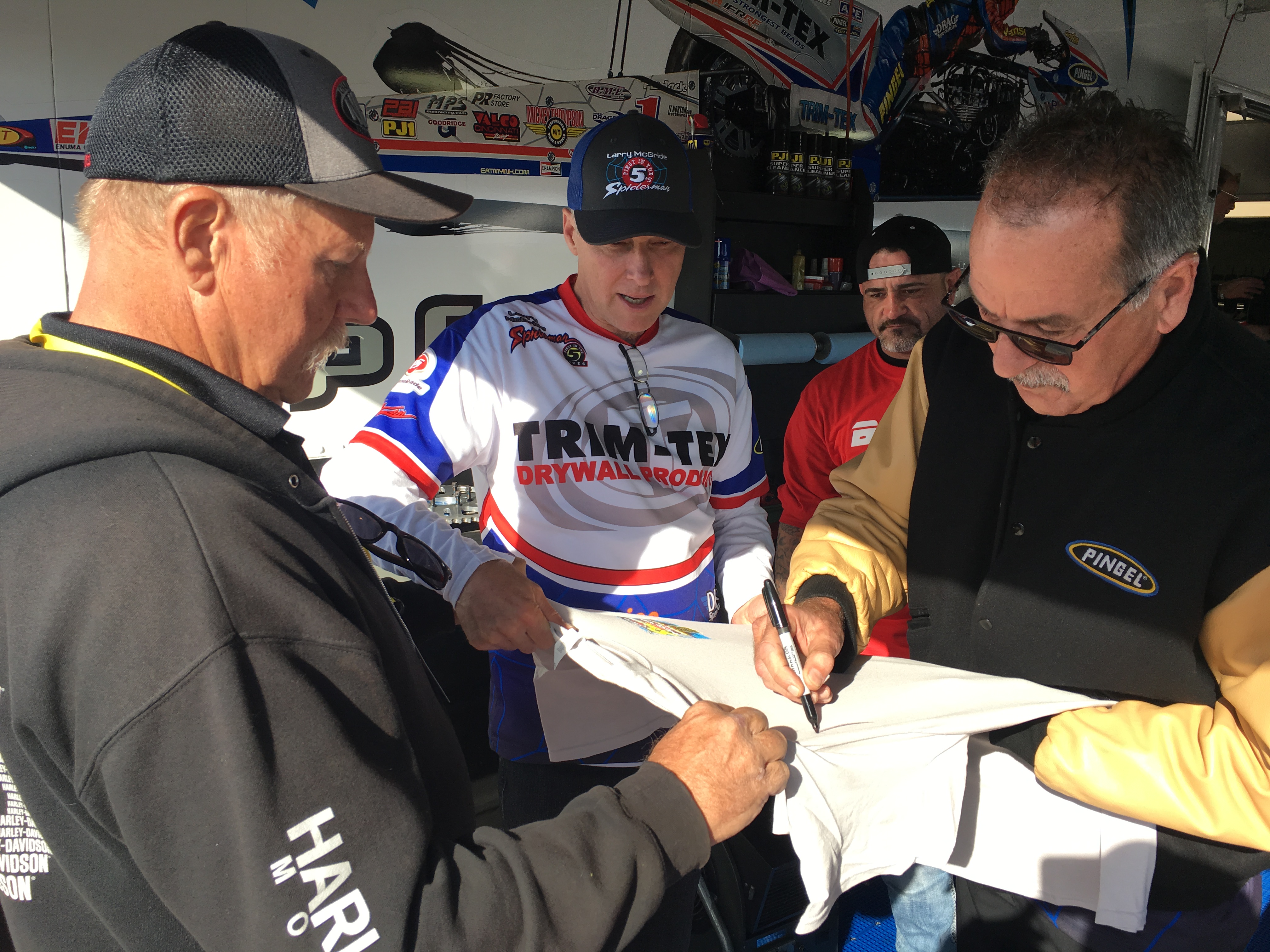 McBride's record-holding motorcycle provides him with great optimism heading into 2019.
"We've got a really bad hot rod we just need to be more consistent. Actually we were consistent. We were consistently smoking the tire in Valdosta," laughed McBride. "We should have been in the low 5.60s again. We will be back."
Before shifting into 2019 preparations, McBride plans to make a stop at the PRI Trade Show in Indianapolis, Ind. Dec. 6-8 to visit with sponsors and friends.
For all the continued support McBride thanked his primary sponsors; Trim-Tex Drywall Products, Pingel Enterprise, Drag Specialties-Parts Unlimited, Final Swipe Merchant Services, Web-Cam, APE and Kibblewhite Precision Machining.
Vance & Hines Motorsports, Red Line Synthetic Oil Corporation, Federal Mogul, PR Factory Store, Ferrea Valves, World Wide Bearings, Vanson Leathers, Belt Drives Ltd, Simpson Race Products, Nitrous Express, EK Chain, Arias Pistons, Cometic Gaskets, B&J Transmission, Carolina Cycle, L.A. Sleeve, PJ1, Mickey Thompson Tires, Valco, Goodridge, Carlisle Belts, ProJack, Bullseye Visual and Gates Belts.
There are more videos on the Cycledrag Youtube channel (please subscribe here) and the Cycledrag.com Facebook page (Please like here) and more will be coming all throughout the off-season. Stay connected!