After nearly four decades of fearless, record-setting motorcycle drag racing, Larry "Spiderman" McBride put in the performance of his career, shattering world records with a 5.61 elapsed-time and 258 mph speed at the ManCup Finals, Nov. 17-19, from South Georgia Motorsports Park.
"I'm still in shock. We have worked so hard for this for so long. We have torn up so many parts trying to get where we are. It's incredibly fulfilling to see the dream come true," McBride said. "I surround myself with great people that make this happen. I'm just the one lucky enough to ride it."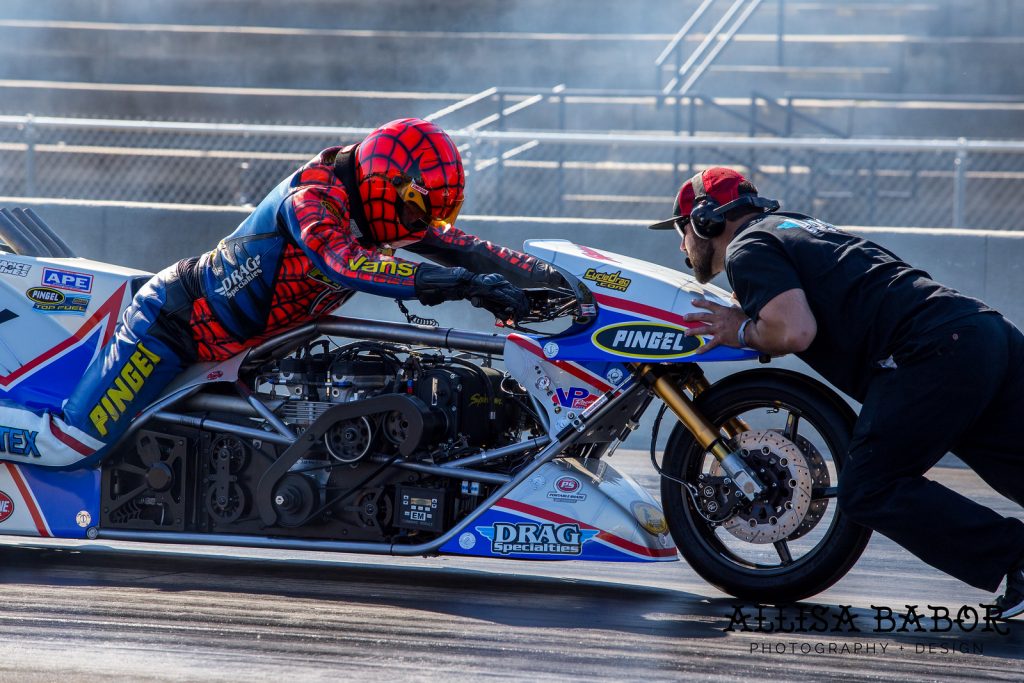 McBride capped off his dream weekend by netting his 18th career championship.
Life situations can change seemingly as quickly as a Top Fuel dragbike blasts down the quarter-mile.
Two years ago, after suffering a violent on-track explosion and fire, McBride was confined to his home while recovering from third-degree burns. His beloved motorcycle of two decades was destroyed and he was unsure if he'd ever be able to race again.
Through an unrelenting desire to persevere and a lot of help from supporters, including a primary sponsorship from Trim-Tex Drywall Products, McBride returned to the top of the sport with a comeback for the ages.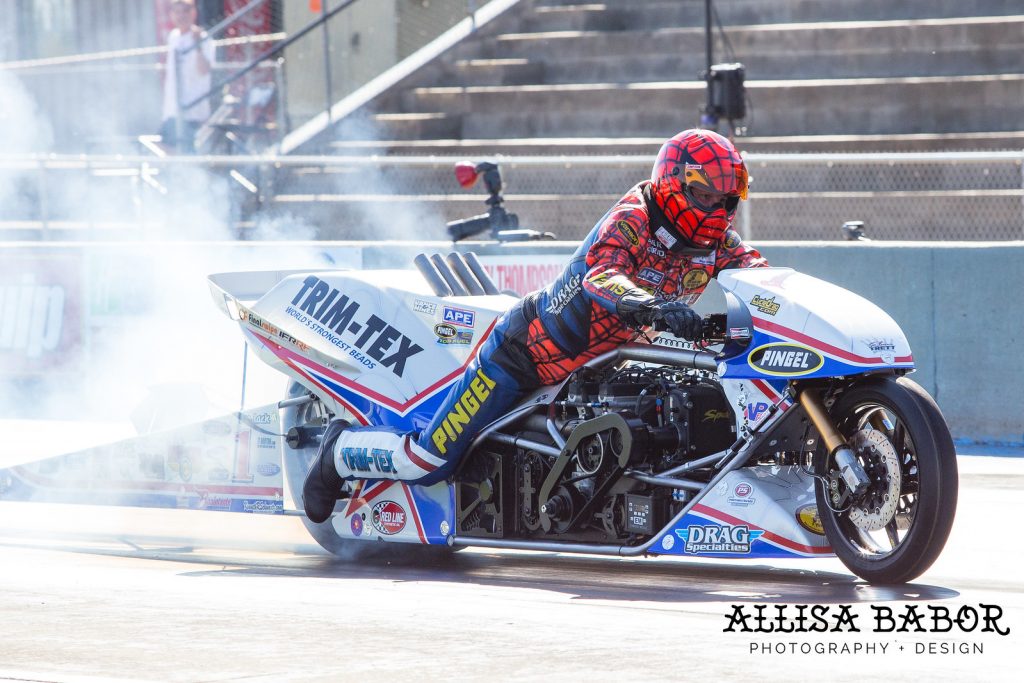 "It's more than I could have ever asked for. I'm so blessed to still be able to race," said McBride, who will turn 60 in January. "How many people get to keep living their childhood dream at age 60?"
McBride knew he was on the precipice of a dream weekend when he ran a career best 5.72 on Friday.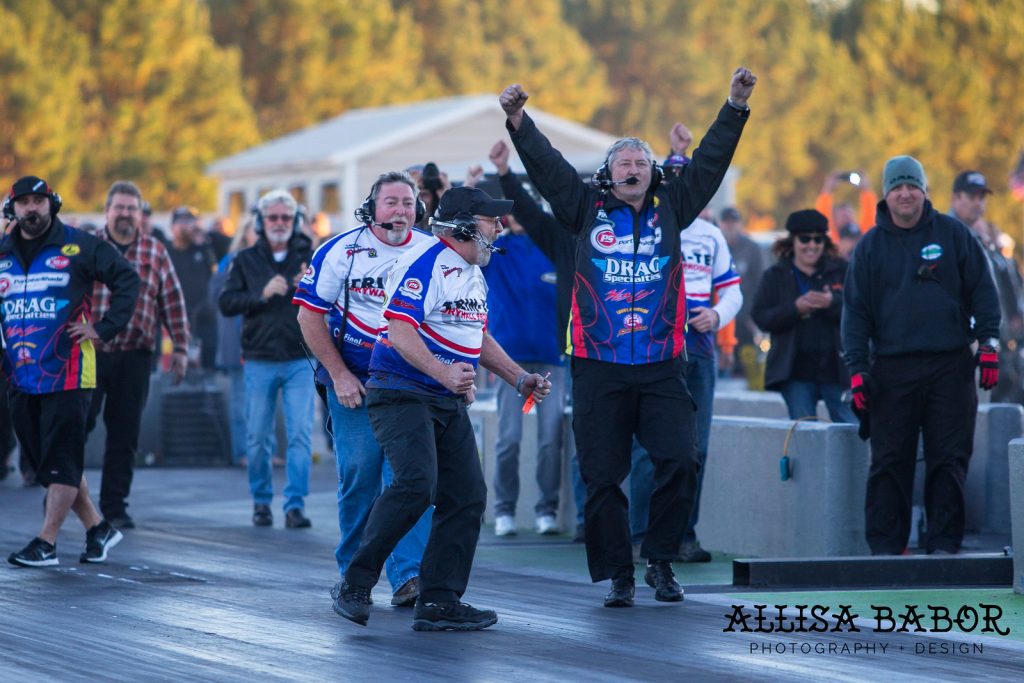 "At first I celebrated it. Then it made me even more nervous because I knew I had to go out and repeat it," McBride said. "I had to show it was not a fluke."
Determined to future advance, McBride made certain Saturday was a historic day for the sport.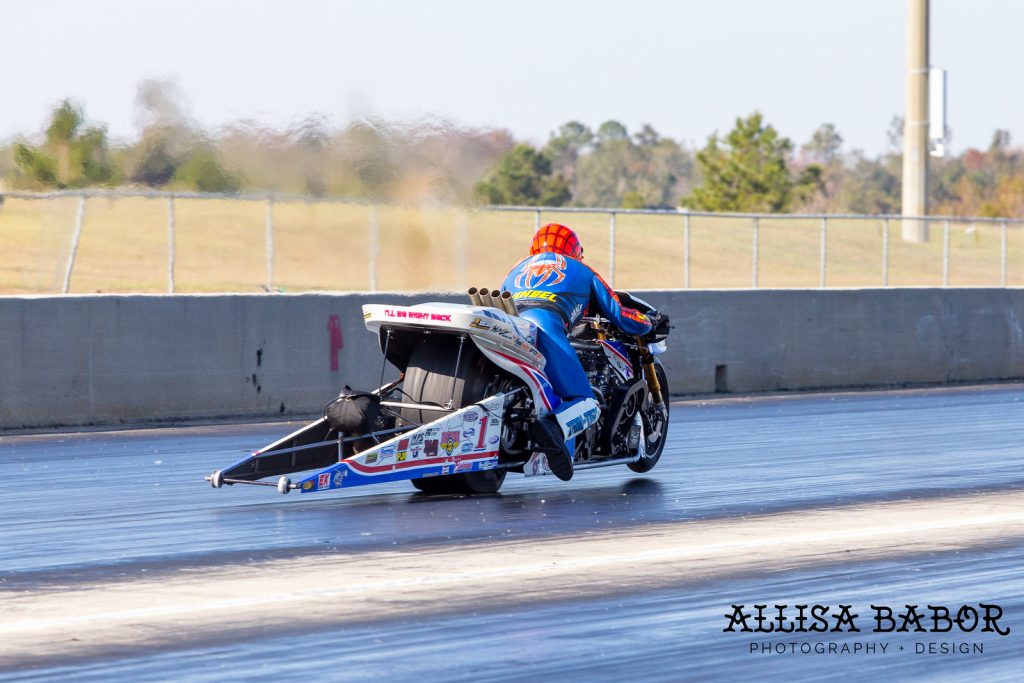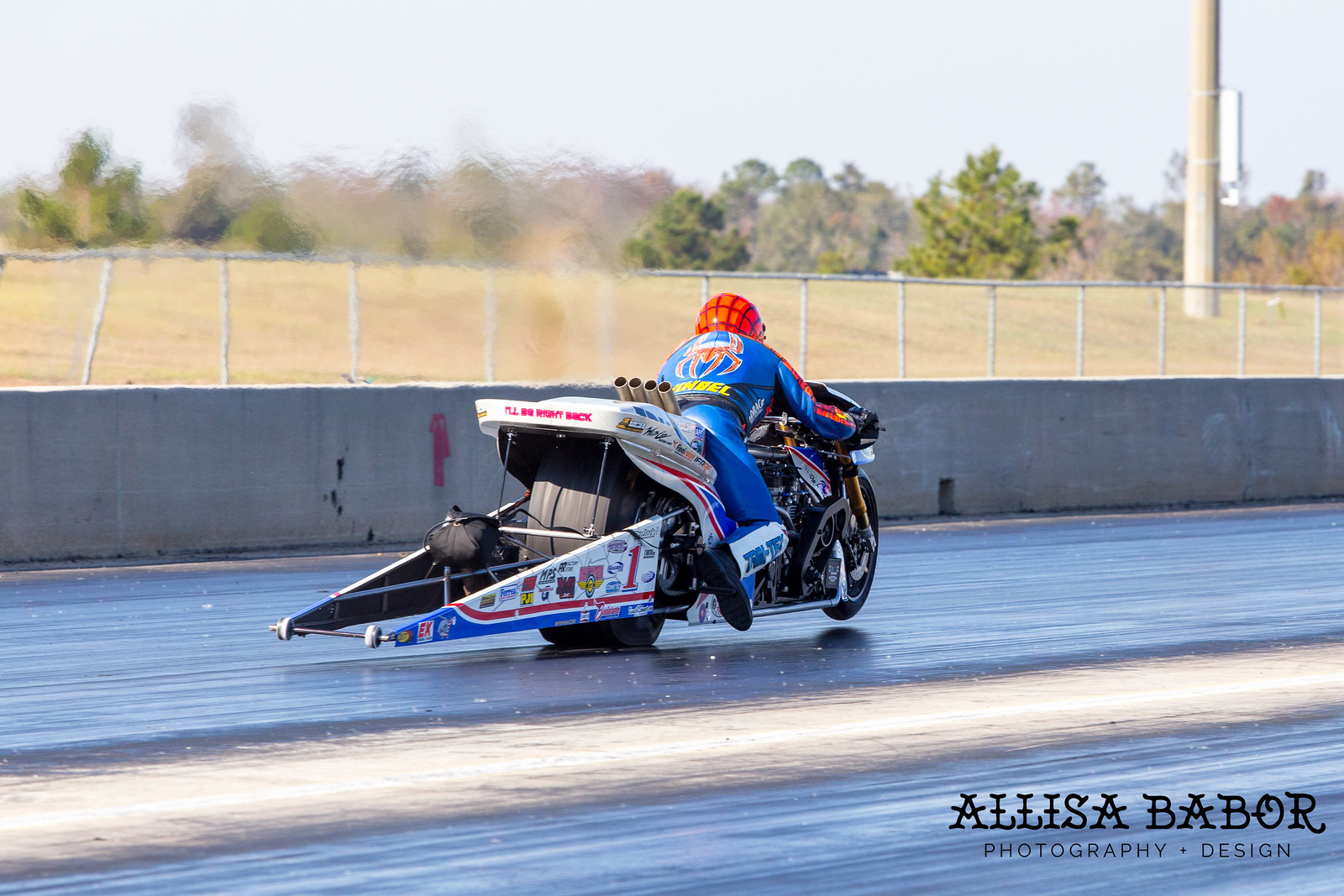 McBride progressed with an astonishing 5.67 during his first run of the day. It marked the first time any motorcycle drag racer had dipped into the 5.60s. It surpassed the world record of Sweden's Peter Svensson from 2012.
It was a lifetime achievement for the Spiderman, who has speculated for more than a decade on whether or not a run in the 5.60-zone was possible.
"I knew it was a really quick run. I just didn't know it was that quick. I think I was in shock when I got the news," McBride said. "Many of the sportsman racers came down to celebrate. Dustin Lee, Richard Gadson and Boo Brown and others were all down there. It feels awesome to have so much support."
The day was far from over.
McBride's next run showcased never-before-seen speed with a rapid pass of 258 mph.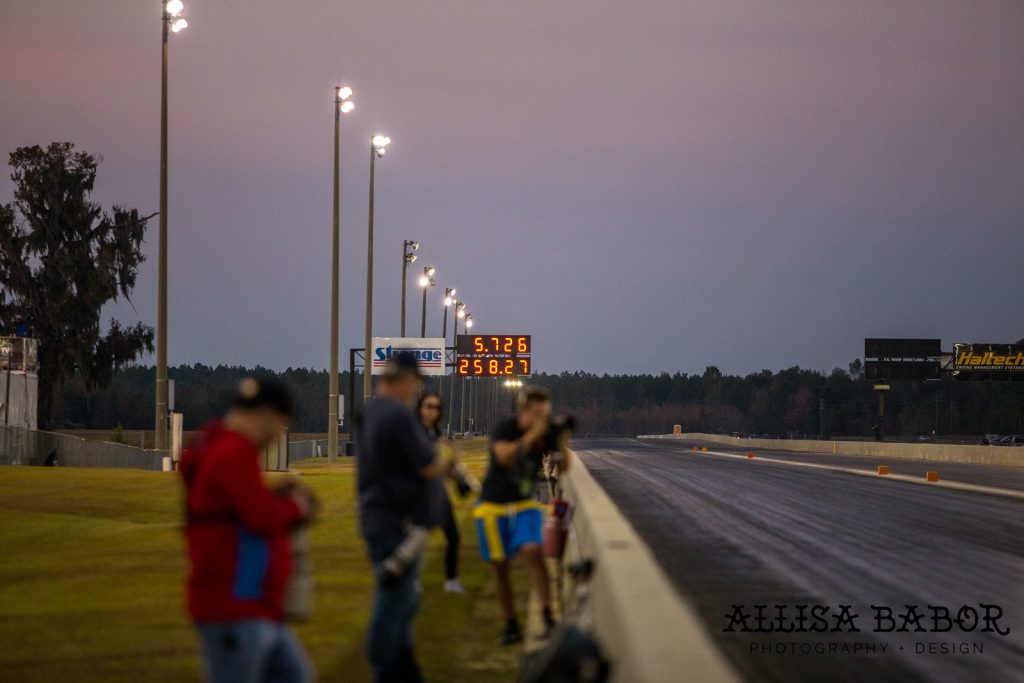 "I was flying. Thank God we have the best of everything because my parachute never came out. If I knew my parachute wasn't going to work I would have been quicker on the brakes. I'm fortunate SGMP is such a long racetrack," McBride said. "This bike had been going some serious mph all year. You can never get relaxed with it. You know it's going to go fast so you have to be prepared."
By virtue of his No. 1 qualifying positon McBride was granted a bye run in the opening round on Sunday. The Spiderman smoked the tire and lifted off the throttle.
The most impactful news came two pairs before when European Rikard Gustafsson ousted Sam Wills, clinching the hotly-contested season title for McBride.
McBride would be next up to battle the hot-hand of Gustafsson.
The duo treated fans to one of the quickest side-by-side races in history with McBride's 5.74 narrowly edging out the 5.85 of Gustafsson.
"I give Rikard and his team a lot of credit. They came over here and really showed their stuff," McBride said. "They did an excellent job and it was an honor to have them race with us."
Up next was an after-dark, final round showdown against the birthday boy Mitch Brown. Both machines sounded crisp as they came to life in the cool South Georgia evening air.
What ensued was well beyond anyone's wildest expectations.
McBride powered through the finish line with a 5.61. It was an unusual reaction on the starting line. A record run by McBride normally sets off an immediate celebration by his crew and fans. When this number flashed on the scoreboard, there seemed to be a moment of disbelief. It was a moment of shock. Was it a 5.81 as onlookers squinted for a better view?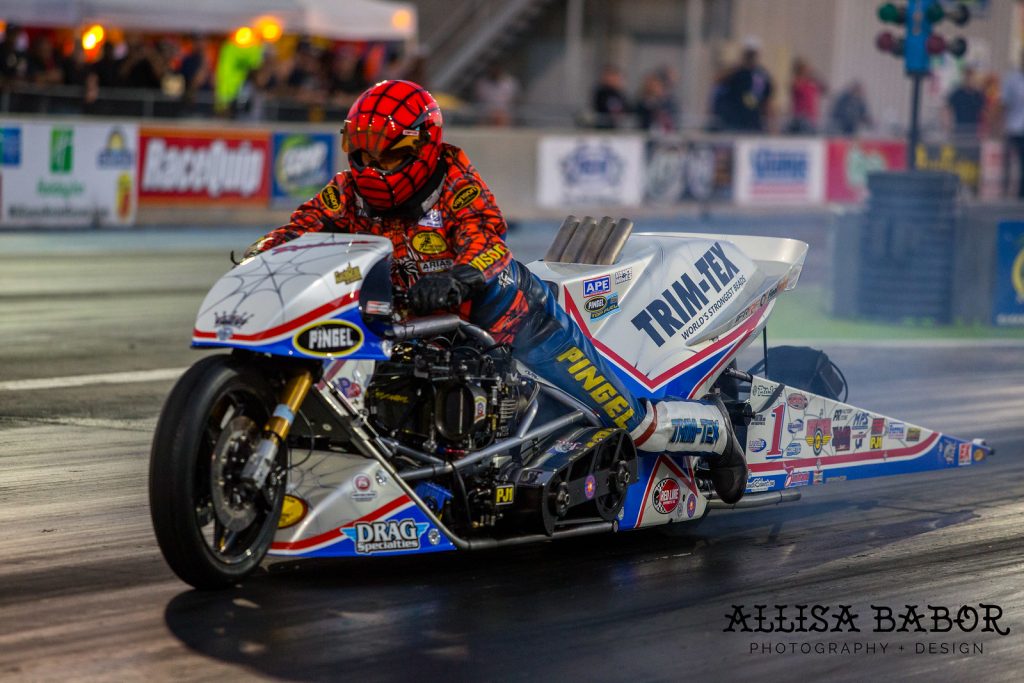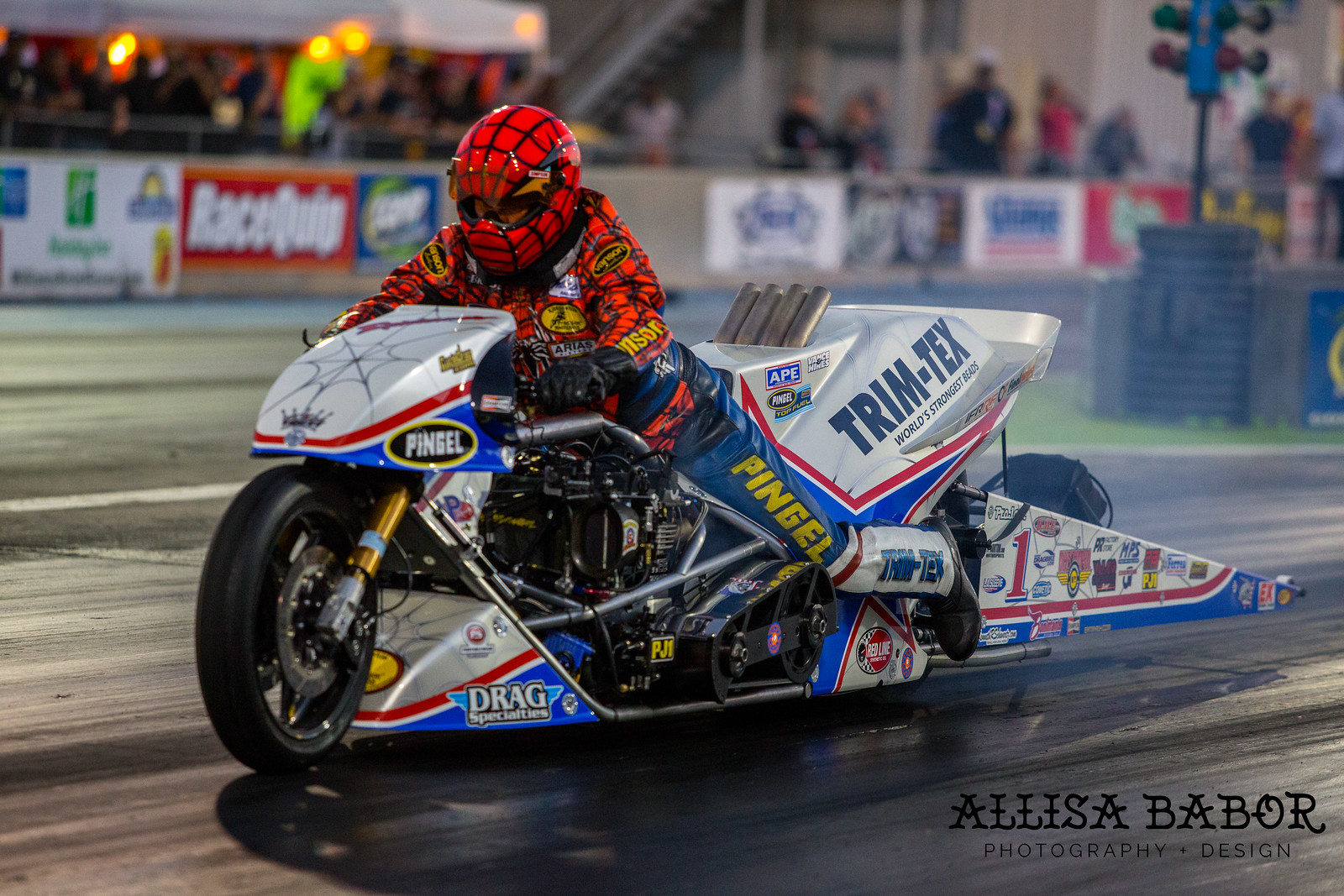 After a decade plus of talking about whether or not a run in the 5.60s was possible, how could McBride be just one hundredth of a second away from a run in the 5.50s?
And suddenly it was real.
Those watching began to digest the historic achievement and special milestone.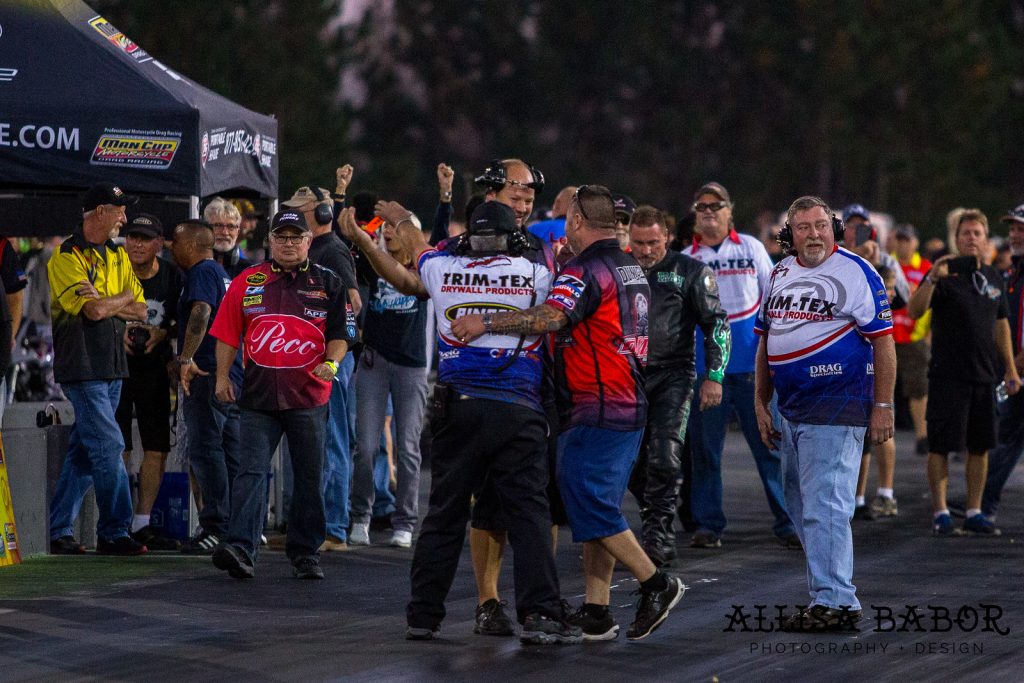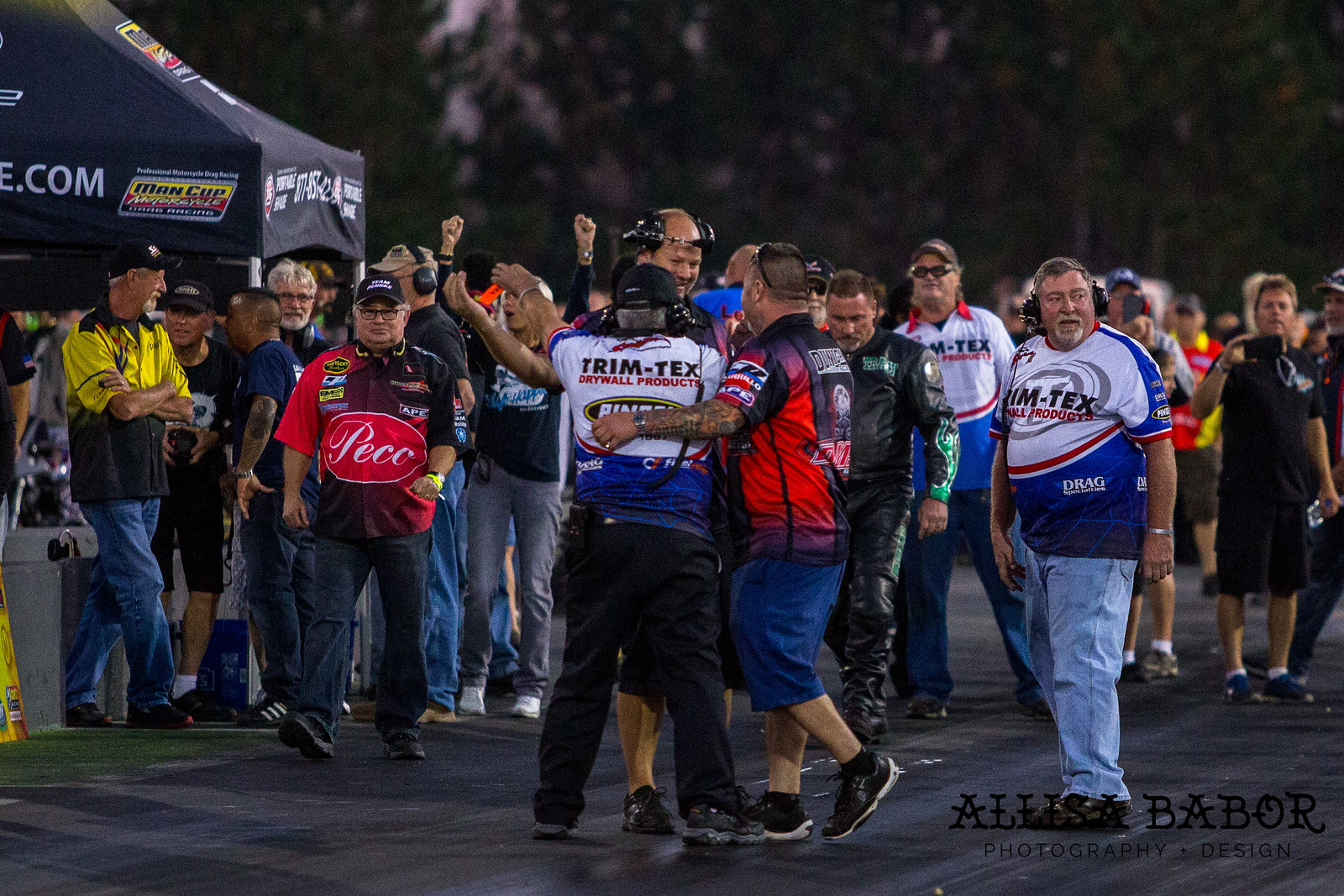 After a long show of respect by other racers and teams on the starting line McBride and his crew did something they don't normally do after a run.
"When my crew got to me I said let's just all sit down here for a second and have our own moment," McBride said. "We took five minutes to ourselves and were like, damn we did it. We couldn't believe it."
McBride wanted to show his appreciation to his team.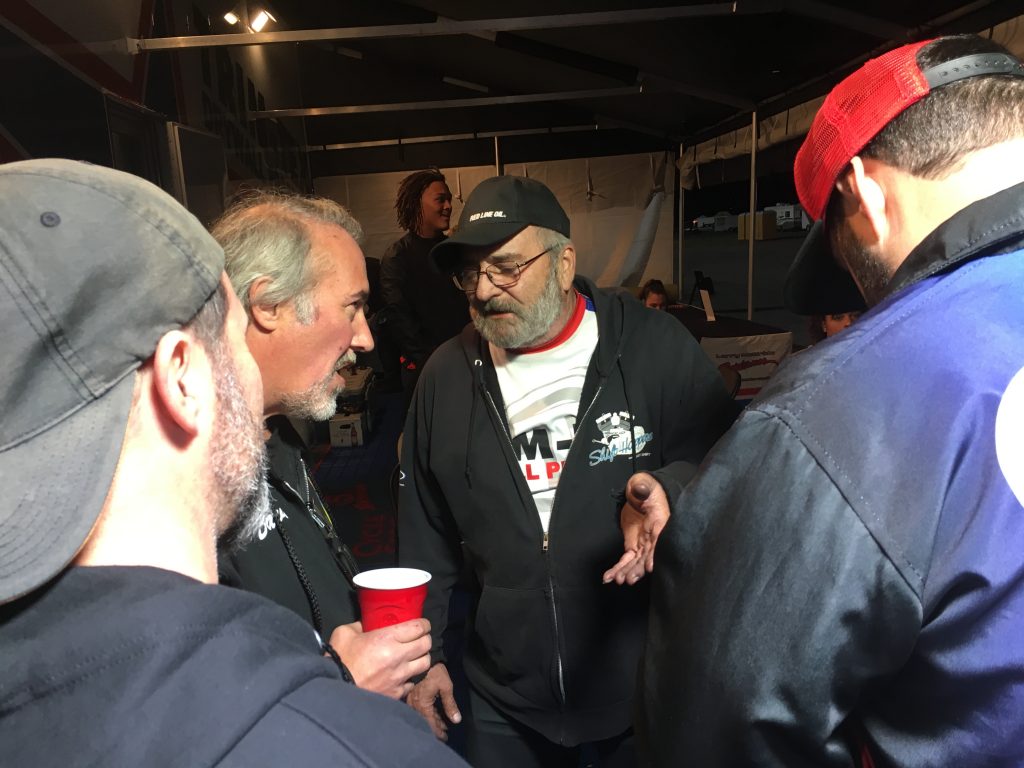 "My brother Steve works on this motorcycle everyday. Chuck and Roland Stuart and Charlie Lynch are just unbelievable," McBride said. "It's a major team effort with my brother leading the charge."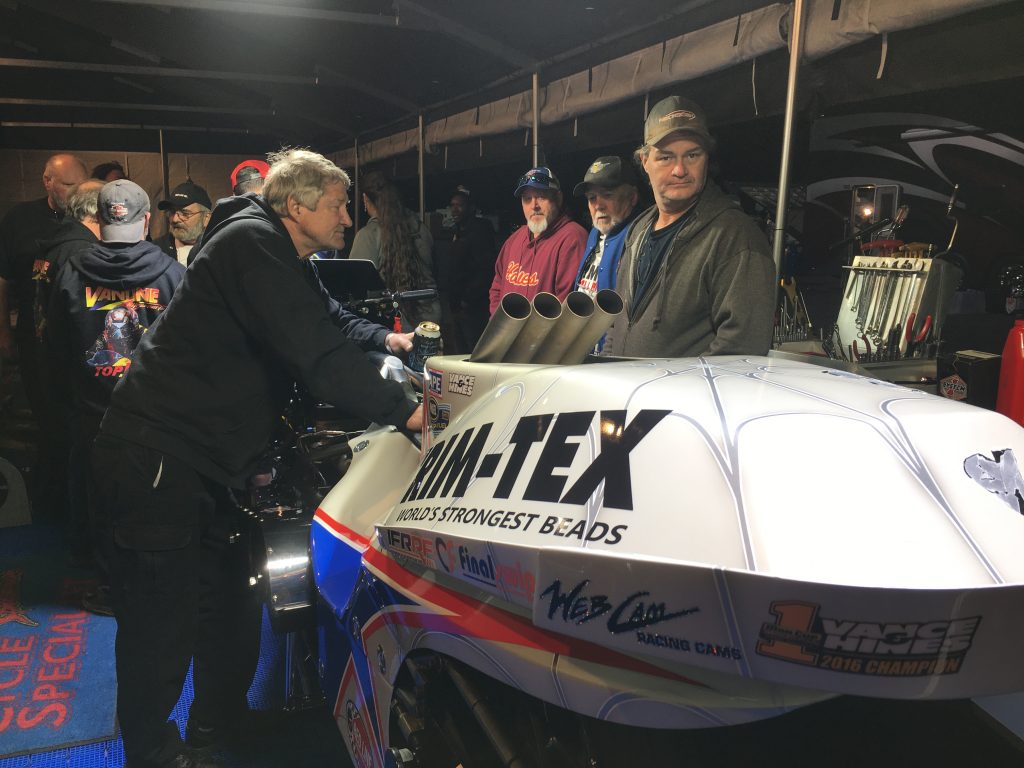 When McBride got back to his pit area he was greeted by hundreds.
"To be surrounded with family and friends was the ultimate," McBride said. "There are a lot of great people I owe for this success."
Primary sponsor Joe Koenig of Trim-Tex was equally delighted.
"They rotated the earth. That run was unbelievable. I couldn't be happier. I have a new nickname for Larry, it's rocket man." Koenig said with a smile. "We feel very thankful. Team McBride has delivered back on our trust to them. The most important thing they delivered is the friendship. They allowed all of the Trim-Tex family to be invited and welcome. Larry and Steve are very professional. They are the hardest working team in motorsports. We are so delighted to see them back on top."
Koenig extended a special thanks to Dave Vantine for being such a class act and thanked all the members of the motorcycle drag racing media for keeping the sport going.
McBride continues to build a unique and astounding racing pedigree few can match. In 1999 he became the first dragbike racer in the fives. He was also the first in the 5.80s, 5.70s, and now 5.60s.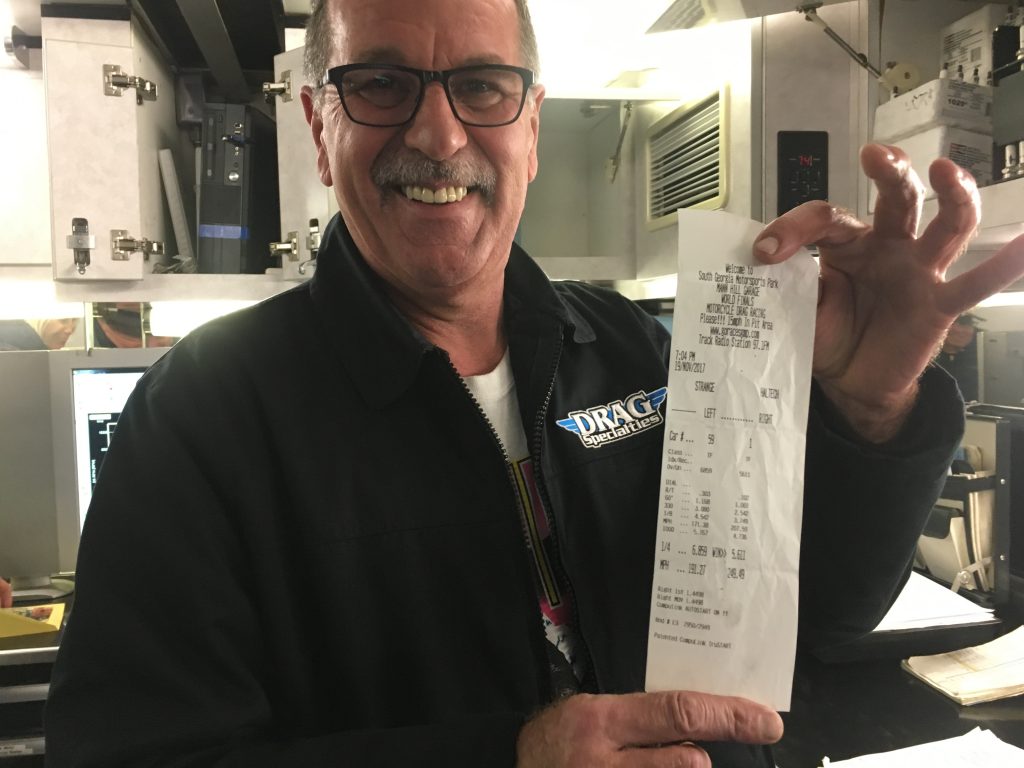 McBride says his key to success is to never stop listening.
"The relationships I have built throughout the world have got me here. You have to listen and go in with blind faith with these people who know more than you. That's what we did with Bill Miller of BME. He wanted to know everything we were doing," McBride said. "The day you think you know it all is the day you need to go home. It's the same as riding a motorcycle. The day you think you have it concurred, park it because it will show you who the boss is."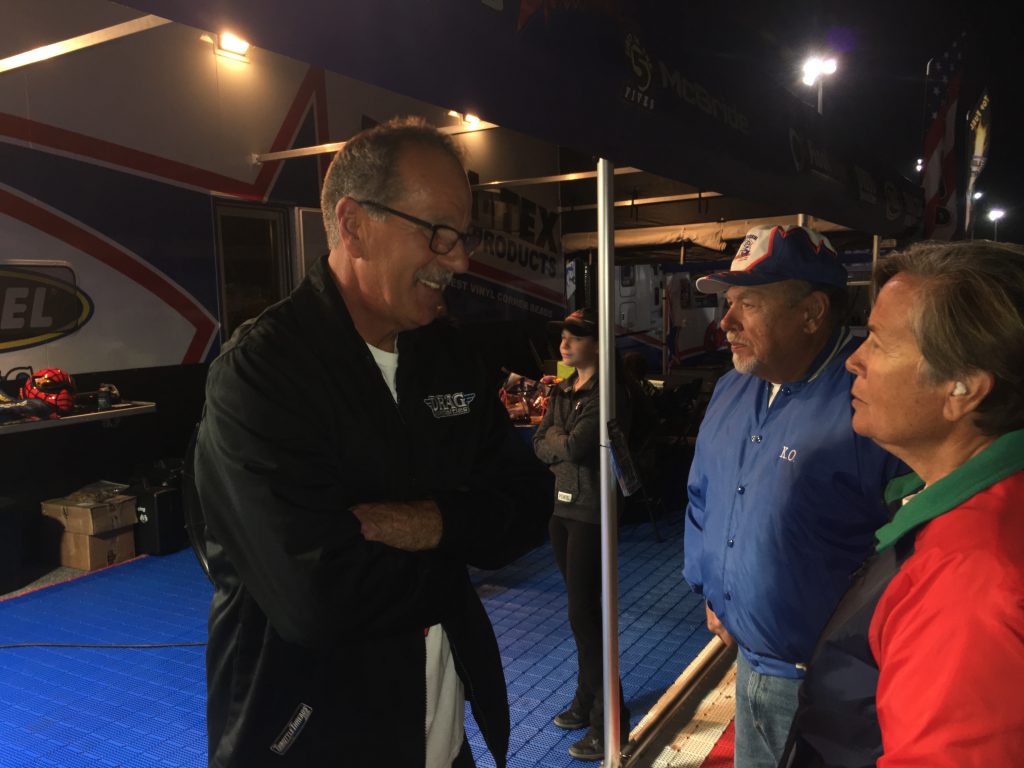 For McBride the work for the 2018 season has already begun. His next stop will be the PRI Show from Indianapolis, Ind. Dec. 7-9.
For all their continued support with this new machine, McBride thanked his primary sponsors; Trim-Tex Drywall Products, Pingel Enterprise, Drag Specialties-Parts Unlimited, Final Swipe Merchant Services, Web-Cam, APE and Kibblewhite – Precision Machine.
Vance & Hines Motorsports, Red Line Synthetic Oil Corporation, Federal Mogul, Portable Shade, PR Factory Store, Ferrea Valves, World Wide Bearings, Vanson Leathers, Five Star Powersports, Belt Drives Ltd, Simpson Race Products, Nitrous Express, APE, EK Chain, Arias Pistons, Cometic Gaskets, B&J Transmission, Carolina Cycle, L.A. Sleeve, PJ1, Mickey Thompson Tires, Valco, Goodridge, Carlisle Belts, ProJack, Bullseye Visual and Gates Belts.
McBride also extended a special thanks to Bill Miller Engineering, Don Jackson, Gary Baillio of Final Swipe, Andy Sawyer, Chris Connelly, Jason and Dave Dunigan, Dimey Eddinger and the entire DME team.
McBride thanked Wayne and Donna Pingel and Dave Dunigan for all the support they offer the Top Fuel class.
Larry "Spiderman" McBride 2017 Tour
MANCUP Spring Cup, Maryland International Raceway, Valdosta, Ga. April 7-9 – Winner
MANCUP HTP Performance Nationals, Memphis International Raceway, Memphis, Tenn. June 3-4 – Rainout
MANCUP MTC Nationals, Galot Motorsports Park, South Dunn, N.C. July 15-16 – Runner Up
IDBL WPGC Bike Fest, Maryland International Raceway, Budds Creek, Md. July 28-30 – Winner, 5.74 National Record
MANCUP, Rockingham Dragway, Rockingham N.C. Sept. 23-24 – Winner, 255 MPH Speed Record
IDBL DME Fall Nationals, Maryland International Raceway, Budds Creek, Md. Oct. 6-8 – Winner
MANCUP World Finals, South Georgia Motorsports Park, Valdosta, Ga. Nov. 17-19 – Winner, 5.61, 258 MPH World Records
Special thanks to Allisa Babor for photo contributions.