Top Fuel Motorcycle legend Larry "Spiderman" McBride must appreciate a captivating story. Famous movie director Steven Spielberg would endorse the rollercoaster thrill ride the 40-year-plus nitro veteran is making his drive for an unprecedented 20th championship.
Down three rounds of racing after a rare first round defeat at the opener, McBride's chances for a title looked bleak in April.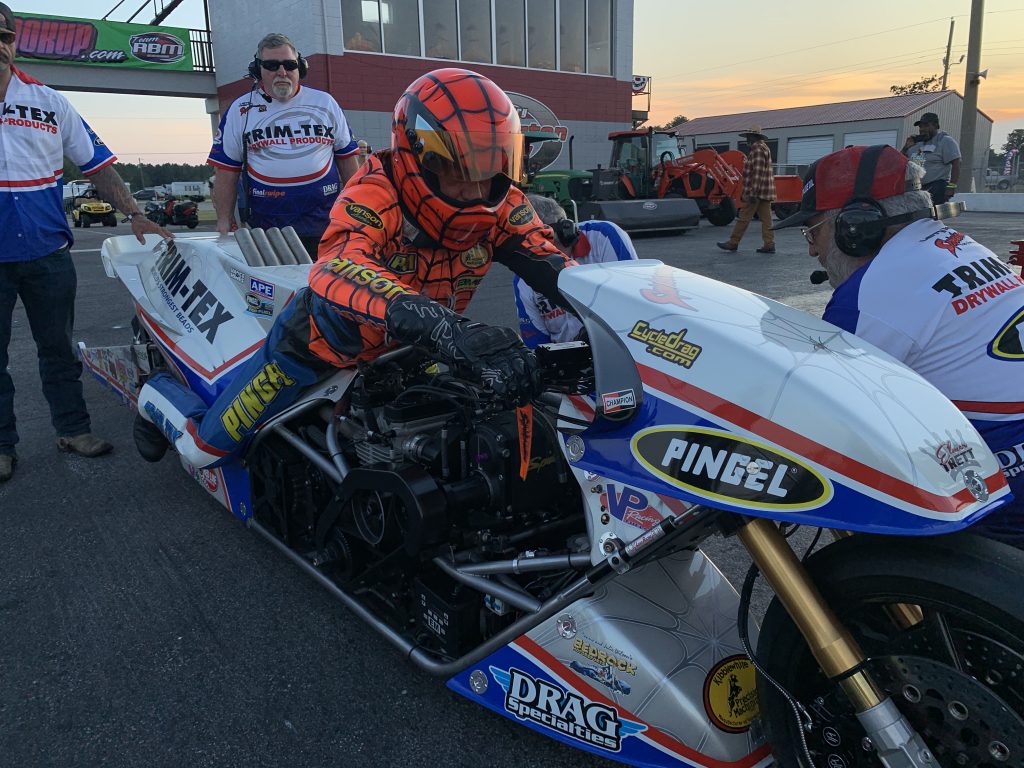 Heading into this past weekend's Man Cup Rob Bush 190Hookup.com Nationals from Darlington Dragway McBride judiciously necessitated a win to stay with striking distance of rival Dave Vantine, who amassed a late-season 38-point lead.
"We knew if we could not win this race we would likely be out of the hunt," said McBride, heading into the tour's only eighth-mile event.
McBride's weekend got off to an inauspicious start after falling short of qualifying on the pole. Vantine gained the upper hand and another point in the standings, narrowly edging out the Spiderman with a 3.78 to McBride's 3.79.
On Sunday, in typical McBride, edge-of-your-seat fashion, the first racer to ever run a five on a motorcycle stepped up when he needed most with low elapsed time of the event at 3.76 at 210 mph in the final to overthrow Vantine's threatening 3.80 at 201 mph.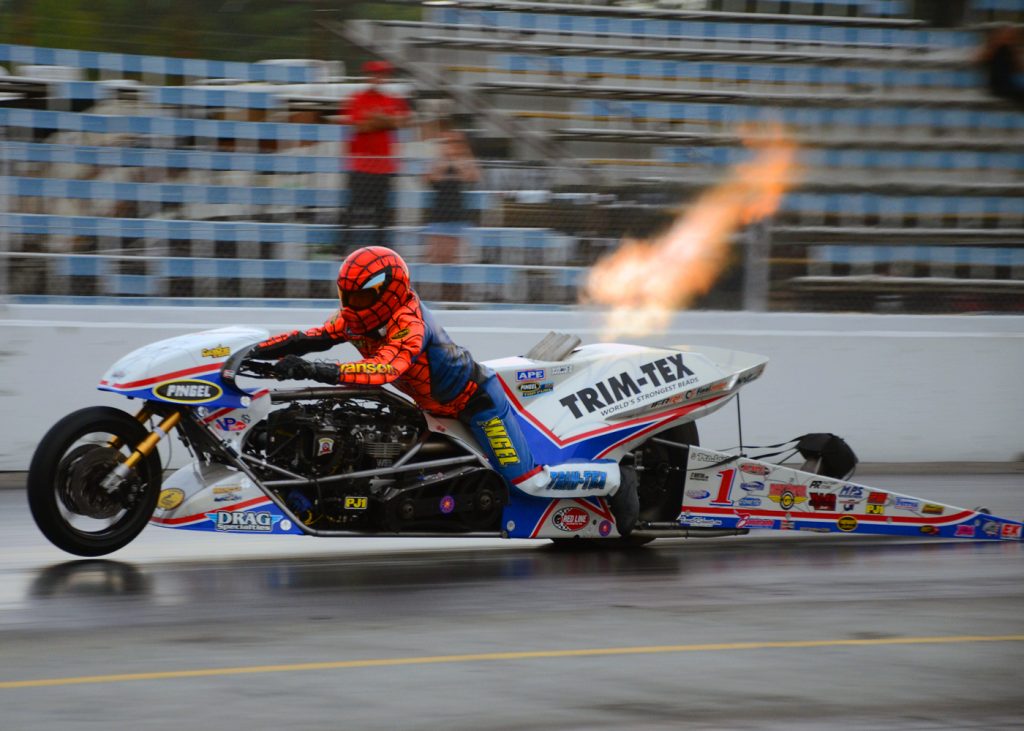 "My team works extremely hard and their hard work showed up in the results on Sunday. There is no quit in them," McBride said. "I don't count points, I just keep giving 100 percent and hoping for the best. I can be beat but I'm not going to give anything away."
Even more impressive was McBride's .038 light against Vantine, a former Pro Mod racer known for chopping down the tree. The extraordinary bulb was much needed because with a .058, Vanitne also had a remarkable light by Top Fuel standards.
"You better be amazing on the lights against Vanitne because he's extremely sharp," McBride said.
The 3.76 marked a notable improvement from the team's sheer overpowering of the racetrack in opening qualifying.
"We were borderline with our tune-up. We were running on a tricky track. It had good spots and bad spots. It was tough to figure out," McBride said. "We had way too much power at the hit in the beginning of the weekend. We had to back everything down. The entire crew came together to figure it out. I felt like we were safe for the final."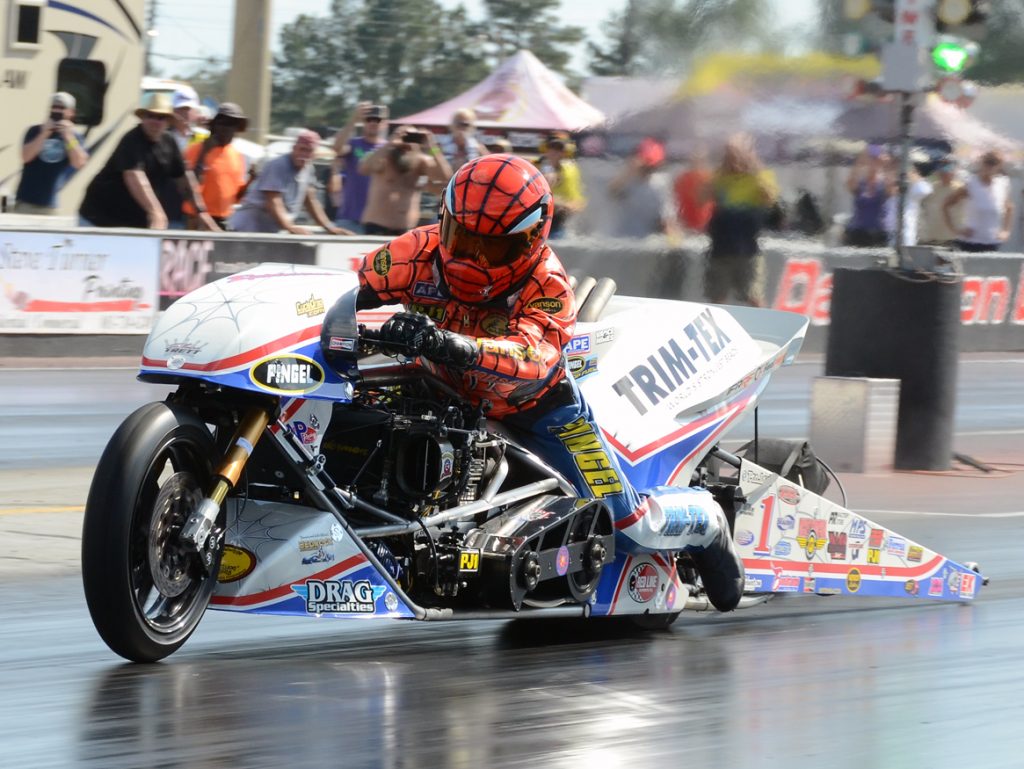 McBride now trails Vantine by less than one round heading into the final two races of the year. It's familiar territory for the Spiderman who watched the title come down to the wire the last four seasons.
"You never get used to it. It's always a struggle," McBride said. "You just need to stay positive. One round down is a lot better than being two rounds down. We'll just keep doing our best every run."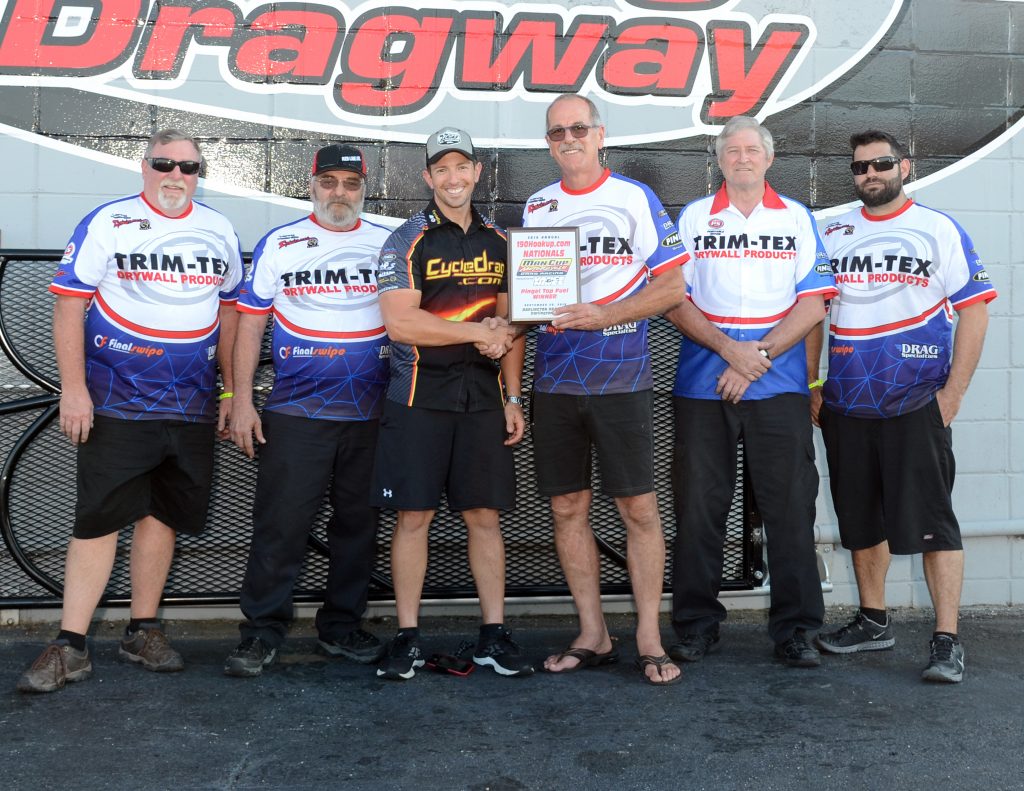 McBride gets back to work October 26-27 in Rockingham, N.C. for the tour's penultimate event.
McBride sent a special thanks to sponsors Wayne and Donna Pingel and Don and Julie Wilson, who were in attendance for the race.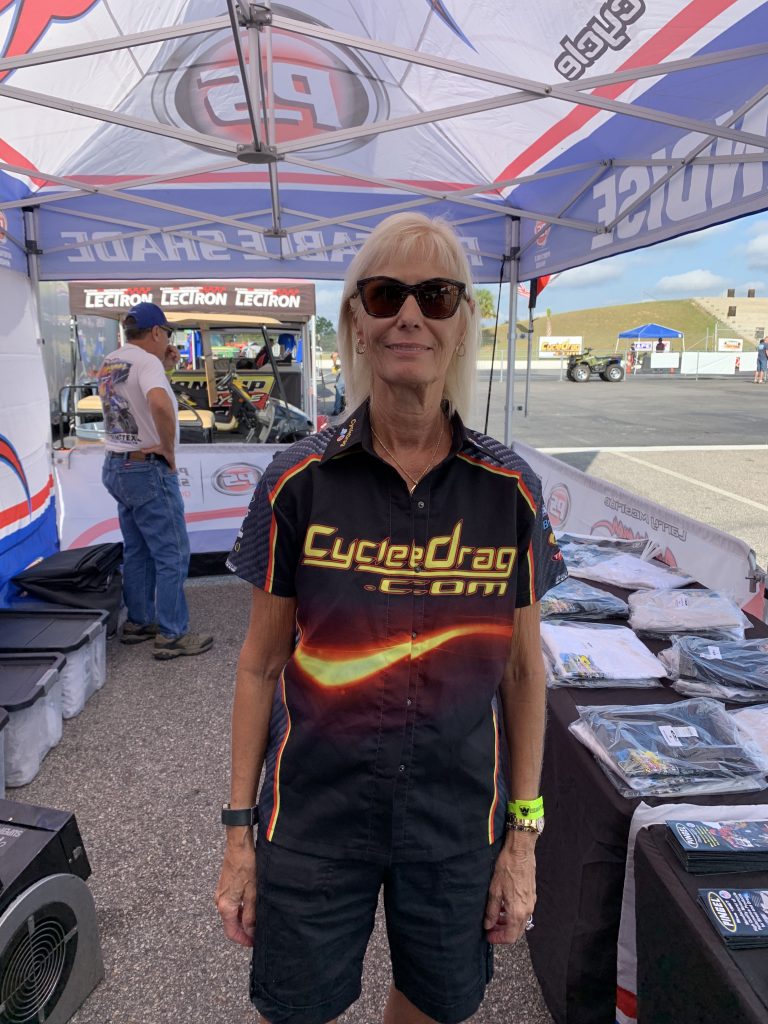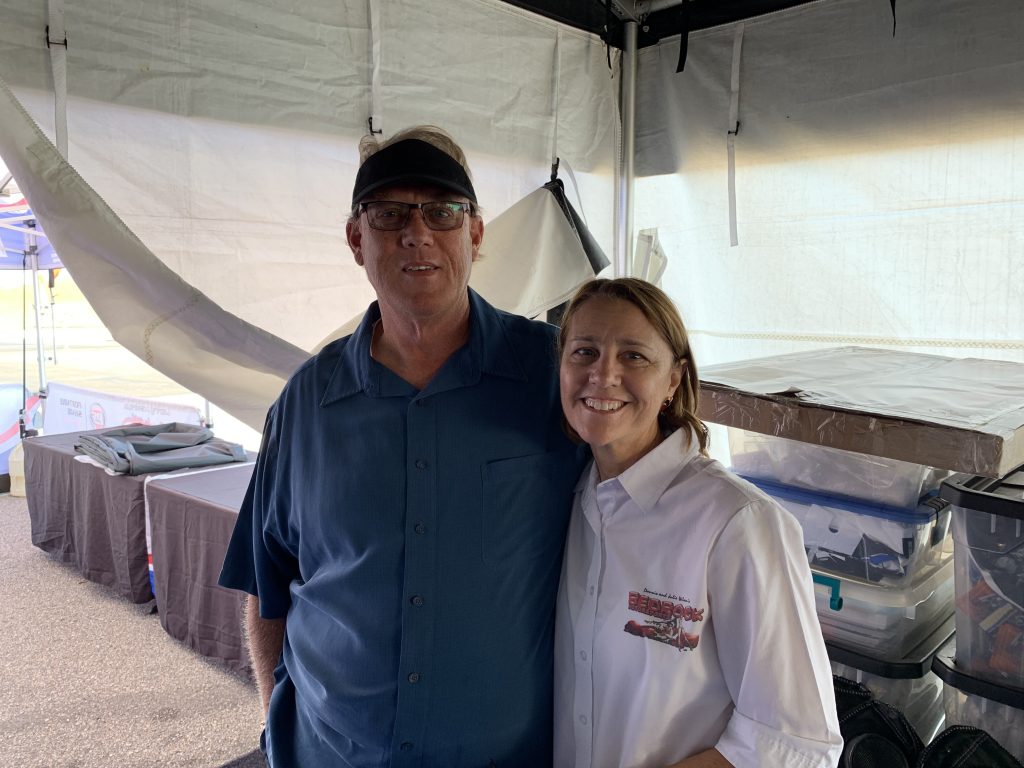 For all the continued support McBride thanked his primary sponsors; Trim-Tex Drywall Products, Pingel Enterprise, Drag Specialties-Parts Unlimited, Final Swipe Merchant Services, Web-Cam, APE, Don and Julie Wilson and Kibblewhite Precision Machining.
Vance & Hines Motorsports, Red Line Synthetic Oil Corporation, Federal Mogul, PR Factory Store, Ferrea Valves, World Wide Bearings, Vanson Leathers, Belt Drives Ltd, Simpson Race Products, Nitrous Express, EK Chain, Arias Pistons, Cometic Gaskets, B&J Transmission, Carolina Cycle, L.A. Sleeve, PJ1, Mickey Thompson Tires, Valco, Goodridge, Carlisle Belts, ProJack, Bullseye Visual, Gates Belts and Don and Julie Wilson.
Larry "Spiderman" McBride DRIVE FOR 20 2019 Schedule
April 5-7 / South Georgia Motor Sports Park
July 12-14 / Dragway 42
September 27-29 / Darlington Dragway
October 26-27 / Rockingham Dragway
November 21-24 / South Georgia Motor Sports Park
Photos courtesy of Gary Rowe, Raceworks.com
There are more videos on the Cycledrag Youtube channel (please subscribe here) and the Cycledrag.com Facebook page (Please like here) and more will be coming soon. Check back daily.