The ManCup MTC Nationals from Rockingham, N.C, Sept. 17-18, could not have gone much better for Top Fuel Motorcycle legend Larry "Spiderman" McBride.
After more than eight years of precise, careful labor on a new, state-of-the-art motorcycle, McBride's "Star" finally reached the winner's circle. McBride scored a 6.20 at 228 mph, "pedal fest" final-round victory over veteran Sam Wills.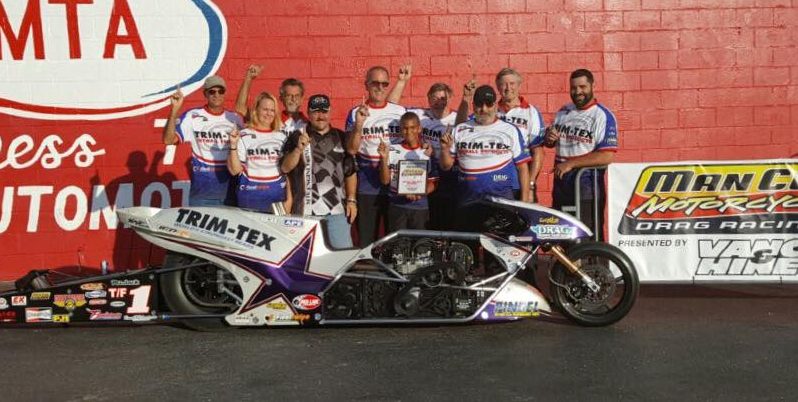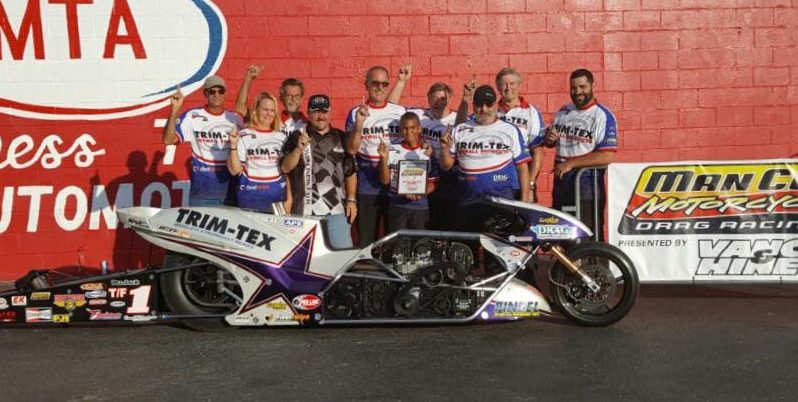 "I can't tell you how happy I am and how thankful I am to everyone who has helped us along the way. It's been a real battle," said McBride, who has fought hard to correct minor gremlins in his machine since debuting it earlier this year. "It was a great weekend and I'm confident we have an awesome motorcycle."
A lot of the help McBride mentioned came from longtime supporter Trim-Tex Drywall Products, who stepped up to be the team's primary sponsor 10 months ago.
"I could not be happier. They are like family and they have been working very hard," Joe Koenig, president of Trim-Tex said.  "It's incredible how many hours they have put into the machine and the program.  It's so nice to see it pay off."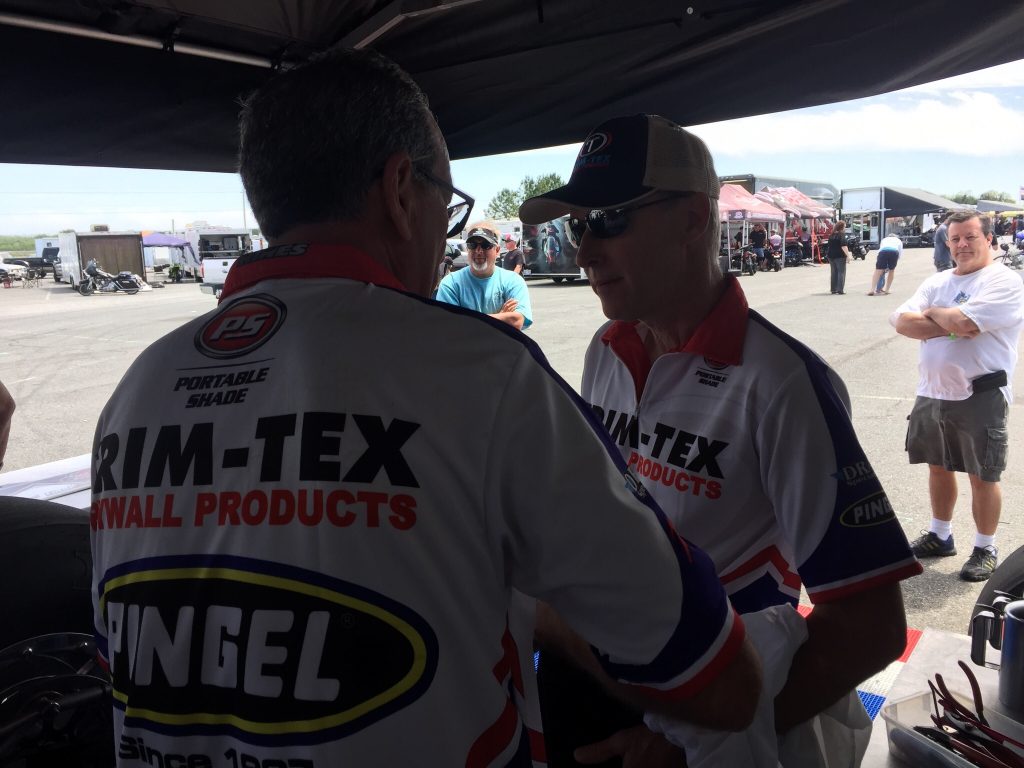 Lately McBride has gotten a little advice and help from an expert in the Top Fuel car world.
"I have to thank Bill Miller at BME big time," McBride said. "He's been a great inspiration."
The much-anticipated win ends a more than-year-long event victory drought for McBride, who last won in August of 2015, also in Rockingham. Since that last win McBride sustained a near-career ending explosion and almost totaled his former motorcycle "Blue." He's been determined to make a comeback all along.
"It's been a very humbling experience. It has not been easy and we have worked very hard. This win was very gratifying," said McBride, who was able to complete the race using just one motor. "We have learned a lot."
The win also inserts McBride right back into the championship picture. He entered the race trailing Wills by 38 points and now is less than a round behind. McBride will ride his championship hopes into the ManCup Finals in Valdosta, Ga. this November.
"It would be awesome to get No. 16. I'm going to give it my best," McBride said.  "I've learned you cannot count points. When you start counting them, that's when you don't get them."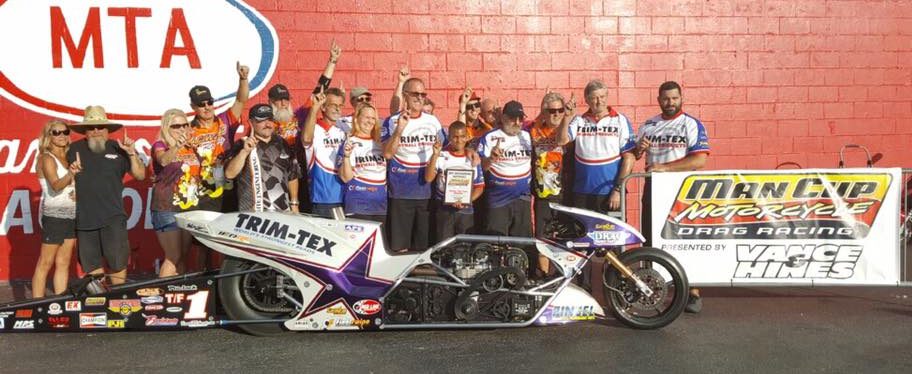 Koenig is equally excited at the prospect of winning a championship.
"The fact that they were able to run on one motor all weekend in hot conditions with a difficult track says a lot. They have killed the gremlin," Koenig said.  "It's going to be a real battle in November."
Next up for McBride will be a match race with Dave Vantine at the IDBL DME Fall Nationals from Maryland International Raceway, Oct. 7-9.
"We might have to go for a new record," said McBride, who holds the national record at 5.76 said. "We have a lot of confidence in this bike right now."
For all their continued support with this new machine, McBride thanked his primary sponsors; Trim-Tex Drywall Products, Pingel Enterprise, Drag Specialties-Parts Unlimited, Red Line Synthetic Oil Corporation and Final Swipe Merchant Services.
Web-Cam, Vance & Hines Motorsports, Federal Mogul, Portable Shade, PR Factory Store, Ferrea Valves, Kibblewhite, Precision Machine, World Wide Bearings, Vanson Leathers, Five Star Powersports, Belt Drives Ltd, Simpson Race Products, Nitrous Express, APE, EK Chain, Arias Pistons, Cometic Gaskets, B&J Transmission, Carolina Cycle, L.A. Sleeve, PJ1, Mickey Thompson Tires, Valco, Goodridge, Carlisle Belts, ProJack, Bullseye Visual and Gates Belts.