It was a ritual the team had practiced hundreds of times that culminated with a unique outcome.
Top Fuel Motorcycle legend Larry "Spiderman" McBride and crew made final adjustments to his record-holding, 1,500-horsepower-plus machine and got mentally prepared for what would be a pivotal final round with major ManCup championship implications at the Fast by Gast Nationals from Dragway 42 in West Salem, Ohio.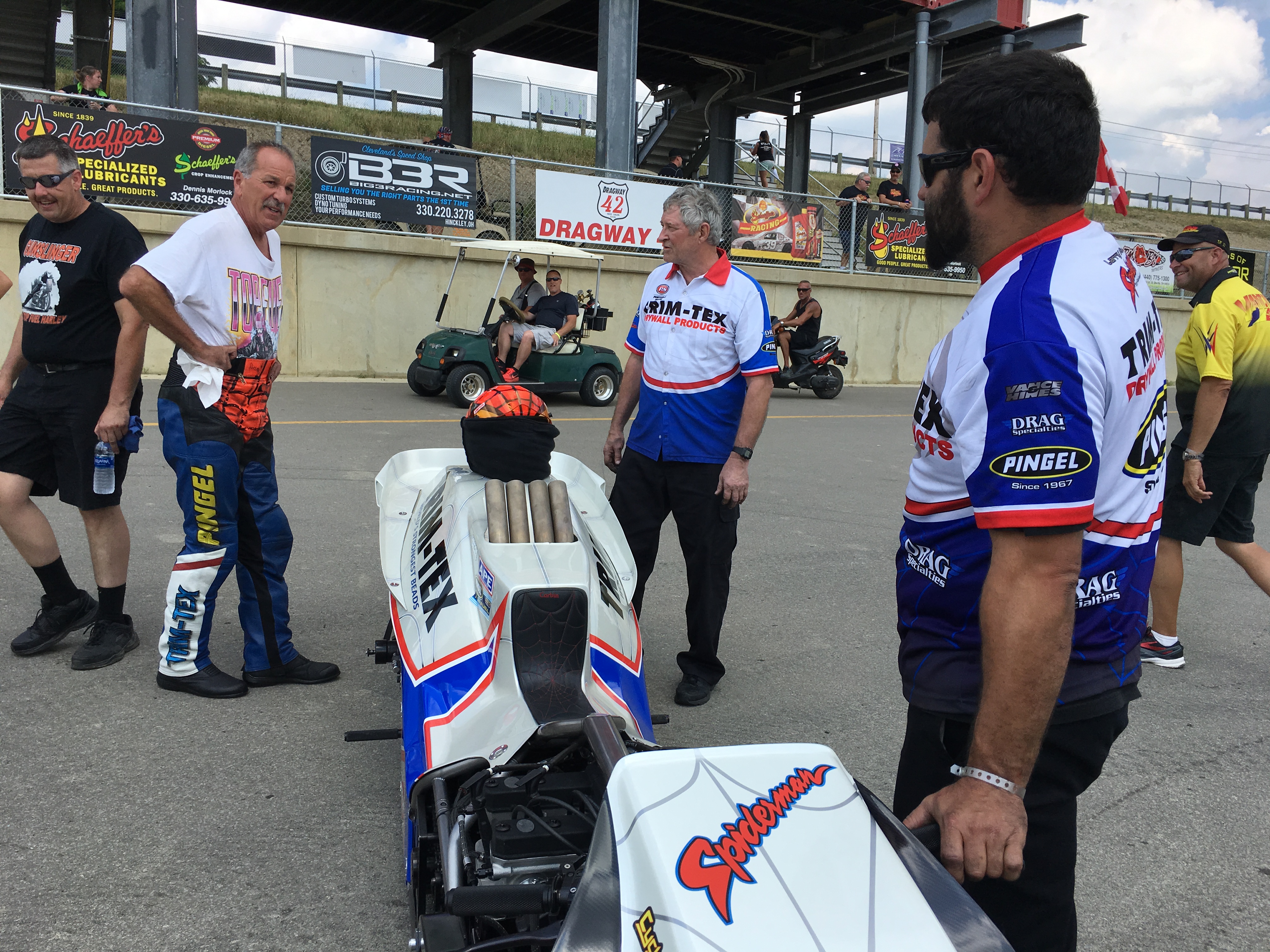 As the Trim-Tex-backed nitro squad began to make its way to the staging lanes a brief evening rain storm moved in on what was an otherwise clear and hot weekend, forcing the postponement of the race.
McBride's impending showdown is against Dave Vantine, the man he trails in the series by 37 points. Both competitors expressed frustration about being ready to race but now having to wait. It's a battle that could decide this season's championship.
"We could see the storm coming but we hoped that it would pass us by," McBride said. "All in all it was a great weekend. I was feeling really good going into the final. I think we could have repeated our 5.80 or even gone faster."
The petite rain cloud that appeared to be no bigger than the racetrack sat atop Dragway 42 for about 10 minutes. The saturation made it impossible for the track crew to dry the asphalt in a reasonable time.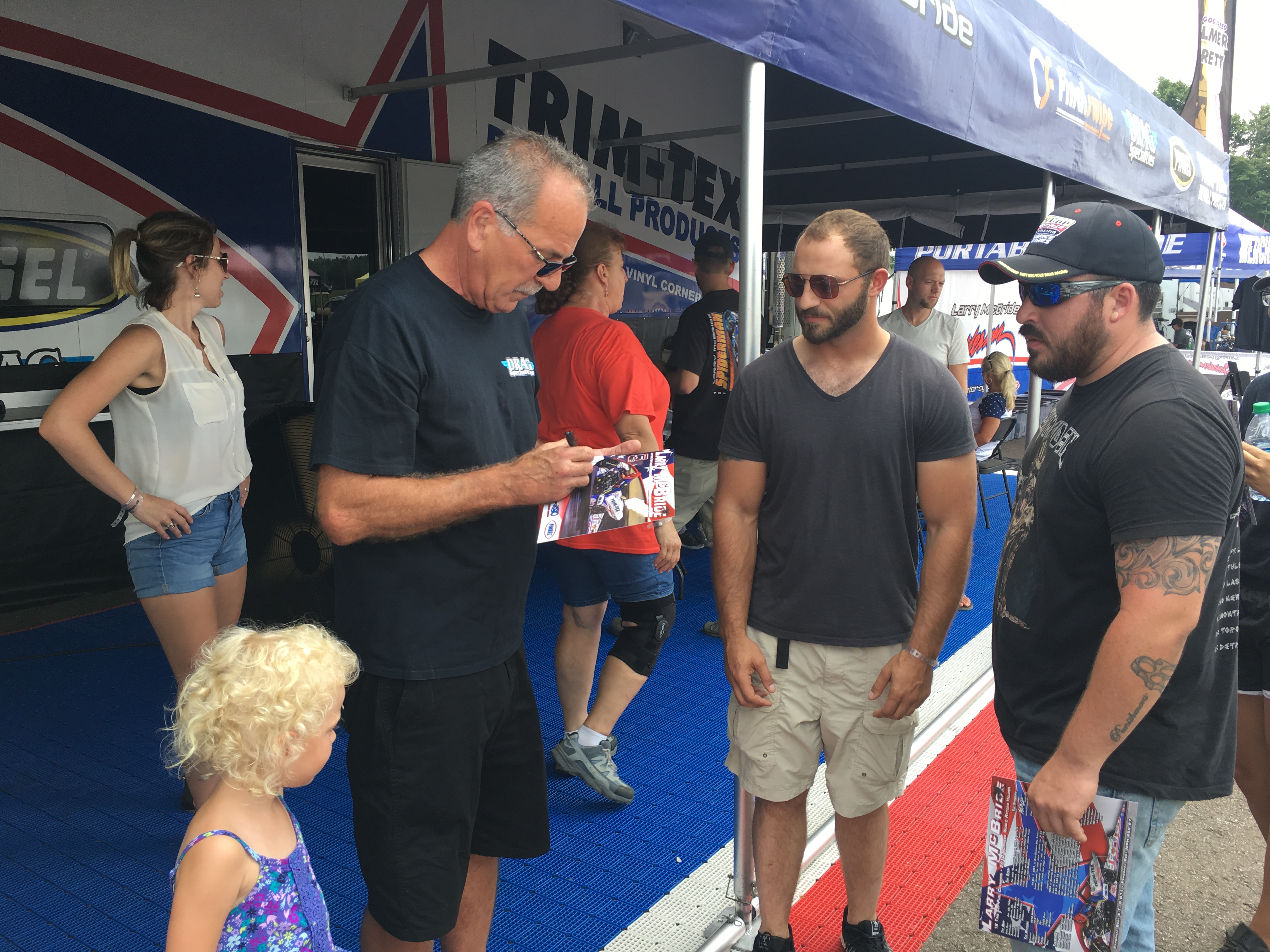 In the run prior, McBride defeated veteran Chris Hand with a 6.12 to a 6.41. With a sizeable lead McBride says he shut off early to try to save his equipment.
"I was hoping to save the engine," said McBride, who made a total of three motor changes throughout the weekend. "When we got back to the pits we found out I hurt a piston during the burnout."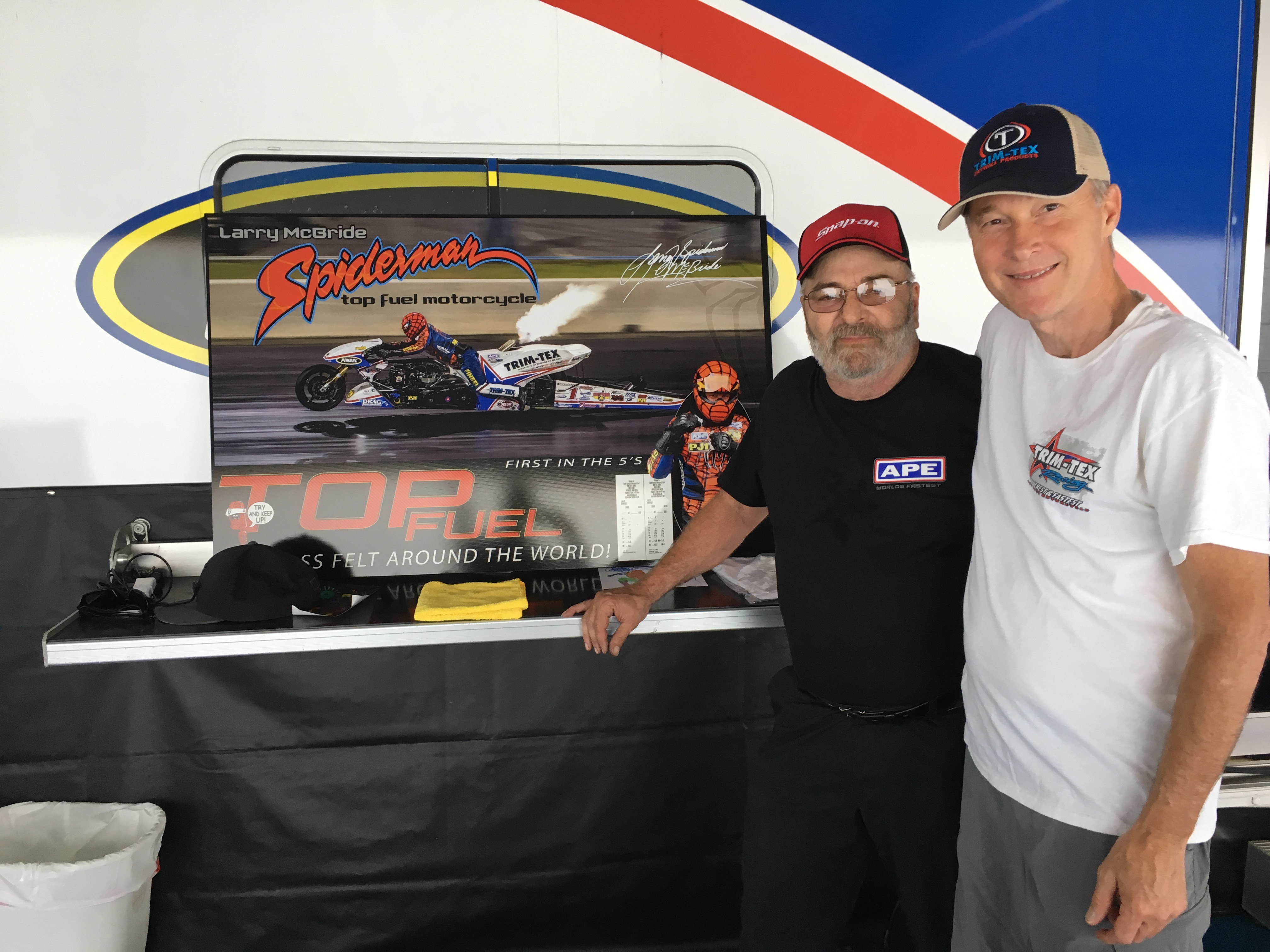 Earlier in the weekend McBride was clicking off the throttle before the finish line for a different reason. McBride says he was only working with .38 of a mile of shutdown room.
"It was nerve-wracking once we got there and measured it. That was the shortest shutdown area I have run on in my career," McBride said.
Often times competitors in the class would drive all the way to the warning cones or even the front edge of the pea gravel sand trap trying to stop.
There was talk of changing the event to a 1,000-foot race.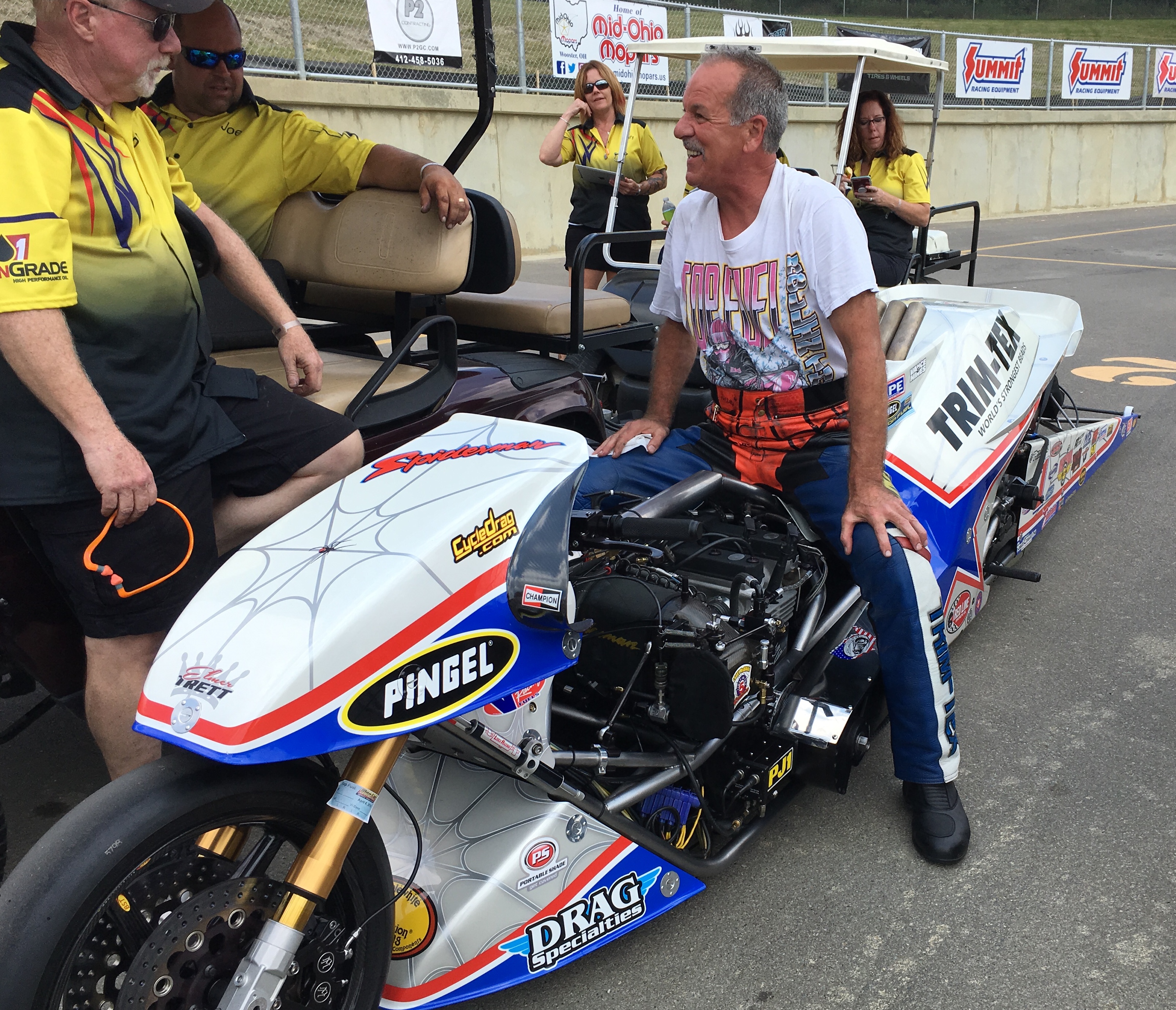 The good news for the class is all of the Top Fuel racers agreed the racing surface and shutdown was exceptionally smooth.
After some cautious, early shut off runs the competitive side of McBride pushed himself to go faster when he saw Vantine run well over 230 mph.
"I said to myself if Dave can go 235 mph, I can go 235 too," McBride said.
The renewed confidence led McBride to impressive high speed blasts of 5.88 at 241 mph to qualify on the pole and a jaw-dropping 5.80 at 252 mph in opening eliminations.
The near record speed on a short track was a testament to the Spiderman's skill and top-notch equipment.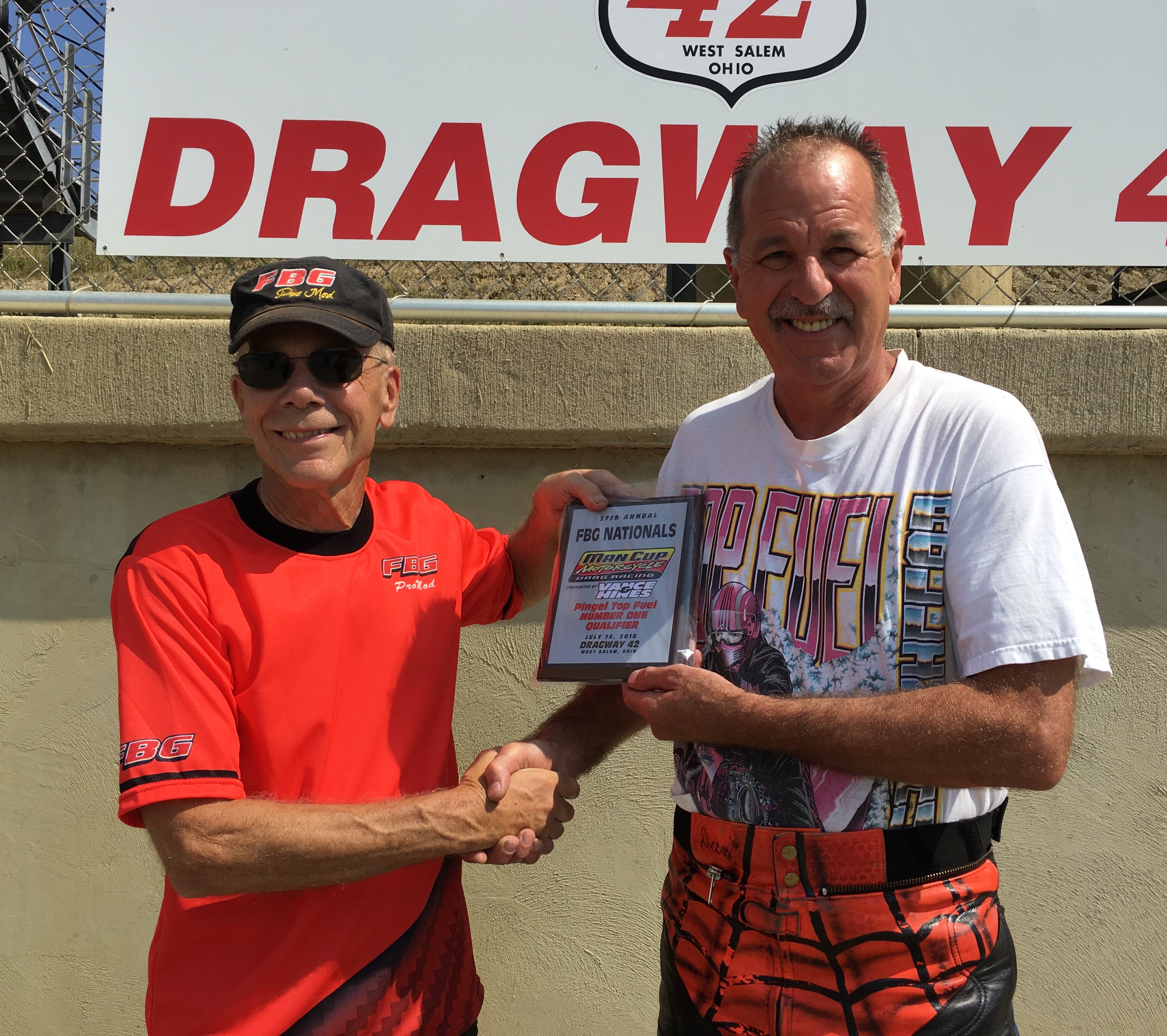 Typically McBride likes to give the motorcycle time to settle down after an ultra fast run before braking.
"I was getting the chute out really early and getting on the brakes hard," McBride said. "The track was so smooth I could do that."
McBride says his new carbon-carbon brake setup helped tremendously.
"I knew the bike would go 250-plus, I just didn't know if we could stop it," McBride said. "There were no issues at all with the new braking system."
McBride and Vantine now wait on official word from ManCup as to whether they will run their postponed final at Galot Motorsports Park in Benson, N.C. Sept. 13-15, or at the World Finals in Valdosta, Ga. Nov. 16-18. With Galot being an eighth-mile event McBride is in favor of running the Dragway 42 final in Valdosta.
"It's difficult because wherever we go it could be a much different situation with drastically different conditions," McBride said. "It was going to be a quarter-mile race so I'd hope to keep it that way."
For all their continued support with this new machine, McBride thanked his primary sponsors; Trim-Tex Drywall Products, Pingel Enterprise, Drag Specialties-Parts Unlimited, Final Swipe Merchant Services, Web-Cam, APE and Kibblewhite Precision Machining.
Vance & Hines Motorsports, Red Line Synthetic Oil Corporation, Federal Mogul, PR Factory Store, Ferrea Valves, World Wide Bearings, Vanson Leathers, Belt Drives Ltd, Simpson Race Products, Nitrous Express, EK Chain, Arias Pistons, Cometic Gaskets, B&J Transmission, Carolina Cycle, L.A. Sleeve, PJ1, Mickey Thompson Tires, Valco, Goodridge, Carlisle Belts, ProJack, Bullseye Visual and Gates Belts.