The dragbike world is still abuzz over Top Fuel Motorcycle racer Dave Vantine's 5.77 final round performance at the ManCup World Finals from Valdosta, Ga. Nov. 13-15.
The stellar run moves Vantine up to No. 3 on the list of the world's quickest Top Fuel dragbike racers, behind No. 1 Peter Svensson (5.70) and No. 2 Larry McBride (5.74).
Vantine, a longtime successful Pro Mod Motorcycle racer, made the transition to one of the world's quickest Nitro racers in just three short years.  Vantine cited the tutoring and guidance he received from 37-year veteran McBride as a big reason for his success.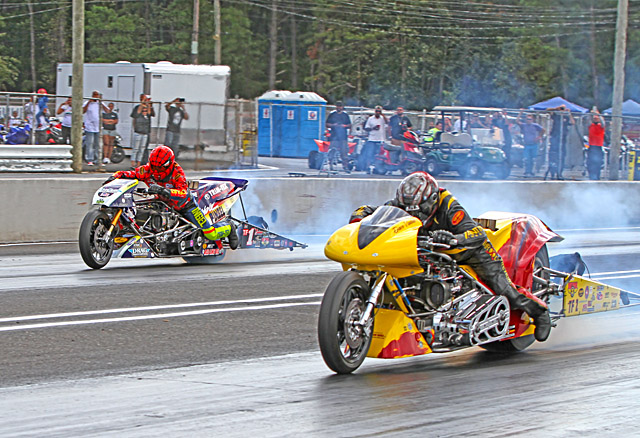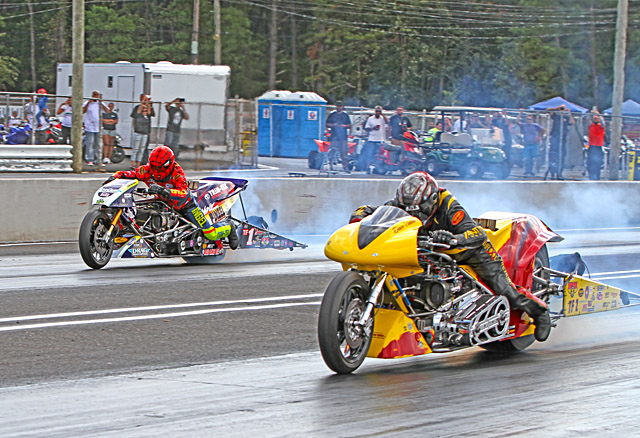 "He's done a fantastic job. He is an excellent rider and he has surrounded himself with great people. I think Greg Pollard  has done a great job as well," McBride said. "They are very dedicated and they work hard. That's what it takes to succeed in this sport."
McBride says the success of Vantine is another sign of the growth and revitalization of the class.
"There are a lot of great Top Fuel Motorcycles out there. This is something the class has needed for a long time," McBride said. "Now we just need to focus on keeping everyone together and out there racing. It's not easy due to the cost it takes to do this."
With more competitors expected to race in 2015,  legend Terry Kizer and Dennis Bradley out of the Sam Wills camp, McBride sees full fields very possible in 2016.
"With a couple quick Top Fuel Harleys this could really be special," McBride said.
It will be special and competitive, even for the 15-time champion McBride. Top Fuel Motorcycle could see unprecedented parity moving forward.
McBride thanked his primary sponsors; Pingel Enterprise, Trim-Tex Drywall Products, Drag Specialties-Parts Unlimited, Red Line Synthetic Oil Corporation and Final Swipe Merchant Services.
Web-Cam, Vance & Hines Motorsports, PR Factory Store, Ferrea Valves, Kibblewhite, Precision Machine, World Wide Bearings, Vanson Leathers, Millennium Technologies, Belt Drives Ltd, Simpson Race Products, Nitrous Express, APE, EK Chain, Arias Pistons, Cometic Gaskets, B&J Transmission, Carolina Cycle, L.A. Sleeve, PJ1, Mickey Thompson Tires, Valco, Goodridge, Carlisle Belts and Gates Belts.