The excitement continues to build for the upcoming IDBL DME Fall Nationals from Maryland International Raceway, Oct. 6-8, where world records could fall.
Top Fuel Motorcycle fans were treated to a show for the ages at the IDBL Bike Fest at Maryland International Raceway, July 28-30.
In his more than four decades of racing, legendary Top Fuel competitor Larry "Spiderman" McBride has never produced a quicker or more consistent weekend. In total, the Spiderman laid down three runs in the 5.70-zone and one in the 5.80s, including his career best of 5.74.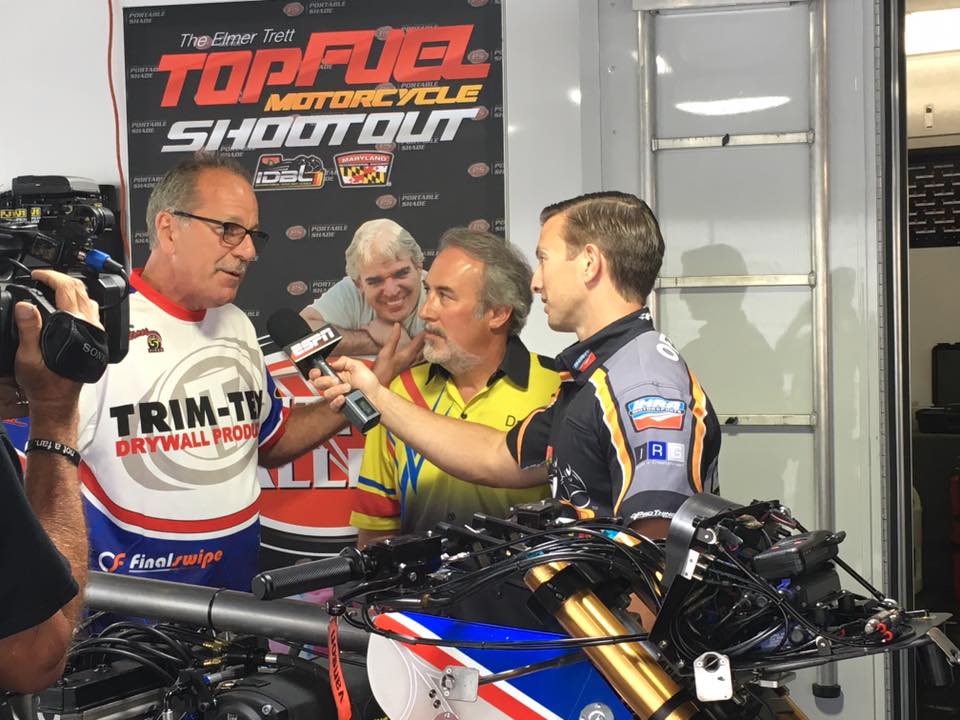 Fans who stuck around and endured a day-long rain delay Saturday, July 29th were rewarded handsomely in the evening. McBride and talented rival Dave Vantine blasted down a freshly-prepped MDIR racetrack and posted a sensational side-by-side five second run – only the second time the feat has ever been accomplished. McBride and Vantine are the only two to have run a side-by-side five, with the first coming in 2014.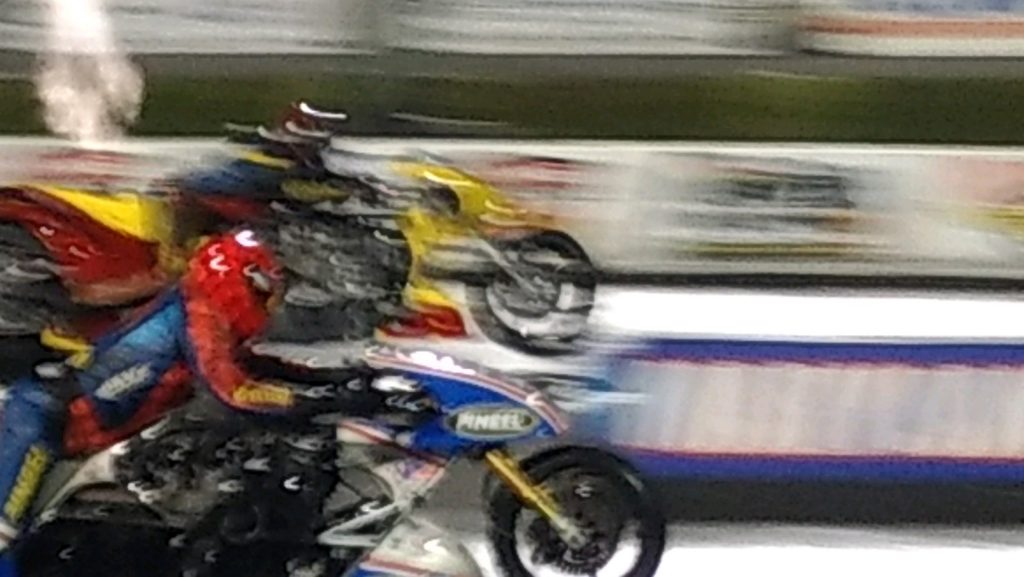 It has the 16-time champion and his talented colleague looking forward to what they could potentially accomplish at their next stop at Maryland International Raceway, Oct. 6-8. The annual race usually brings record-setting weather to the already record-smashing dragstrip.
"We are very excited," McBride said. "To get the world record back has always been a goal of mine. I know it won't be easy. We know we will have a great track for it."
Vantine is equally enthusiastic.
"I think side-by-side 5.70s are a real possibility," Vantine said. "There is no reason we can't do it. We both also want to see the world record come back to the United States."
McBride's 5.74 represented the quickest run in the nation and the second quickest run of all-time, behind Sweeden-based racer Peter Svennson's 5.70.
Vantine crossed the stripe with an impressive and near-career best of 5.81. Astoundingly it was the first run of the weekend for both competitors, with no prior testing.
It was also the quickest run of McBride's long career, which started in the dirt on a Suzuki T500 1975 more than 40 years ago. Watch what the pass means to McBride's crew and colleagues in the post run celebration in this video that has been viewed more than 700,000 times on the Cycledrag.com Facebook page.
"I love nitro gods," McBride laughed when reflecting on the record pass. "It was a clean run. The thing went a 1.95 back half, which is our best by a long a shot. That is four hundredths better than it's ever been."
McBride did not even plan to make a full pass. He said it felt too good to lift and the thrill of beating Vanitne to the finish line was something the competitive veteran could not avoid.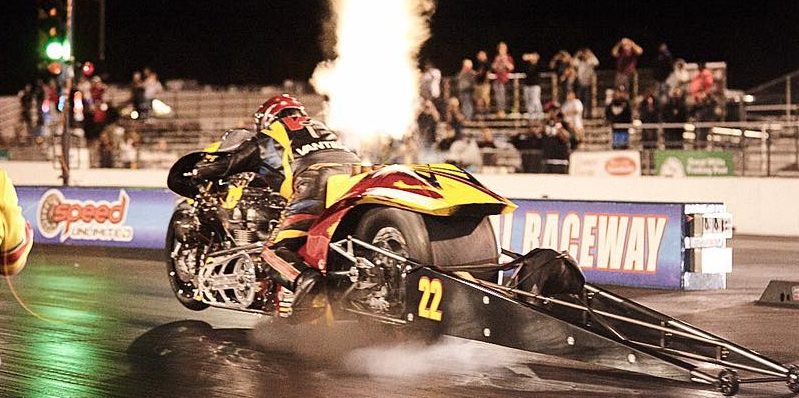 "I'm not going to let him beat me," smiled McBride. " I knew it was a good run but I had no idea it would be that quick. We just went up there with the setup we had in Galot (ManCup race two weeks prior) just to see what it would do."
Vantine says he could not have been prouder of his mentor and coach.
"For Larry to run a career best is amazing," Vaninte said. "For him to do it on his new motorcycle is something that means a lot to both of us."
McBride was equally excited for Vantine's team.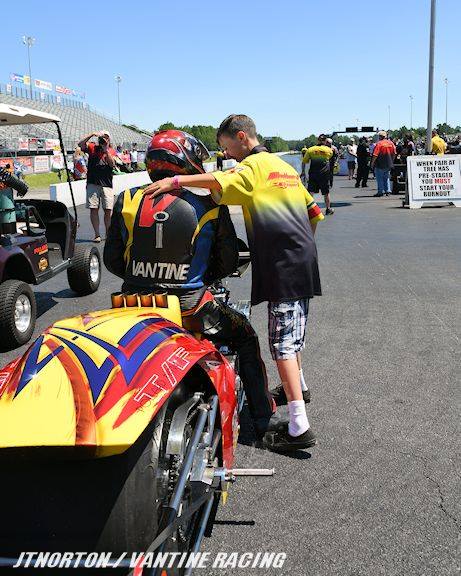 "I'm really proud of them," McBride said. "We work together and we share information. It works out and it shows."
The 5.741 surpasses McBride's previous best of 5.746 on his former motorcycle "Blue" from 2010.
"It's hard to put it into words how much this means," said McBride, who nearly ended his career in a fiery explosion in 2015.
McBride attributed the performance to hard work by his team and help from sponsors and Top Fuel expert Bill Miller.
"All the new fuel system stuff is coming together," McBride said.
Giving fans even more optimism for the Oct. 6-8 race at Maryland International Raceway, McBride says the 5.74 was not a flawless run.
"We damaged the motor early. Three seconds into the run it started hurting itself," McBride said. "When I shut it off you could see a big puff of smoke. It took the No. 1 piston out."
After the record-breaking 5.74, McBride capped off the weekend with the most consistently quick performance of his career with Sunday runs of 5.785, 5.782 and 5.836
"As far as I know, no one has ever run three 5.70s back-to-back-to-back," McBride said. "It says a lot about the team and everyone involved. To do it with this new motorcycle in only the second year means so much. I'm extremely happy."
McBride got to do it all in front of hundreds of friends and family, including primary sponsor Joe Koenig of Trim-Tex and his old pal Paul Teutul Sr. from Orange County Choppers.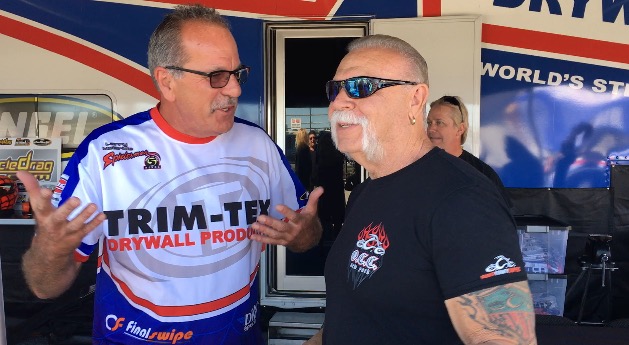 Perhaps no one was more excited than McBride's crew chief and brother Steve. After each run Steve entertained the crowd and expressed his satisfaction with several wall climbs and fist pumps. McBride loves seeing his brother adrenalized.
"I think it's pretty awesome. That's part of the show," McBride said. "Andy Sawyer from DME told me he loves it. He never knows if Steve is going to climb the wall or slam dunk his headset."
McBride praised his crew, including Roland and Chuck Stuart for all the hard work.
"I'm more happy for those guys than anyone. They work so hard," McBride said. "A lot of guys come back the next morning and fix their motorcycle. My guys don't go to bed until the motorcycle is fixed."
McBride has always talked about wanting to make a run in the 5.60-zone. With his 5.74 only four-hundredths away, the possibility seems even more plausible.
"Four hundredths is a mile but it's definitely possible," McBride said. "We know that last few hundredths will not come easy, but we will give it everything we got."
Spiderman fans hope to see the much-anticipated number flash on the Maryland International Raceway scoreboard, Oct. 6-8.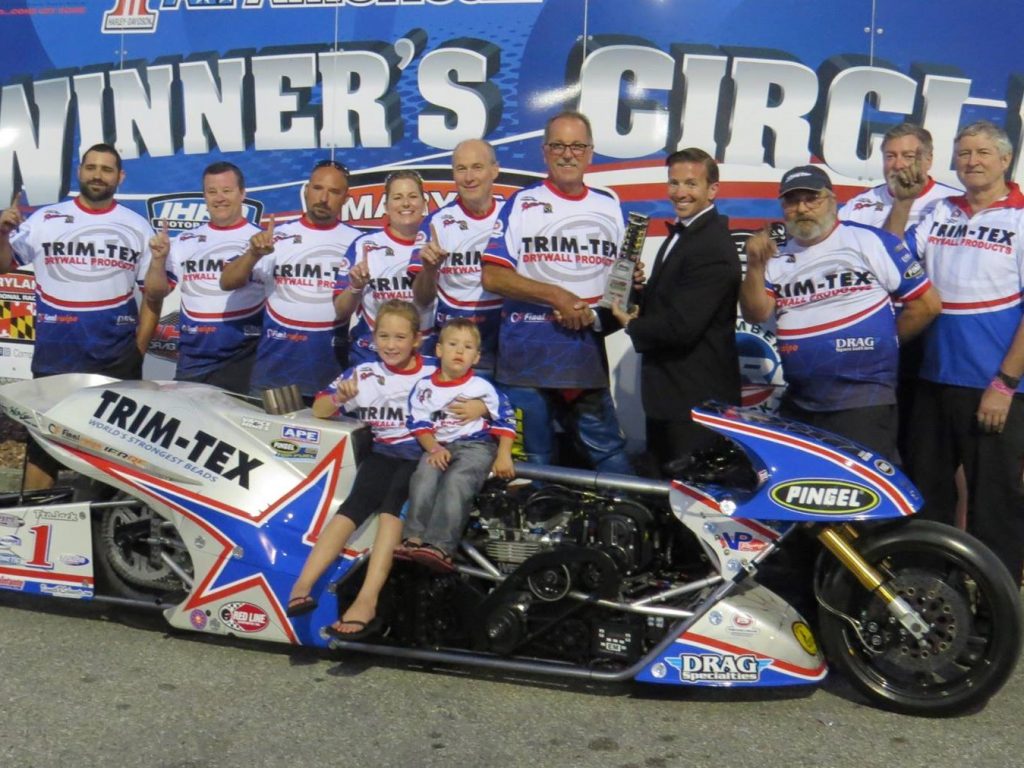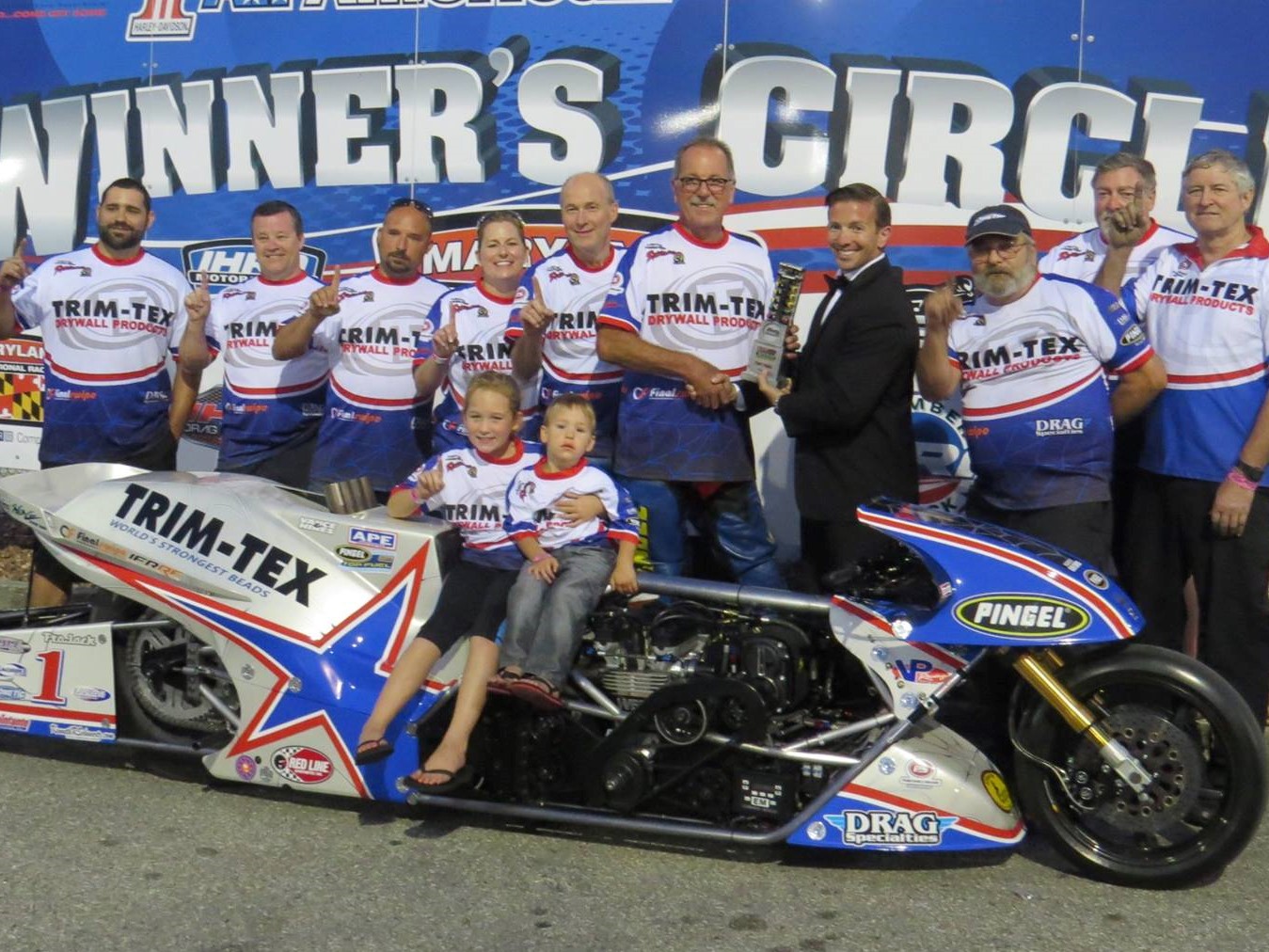 "Conditions are going to be even better," McBride said. "We are going to make more power, but we have to control that power. Good weather always makes it easier to make the power but it's up to us to control it."
McBride says it will be another fierce battle between Team McBride and Team Vantine.

"I'll give him one thing," McBride said with a smile. "I'll give him the other lane."
Adding to the excitement, McBride was called out for a special Saturday night grudge race against Trim-Tex Nitro Harley points leader Peter Geiss.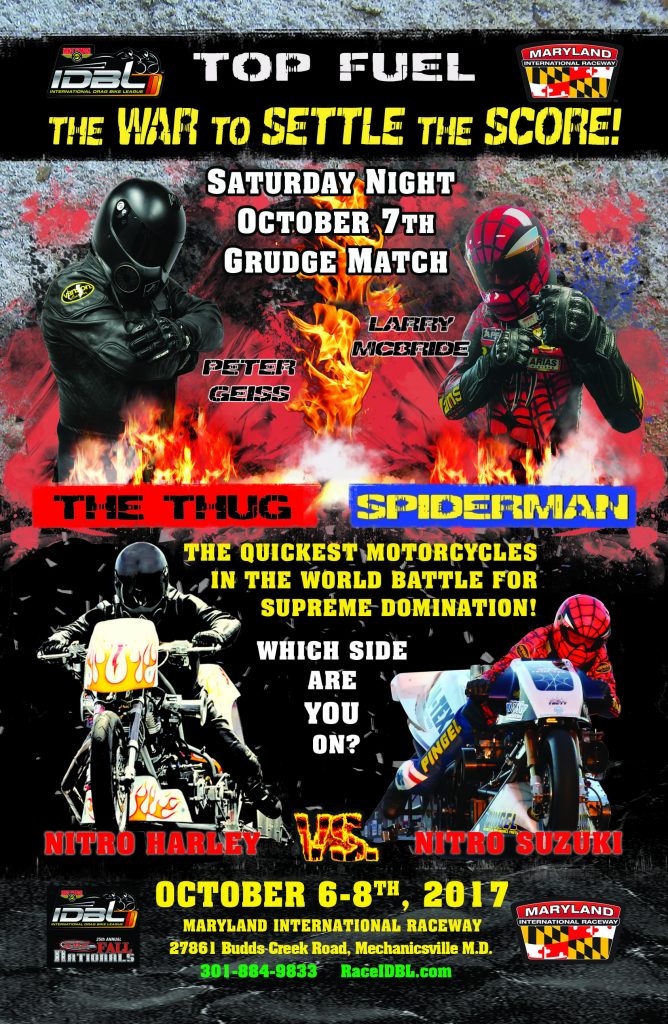 "It will be a lot of fun," McBride said. "Please come up and join us."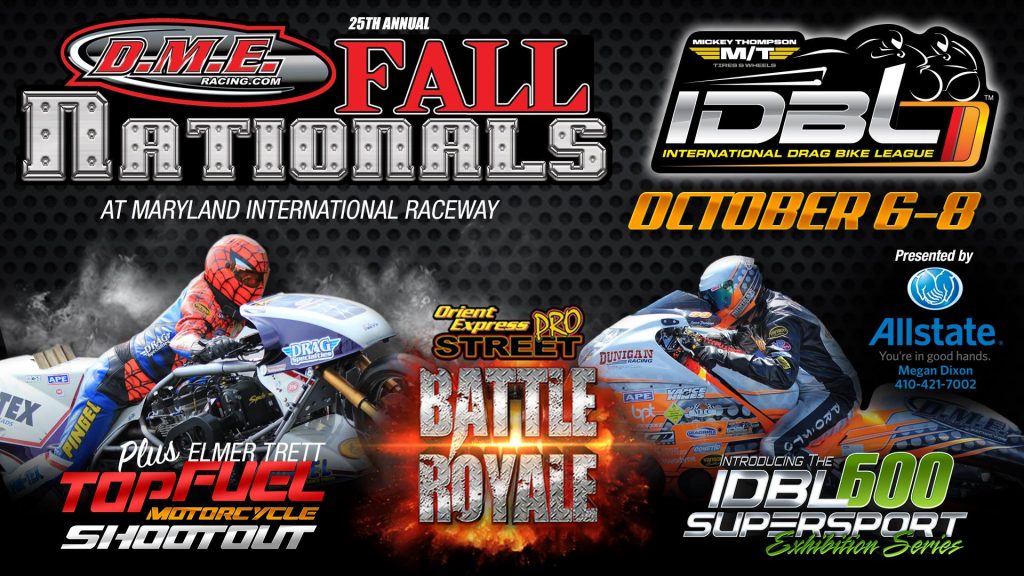 Larry "Spiderman" McBride 2017 Tour
MANCUP Spring Cup, Maryland International Raceway, Valdosta, Ga. April 7-9 – Winner
MANCUP HTP Performance Nationals, Memphis International Raceway, Memphis, Tenn. June 3-4 – Rainout
MANCUP MTC Nationals, Galot Motorsports Park, South Dunn, N.C. July 15-16 – Runner Up
IDBL WPGC Bike Fest, Maryland International Raceway, Budds Creek, Md. July 28-30 – Winner, 5.74 record
MANCUP Rock, Rockingham Dragway, Rockingham N.C. Sept. 23-24
IDBL DME Fall Nationals, Maryland International Raceway, Budds Creek, Md. Oct. 6-8
MANCUP World Finals, South Georgia Motorsports Park, Valdosta, Ga. Nov. 17-19
For all their continued support with this new machine, McBride thanked his primary sponsors; Trim-Tex Drywall Products, Pingel Enterprise, Drag Specialties-Parts Unlimited, Final Swipe Merchant Services, Web-Cam, APE and Kibblewhite – Precision Machine.
Vance & Hines Motorsports, Red Line Synthetic Oil Corporation, Federal Mogul, Portable Shade, PR Factory Store, Ferrea Valves, World Wide Bearings, Vanson Leathers, Five Star Powersports, Belt Drives Ltd, Simpson Race Products, Nitrous Express, APE, EK Chain, Arias Pistons, Cometic Gaskets, B&J Transmission, Carolina Cycle, L.A. Sleeve, PJ1, Mickey Thompson Tires, Valco, Goodridge, Carlisle Belts, ProJack, Bullseye Visual and Gates Belts.