Although fans and the media will likely talk about the starting line kerfuffle between Lucas Oil Racing TV pro rider Hector Arana Jr. and semifinal foe LE Tonglet, the composed 28-year-old will maintain his laser focus on what matters the most — winning the 2017 Mello Yello Pro Stock Motorcycle championship.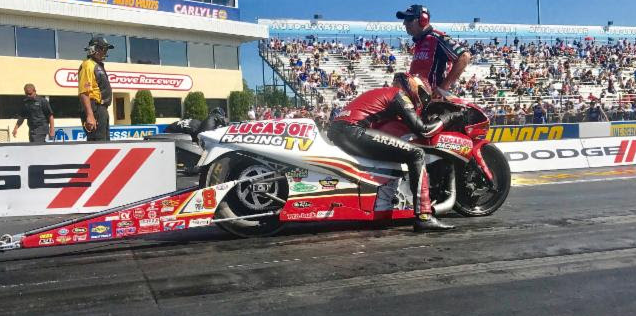 After comfortably dispatching Charlie Sullivan (6.889 to 7.044) and Karen Stoffer (6.922 to 6.993) in the first two rounds of elimination action at
Sunday's
33rd annual Dodge NHRA Nationals, Arana, and more specifically his father and crew, felt they had to fend off some unsportsmanlike conduct from Tonglet's team owner, reigning champ Jerry Savoie, and his team. But Arana shrugged it all off and remained on task.
"We went to the semis again and stayed in third place in the points so we're still right in the mix with four races to go," Arana said. "It's vitally important to keep going further than the second round every race. We've been doing that pretty much every time out this year so now we need to work on finishing the deal and getting some wins down the stretch."
"We are right there. We have a good fast bike and I guess that's why people are playing games. I would like to tighten up my reaction times a little bit. I'll have Nicole (wife) come down to the basement with me and we can race the practice tree a million times. Her being there always makes me focus extra hard."
As for the shenanigans on the starting line versus Tonglet, Arana was quick to point out he did nothing wrong or illegal. In fact, it was Tonglet who provoked the squabble by "double-bulbing" Arana, a legal but controversial tactic usually employed by lesser opponents trying to upset a much better rider.
"I was just inching up to the tree, about to roll into the pre-stage beam, and for whatever reason he double bulbed me," Arana said. "I decided to sit there and compose myself before I advanced any further forward. It was nothing.
"I sat there for a few extra moments because I like to be ready to let the clutch loose even before I pre-stage, so I got ready and figured out what I was going to do before rolling in. Unfortunately, he still got me off the tree but that's racing. What I heard later about Jerry going crazy at my dad and the words exchanged at the starting line after we left was unfortunate. It wouldn't have mattered anyway because my bike went into neutral during the run. That had never happened before so we'll fix it and move on."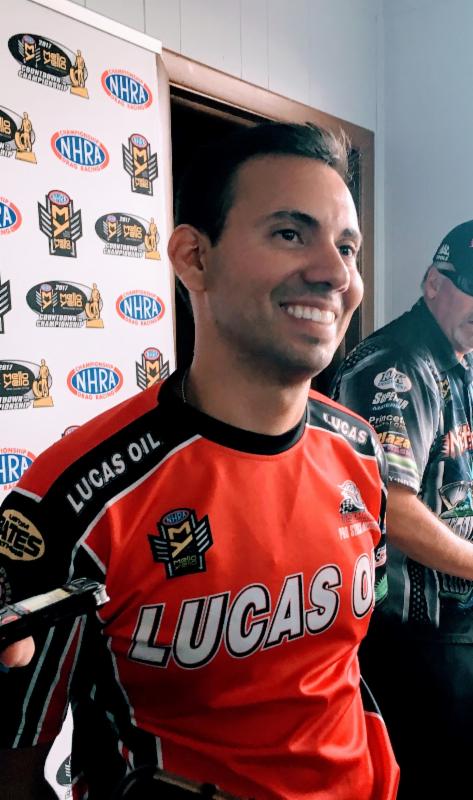 The final numbers had Tonglet winning with a beatable 6.945 at 194.44 mph to Arana's 7.104 at 183.54 mph.
The Pro Stock Motorcycle class next assembles
in five days
at the sixth annual AAA Insurance NHRA Midwest Nationals at Gateway International Raceway, the third of six races in this year's Countdown to the Championship playoffs.