After a strong off-season of testing, Pro Stock Motorcycle champion Jerry Savoie hit Florida's Gainesville Raceway hot with a 6.75 at 198.99 mph for number one qualifier at the 48th annual Amalie Motor Oil NHRA Gatornationals.
Savoie's new White Alligator Racing teammate LE Tonglet was actually quicker than Savoie on Friday, checking in at third in the qualifying order aboard his Nitrofish Suzuki before finishing in sixth with a 6.81 on Saturday.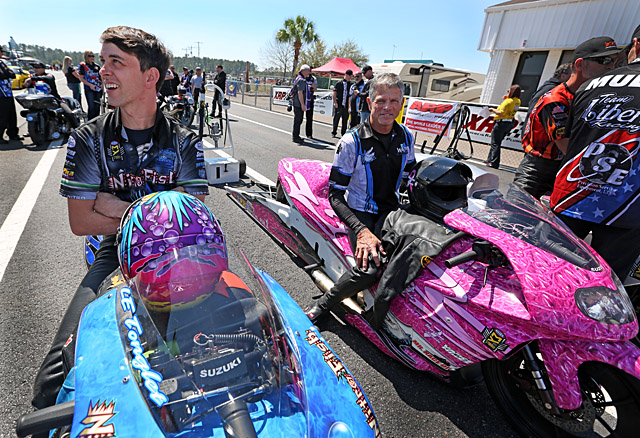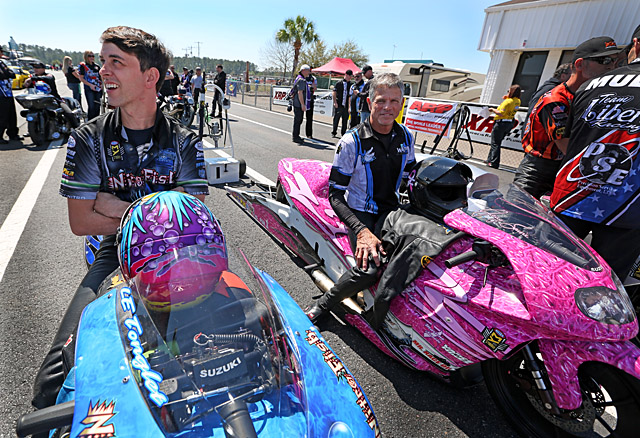 Qualifying might have been the highlight of the weekend for the WAR team, however, as both riders went out in round two of eliminations.
Savoie took full responsibility for his early loss. "Just a lack of focus, that's all that is," Savoie said about his admittedly bad light against Steve Johnson. A recipient of two neck surgeries, Savoie was struggling all weekend with neck and shoulder pain. "That was bothering me and I was just late. It is what it is. You beat yourself up a little bit, go to the next one and try to do better."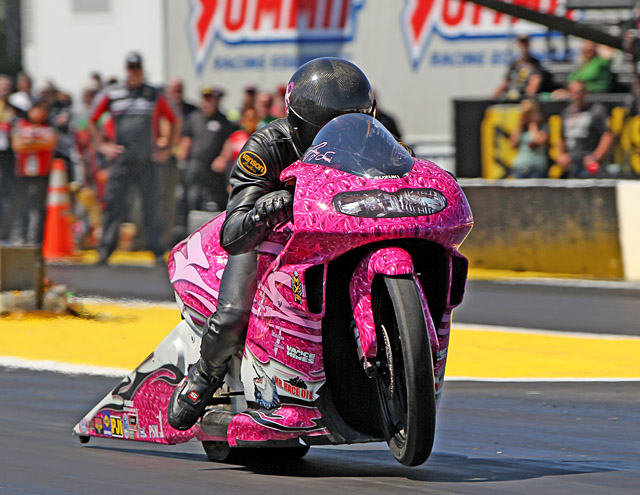 Tonglet's bike fell victim to a clutch problem that surfaced in the final round of qualifying and slowed his reaction time against Joey Gladstone on raceday.
"It's a disappointing thing," said WAR tuner Tim Kulungian. "It's not what I expected to happen. With LE's bike, we struggled this weekend to get a clutch to work, and it really threw us a curveball in the third round of qualifying. We had great results in testing, and OK results in the first two rounds. We started making some changes to the engine and the clutch did something very unexpected. When you put a lot of heat in these clutches, it changes them.
"We tried to do what we could to bring it back to life for the fourth round of qualifying and made a lot of changes to the lock-up, and then it slipped even worse.
"So Saturday night we took the engine out of the motorcycle, the transmission—we evaluated everything that had to do with the drivetrain. Is there something broke that's making the clutch do this? We couldn't find anything.
"So we put a whole new clutch pack in for the first round of eliminations, which in Pro Stock Motorcycles, that's an unknown. We made changes again to the lock-up with weights and static pressures and things that I thought were gonna be a really good starting point. We thought we'd run a decent number the first round of eliminations, and we did.
"The challenge with the style of clutch we use is it tends to slip a lot on the starting line, and it makes for a slower reacting motorcycle. So for someone who's making decisions, I always have to be very mindful of that—how much are the changes I'm making in the motorcycle gonna affect the motorcycle and the reaction time of the driver. Out of the two styles of clutches that I would select, this is one that performs great going down the racetrack but it can alter the driver's reaction time. Not only is the driver's reaction time compromised, but the 60 foot, the 330, and definitely the eighth mile. You look at the 4.35 eighth mile LE went in E2, and compare that with his eighth miles in Q1 (4.33) and Q4 (4.38) and the only thing different is a clutch that's working better—not properly, not how we'd like it to work, but better. There were no engine configuration changes there—we feel like we were making decent power.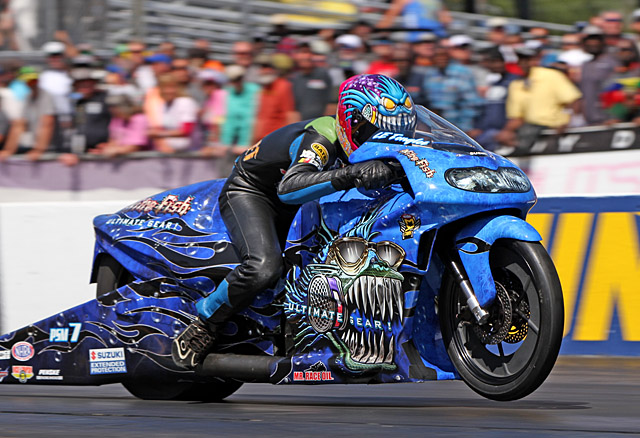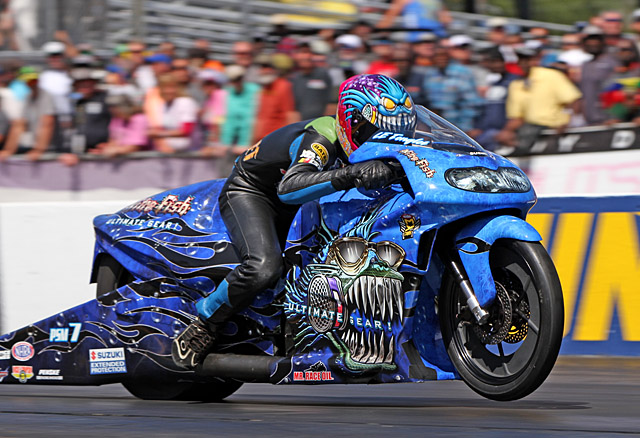 "So in LE's case, I believe it definitely had a role in slowing the motorcycle down when he let go of the clutch."
After collecting wins and last year's championship, 58 year-old alligator farmer Savoie said this would be a year without pressure, one devoted to "fun and family." But with one disappointing raceday under his belt, you can already feel Savoie's competitive blood begin to boil. "You still wanna win," he said. "We'll go on to the next one and knock 'em down one by one. We've never run this well in qualifying at Gainesville, so that's a plus we can take from this one and apply it to Charlotte."
"This racetrack has always been a challenging environment for me," Kulungian agreed about Gainesville. "This race showed that we've really taken a step in the right direction strengthening this part of our team during this part of the year, and that's what I think well-rounded teams are able to accomplish.
"These numbers that Jerry and LE went this weekend, these are very respectable numbers, and this is the first national event that LE's bike has ever competed in. So overall, I think we're off to a good start for 2017, with plenty left to work on."
"When we get it together, when we get LE's clutch sorted out, we should be a force to be reckoned with," finished Savoie.
Watch this interview with Savoie, Kulungian and Tonglet:
Jerry Savoie thanks everyone at Vance & Hines http://vanceandhines.com , PJ1 http://pj1.com/ , Mr. Race Oil http://www.mrraceoil.com/ , Motec http://www.motec.com/ , Denso Spark Plugs http://densoautoparts.com/ , Kenny Koretsky and Nitrofish https://nitrofish.com , tuner Tim Kulungian, crewmen Jeremy Deroche, Steve Zelem, and Chris Parker, his whole family, and the staff of Savoie Alligator Farm.