Throughout the history of motorcycle drag racing, there have been a fair number of riders with names that reverberate with the thrill, excitement, and spine-tingling drama one would expect to find in such a power-hungry category, from the Sportsman level all the way up to the most perilous nitro-fueled bikes.
Names like the legendary Frog Thacker, "The Michigan Madman" E.J. Potter, Larry "Spiderman" McBride, John "Pizza Man" Mafaro, Tracy "The Bad Apple" Kile, just to name a few. Then we have Alvin Kobernusz.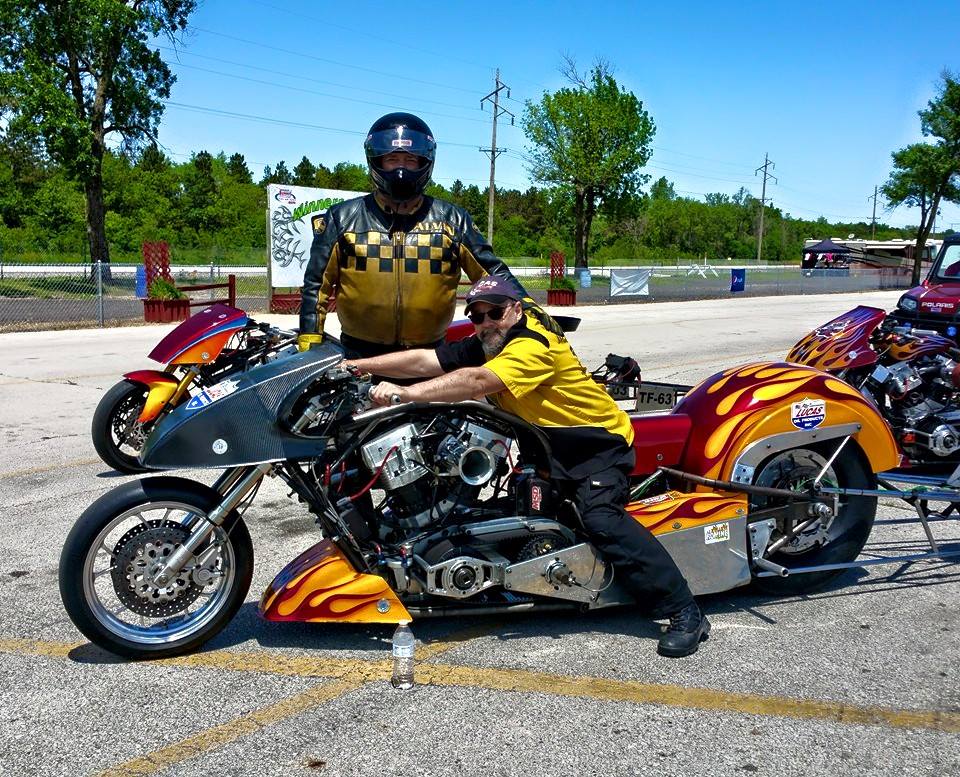 The age old question, "What's in a name?" really does apply here. Alvin's somewhat quaint appellation belies the fact that when he's not tending to his commercial grain farm in Manly, Iowa (Now THERE's a fitting name) that specializes in corn and soybeans, he's spending many a weekend astride his Nitro Harley-Davidson in the IHRA Nitro Jam Drag Racing Series—traveling the quarter-mile at elapsed times in the 6-second range at well over 200 miles-per-hour.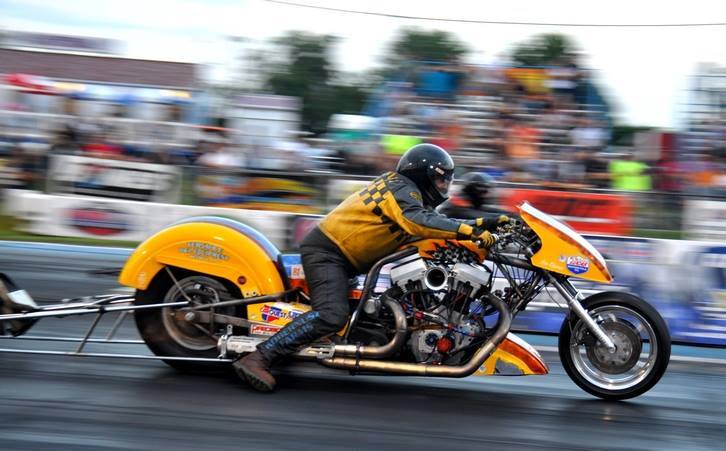 At an age when most men of his vintage are ready to slow down and coast into retirement, Kobernusz reflects the energy and vitality of someone half his years. His eyes especially light up when asked what it's like to wrestle a 1000-pound/1000-horsepower, two-wheeled she-devil down the dragstrip. "The feeling is indescribable," says Kobernusz while preparing to qualify for the recent IHRA Nitro Jam Summer Nationals in Cordova, IL, not far from Alvin's Iowa farm.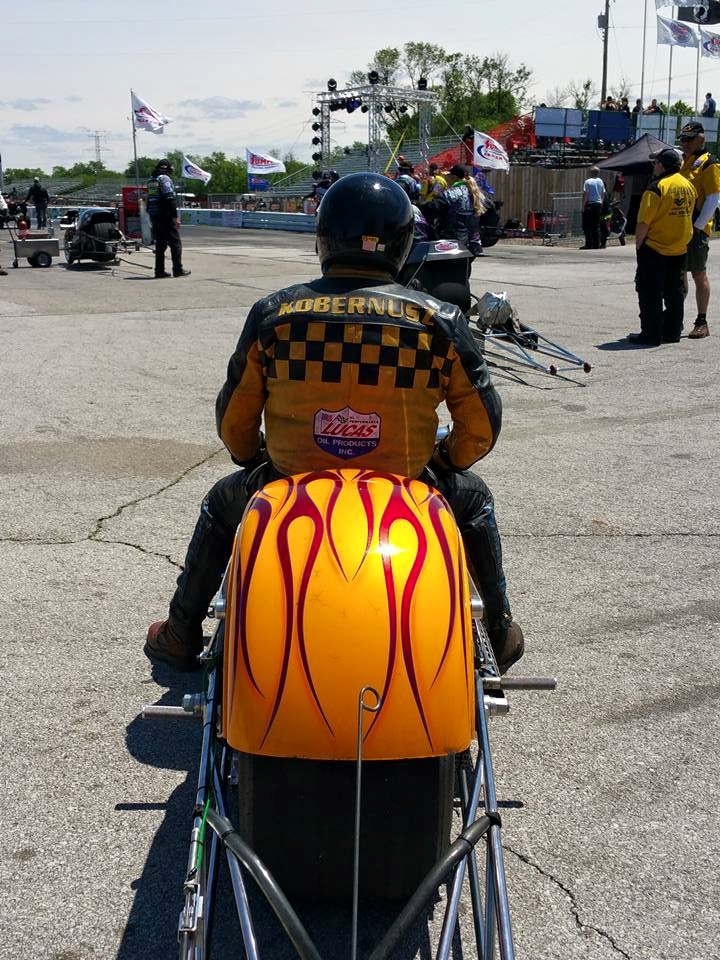 "I've been out here doing this for ten years and I'm still working at keeping the throttle open completely when the bike wants to throw you off the back. The throttle travel is only a quarter-turn of the grip and if you don't stay wide open for the entire run, you kill your elapsed time."
Most motorcycle racers who compete on Nitro Harleys have raced on less demonic machines earlier in their careers and worked their way up to the big iron. Not Kobernusz. "The first time I saw and heard a Nitro Harley, I wanted to ride one," Kobernusz said. "I never raced another class of bike. As soon as I could buy one and get on board of one, I did. And I've been on them ever since."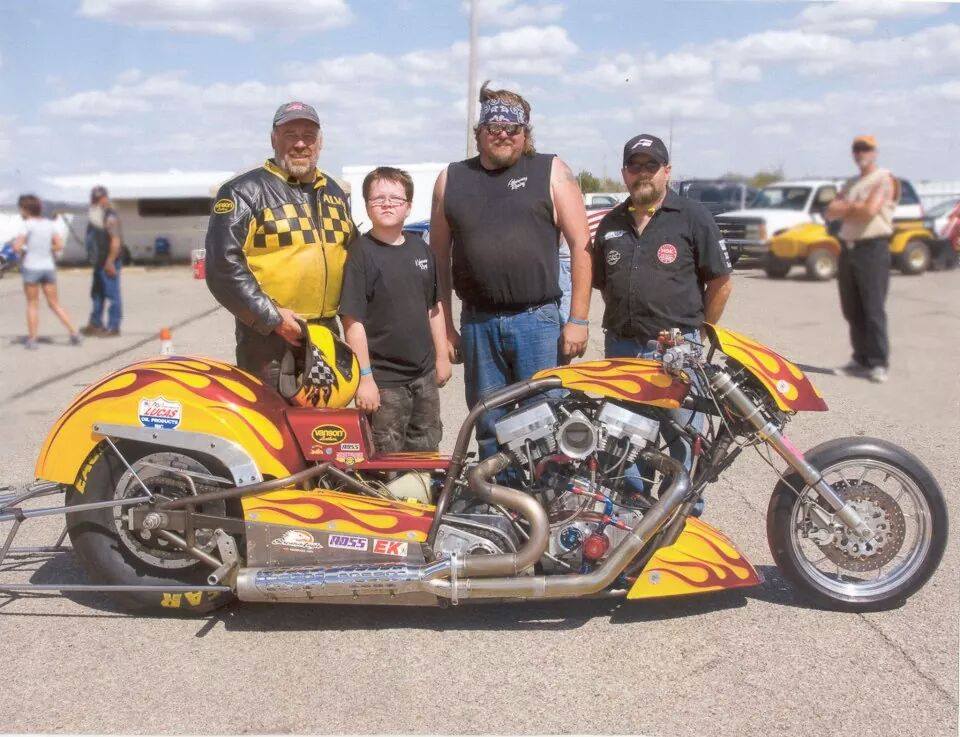 Kobernusz's bright yellow machine wears the logo of Romine Racing, which frequently leads to people asking if he's associated with longtime IHRA/NHRA Top Fuel and Funny Car veteran, Paul Romine.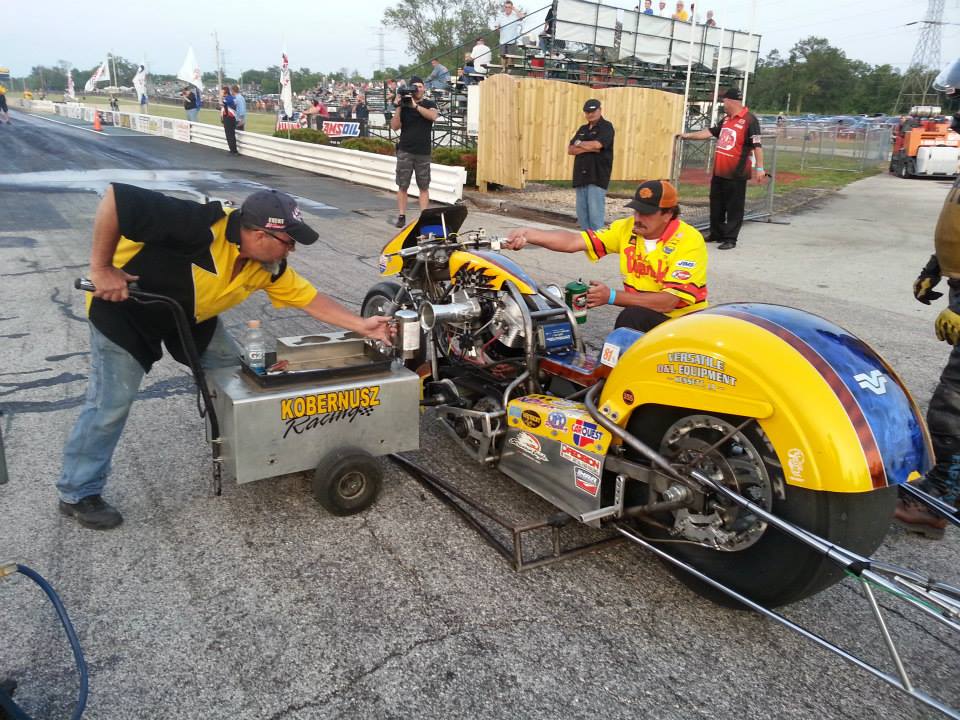 "No, it's not him," says Kobernusz. "It's Mike Romine, one of the real experts in Nitro Harley racing. He's the man who helped get me started in the sport and he's still a guy I give all the credit to."
In case you're not that familiar with the Nitro Harley class, these remarkable machines are brilliantly engineered, adopting downsized versions of much of the technology you'll find in Top Fuel cars with close to 10,000 horsepower. Running as much as 98% nitro methane and sending all the power through two-speed gearboxes shifted by pre-set timers married to multi-disc clutches, the typical Nitro Harley travels the first 1000 feet of the dragstrip on the rear tire with the front wheel basically for display purposes only until it eventually regains contact with the track surface.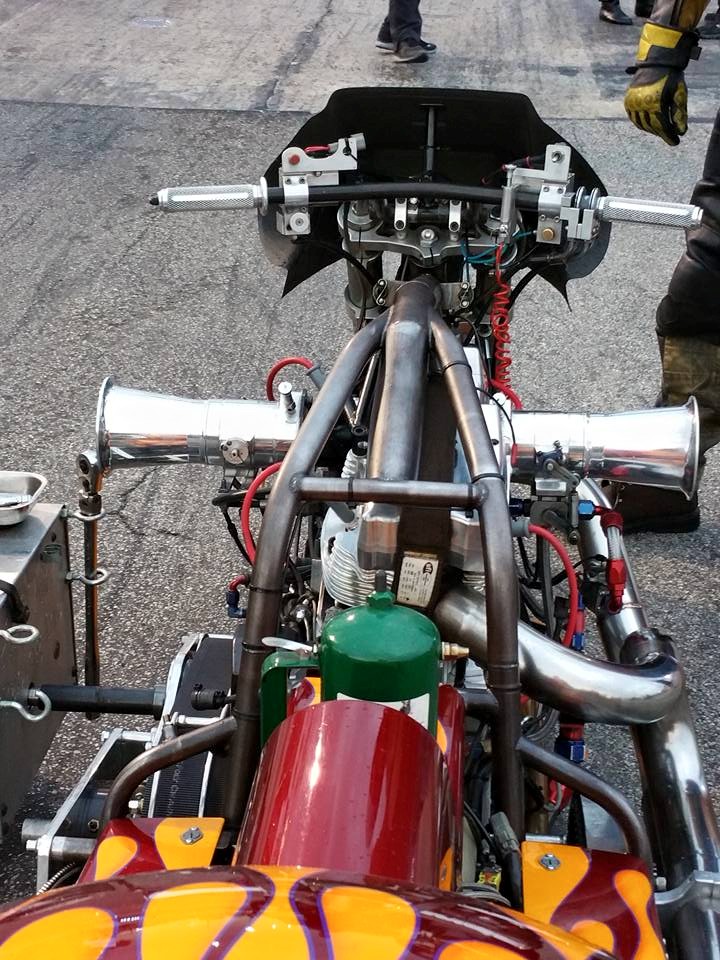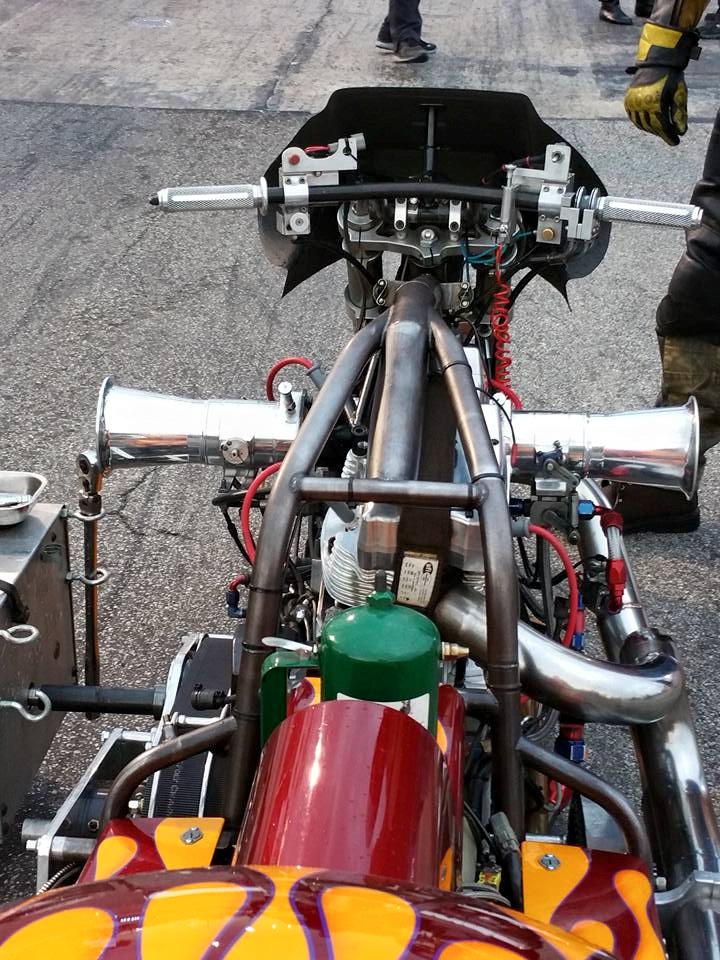 The current IHRA national records are 6.250-seconds held by Joey Sternotti and 230.76 MPH set by Mark Cox. Alvin Kobernusz, "The Flyin' Farmer" may not have the same mega-macho image that Lyle "The Axman" Newton or Jay "The Bulldog" Turner bring to the game but Alvin does prove that hunkering down on a 6-second fuel-burning Harley-Davidson takes a certain amount of courage, skill, and determination that separates the men from the boys. And besides, the bike doesn't know what the rider's name is. Nor does it care.