Maryland International Raceway's 15th annual WPGC Bike Fest on July 24-26 blew all previous iterations of this always-big event right out of the water. It was Bike Fest on steroids as the world's largest motorcycle drag racing series—the Mickey Thompson International Drag Bike League—held its biggest event ever.  With nearly 900 racing entries and 8000 spectators, this Super Bowl of motorcycle culture went way beyond expectations.
"I am utterly blown away by the support of our loyal IDBL racers, fans, sponsors and media," said IDBL President/Promoter Jason Miller. "The synergy we have at IDBL is something that I have never seen in my 20 plus years in this sport. My staff and I work countless hours to promote and prepare for the IDBL events, and it is so rewarding to see them grow event by event, not just year by year. WPGC is the best marketing partner that I have ever worked with, and their whole team embraces this spectacular show."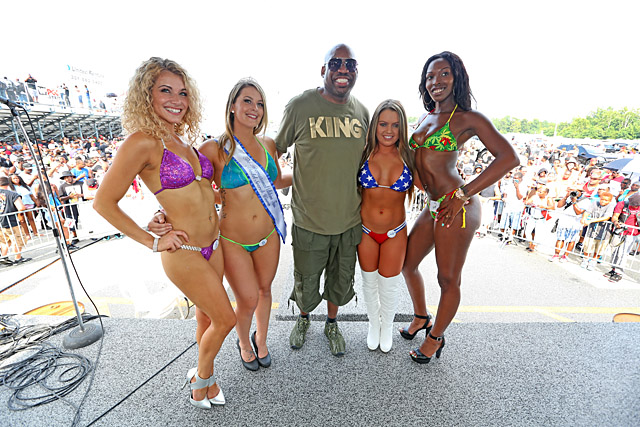 In the back of your mind there is always the fear that weather might disrupt this important event, but Mother Nature provided a rain-free canvas for the world's best drag racers, the East Coast's sickest stunters and customs, and the Mid-Atlantic's hottest bikini models, rappers and rockers to do their thing in front of the thousands of club members and bikers that rode out to be a part of the action.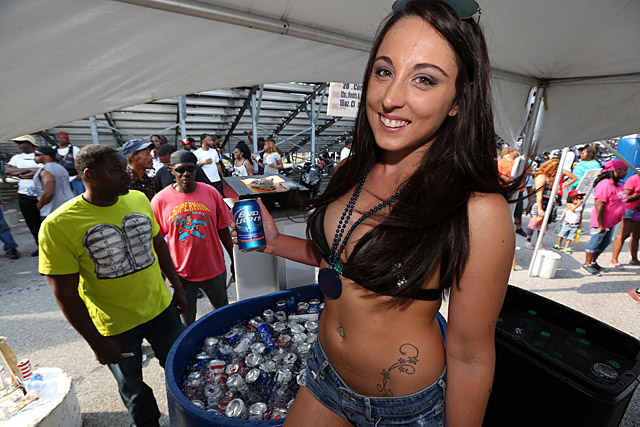 And they saw a lot, including Richard Gadson taking a huge crowd favorite Orient Express Pro Street win on Brad Mummert's nitrous, old school, air-cooled Suzuki GS. Defying the bike's normal routine of running well on Friday and breaking on Saturday, the GS' ancient cases and cylinder head held it all together to qualify #1 with a 6.93—class low ET of the weekend. Then while newer, more powerful bikes struggled on a hot track, the 35 year-old Suzuki found grip where others couldn't.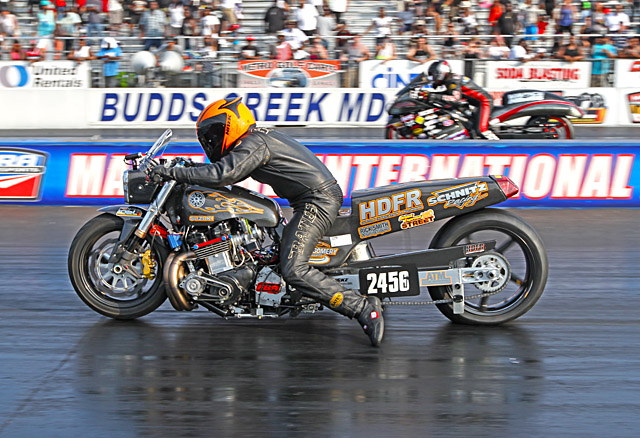 In an amazing all-nitrous semifinal match-up with Caleb McDougald on Greg Wallace's Suzuki Hayabusa, both bikes struggled. Gadson was in and out of the throttle as the GS repeatedly spun, while McDougald's bike failed to shift. Caleb actually leaned down and pulled the air-shifter by hand from half-track on in a race that neither rider dared contemplate losing. Gadson's slow 8.42 to 8.45 win ranked right up there with Pro Street's best-ever races.
Gadson's final against two-time champ Joey Gladstone and the normally dominant DME Racing-prepped, Vance & Hines-sponsored, turbocharged 'Busa was no slouch either, with Richard taking the win with a 6.95 at 195 mph to Gladstone's 6.98 at 214.
The cherub-faced, diminutive nephew of Rickey Gadson also won Sunday's Shinko Tires Pro ET final on Mike Belo's 'Busa over redlighting Jeremy Brown and his Kawasaki ZX14R.
Another double winner (triple if you count his Dragbike.com Grom Shootout win) was Jeremy Teasley. In a stirring DME Racing Real Street final with his RS Motorsports team boss Roger Starrette, both bikes ran identical 7.80 ETs. Teasley was actually .006 slower from point to point but got a .029 jump at the start for the win.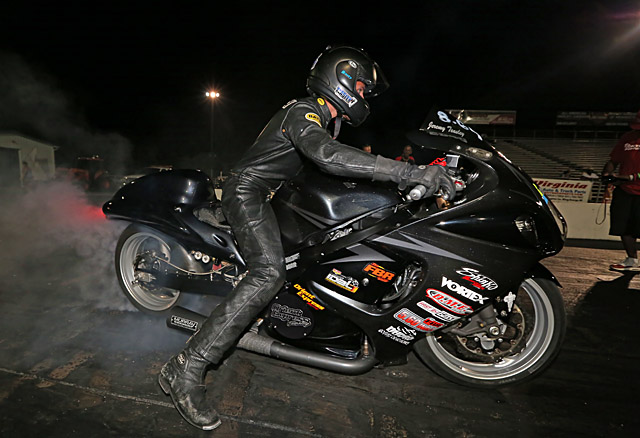 Tom Federici ran quicker than his own Real Street supercharged record with a 7.89 on his 'Busa, and Joey Gladstone ran a couple of 7.86s on his all-motor DME Suzuki Hayabusa. Previous points leader Anibal "Cannibal" Merced broke in qualifying and couldn't make the call for round 1 of eliminations. RS Motorsports qualified 1-2-3 at the Bike Fest with Teasley, Starrette and David Merks in that order.
Teasley also won FBR Shop 5.60 riding Carroll Craft's 'Busa streetbike, catching class champion Michael Ostrowski and his dragbike asleep at the tree with an uncharacteristic .082, wasting Ostrowski's 5.606 lap.
The Grom Teasley rode was simply badass, owned and built by JC Betancourt. He beat Ben "Hardest Working Man in MC Drag Racing" Knight and the Dragbike.com Grom in the Shootout final. Then spotting Gladstone two bikes and the break in a late-night Grom grudge race, Teasley still had enough advantage to give the "Keith Dennis Wave" before the 330 foot finishline.
"Got to thank Mike Belo for finding the baddest Grom built," said Teasley. "He called me and said he had a fast Grom he would bring. When I rode it for the first time I was like 'Wow, you wasn't lying.' Brock's carbon fiber wheels, pipe, big motor, big carb—that's all I needed to pull out the win."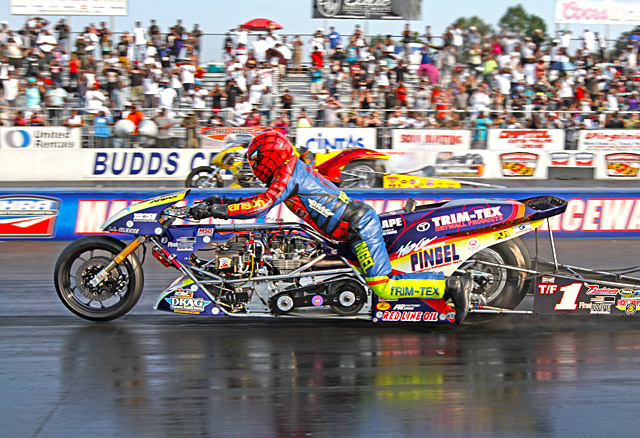 Larry "Spiderman" McBride may not have won as many Top Fuel match races this weekend as his rival David Vantine, but he delivered a big number when it mattered. McBride ran a strong 5.88 in Friday testing, then proceeded to break everything, necessitating not one but two overnight trips by brother Steve and crewman Chuck Stuart back to their Newport News, Virginia, Cycle Specialists shop to machine what they needed. So it was a triumphant Team Spiderman that saw the MDIR scoreboard light up with a 5.78 at 228 mph late Sunday afternoon.
Vantine did take three wins to that one for McBride, and although he had some respectable runs, the Pollard Nitrosports bike never did perform as well as it can, notching a 6.04 best on Saturday evening.
Tyler Cammock won Vance & Hines 4.60 over former 5.60 champ Kenny Cornnell, whose .134 light led to a breakout 4.55. Ronnie Procopio qualified number 1 with a perfect 4.600 but was slow off the line against Terry Tompkins in round 2.
Chad Lawson won Trac King Clutches Top Sportsman on a no-bar GSXR1000 when Andre Jones redlit by -.002. Doug Robinson's 7.51 topped the qualifying order.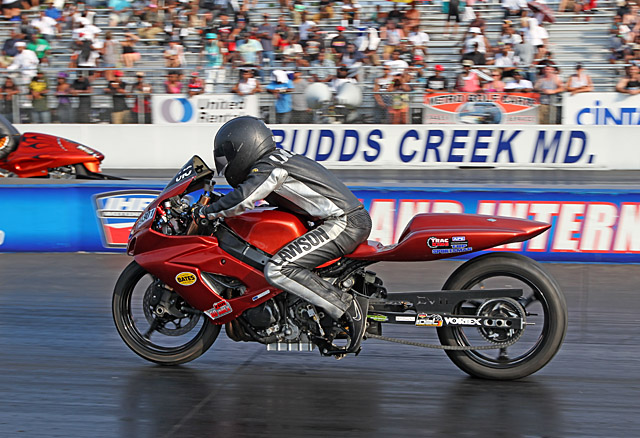 Floridian Robert Parker locked red-hot racer Dustin Lee out of the MDIR winners circle with a quadruple crazy 8.888 to overcome Lee's .008 light in the Carpenter Racing Crazy 8s final. Number 1 qualifier Courtlan Whiting lost to Ben Knight in round 2.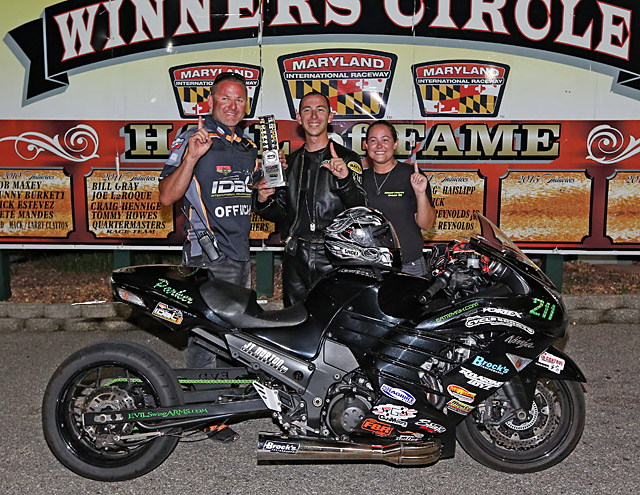 Shayne Proctor and Derrick Milbourne won Brock's Performance Street ET, both on redlights. Proctor's win came at the expense of Daniel Stribling, and Milbourne's win saw Jimmie Miller in the other lane.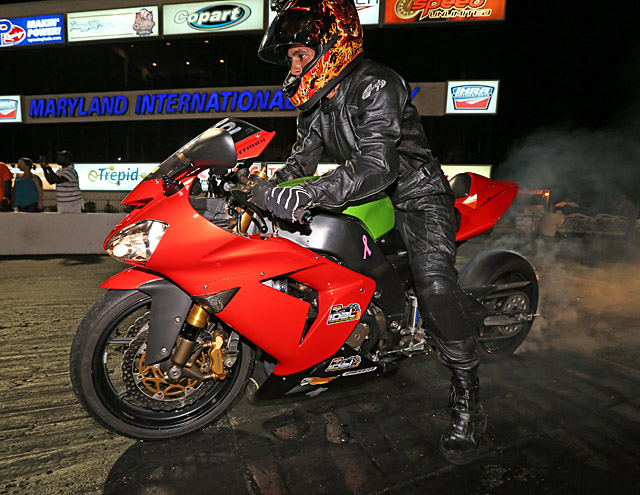 Clay Davies won Saturday's Shinko Tires Pro ET final in a tight race with Louis "Kip" Green. Kevin Johnson won Friday night's gamblers race over Michael Herman Sr.
Jody Butler won Saturday's Paint the Quarter Pink all-ladies breast cancer awareness race, which raised an all-time record amount for the cause. Butler caught young Gina Hamilton with her worst light of the day to take the final. Number 1 qualifier Kelly Clontz also raised the most money.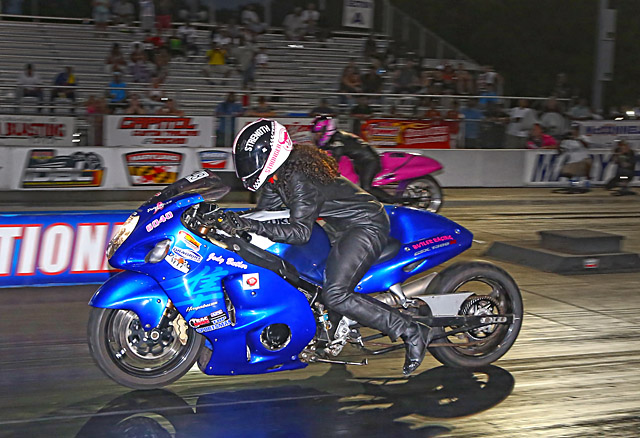 It's nearly impossible to describe how every corner of Maryland International Raceway was bumping with activity during the Bike Fest. WPGC's DJ Flex MC'd a huge line-up of DC's hottest live music, headlined by punk funkers The Fix. And the stunning ladies of the International Bikini Team strutted their stuff in front of the gathered thousands while bikini bartenders dished out cold ones in the searing heat. Bikes of all sizes and styles leapt off the tarmac in the stunt corral and posed for cameras in the custom bike show.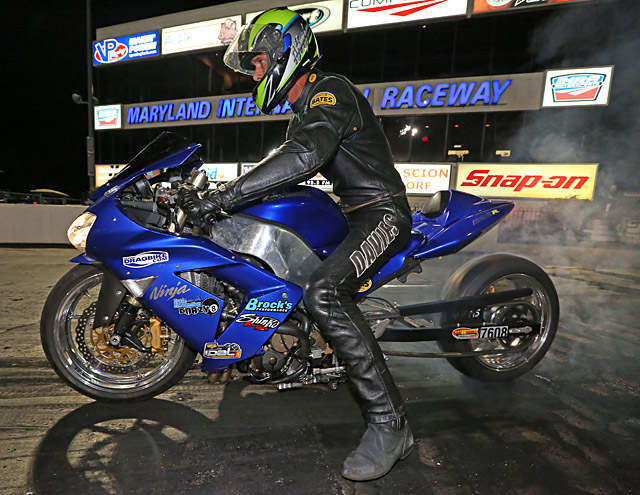 IDBL next takes its act on the road to New Jersey's historic Atco Dragway for the Orient Express U.S. Nationals on September 11-13. "I'm so stoked by what we had going on at the Bike Fest and I'm really looking forward to seeing all of our racers, fans, sponsors and media again in six weeks for the Orient Express Motorcycle U.S. Nationals at Atco," finished Miller.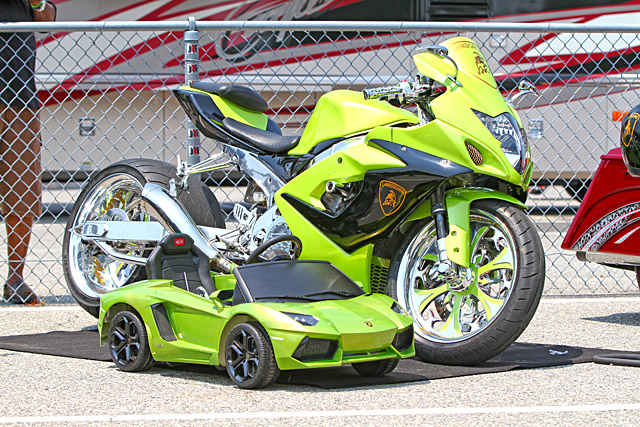 East Coast baby!
Find out more about the Mickey Thompson Performance Tires International Drag Bike League at http://www.RaceIDBL.com
Find out more about Maryland International Raceway at http://www.RaceMDIR.com
This report was prepared by Tim Hailey with photos by Hailey and MDIR. Enjoy everything there is to read, see and watch about motorcycle drag racing and more at http://www.eatmyink.com