In honor of October's breast cancer awareness month, the IDBL (International Drag Bike League) is proud to announce the creation of the Grayson Motorsports "Racing for Ribbons" fundraiser to be held at the DME Fall Nationals Oct. 6-8 at Maryland International Raceway. Grayson Motorsports is the parent company of McIntosh-Grayson Motorsports.
Glenn Grayson, who recently acquired respected manufacturer McIntosh Machine and Fab, was inspired by the IDBL's annual "Paint the 1/4 Pink" July fundraiser, where this season more than $7,000 was raised for breast cancer sufferers. Grayson has a personal and emotional connection to the cause, having lost his mother, Linda Grayson, to cancer last year. Before her untimely death, Linda valiantly fought breast cancer for 25 years.

"Losing my mother was one of the hardest things that has ever happened to me. She was the most loving and caring person I have ever known," Grayson said. "She was barely five-foot-tall; but always seemed 10-foot tall to me. She was a fierce protector of her children and full of spunk and life."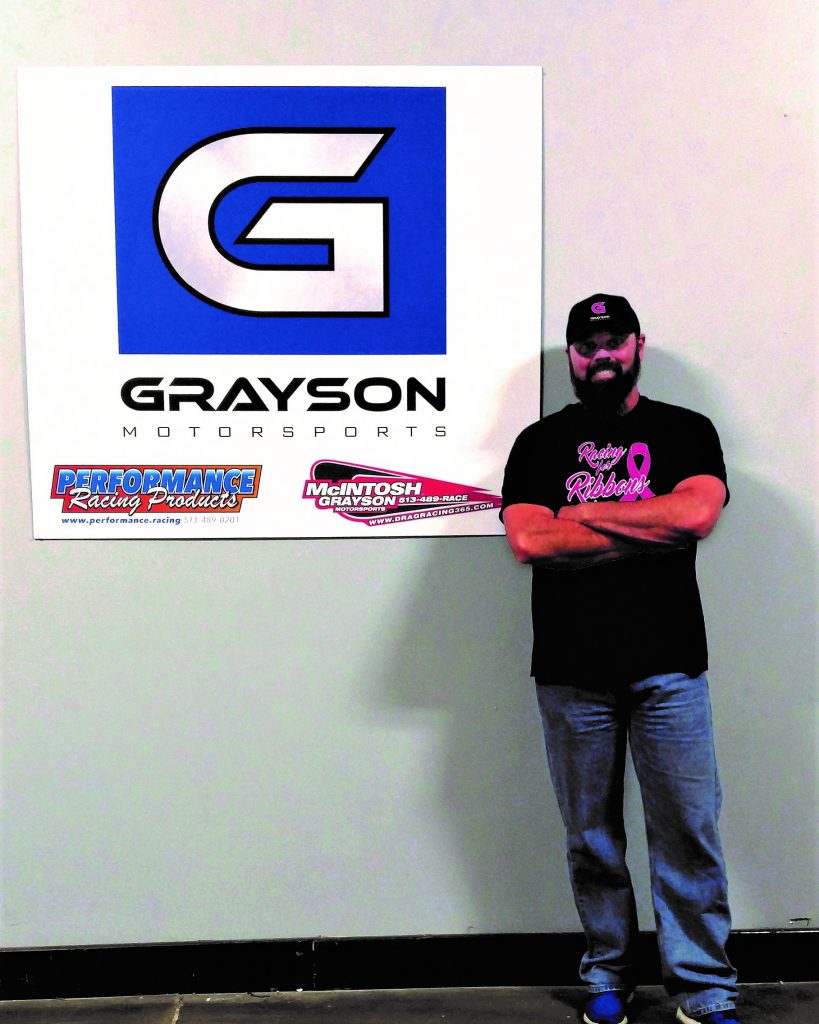 In an overwhelming act of generosity, Grayson will contribute proceeds from t-shirts and other merchandise, sold online (www.dragracing365.com) and at the track during the 3-day weekend, and all proceeds from the sale of the commemorative breast cancer t-shirts until all 300 shirts are sold. Shirts may be pre-ordered through www.dragracing365.com
Donations are being made to Bikers Against Breast Cancer, who will be pitted next to McIntosh Grayson Motorsports on the midway. Grayson says the donation will be a minimum of $5,000 and made in honor of his mother.
"My mother helped make me the passionate person I am today. I carry her strength and courage with me and feel she would be proud I have found a way to share it with others," Grayson said. "I believe this fundraiser is a great way to honor not only her memory but also her fighting spirit. I am glad to be part of a racing community that offers me this platform to honor my mother and spread her courage to others."
CEO and Founder of Bikers Against Breast Cancer Shelia Green-Barnhill is in her 11th year with the Newark, N.J.-based organization. She is overwhelmed by the support of Grayson and the IDBL.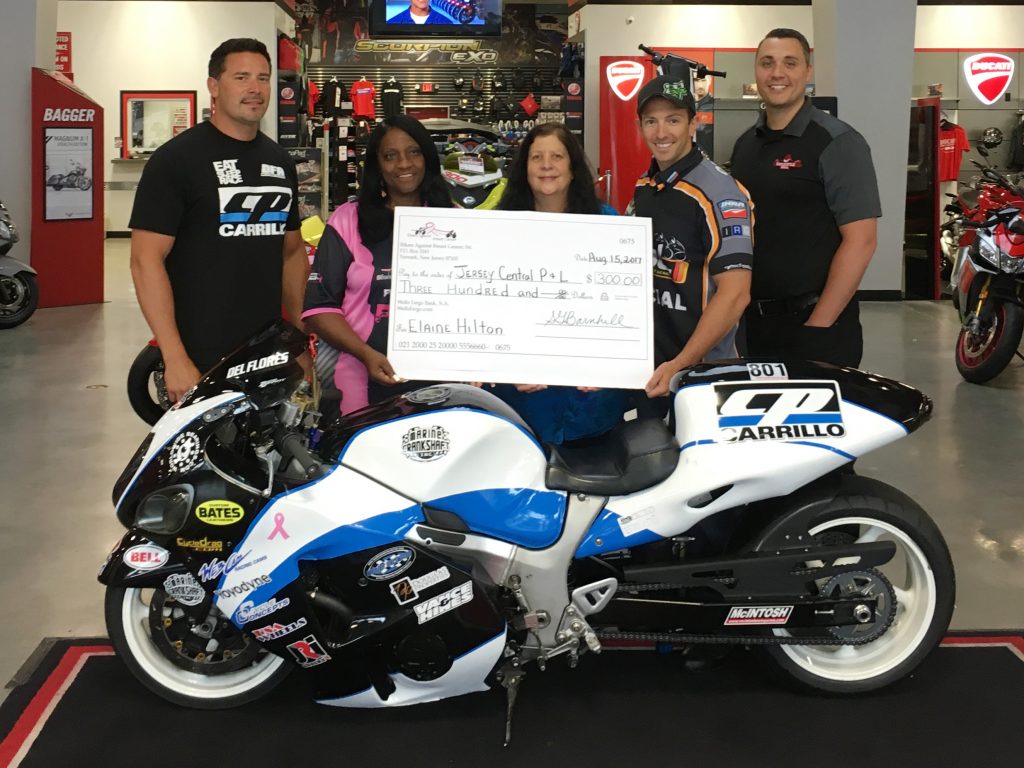 "With Glenn's donation alone, we can help an additional 16 families, Green-Barnhill said. "It's incredible to see people recognizing what we are doing. The donation from McIntosh-Grayson Motorsports means the world to me."
Green-Barnhill says her organization is always on the lookout for folks in need.
"Although the name is Bikers Against Breast Cancer, we help with all forms of cancer," Green-Barnhill said. "We encourage folks who need these funds to get ahold of us."
An originator of IDBL's July breast cancer fundraiser, Paint the ¼ Pink, Daryle Sykes, applauded extending the donations to include October.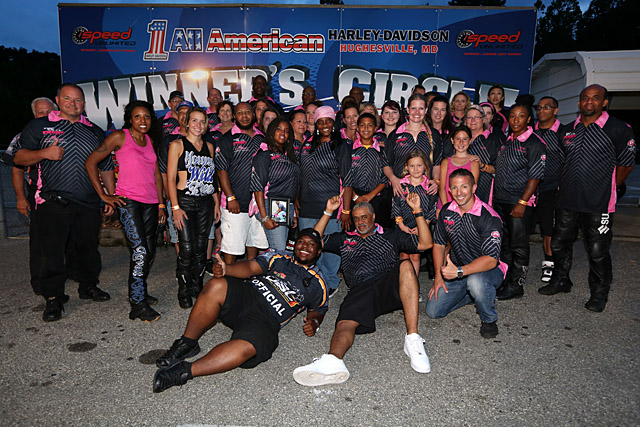 "I remember when I would call sponsors and only a gracious few would step up. Now decision makers accept my calls and ask what they can do to help," Sykes said. "May the blessings continue to grow in years to come."
The IDBL is encouraging others to follow Grayson's lead and make donations at the DME Fall Nationals, no matter how big or small. High-profile IDBL racers like Top Fuel legend Larry "Spiderman" McBride and Real Street racer Del Flores have already committed to contributing and are calling on their colleagues to do the same.
"I'm overwhelmed. This is why the IDBL Series is so important to us," Green-Barnhill said. "The motorcycle community allows us to serve more people and continue our mission."
Bikers Against Breast Cancer is offering a $100 cash prize to whoever shows up with the wildest, craziest pink outfit to help raise awareness.
"I can't tell you how much the IDBL appreciates the incredible generosity of Glenn Grayson and all the IDBL racers and supporters that have contributed over the years," IDBL President Jack Korpela said. "When I met one of the recipients after the Bike Fest, and saw just how important these much-needed funds are to her struggle, it really drove home why we do this. We are blessed to go out and do what we love on the drag strip. It's incredibly fulfilling to be able to help folks who may not be able to make their next utility or rent payment because of the hardship of cancer."
Korpela has set the goal for $8,000 for the October race.
"Glenn got us off to an incredible start with the first $5,000," Korpela said. "Let's all bring a few extra bucks and push our total higher than what we raised at the Bike Fest."
The IDBL DME Fall Nationals, Oct. 6-8 at Maryland International Raceway, will feature exciting action in Top Fuel Motorcycle, Nitro Harley, the $10K-to-win Pro Street Battle Royale and much more.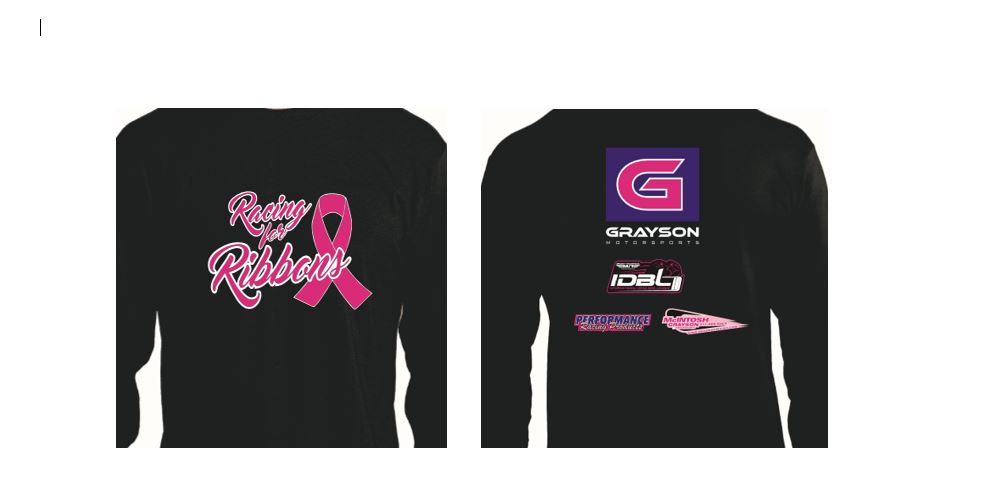 You can buy a shirt by clicking here
More information on McIntosh Grayson Motorsports can be found at www.dragracing365.com
More information on the race can be found at www.RaceIDBL.com
More information about Bikers Against Breast Cancer can be found at www.BikersAgainstBreastCancer.com
Where the donations go –