Calling all racers and fans of incredibly fast, high performance motorcycles, do not miss what is likely to be a record-breaking event, The IDBL DME Fall Nationals, this weekend, Oct. 6-8 at Maryland International Raceway. A great weekend forecast in the high 70s and low 80s adds to the excitement as racers in serval classes circle this annual autumn event as a prime opportunity to smash records at the world's quickest dragbike track.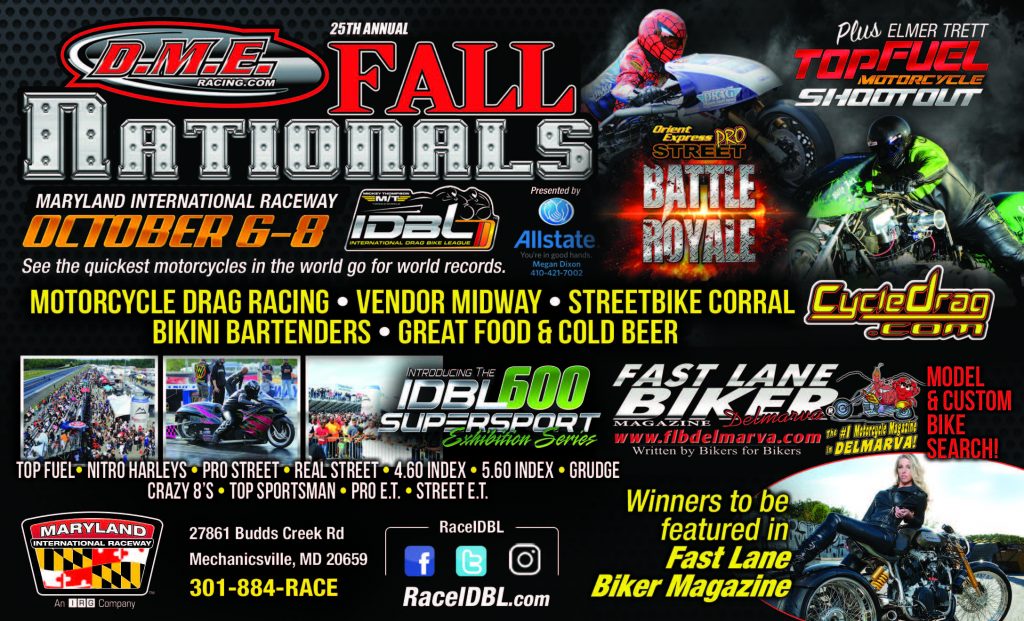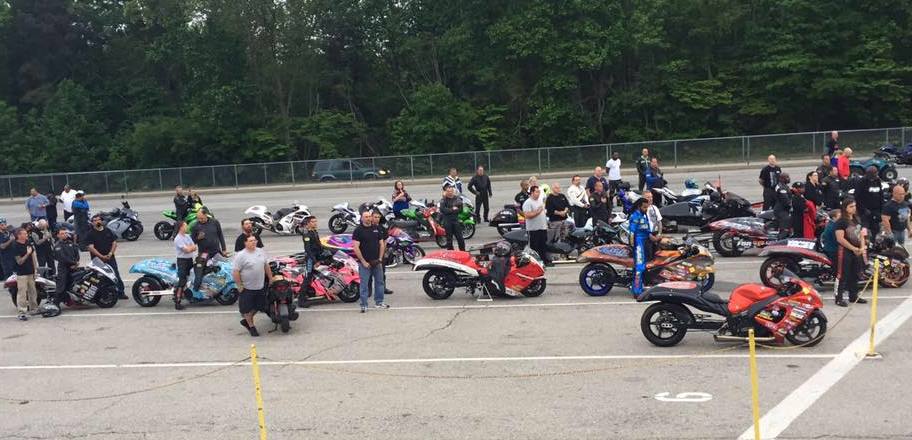 At the last IDBL event at Maryland International Raceway in July, 16-time Top Fuel Motorcycle champion Larry "Spiderman" McBride made motorcycle racing history with a jaw-dropping run 5.74 on his 1,500-plus horsepower machine know as Star. It was the second quickest dragbike run of all-time and the best in the country. For this coming weekend, McBride says, with MDIR's outstanding track prep and cool air, becoming the first to enter the 5.60-zone is a very real possibility.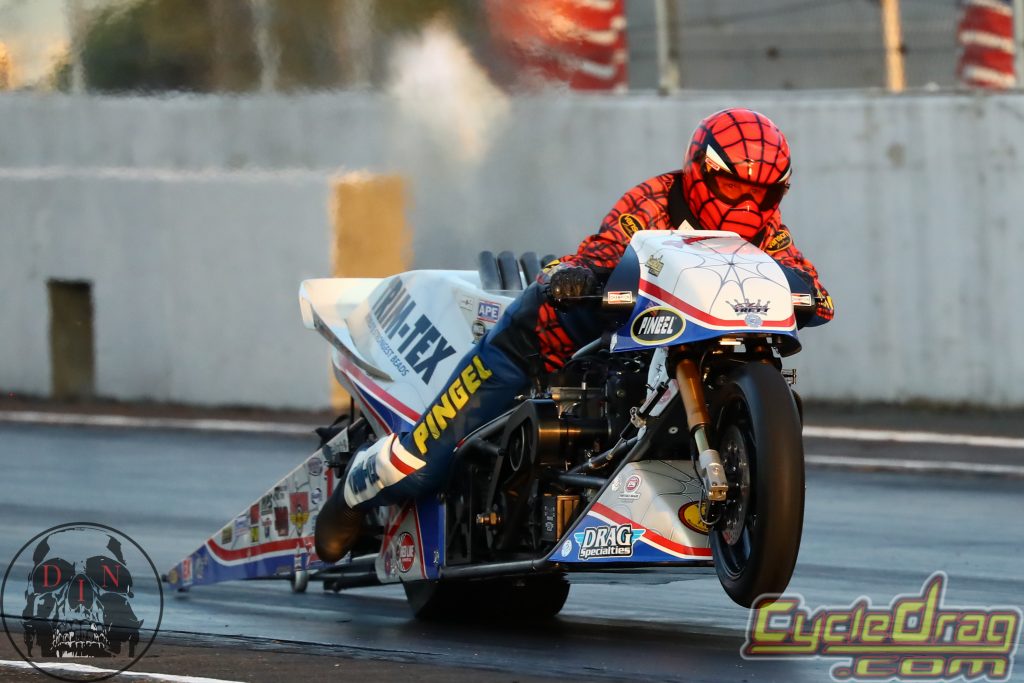 McBride will again race the popular, yellow rocket of Dave Vantine to decide the IDBL Pingel / APE Top Fuel Championship. On Saturday night, McBride will participate in a special, fan favorite Nitro Harley vs. Nitro Suzuki grudge match against IDBL Trim-Tex Nitro Halrey point leader Peter Geiss. Harley and Suzuki fans are encouraged to pick a lane cheer loudly for their favorite.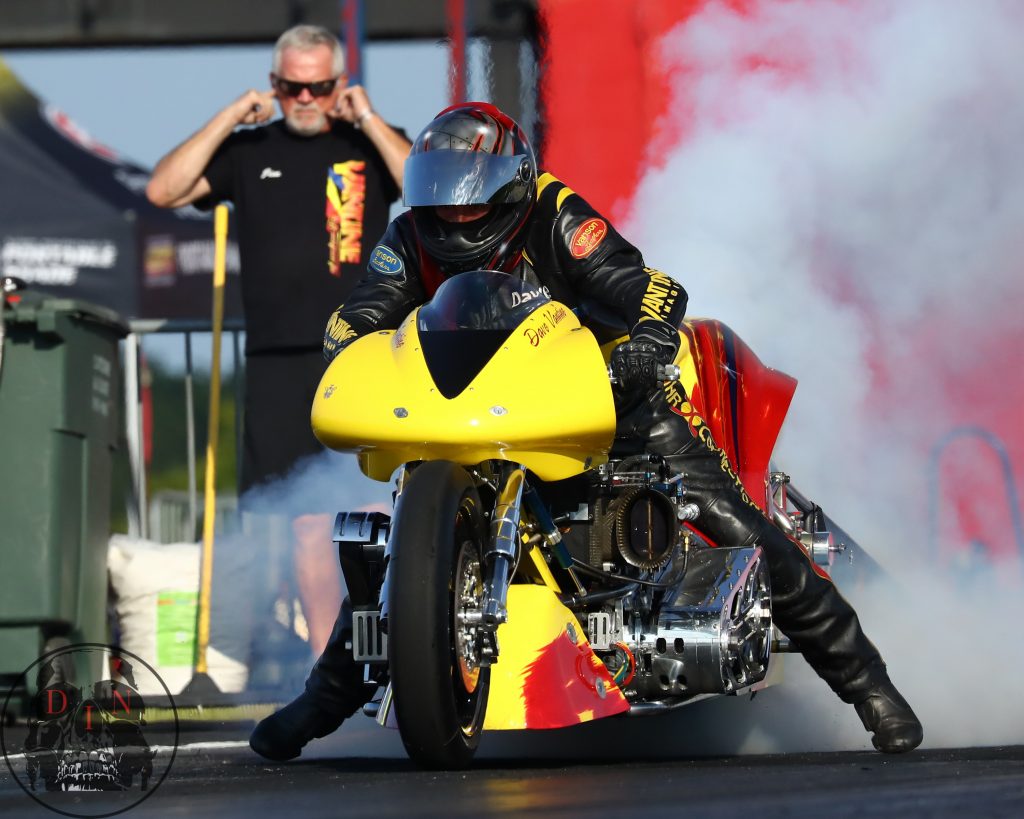 Some of the world's quickest Nitro Harleys will also assemble at MDIR in search of knocking down Geiss at this championship-deciding race. Veteran "Crazy Tak" Takeshi Shigematsu will ensure it is truly an international affair, as he enters all the way from Japan. Track record holder Bob Malloy and many other top notch competitors are expected to attend.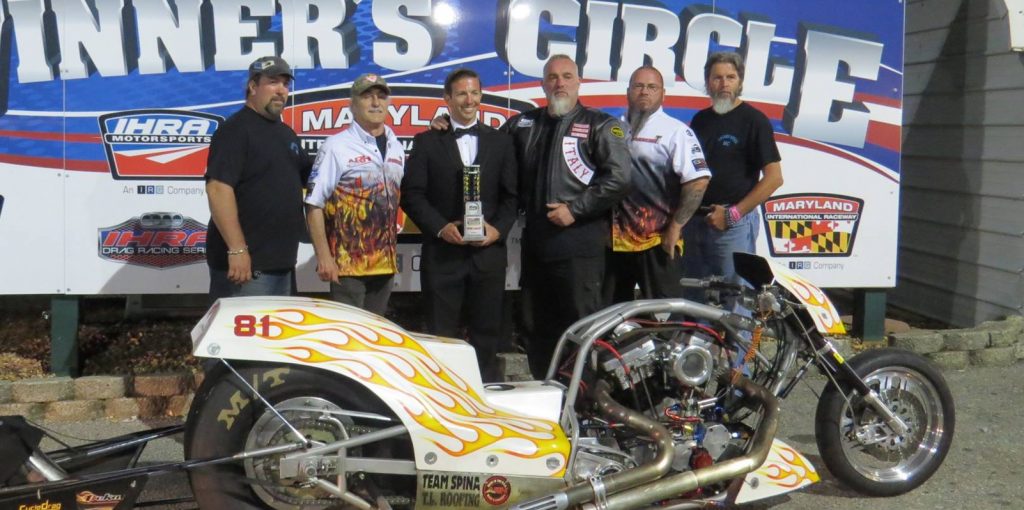 It's the biggest race of the year for Orient Express Pro Street, as competitors from all over the nation will battle for $10,000 in the fifth annual Battle Royale. Rodney Williford has dominated the competition this year in the IDBL, with a record setting 6.69. The point leader will face his toughest challenge of the year from three-time Battle Royale champions DME Racing, as well as many other top teams. The $10,000 top prize brings out the best Pro Street racers the sport has to offer.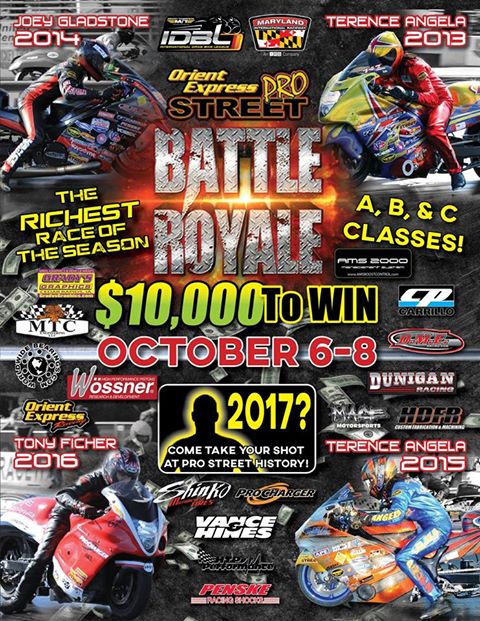 On Saturday afternoon DJ Flexx and WPGC will have the stage and pits rocking great live music, that will continue throughout the weekend.
Fast Lane Biker will be searching for new motorcycles and models to feature in its magazine. Street bike riders are encouraged to shine it up and ride in for a chance to be selected. Ladies are encouraged to dress to impress. The event will also feature cold beer, great food, a gigantic street bike corral and a huge vendor midway.
Exciting championship racing will take place all weekend in DME Real Street, Vance & Hines 4.60, FBR Shop 5.60, World Wide Bearings Crazy 8's, APE Trac King Top Sportsman, Shinko Pro ET, Lady Law, Street ET and Cycledrag.com Grudge. On Friday gates open at 9 am with early bird testing taking place from 10 am to 5 pm. For racers arriving later in the day, a bonus test and tune session is available on Friday evening from 6:30 to 11 for only $25 an entry. Weekend grudge cards are available to all racers for only $50 a day. Gates open Saturday and Sunday at 8 am.
Get there early as Top Fuel, Nitro Harley and Pro Street will be given a special bonus qualifier on Friday night at 8pm.
Admission is $20, a weekend pass is only $40 and free camping is offered.
Ride in and enjoy what will be an unforgettable celebration of fast motorcycles!