Gaige Herrera extended the perfect start to his rookie season as a Pro Stock Motorcycle rider by claiming a third straight win on board his Vance & Hines/Mission Suzuki Hayabusa at the Gerber Collision & Glass NHRA Route 66 Nationals at Route 66 Raceway in Elwood, IL, on Sunday.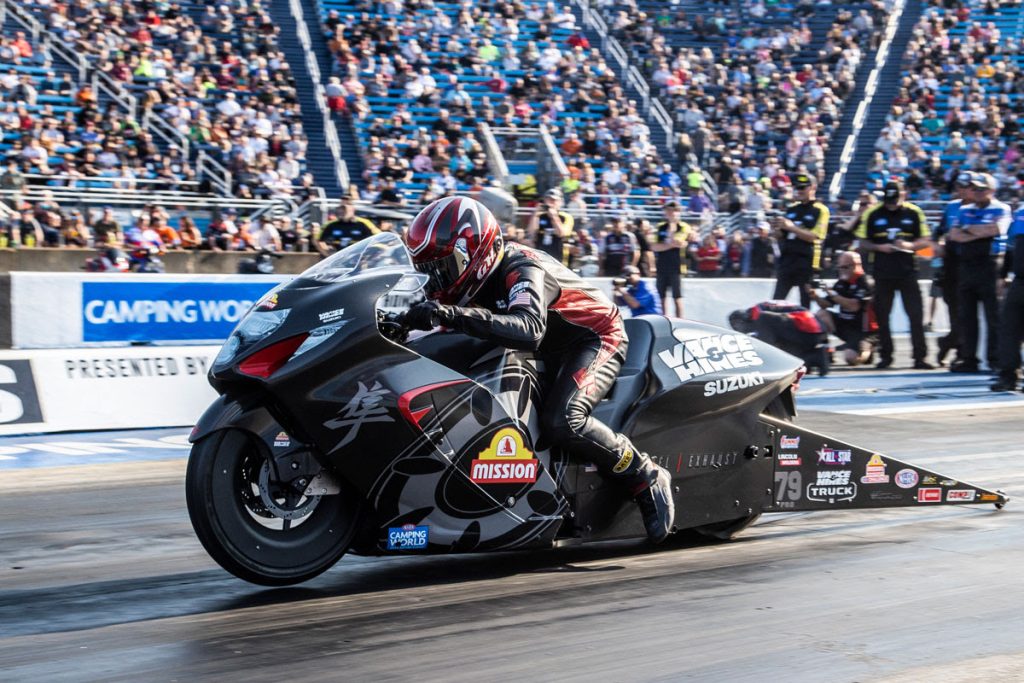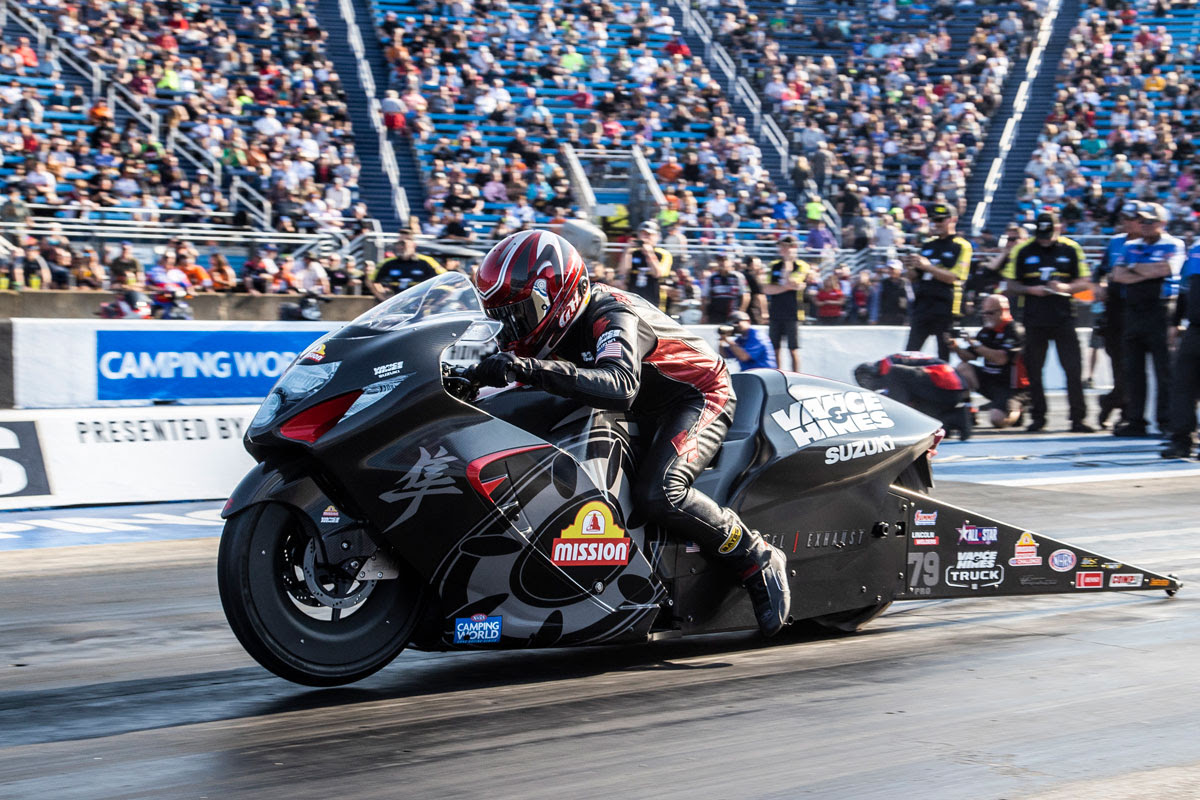 Race Highlights
Gaige Herrera claimed his third straight race win after qualifying number one, for the third race in a row to extend his perfect start to the season.
Eddie Krawiec qualified fourth and advanced to the semi-final round matchup against Herrera.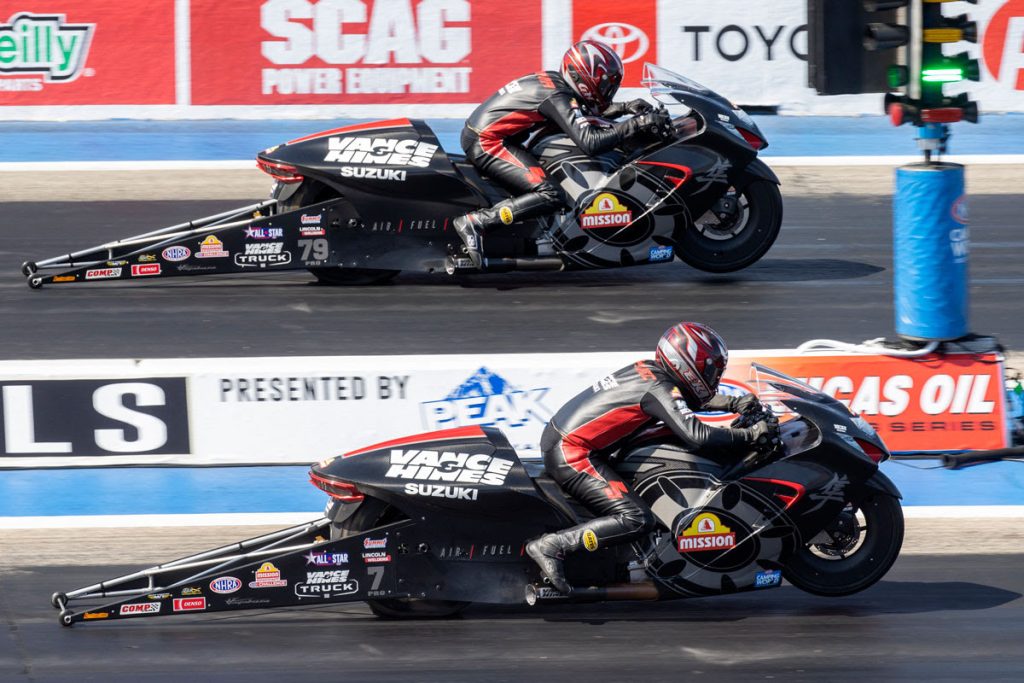 In perhaps his most dominant performance yet, Herrera proved near unbeatable from the tire's first turn at Route 66 Raceway. He blasted to the top qualifying spot with a record-setting performance that saw him reset both ends of the track record with a 6.672-second elapsed time and 202.45 mph top speed to claim his third number-one qualifier of the season.
The domination continued throughout Sunday's elimination rounds as Herrera sliced his way through the field, posting three consecutive low-round elapsed times in the 6.70s, all with top speeds over 200 mph. His quickest run, 6.076 seconds at 200.77 mph, came in round one against Ron Tornow, who posted no time. In round two he cruised past Marc Ingwersen (6.940 seconds/195.31 mph) with a 6.725-second/200.11 mph run to set up a second head-to-head matchup of the season against his Vance & Hines/Mission Suzuki teammate Eddie Krawiec.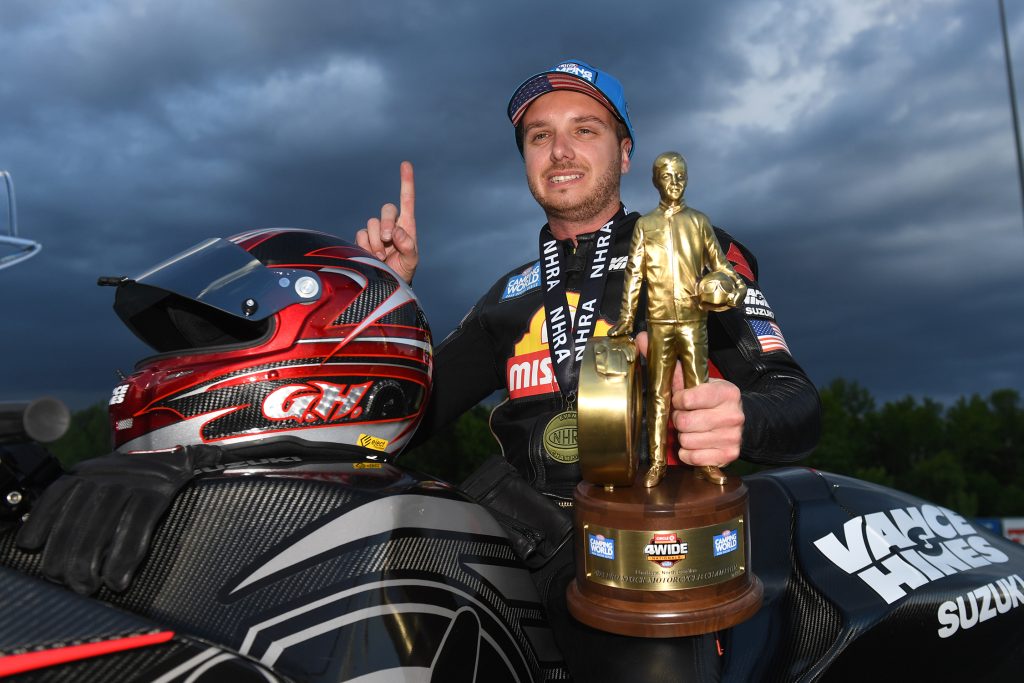 The power and consistency of his Gen III Hayabusa proved to be no match for Krawiec, who succumbed to Herrera's 6.708-second/200.86 mph run.
Herrera faced veteran Chip Ellis, the number-two qualifier, in the finals, where he proved yet again that his dominance is no stroke of rookie luck. Herrera won his third-straight race with a 6.717-second/201.25 mph run against Ellis's 6.791-second/200.26 mph effort.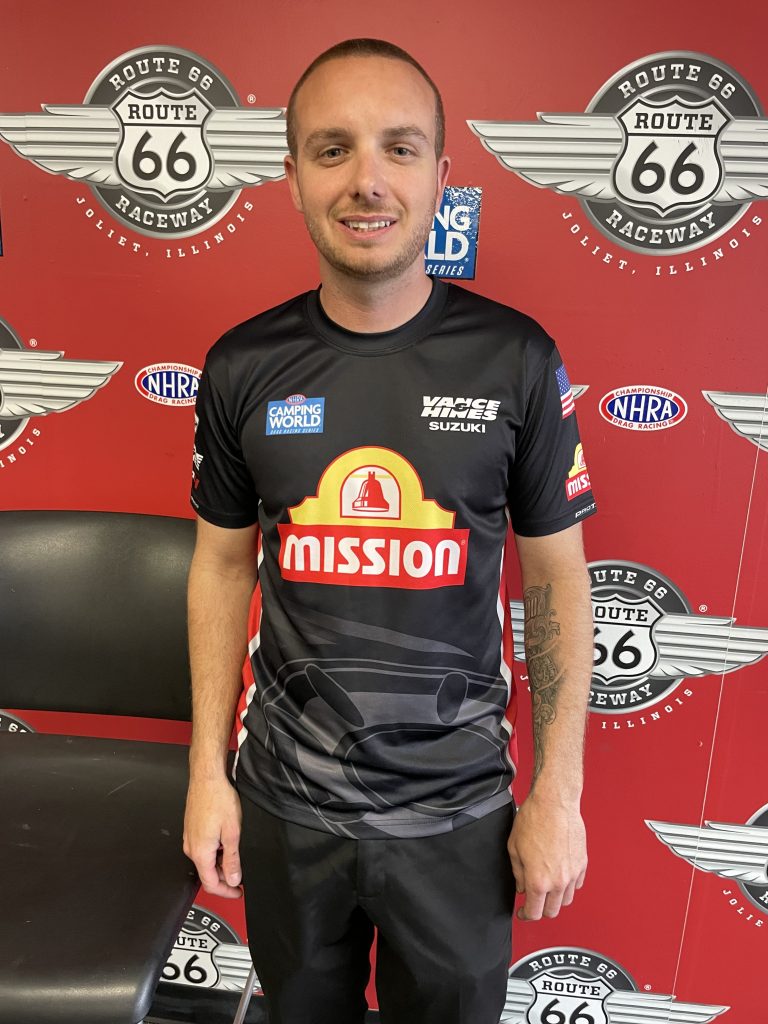 Despite the appearance of having mastered the Pro Stock Motorcycle class so quickly, Herrera knows the rest of the class has their sights set on him and is working hard to catch up. Yet he's confident that only a rider mistake or major mechanical issue is likely to derail him in upcoming races.
Gaige Herrera (79) wins his third straight race aboard the Gen 3 Hayabusa.
"I'm living the dream. I'm on the best bike out here, so I feel like there's more pressure on me than on my team because they know how good our Suzuki is. Being consistent on the tree and hitting my shift points, that's the pressure I put on myself," he said. "The team works so hard, and Andrew's got my bike running on rails. We had a crosswind in two directions and a tailwind during the weekend, but in all those different wind conditions, it's a dream to ride. The Hayabusa is so smooth, it makes my job as a rider a lot easier."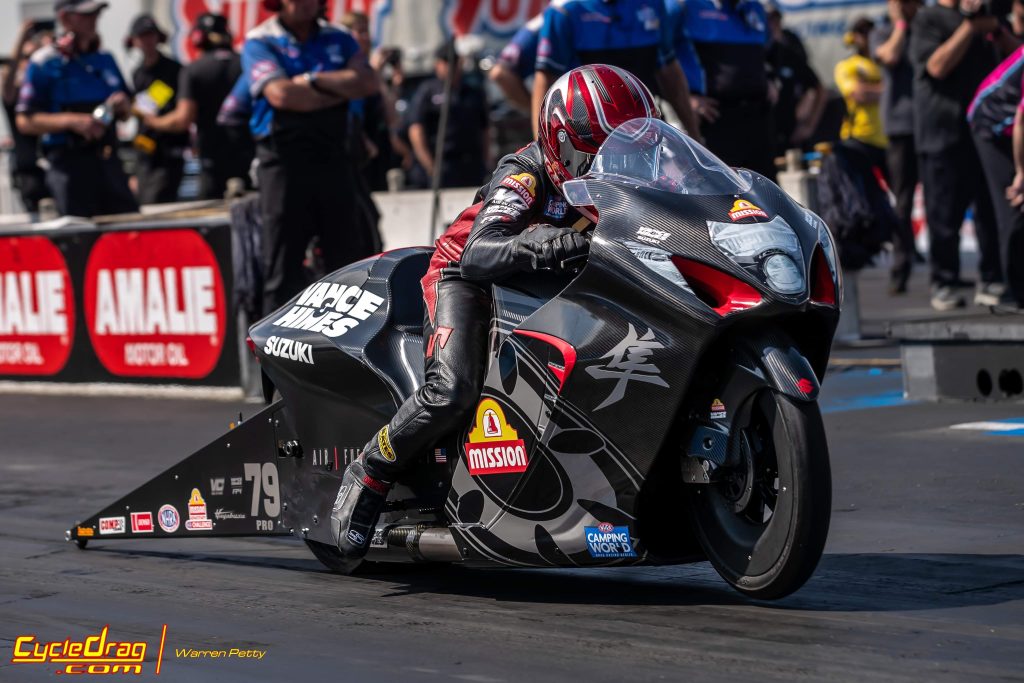 Looking ahead to the next race at Bristol Raceway, known for its raucous atmosphere and challenging track surface, Herrera will rely on his team's experience to guide him.
"After the first pass, I'll get a better outlook on what I need to do for the weekend, but I've got Andrew and Eddie to help inform me about everything I need to do. That's a big advantage. I'm looking forward to Bristol," said Herrera.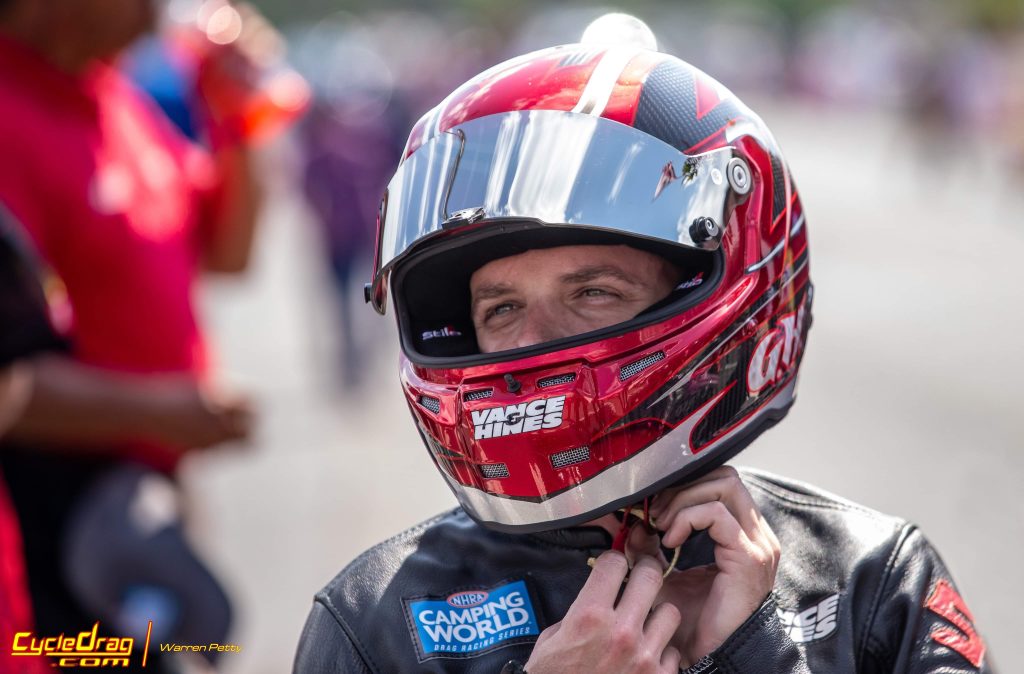 Krawiec qualified in a strong fourth-place position with a 6.770-second/198.52 mph run that placed him in the same half of the eliminations ladder as Herrera, setting up the eventual semi-final round matchup.
In the first round, Krawiec showed coolness under pressure after a minor mechanical problem with his motorcycle was quickly rectified by his team on the starting line. He went on to beat Jianna Evaristo (6.869 seconds/196.50 mph) with a 6.754-second/201.13 mph run, the first of his string of 6.70 elapsed times. He advanced against Joey Gladstone in round two thanks to a near-perfect .006-second reaction time, his 6.786-second/199.08 mph pass being quick enough to edge past Gladstone (6.781-second/197.54 mph) by just 14 inches at the finish line.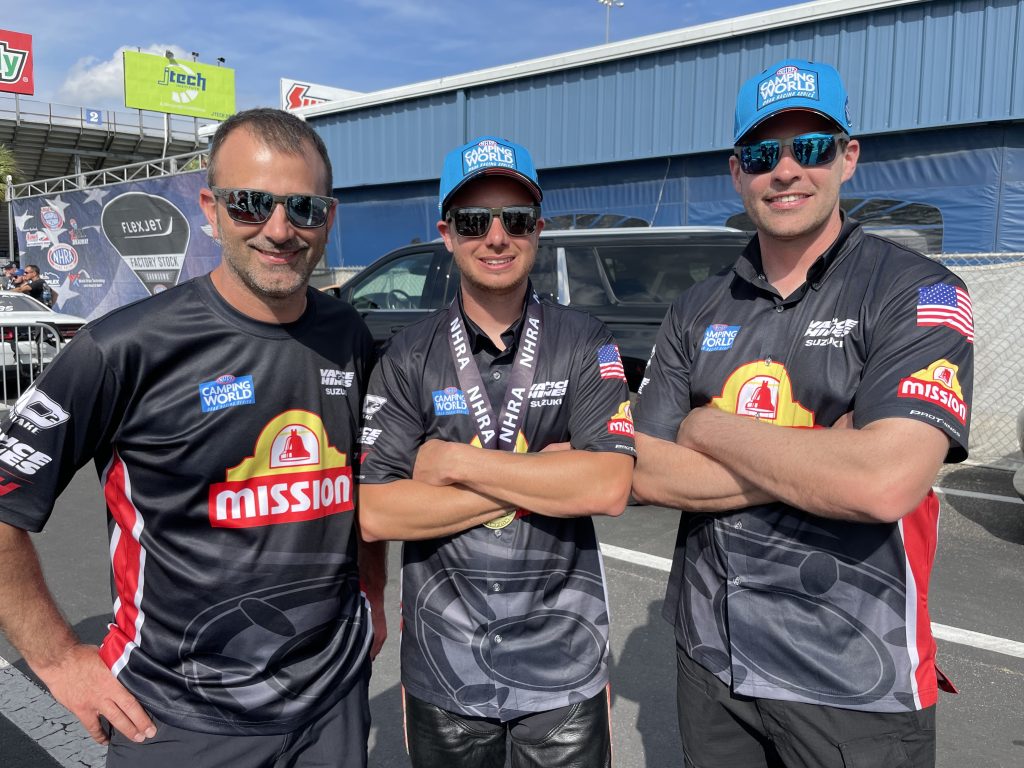 After meeting with his teammate for a second time this season, Eddie Krawiec (7) falls just short of making the final.
That set up a semi-final match between the Vance & Hines/Mission Suzuki teammates for the second time this year, the first coming at the opening round in Gainesville. Despite yet another near-perfect .008-second reaction time, Krawiec was unable to advance to the finals.
"I knew I had to be on my game in those two rounds," he said. "Joey's exceptionally good on the tree and he had a bike equally as fast as mine. Obviously, my back's against the wall against Gaige. Going forward, it's going to be key to be on opposite sides of the ladder. We were just one run behind today, so we'll keep working on it and make it better. It was a good points day for me. I moved up to second in the standings, and I know I'll have a great bike in Bristol."
With the third straight win, Vance & Hines/Mission Suzuki crew chief Andrew Hines continues to be impressed by the performance of the team's Suzukis and is enjoying collaborating with a rider as naturally talented as Herrera.
"I take pride in the team that we've built here. Everyone executes. Gaige is just another piece of our puzzle. He's fit right in this year. Our Vance & Hines engines have been exceptionally good, the new Gen III Hayabusa body has been incredibly good, and he's been a great rider. Gaige is on another level compared to almost everyone else in the class. The kid just knows how to react, and he probably rides the first 300 feet of the track better than anybody. I don't know that I've ever seen a talent like this who can launch a motorcycle. It's phenomenal. We knew we had a fast motorcycle last year, but this year, to consistently reap the benefits of a fast motorcycle from the starting line to the finish line, it doesn't get any better."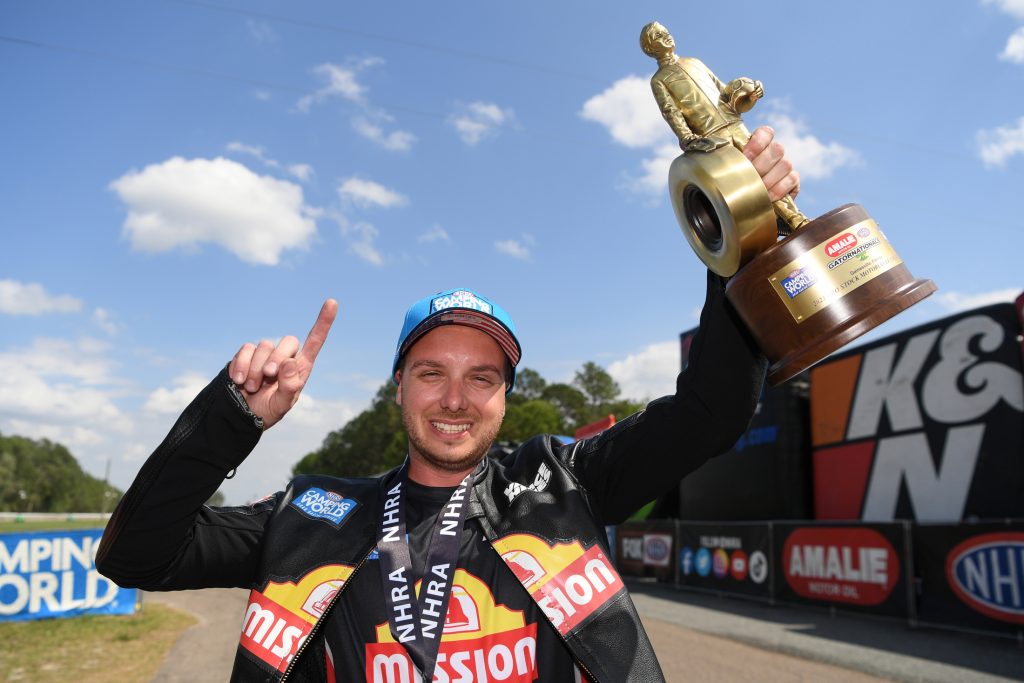 After three of 15 rounds, Herrera and Krawiec currently sit first and second in the Pro Stock Motorcycle standings with 383 and 213 points, respectively.
The Vance & Hines/Mission Suzuki team is back in action June 9-11 at the NHRA Thunder Valley Nationals at Bristol Dragway in Bristol, TN.
There are more videos on the Cycledrag Youtube channel (please subscribe here) and the Cycledrag Facebook page (Please like here) and more will be coming soon. Check back daily.